Shibuya
last update: February 27, 2021
Shibuya (渋谷) is one of the 23 special wards of the city of Tokyo and is very large. However, in common parlance as well as on this page, when we talk about Shibuya we refer to the area around Shibuya station, one of Tokyo's main shopping and entertainment centers. Shibuya and its shops are notably a trendy neighborhood for fashion and youth culture, and its streets are always full of young people and teenagers. Shibuya is the world's busiest pedestrian intersection district, the Hachiko dog, hip department stores and hundreds of shops, restaurants, bars, karaoke and night clubs.
Things to see and things to do in Shibuya
Shibuya is popular and famous for shopping and youth fashion during the day, and discos, nightclubs and clubs of all kinds at night.
In this area there is not much to visit in the strict sense, it is a neighborhood to explore, walking around its streets.
It is also a perfect place to make purchases of all kinds, in the thousands of small shops scattered around the neighborhood or in the branches of many famous department stores around Shibuya station:
Parco
,
Loft
,
Tokyu
,
Tokyu Hands
,
Marui
,
Seibu
.
Hachiko
The statue of
Hachiko
depicts a dog whose story is now famous around the world, especially after the release of the film ("Hachi: A Dog's Tale", 2009). He became famous for his enormous loyalty to his owner, Professor Hidesaburō Ueno. After the sudden death of Ueno, the dog went every day, for nine years, to wait for him at the station where the man used to take the train to get to work. In 1934, when the dog died, the local community, deeply moved, decided to dedicate him a statue, which today is still there, in front of Shibuya Station. To find it, just follow the signs to the
Hachiko exit
of Shibuya station.
The area around the statue is always very crowded, because of the many Japanese people using this place as a meeting point and the tourists who want their selfie with the most famous akita dog in the world.
Shibuya crossing
RIght in front of the
Hachiko exit
of Shibuya station you can find the most famous intersection in the world. When the traffic lights for cars turn red, the street gets filled with thousands of people crossing it in all directions, it's an incredible scene to see.
You can cross the crossing with your own feet or observe the multitude of human beings from several strategic points. In particular, the glass windows of the
Starbucks
cafe located in front (but getting a table next to the windows might be a mission impossible), or the walkway over the road within the
Shibuya Mark City
.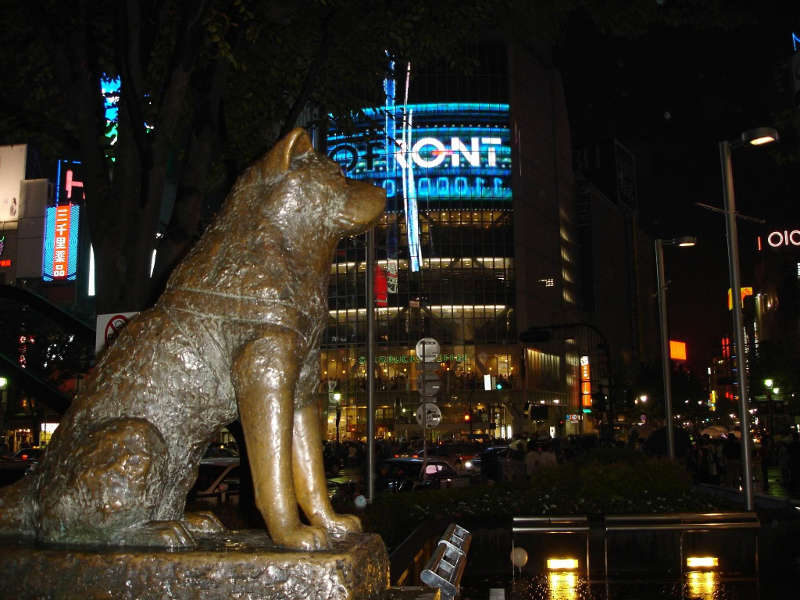 The statue of Hachiko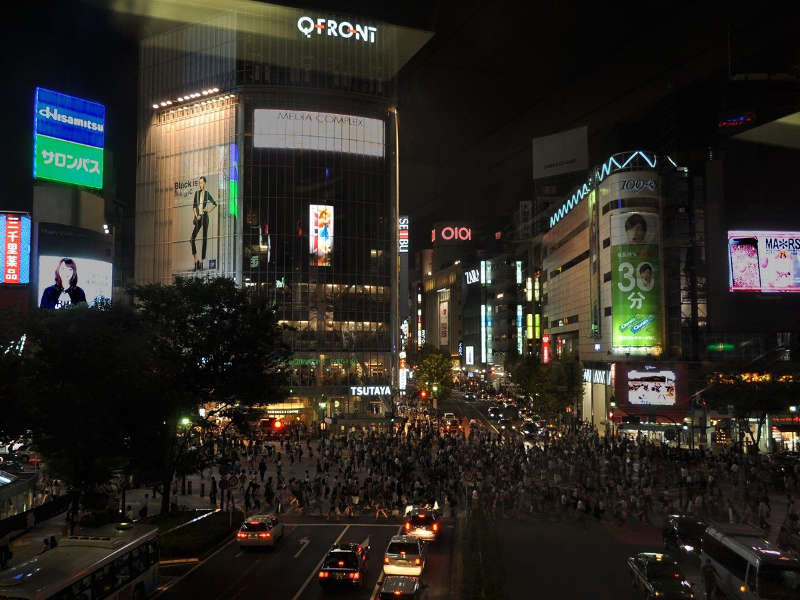 Shibuya crossing
filmed around 7pm on a saturday in December
Center Gai
A very famous pedestrian street in Shibuya (350 meters long), you can get there by crossing the well-known intersection and heading in the direction of the huge HMV sign.
Around this street there are a lot of music stores, clothes stores (also second-hand clothes), restaurants, bars and arcades. It is the birthplace of many Japanese youth fashion trends.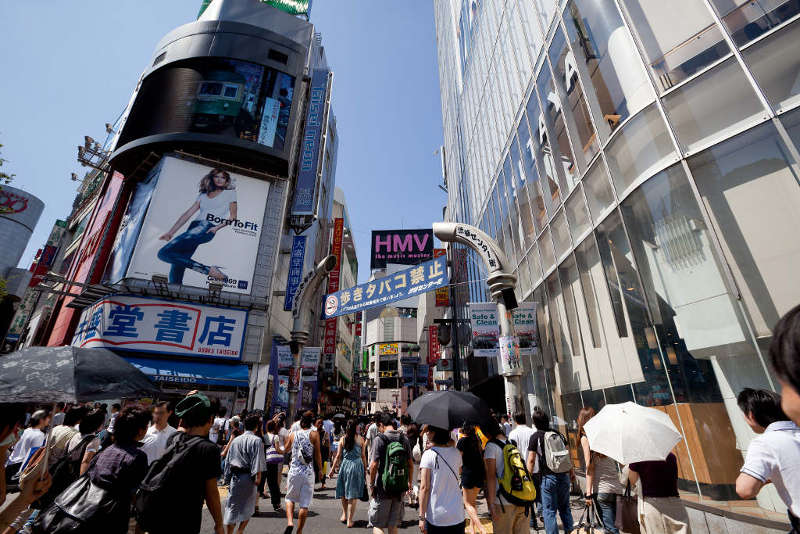 Center Gai
Dogenzaka
Dogenzaka, also known as the
Love hotel hill
, is an area with a high concentration of love hotels of all kinds and for all budgets.
What are love hotels?
In recent years, besides the various love hotels, more and more red-light establishments have been opening.
For Otaku: Mandarake
Mandarake is a chain of stores for otaku, specializing in anime, manga, doujinshi, action figures and various related stuff.
A quite large underground store is located in Shibuya (see map at the bottom), other two branches are located in
Akihabara
and
Nakano
.
Clubbing in Shibuya
Shibuya is one of the areas of Tokyo where to find several discos and clubs, along with
Roppongi
. While Roppongi is usually full of foreigners and the Japanese are few, in Shibuya the percentage of local people is higher.
If you love clubbing we recommend to
buy this pass
which gives you unlimited admission for 7 days to a selection of discos in Tokyo, five of which are located in Shibuya:
R Lounge
,
Koara
,
Laurel Tokyo
,
Underbar
and
Fai Aoyama
.
Buy online Tokyo Nightclubbing 7-day Unlimited Pass
Nonbei Yokocho
A very little and unknown area of Shibuya, a neighborhood usually famous for its neon, fashion stores, department stores, nightclubs and crowds of young people.
Nonbei Yokocho is on the contrary a quite narrow street full of litte bars, you can get there easily from the Hackiko exit of Shibuya station, passing through the underpass under the tracks and turning immediately left. The bars are very small, similar to those of Golden Gai in
Shinjuku
, perhaps they're even smaller, with very few seats.
A strange characteristic is that all these bars don't have their own toilets, but they share some public toilets out in the street.
If you can't speak japanese, it's highly recommended to go there with some japanese friends.
Where to stay in Shibuya
Shibuya is a very recommended neighborhood where to stay, since it has a very active nightlife, and its position is also perfect as a starting point to visit the other areas of the city.
In this area there aren't so many hotels, and most of them belong to a high price range.
If you have lots of money to spend I recommend you a room with city view at the
Tokyu Excel Hotel
or the
Cerulean Tower hotel
, but we are talking about at least 20,000 yen per night.
One of the cheapest in the area (but not so cheap, sometimes you can find good offers) is the
Shibuya Tobu hotel
, another one is the
Shibuya Tokyu REI Hotel
.
For those who have no money the
Bagus
internet cafe
inside the building with the HMV sign is perfect, in central position, and it is not the only internet cafe in the area, there are others.
Eating in Shibuya
Gonpachi
Gonpachi
is located on the 14F of the
E-Space Tower
(see the map at the bottom). This restaurant is famous for its
soba
dishes, but the menu includes many different kinds of food, you can read it in their
english website
.
Ichiran Ramen
Just north of the station there is also a branch of
Ichiran ramen
.
How to get to Shibuya
Shibuya station is a very congested station served by several lines. You can get there easily from many areas of the city.
JR
lines:
Yamanote line
,
Saikyō Line
,
Shōnan–Shinjuku Line
.
Tokyo Metro
lines:
Ginza line
,
Hanzomon Line
,
Fukutoshin Line
.
Other private lines:
Keio
Inokashira line
,
Tōkyū
Den-en-toshi line
,
Tōkyū
Tōyoko line
(very useful to/from
Yokohama
).
You could get to Shibuya also on foot from
Harajuku
area or even from
Shinjuku
(a very long walk in the latter case).
Map of Shibuya, Tokyo
Guided tours, activities and other things to do
If you are planning a trip to Japan and you want to do something more than just visiting famous places and monuments, we suggest you to use
Govoyagin
.
How to use Govoyagin
Govoyagin is a very useful website to
enrich your travel experience
, especially if you are going solo or it's your first time in Japan.
Because of the language barrier (and more), in Japan it is very difficult to interact with the locals and to get off the tourist track.
Thanks to Govoyagin you can find a lot of interesting and sometimes unique
guided tours and activities
all over Japan (and not only in Japan), that you would otherwise never be able to enjoy.
But there's more: on Govoyagin you can also
buy tickets
for several famous attractions, events, transportation and other useful services for tourists. Last but not least, you can
reserve a table
in hundreds of restaurants.
Some examples
Take a look at Govoyagin
You may also be interested in