Shibuya
last update: February 07, 2023
Shibuya (渋谷) is one of the 23 special wards of the city of Tokyo and is very large. However, in common parlance as well as on this page, when we talk about Shibuya we refer to the area around Shibuya Station, one of Tokyo's main shopping and entertainment centers. Shibuya and its shops are notably a trendy neighborhood for fashion and youth culture, and its streets are always full of young people and teenagers. Shibuya is the world's busiest pedestrian intersection district, the Hachiko dog, hip department stores and hundreds of shops, restaurants, bars, karaoke and night clubs.
Things to see and things to do in Shibuya
Shibuya is one of the city's major hubs for shopping and youth fashion during the day, and for restaurants, pubs and nightclubs of all kinds at night. Strictly speaking, there isn't much to visit in this area. It is above all a neighborhood to live and explore, walking on foot through its chaotic streets. It is also a perfect place to go shopping, with thousands of small shops scattered throughout the neighborhood and huge branches of many famous department stores (
Parco
,
Loft
,
Tokyu Hands
,
Marui
,
Seibu
) around Shibuya station. At the end of 2022 also opened the newest and coolest observation deck in Tokyo, the
Shibuya Sky
on top of the brand new skyscraper Shibuya Scramble Square.
Hachiko
The statue of
Hachiko
depicts a dog whose story is now famous around the world, especially after the release of the film ("Hachi: A Dog's Tale", 2009). He became famous for his enormous loyalty to his owner, Professor Hidesaburō Ueno. After the sudden death of Ueno, the dog went every day, for nine years, to wait for him at the station where the man used to take the train to get to work. In 1934, when the dog died, the local community, deeply moved, decided to dedicate him a statue, which today is still there, in front of Shibuya Station. To find it, just follow the signs to the
Hachiko exit
of Shibuya station.
The area around the statue is always very crowded, because of the many Japanese people using this place as a meeting point and the tourists who want their selfie with the most famous akita dog in the world.
Shibuya crossing
RIght in front of the
Hachiko exit
of Shibuya station you can find the most famous intersection in the world. When the traffic lights for cars turn red, the street gets filled with thousands of people crossing it in all directions, it's an incredible scene to see.
You can cross the crossing with your own feet or observe the multitude of human beings from several strategic points. In particular, the glass windows of the
Starbucks
cafe located in front (but getting a table next to the windows might be a mission impossible), or the walkway over the road within the
Shibuya Mark City
.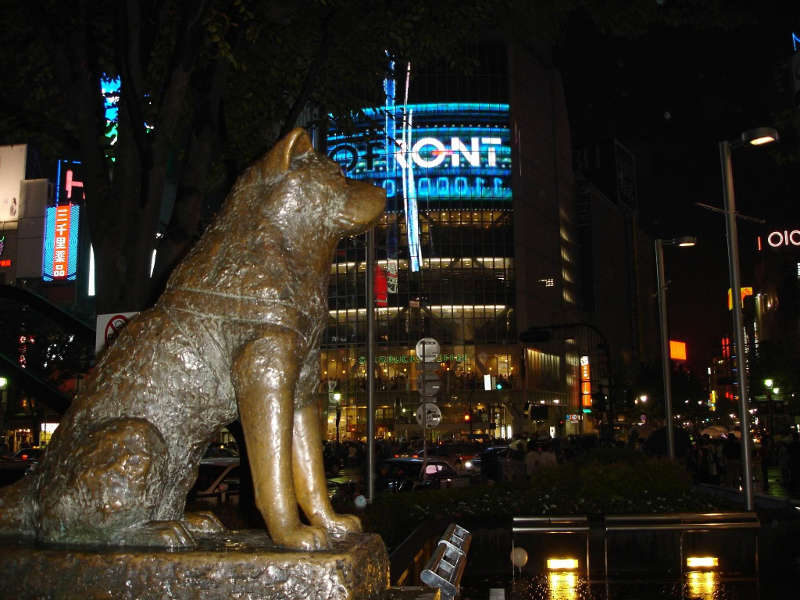 The statue of Hachiko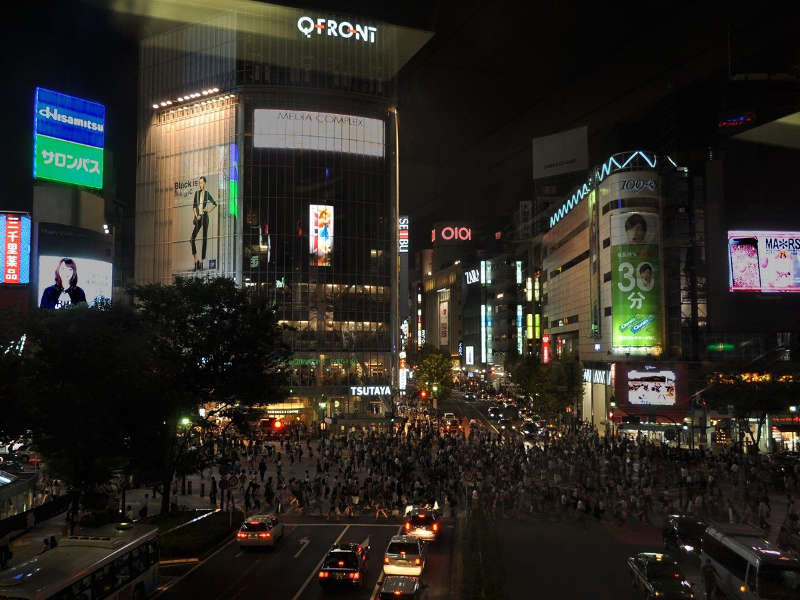 Shibuya crossing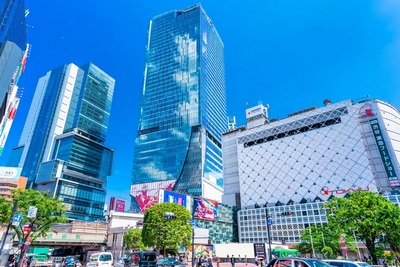 Shibuya Sky
(admission 2000¥ opening hours 10:00-22:30, 1800¥ by purchasing tickets online on this website)
Shibuya Sky is the name given to a paid observation deck located atop the Shibuya Scramble Square skyscraper. This skyscraper, built right above Shibuya Station, is 230 meters tall and was completed in 2019, making it the tallest in the neighborhood. In addition to the panoramic observatory at the top, the skyscraper houses a Kinokuniya supermarket and other food shops on the two underground floors, fashion shops on the first 11 floors, many restaurants on the 12th and 13th floors, some large windows overlooking the pedestrian crossing on floor 12, the rest of the tower is mainly private offices. Shibuya Sky is currently one of the coolest observation decks in Tokyo. Taking escalators that seem to ascend to the sky, one ascends directly to the roof, for an open-air view of Tokyo's infinity. Tokyo is full of observation decks atop skyscrapers, but almost none allows you to go outdoors. The only ones are Shibuya Sky and the one in Roppongi Hills. The Shibuya Sky observatory offers visitors several side attractions in addition to the panoramic view. On the roof you will find hammocks where you can relax, laser light shows every evening from 7pm, and various points designed to take memorable photos. The indoor observatory, one floor below the roof, includes some contemporary art installations.
Buy Shibuya Sky tickets online and save 200¥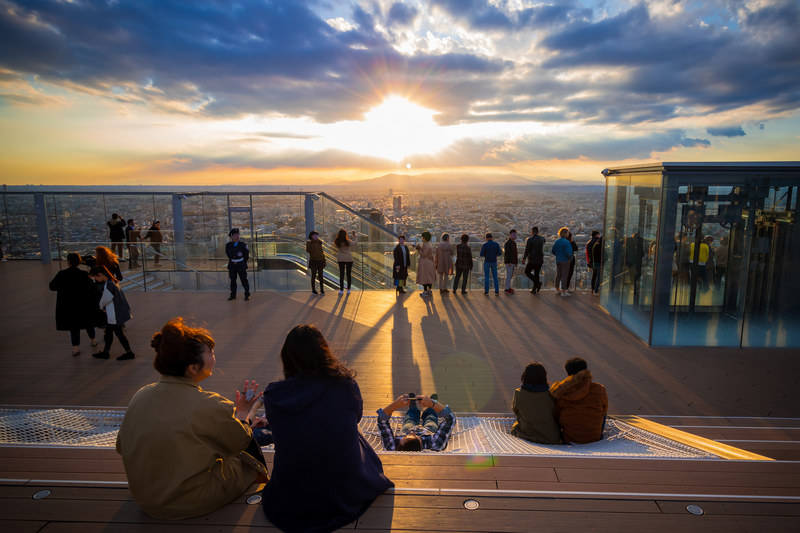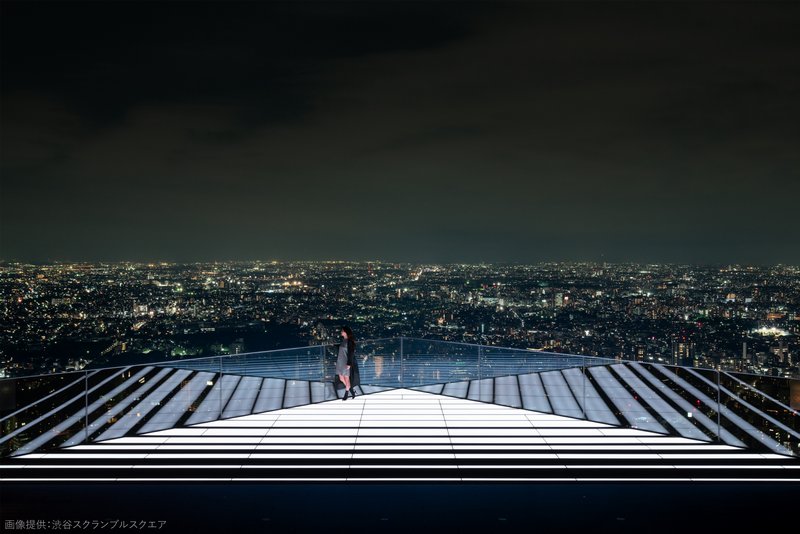 Buy Shibuya Sky tickets online and save 200¥
Center Gai
A very famous pedestrian street in Shibuya (350 meters long), you can get there by crossing the well-known intersection and heading in the direction of the huge HMV sign.
Around this street there are a lot of music stores, clothes stores (also second-hand clothes), restaurants, bars and arcades. It is the birthplace of many Japanese youth fashion trends.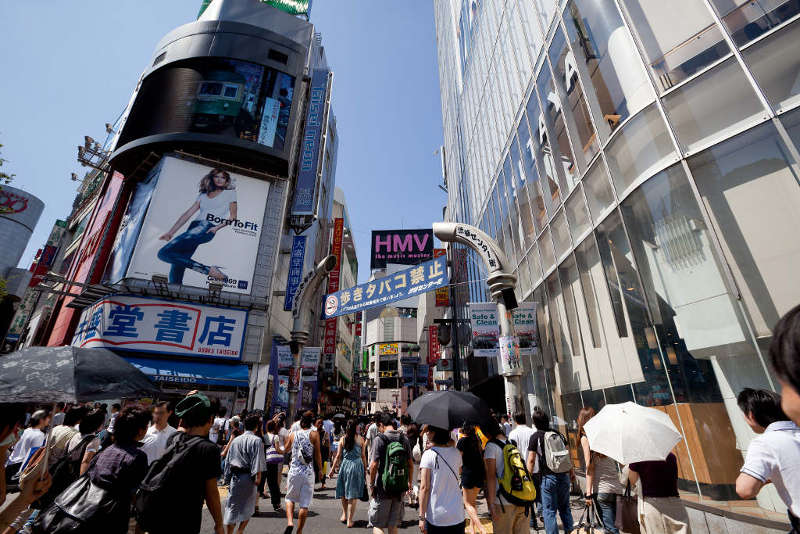 Center Gai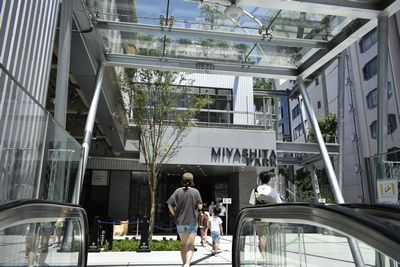 Miyashita Park
Miyashita Park is a large shopping complex, also among the newest in the neighborhood. The building has a distinctive design that extends lengthwise into the area once occupied by a park. Today, the park has been recreated on the roof of the building, which has become one of the most popular meeting places for friends and couples in the neighborhood. On the roof there are several spaces to sit and relax, a skateboard track, a climbing wall, and a sand court for beach volleyball and beach soccer. On the ground floor of this building, on the south side, a long series of restaurants with a very characteristic atmosphere is called Shibuya Yokocho.
Dogenzaka
Dogenzaka, also known as the
Love hotel hill
, is an area with a high concentration of love hotels of all kinds and for all budgets.
What are love hotels?
In recent years, besides the various love hotels, more and more red-light establishments have been opening.
Mandarake and Nintendo Store
If you love anime, manga or video games, heaven on earth exists and it is
Akihabara
. However, even in Shibuya you can find two interesting gems. One is
Mandarake
, a chain of stores selling action figures, manga and so on. A very large underground branch is located right in Shibuya (see map). Another one is the
Nintendo Store
, located on the 6th floor of the Parco shopping mall. Strange as it may seem, this is
the only official store entirely dedicated to the Nintendo brand in all of Japan
. There are only two such places in the world and they are located in Manhattan (New York City) and Tel Aviv (Israel) respectively. A place not to be missed for all lovers of the creator of world brands such as Super Mario, Pokemon and Zelda.
Clubbing in Shibuya
Shibuya is one of the best areas of Tokyo if you are looking for nightclubs, together with
Roppongi
. Below is a non-exhaustive list of some popular clubs in Shibuya:
this Tokyo pub crawl in the company of other travelers
. The welcome drink and the first meeting with the group is at the Propaganda club in
Roppongi
, then you will go together to other clubs in the area.
Nonbei Yokocho
A very little and unknown area of Shibuya, a neighborhood usually famous for its neon, fashion stores, department stores, nightclubs and crowds of young people.
Nonbei Yokocho is on the contrary a quite narrow street full of litte bars, you can get there easily from the Hackiko exit of Shibuya station, passing through the underpass under the tracks and turning immediately left. The bars are very small, similar to those of Golden Gai in
Shinjuku
, perhaps they're even smaller, with very few seats.
A strange characteristic is that all these bars don't have their own toilets, but they share some public toilets out in the street.
If you can't speak japanese, it's highly recommended to go there with some japanese friends.
Where to stay in Shibuya
Shibuya is a very recommended neighborhood where to stay, since it has a very active nightlife, and its position is also perfect as a starting point to visit the other areas of the city.
In this area there aren't so many hotels, and most of them belong to a high price range.
If you have lots of money to spend I recommend you a room with city view at the
Tokyu Excel Hotel
or the
Cerulean Tower hotel
, but we are talking about at least 20,000 yen per night.
One of the cheapest in the area (but not so cheap, sometimes you can find good offers) is the
Shibuya Tobu hotel
, another one is the
Shibuya Tokyu REI Hotel
.
For those who have no money the
Bagus
internet cafe
inside the building with the HMV sign is perfect, in central position, and it is not the only internet cafe in the area, there are others.
Eating in Shibuya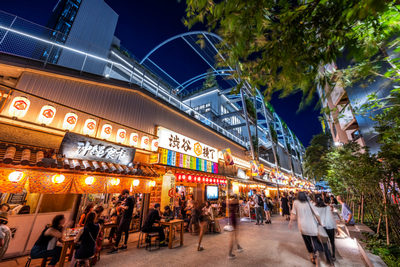 Shibuya Yokocho
Shibuya Yokocho is a street about 100 meters long located next to the Miyashita Park shopping complex on the south side. An atmosphere designed to resemble that of the shopping arcades of yesteryear has been created here. Along this road is a long line of restaurants and izakayas, each specializing in food from a different prefecture of Japan. The choice is very wide, from the extreme north of Hokkaido to the extreme south of Okinawa, and also including some foreign cuisines such as the South Korean and Taiwanese. There are both indoor and outdoor tables that overlook the street. Shibuya Yokocho is one of the newest places in the neighborhood but now one of the favorite places for Japanese and tourists to eat and drink in Shibuya.
Gonpachi
Gonpachi
is a very popular local restaurant chain in Tokyo. The furnishings are very characteristic, while the restaurant's specialties are soba and tempura, but the menu also includes other dishes. The historic Shibuya branch is located on the 14th floor of the E-Space Tower, and is accessed via a panoramic glass elevator. The restaurant is very popular with tourists and has menus in English, which you can also check out on
their website
.
Ichiran Ramen
If you want to try the famous
Ichiran Ramen
chain, there are two convenient branches in Shibuya.
How to get to Shibuya
Shibuya station is a very congested station served by several lines. You can get there easily from many areas of the city.
JR
lines:
Yamanote line
,
Saikyō Line
,
Shōnan–Shinjuku Line
.
Tokyo Metro
lines:
Ginza line
,
Hanzomon Line
,
Fukutoshin Line
.
Other private lines:
Keio
Inokashira line
,
Tōkyū
Den-en-toshi line
,
Tōkyū
Tōyoko line
(very useful to/from
Yokohama
).
You could get to Shibuya also on foot from
Harajuku
area or even from
Shinjuku
(a very long walk in the latter case).
Map of Shibuya, Tokyo
Guided tours, activities and other things to do
If you are planning a trip to Japan and you want to do something more than just visiting famous places and monuments, we suggest you to use
Rakuten Travel Experiences
.
How to use Rakuten Travel Experiences
Rakuten Travel is a very useful website to
enrich your travel experience
, especially if you are going solo or it's your first time in Japan.
Because of the language barrier (and more), in Japan it is very difficult to interact with the locals and to get off the tourist track.
Thanks to Rakuten Travel you can find a lot of interesting and sometimes unique
guided tours and activities
all over Japan (and not only in Japan), that you would otherwise never be able to enjoy.
But there's more: on Rakuten Travel you can also
buy tickets
for several famous attractions, events, transportation and other useful services for tourists. Last but not least, you can
reserve a table
in hundreds of restaurants.
Some examples
Take a look at Rakuten Travel Experiences
You may also be interested in