Internet in Japan
Having an internet connection available during a trip is nowadays considered a necessity by many travelers around the world. You want to consult the maps or train timetables, or post photos and videos live on your social medias, or chat with friends and relatives. In Japan it is very easy both to find free wifi hotspots and to get a 24-hour internet connection on your phone for a fee.

Whatever you decide to do, do not forget that you are traveling in a foreign country and every second spent looking at your smartphone's display is a lost opportunity to see something around you that you will never have a chance to see once back home.
Prepaid sim cards, pocket wifi and other paid services
Docomo Wi-Fi for visitor
Docomo has installed a network of 150 thousand hot-spots scattered around Japan to which it is possible to connect with any device. To use them you need to buy a subscription of 1 or 3 weeks, at the price of 972¥ and 1404¥ respectively.
Both purchase and payment can be done in a few seconds directly online, at
this link
.
Here
you can find a complete map of all the hotspots in Japan, with a truly remarkable coverage, including many JR and Tokyo Metro stations, KFC and Lotteria (fast foods), 7/11, Lawson, Family Mart and Ito Yokado (convenience stores), Starbucks, Tully's and Doutor (cafes), and many other places.
Rent a portable hotspot (pocket wifi)
One of the best solutions to have a fast internet connection wherever you are in Japan, particularly convenient especially if you travel with some other person and you can share the cost.
A pocket wifi (
MiFi
) is nothing more than a pocket device that works as a wifi router, to which you can connect from any of your devices (PC or smartphone) with a wifi connection. The device receives the internet connection from the mobile network (as if it were a mobile phone) so it works wherever there is signal coverage, and of course you can connect multiple devices at the same time.
You can rent a pocket wifi directly at the airport on the day of your arrival (you'll see several dedicated counters immediately after leaving the baggage claim area). In the major international airports of Japan there are many offices of different companies that offer this type of service:
As an alternative, you can use one of the many websited providing this service, and they will send you the pocket wifi
directly to your hotel in Japan
or to a dedicated counter at the airport.
Rent your pocket wifi online and pick it up at your hotel or airport
Buy a prepaid data sim card
This solution is increasingly preferred by tourists. The cost of a prepaid sim for tourists depends on several factors, namely the
number of days
during which you want to use the sim card, the
amount of gigabytes
that you are allowed to use, the possibility to make
unlimited local calls
or other additional services.
Once you get your sim, all you have to do is insert it into your smartphone. If desired, you can also share the connection with other devices via the
tethering function
.
You can buy your prepaid sim card in several ways:
On the Internet at one of the many websites that offer this service, paying by credit card and collecting the sim directly at your hotel in Japan or at one of the dedicated counters at the airport (Click here for the most convenient online prepaid sim cards);
In the arrivals area of the main international airports, both in dedicated desks and even through vending machines;
In all the big electronics stores in any city (Bic Camera, Yodobashi Camera, Yamada Denki, etc.);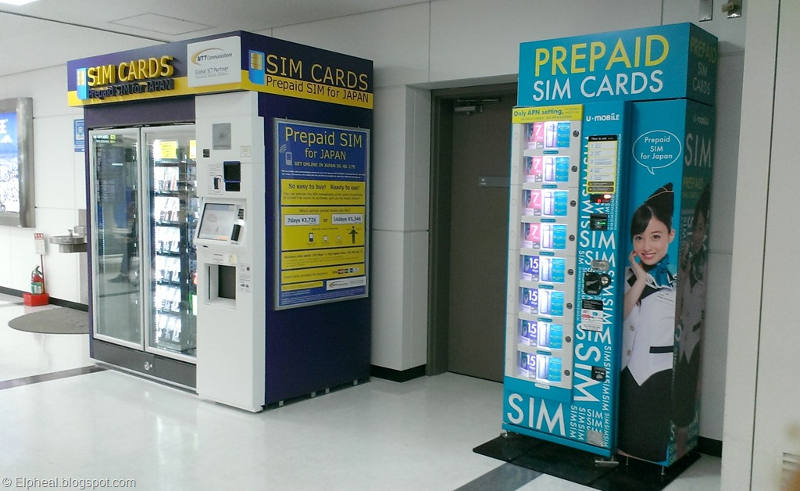 sim card vending machines at Tokyo Narita airport
The best data sim cards for foreign tourists in Japan
Internet access via free wifi hotspots
At the hotel
Nowadays almost all the hotels in Japan, as well as in the rest of the world, offer a free
wifi
internet connection.
Many hotel rooms, especially in business hotels, are also equipped with a
ethernet
socket for wired connection of your laptop. If you can't find the Ethernet cable in your room, simply ask the reception.
Free wifi hot spots around
Public wifi hotspots in Japan have spread a lot in recent years, and, especially in big cities,
they can be found easily
. Among the places where you will almost certainly be able to find a network to connect to, there are in particular:
Airports
Railway stations
Shopping centers and department stores
Konbini (convenience store)
Cafes, restaurants and fast foods
Tourist information centers
Main free wifi hotspot networks

Free Wi-Fi Passport
A free service offered by telephony giant Softbank. In total, there are more than 400 thousand hotspots scattered around Japan and it's easy to find one.
Registration procedure
: to be able to use the service it is necessary to register a first time, selecting the Softbank network as roaming operator of your phone, and calling the number
*8180
. A voice on the phone will give you a password. From that moment you can complete the registration and log in to all hotspots belonging to this network using the password received and your phone number as your ID.
More information
;

JR East Free Wi-Fi
In many JR stations in the Tokyo area and other cities in eastern Japan.
More information
;

JR West Free Wi-Fi
In many JR stations in Osaka, Kyoto, Hiroshima, and other cities in western Japan.
More information
;

NTT East Free Wi-Fi
In Tokyo, Yokohama and many other cities in eastern Japan, hundreds of free hotspots for foreigners only.
More information
;

Kyoto WiFi
In Kyoto, some hundreds of free hotspots made available by the city government.
More information
;

Osaka WiFi
In Osaka, some hundreds of free hotspots made available by the city government.
More information
;
Fukuoka City Wi-Fi
In Fukuoka, some hundreds of free hotspots made available by the city government.
More information
;

Hiroshima Free Wi-Fi
In Hiroshima, some hundreds of free hotspots made available by the city government.
More information
;
7 Spot
In thousands of konbini of the 7 Eleven chain, in all the cities of Japan.
More information
;
Japan Connected-free Wi-Fi
In addition to the large networks of free hotspots like those listed above, there are so many thousands of smaller free hotspot networks scattered around Japan and it is impossible to list them all. Fortunately, we have
Japan Connected-free Wi-Fi
, a great service created to help tourists.
Installing the dedicated app, available for both
android
and
iphone
, you can make a single registration and use the credentials for all the affiliated wifi hotspots (about 170 thousand in all Japan). Moreover, both through the app and on the
website
, you can consult the maps of all the hotspots and also download them for offline consultation.
Internet access with your own SIM card
Using your own sim card to connect to the internet while roaming, used to be, until a few years ago,
an economic suicide
.
Today, on the contrary, tariffs have fallen a lot, and in some cases mobile phone carriers might offer convenient international plans including internet and calls from abroad.
Obviously it is impossible to give advice that is valid for all the countries of the world, you must check and evaluate well,
it may or may not be convenient depending on your home country and your mobile phone operator
.
Internet Cafes
If, while in Japan, you don't need just an internet connection but also a computer, you can go to one of the many
internet cafes
scattered around the main Japanese cities (especially around the main stations).
In a japanese internet cafe you can rent small cubicles equipped with a PC, where you can also take a rest or take a nap or stay overnight. Many internet cafes also offer complementary services such as free drinks and shower rooms.
More information on internet cafes in Japan
.
Guided tours, activities and other things to do
If you are planning a trip to Japan and you want to do something more than just visiting famous places and monuments, we suggest you to use
Rakuten Travel Experiences
.
How to use Rakuten Travel Experiences
Rakuten Travel is a very useful website to
enrich your travel experience
, especially if you are going solo or it's your first time in Japan.
Because of the language barrier (and more), in Japan it is very difficult to interact with the locals and to get off the tourist track.
Thanks to Rakuten Travel you can find a lot of interesting and sometimes unique
guided tours and activities
all over Japan (and not only in Japan), that you would otherwise never be able to enjoy.
But there's more: on Rakuten Travel you can also
buy tickets
for several famous attractions, events, transportation and other useful services for tourists. Last but not least, you can
reserve a table
in hundreds of restaurants.
Some examples
Take a look at Rakuten Travel Experiences
You may also be interested in