Shiodome, Shinbashi
last update: August 08, 2016
Shiodome
is a modern area full of skyscrapers built in the early 2000s thanks to a government redevelopment plan, and it is today the main area of
Shinbashi
, a central district of Tokyo not far from
Ginza
.
The neighborhood
Shio-site
Shio-Site is a very modern area of Shiodome with a dozen of modern skyscrapers, housing mostly offices, including major multinationals, but also some hotels and shopping centers.
This area is actually not so interesting for a tourist, but it can be a great set for photographers and lovers of modern architecture.
Among the various buildings, the most interesting ones are the
Nittele Tower
, the
Dentsu Building
, and the
Shiodome City Center
.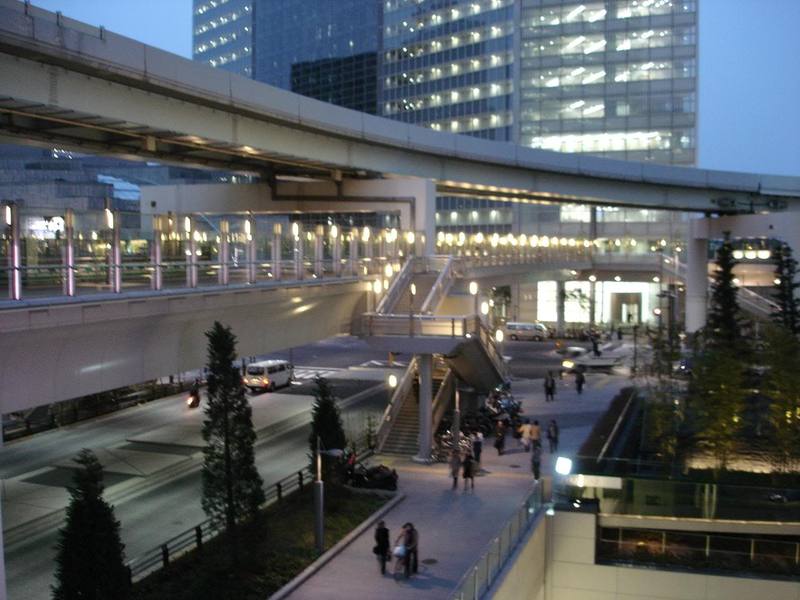 View of the skyscrapers in Shiodome
Nittele Tower
This skyscraper, 192 meters in height (32 floors), is also called
Nippon TV Tower
, as it houses the headquarters of the national broadcaster
Nippon TV
. You can have free access to the lobby, where there are some sofas and some tvs. Inside there is also a large shop (
Nittere-ya
) where to find various objects related to the characters and series of Nippon TV, and in particular of the anime
Anpanman
, very popular among japanese children.
Outside the building there is also a great and unique clock designed by the great
Hayao Miyazaki
.
Dentsu Building
A skyscrapers of 213 meters (48 floors), designed by the famous French architect
Jean Nouvel
.
In the lower part of the building you can find the shopping complex
Caretta Shiodome
, which includes many shops and restaurants, a theater, and an
advertising museum
(floors B1-B2, free admission). On the 46th floor there are also some panoramic restaurants, and to get to this floor you can also use a panoramic elevator with a
stunning view at night
. On this floor there are also some windows to admire the view from above.
During the Christmas period, in the lobby of this building are installed some amazing
Christmas illuminations
.
Shiodome City center
A skyscraper of 215 meters (42 floors), on the lower floors there is a shopping center, on the two last floors some luxurious panoramic restaurants. At
this link
in English the list of all the restaurants within the building.
Next to the Shiodome City Center there is a building which reproduces the
old Shinbashi station
(terminus of the first railway line ever built in Japan, Yokohama-Tokyo, in 1872), inside which can be found some historical information about the station and some restaurants.
During the Christmas period, in the lobby of this building are installed some amazing
Christmas illuminations
.
Tokyo night view from the panoramic lift inside the Dentsu Building
Hama Rikyu Gardens
(admission 300 yen, opening hours 9-17)
The largest Japanese traditional garden in Tokyo and perhaps the most fascinating one. It is located in the middle between the skyscrapers of Shiodome on one side, and the sea and the artificial islands of Tokyo Bay on the other side.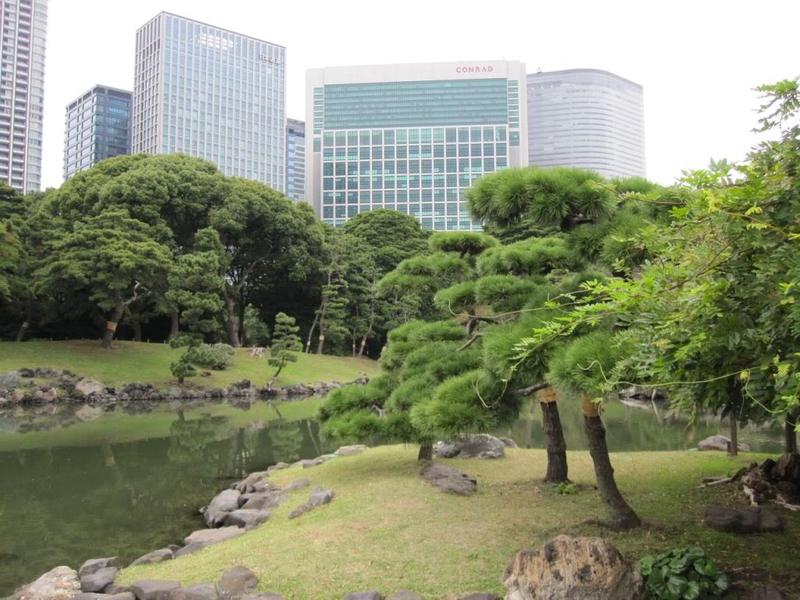 The skyscrapers of Shiodome sprouting amid the Hamarikyu gardens
Shiba Italia Park
A small garden located in a corner between railway tracks on one side and a highway on the other side, near the Hama Rikyu Gardens.
As said in a plaque located inside, it is an "Italian garden inspired by the Tuscan Renaissance style." Inside there are some reproductions of famous statues of the Italian Renaissance and a fountain.
Italian town
This area is located, as the crow flies, west of Shiodome station and the skyscrapers. It is called italian town because, according to those who projected it, it was built trying to reproduce a classic Italian or European architectural style. There are a few cafes, restaurants and shops.
Panasonic living showroom
(opening hours 10-18, closed on wednesdays)
Many people do not know that in Japan, Panasonic makes not only cameras, televisions and other stuff like that, but also items of furniture, and this showroom showcases right this kind of things.
Sleeping in Shiodome, recommended hotels
Some high-level hotels are located among the skyscrapers of Shiodome.
A very popular hotel among tourists, especially those on package tours, is the
Villa Fontaine Shiodome Hotel
.
For an unforgettable night on the top floors of a skyscraper, with a panoramic view (from some rooms you can see the Tokyo Tower) we definitely recommend the
Shiodome Royal Park Hotel
.
Practical guide, how to get to Shiodome, Tokyo
Shiodome station
is served by the
Oedo line
(Toei Metro) and by the unmanned train
Yurikamome
to
Odaiba
island.
Shinbashi station
is an important railway junction, served by the
Ginza line
(Tokyo Metro) and
Asakusa line
(Toei Metro), terminus of the
Yurikamome
to
Odaiba
and also by some JR railway lines (
Yamanote line
,
Keihin-Tōhoku Line
,
Yokosuka Line
).
Map of Shiodome, Tokyo
Guided tours, activities and other things to do
If you are planning a trip to Japan and you want to do something more than just visiting famous places and monuments, we suggest you to use
Govoyagin
.
How to use Govoyagin
Govoyagin is a very useful website to
enrich your travel experience
, especially if you are going solo or it's your first time in Japan.
Because of the language barrier (and more), in Japan it is very difficult to interact with the locals and to get off the tourist track.
Thanks to Govoyagin you can find a lot of interesting and sometimes unique
guided tours and activities
all over Japan (and not only in Japan), that you would otherwise never be able to enjoy.
But there's more: on Govoyagin you can also
buy tickets
for several famous attractions, events, transportation and other useful services for tourists. Last but not least, you can
reserve a table
in hundreds of restaurants.
Some examples
Take a look at Govoyagin
You may also be interested in