Hiroshima
Hiroshima (広島) is the main city of the Chugoku region and is home to 1.2 million inhabitants. The city sadly became famous after being hit by the first atomic bomb in human history, on August 6, 1945. The explosion destroyed much of Hiroshima, which was however quickly rebuilt by the tenacious Japanese people, as well as the ancient feudal castle and the Shukkeien Garden. Today, in the epicenter of the explosion, there is the great Peace Park, a place dedicated to memory and which marks the thoughts of all those who go to visit it.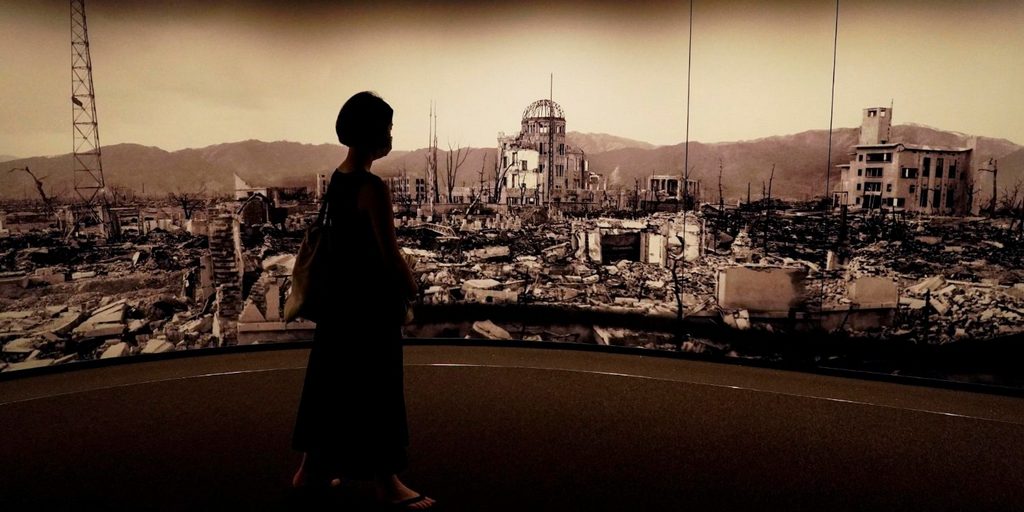 Plan your trip to Hiroshima
Where to stay
recommended hotels, ryokans and very cheap accommodation in Hiroshima
Hiroshima travel guide district by district
Hiroshima Castle
the old feudal castle of the city, surrounded by a large public garden and other attractions.
City center
the commercial and entertainment heart of the city, bars, restaurants, izakaya and red light clubs.
Hijiyama
a hill covered by a forest, with panoramic views over the city and home to an important museum of the city.
Peace Park
the most famous place in the city, dedicated to the tragedy of the atomic bomb that destroyed the city on August 5, 1945.
Shukkeien Garden
traditional Japanese landscape garden, among the most beautiful in the Chugoku region.
Quick answers about Hiroshima
Is Hiroshima worth visiting?
Yes, Hiroshima is worth a visit for any tourist traveling to Japan. The area of the Peace Park, with its museum of memory and various commemorative monuments, is a unique place in the world. It is worth visiting to remember the atrocities of war and learn about the devastating impact of an atomic bomb. The nearby island of
Miyajima
is one of the most fascinating places in Japan, between history, religion and nature. The rest of Hiroshima city is not a must see, so it depends on the time available.
How many days to stay in Hiroshima?
One night and two days in Hiroshima is the most popular choice among tourists and the most recommended if you are planning a tour of Japan. By doing this you can dedicate a whole day to Hiroshima, visiting not only the Peace Park but also something else in the city center (for example the castle), and another full day to Miyajima Island.
A day trip to Hiroshima is feasible if you depart from Kyoto or Osaka and come by shinkansen high-speed train (less than 2 hours of travel). In doing so you can visit, in a tour de force, the island of Miyajima in the early morning and the Peace Park in the early afternoon, then an okonomiyaki for dinner and finally you can take the train back. However feasible does not mean recommended, only consider this idea if you have no other choice.
Two days to be dedicated only to Hiroshima are ideal if you want to calmly visit all the tourist areas of the city, therefore the Castle, the Shukkeien Garden, Hiyajima and the city center (in addition to the Peace Park). Three days also counting the island of Miyajima.
What to eat in Hiroshima?
Hiroshima is mainly famous for its style of okonomiyaki, a typical Japanese dish that according to some was born in Hiroshima, according to others in Osaka. Hiroshima citizens are very proud of their way of making okonomiyaki. Basically, in Hiroshima the ingredients are layered and pressed together during cooking, while in Osaka the batter is mixed first. In addition, soba noodles are mixed into the ingredients in Hiroshima.
Another famous dish (more of the region than the city) are oysters, cooked grizzly or with other ingredients in various dishes, including okonomiyaki with oysters.
Although not as famous as others, there is also a Hiroshima-style ramen, which uses thin and soft noodles, in chicken broth with a hint of soy sauce and lots of bean sprouts as the main vegetable.
Hiroshima-style tsukemen are another noodle dish from the city. The noodles are dipped here in an extra spicy sauce with a lot of chilli and garnished with spring onion and cabbage.
Guided tours, activities and other things to do
If you are planning a trip to Japan and you want to do something more than just visiting famous places and monuments, we suggest you to use
Rakuten Travel Experiences
.
How to use Rakuten Travel Experiences
Rakuten Travel is a very useful website to
enrich your travel experience
, especially if you are going solo or it's your first time in Japan.
Because of the language barrier (and more), in Japan it is very difficult to interact with the locals and to get off the tourist track.
Thanks to Rakuten Travel you can find a lot of interesting and sometimes unique
guided tours and activities
all over Japan (and not only in Japan), that you would otherwise never be able to enjoy.
But there's more: on Rakuten Travel you can also
buy tickets
for several famous attractions, events, transportation and other useful services for tourists. Last but not least, you can
reserve a table
in hundreds of restaurants.
Some examples
Take a look at Rakuten Travel Experiences
You may also be interested in