Tokyo Dome City (Bunkyo)
Tokyo Dome City
is a large complex where you can have fun in a number of different ways, with a large baseball stadium, an amusement park with a Ferris wheel and roller coaster, a spa, and many other attractions. It is located in the very center of Tokyo, in the special ward of
Bunkyo
and not far from the
Ueno Park
. In Bunkyo, in addition to Tokyo Dome City, there are several other places of interest, including historic gardens, a free observatory, the Tokyo Catholic Cathedral and the world headquarters of judo.
Things to do and things to see in the Tokyo Dome City area
Tokyo Dome City
The landmark of Tokyo Dome City is the
Tokyo Dome
, a large 55,000-seat stadium that hosts the home games of the
Yomiuri Giants
, one of the main baseball teams in the japanese championship. Inside this stadium there is also a
baseball museum
.
Around the stadium there is an amusement park with free admission (you pay for each attraction you want to ride), called
Tokyo Dome City Attractions
. There are several attractions, both for adults and for children. The most famous and popular are the
Thunder Dolphin
roller coaster and the
Big-O
Ferris wheel. The Thunder Dolphin is an adrenaline-pumping roller coaster, reaching a peak of 80 meters in height and a speed of 130 km/h, and has the perhaps unique peculiarity of passing through a special hole in the building next door. The Ferris wheel boasts of being the only ring-shaped in the world, therefore empty in the center, and in some cabins you can find a karaoke to sing. The complete list of attractions can be found
here
.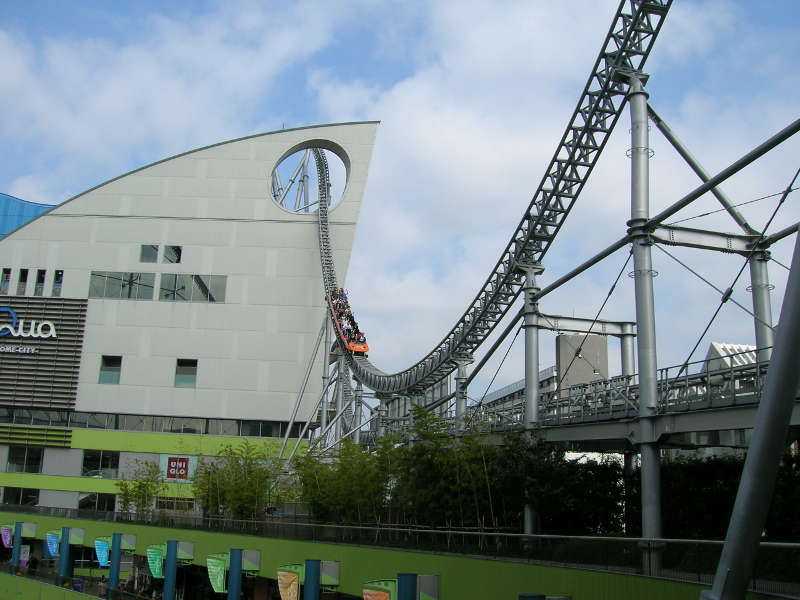 The Thunder Dolphin of Tokyo Dome City
In addition to the amusement park, there are also other separate attractions within Tokyo Dome City, including a large wellness center (
LaQua
), a arena hosting wrestling and other martial arts matches (
Korakuen Hall
), a theater hosting Super Sentai series shows (
G-Rosso Theater
). And more: a space museum, a two-story bowling alley, a roller skating arena and a center where you can practice golf or baseball or try climbing, all within the same building (
Yellow Building
).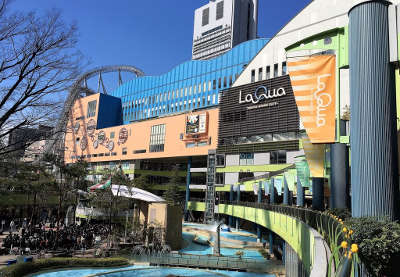 LaQua
Behind the roller coaster there is LaQua, a large spa that includes thermal pools, saunas, and more. The center also includes a variety of restaurants that form a circle around some of the Tokyo Dome City attractions. Here you will find the entrance to the Thunder Dolphin and the Big-O.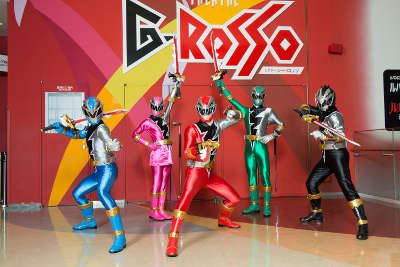 Teatro G-Rosso
This theater hosts live superhero shows from the Super Sentai series, on which the American Power Rangers series are based. The ticket costs 1600¥ and the show lasts 30 minutes, including fights, acrobatic jumps and special effects.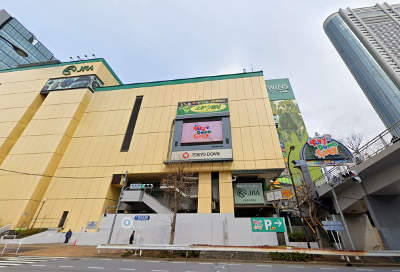 Yellow Building
Inside this mega building there are:
A capsule hotel (First Cabin Tokyo Dome City) with entrance on the ground floor.
the Spo-Dori center on the third floor, where you can practice climbing, or practice baseball and golf in dedicated cages.
the Tokyo Dome Roller Skate Arena on the fourth floor, Tokyo's largest indoor roller skating rink (1500¥ for two hours).
the Tokyo Dome Bowling Center, a huge two-story bowling alley. On the fifth floor there is a classic bowling alley, with an informal atmosphere and also suitable for children. On the fourth floor there is a very particular bowling alley and more for adults, with soft lighting and an elegant lounge bar serving delicious drinks.
Takusuru, a center where you can play table tennis (1200¥ for a table for half an hour), also located on the fifth floor.
Finally, on the sixth and top floor, there is the TenQ Space Museum (admission 1800¥), a museum dedicated to the world of space.
Other places of interest near Tokyo Dome City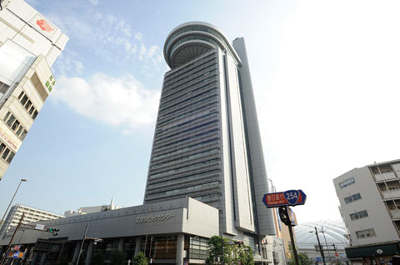 Bunkyo Civic Center
(free admission, opening hours 9:00-20:30)
The Bunkyo Civic Center is a 146 meter high skyscraper just 250 meters away from the Tokyo Dome, hosting the administrative offices of the local government. On the 25th floor of the building there is a free 360 degree panoramic observatory. The view is very interesting and you can see the skyscrapers of Shinjuku (with Mount Fuji behind on a clear day), Ikebukuro, and the Tokyo Sky Tree. There is also an inexpensive panoramic restaurant with a view to the south.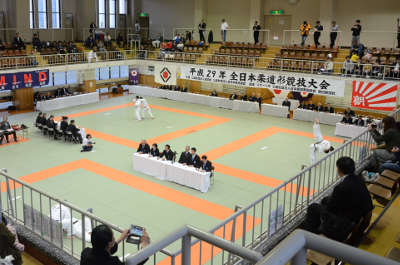 Kodokan Judo Institute
Kōdōkan is the world headquarters of judo, founded in 1882 by Kanō Jigorō, the founder of the martial art of judo. It is an eight-story building that houses several things. It is possible either to join a training session (if you are a judoka), or to enter to watch the training sessions or various events that take place in the main dojo on the seventh floor. To observe the training of athletes, go to the eighth floor where there are some bleachers from where you can see the dojo from above. More information in their website.
Other places of interest in Bunkyo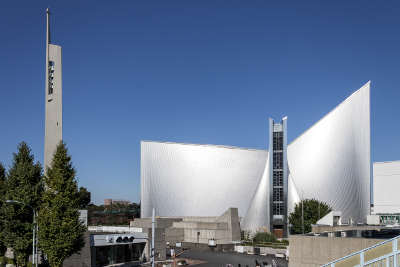 St. Mary's Cathedral
For those who are very religious and do not want to skip mass even while traveling, or simply for those who are passionate about architecture, in Bunkyo there is the Catholic Cathedral of Tokyo, "St. Mary's Cathedral", a very modern structure designed by Kenzo Tange. It is located in the western part of the district, about 500 meters from Gokokuji metro station.
Where to stay in Tokyo Dome City
Inside Tokyo Dome City there are two different hotels: the
First Cabin Tokyo Dome City
is a very modern and clean capsule hotel located inside the
Yellow Buidiling
. This hotel offers normal capsules for both men and women (starting at 2500¥ per night), but also more spacious cabins with a real bed (starting at 4500¥ per night). The
Tokyo Dome Hotel
is instead a large and elegant hotel inside a skyscraper of 43 floors. The rooms are very spacious and from the higher floors you can have a beautiful panoramic view of the city and the nearby amusement park.
How to get to Tokyo Dome City
Suidobashi station
along the
Chūō–Sōbu Line
is one of the most convenient stations to reach Tokyo Dome City. This line crosses Tokyo from east to west and connects the Tokyo Dome area with
Shinjuku
(14 minutes) and
Akihabara
(5 minutes). From both of these stations you can also easily change to the
JR Yamanote line
and reach the nearby areas of Shibuya and Ikebukuro (from Shinjuku), Ueno and Marunouchi (from Akihabara) and other areas in a few more minutes by train. The
West Exit
of Suidobashi station takes you in front of a pedestrian bridge that enters directly into Tokyo Dome City.
Alternatively, there are also some metro stations in the area:
Korakuen station (Marunouchi and Namboku line), located under the Bunkyo Civic Center.
Kasuga station (Oedo and Mita line), about 200 meters north of Tokyo Dome.
Map of Tokyo Dome City area
Guided tours, activities and other things to do
If you are planning a trip to Japan and you want to do something more than just visiting famous places and monuments, we suggest you to use
Rakuten Travel Experiences
.
How to use Rakuten Travel Experiences
Rakuten Travel is a very useful website to
enrich your travel experience
, especially if you are going solo or it's your first time in Japan.
Because of the language barrier (and more), in Japan it is very difficult to interact with the locals and to get off the tourist track.
Thanks to Rakuten Travel you can find a lot of interesting and sometimes unique
guided tours and activities
all over Japan (and not only in Japan), that you would otherwise never be able to enjoy.
But there's more: on Rakuten Travel you can also
buy tickets
for several famous attractions, events, transportation and other useful services for tourists. Last but not least, you can
reserve a table
in hundreds of restaurants.
Some examples
Take a look at Rakuten Travel Experiences
You may also be interested in