Nakano
Nakano is a typical small neighborhood in Tokyo which is located just west of Shinjuku. It really is not just a small neighborhood but it is one of the 23 special wards of Tokyo and has 300.000 inhabitants.
However the interesting area is quite limited (as far as I know, please write me if you have any other info). The "interesting" area is that around Nakano station, easily explorable on foot.
The neighborhood
As well as walking around and maybe stopping to eat, the only major local attraction is the
Nakano Broadway
.
Nakano Broadway
The Nakano Broadway is a huge multi-storey shopping mall, in which as many as two floors are full of shops for
otaku
. Inside you can find really everything about anime, manga and videogames. One of the shops is the largest site of Mandarake (famous chain of stores for otaku) in Tokyo.
Tip:
since it is covered, you can opt for the Nakano Broadway in a rainy day.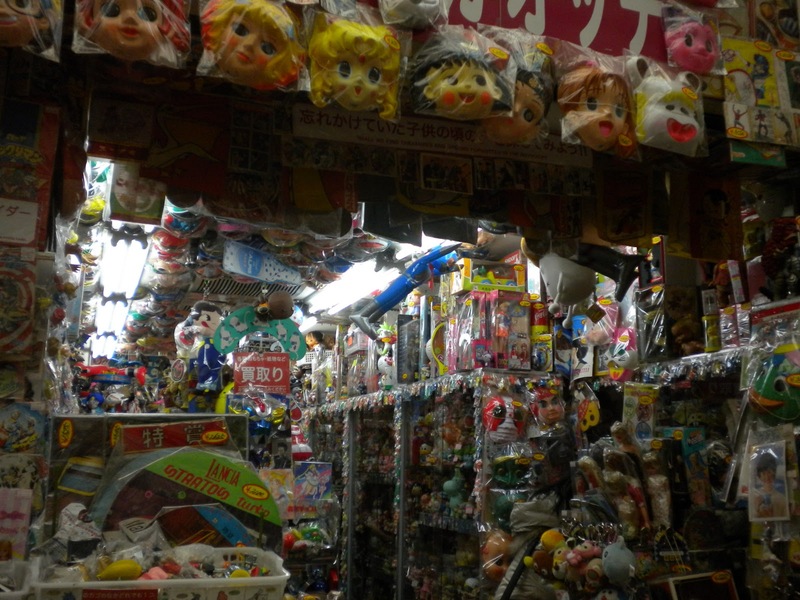 items for sale in a shop of the Nakano Broadway
Sleeping in Nakano
Going out from the station is clearly visible a large building, the only hotel I've seen in the area, the
Nakano Sunplaza
.
It is a 3-stars hotel, I don't know how much it can cost. Being very close to Shinjuku, Nakano is almost like to stay in Shinjuku so it's a good position, but there isn't a notable nightlife.
My personal opinion
For fans of anime/manga/etc the Nakano Broadway is a true paradise on earth.
However Akihabara is the same or probably better, so if you have little time go to Akihabara and forget Nakano.
It is very close to Shinjuku so you can easily visit it in less than two hours, but I think that stores like those must be visited calmly watching all the windows, a quick walk (for a fan) doesn't have much sense. Visit both Akihabara and Nakano only if you have a lot of time.
Pratical guide, how to get to Nakano and map
There are some station in Tokyo called like "Nakano-otherword" (ex. Shin-Nakano), but the right station for the Nakano Broadway is the one simply called "
Nakano
". You quickly arrive from Shinjuku taking the JR Chuo-line. Nakano is the first stop, less than 5 minutes. When you arrive, for the Nakano Broadway follow the "north exit".
Guided tours, activities and other things to do
If you are planning a trip to Japan and you want to do something more than just visiting famous places and monuments, we suggest you to use
Govoyagin
.
How to use Govoyagin
Govoyagin is a very useful website to
enrich your travel experience
, especially if you are going solo or it's your first time in Japan.
Because of the language barrier (and more), in Japan it is very difficult to interact with the locals and to get off the tourist track.
Thanks to Govoyagin you can find a lot of interesting and sometimes unique
guided tours and activities
all over Japan (and not only in Japan), that you would otherwise never be able to enjoy.
But there's more: on Govoyagin you can also
buy tickets
for several famous attractions, events, transportation and other useful services for tourists. Last but not least, you can
reserve a table
in hundreds of restaurants.
Some examples
Take a look at Govoyagin
You may also be interested in