Ryogoku
Ryogoku is the neighborhood of the the world of sumo in Tokyo. It is located on the banks of the Sumida River, on the other side and 1.5 km further south from Asakusa.
The neighborhood
Almost everything that can be interesting in the area is somehow linked to the world of sumo.
The Kokugikan
The largest sumo stadium in all Japan.
The sumo tournaments are held in January, May and September. These tournaments are quite "friendly" to foreigners, in fact there are brochures with the programs in English, and you can hire radios that comment sumo matches in English.
The ticket prices vary between 3500 yen and 8000 yen depending on the kind of seat and the distance of the seat from the ring.
Tickets can be purchased at the Kokugikan box offices, at the convenience stores (konbini), or even on the internet. More information on
this website
.
Inside the Kokugikan there is also a little
sumo museum
(free admission, 10-16:30, closed on weekends), all in japanese. In times of tournaments only ticket holders can visit it.
Ryogoku is also a neighborhood full of
beya
, the gyms where the sumo wrestlers train themselves. In some cases, you can watch the trainings for free or making an offer.
To do so it it is almost necessary to go together with some japanese friend, or at least you should speak Japanese. Trainings usually take place in the morning and could happen to meet some sumo wrestler on the streets of the neighborhood.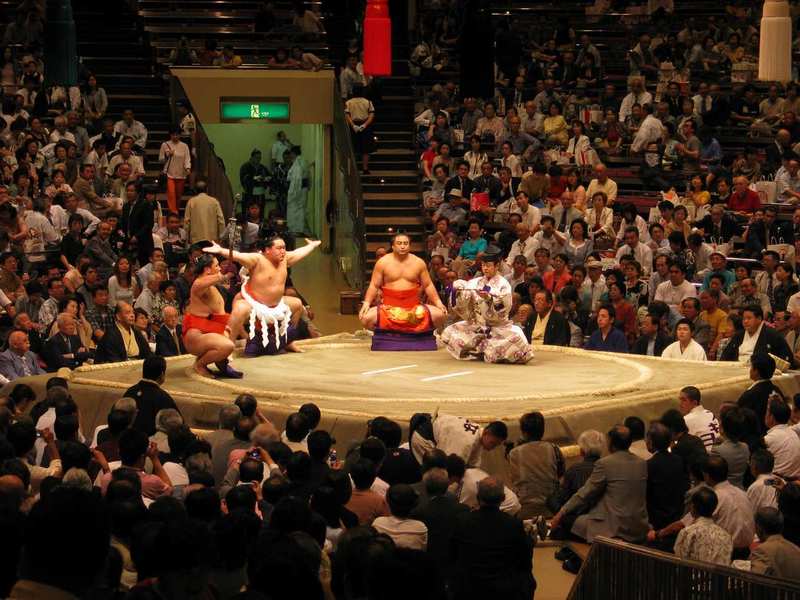 Ceremony before a match inside the Kokugikan
Edo Tokyo museum
(admission 600 yen, opening hours 9:30-17:30, closed on mondays)
This museum has nothing to do with sumo.
This is an interesting museum that retraces the history of Tokyo from when it was named capital during the Edo period, to the Second World War. There are many life-size replicas of historic buildings inside.
The museum offers lots of information in English and other languages and it's a very popular tourist attraction.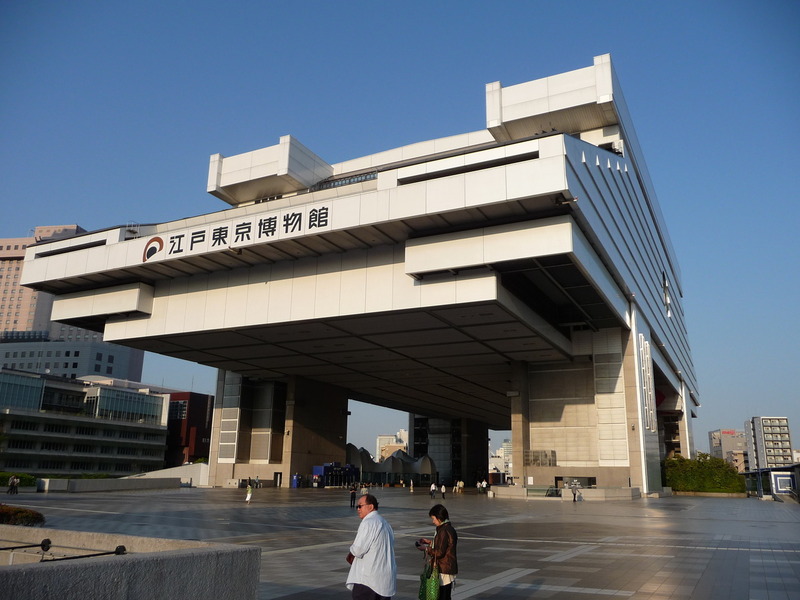 The modern structure that houses the Tokyo Edo Museum
Sleeping, where to stay in Ryogoku, recommended accommodation
Ryogoku is not a recommended neighborhood where to stay, because it's pretty far from the city center and it hasn't any nightlife.
Next to the Kokugikan there are two big hotels, the
Pearl Hotel
and the
Dai-ichi Hotel
, but there is no reason to decide to stay in Ryogoku, unless the main reason you're going to Tokyo is to follow a sumo tournament.
On the other side of the Sumida River, in the area of
Asakusabashi
, there are some pretty cheap accommodations instead, especially the
Anne Hostel
, with dormitory beds as low as ¥ 2,600 per night (breakfast included), the
Khaosan Tokyo Ninja hostel
, with dormitory beds as low as ¥ 2,200 and double rooms from ¥ 3,000 per person per night, and the small
Hotel Yanagibashi
, which offers single rooms with private bathroom as low as ¥ 5,000 per night.
Eating in Ryogoku
Chanko restaurants
The most interesting dish served in Ryogoku is
Chanko
.
Chanko is a very high-calorie dish usually eaten by sumo wrestlers, it's a mixture of many things, it can include vegetables, meat and fish.
A chanko restaurant is usually pretty expensive. In the map below it is marked one of the best ones,
Yoshiba chanko
.
Popeye beer club
A pub that offers a wide selection of beers including more than 40 japanese microbrews.
Pratical guide, how to get to Ryogoku
The closest station to the Kokugikan and the Tokyo Edo Museum is
Ryogoku station
, served by the
Chuo-Sobu line
of JR and the
Oedo line
of Toei metro.
Map of Ryogoku, Tokyo
Guided tours, activities and other things to do
If you are planning a trip to Japan and you want to do something more than just visiting famous places and monuments, we suggest you to use
Govoyagin
.
How to use Govoyagin
Govoyagin is a very useful website to
enrich your travel experience
, especially if you are going solo or it's your first time in Japan.
Because of the language barrier (and more), in Japan it is very difficult to interact with the locals and to get off the tourist track.
Thanks to Govoyagin you can find a lot of interesting and sometimes unique
guided tours and activities
all over Japan (and not only in Japan), that you would otherwise never be able to enjoy.
But there's more: on Govoyagin you can also
buy tickets
for several famous attractions, events, transportation and other useful services for tourists. Last but not least, you can
reserve a table
in hundreds of restaurants.
Some examples
Take a look at Govoyagin
You may also be interested in