Kabukicho - Shinjuku, Tokyo
last update: March 16, 2023
Named after a kabuki theater that was planned after the war but never built, the red light district of
Kabukicho
has the wildest nightlife of
Shinjuku
, of Tokyo and the whole of Japan. Any foreign tourist cannot fail to be fascinated by a stroll through the streets of Kabukicho.
Attractions and things to do in Kabukicho
Despite being the most famous red light district in Tokyo,
you don't have to imagine Kabukicho as a place for men only, where you only go in search of sexual adventures
. Unlike many red-light areas in the world, populated especially by prostitutes, strippers and horny males, in Kabukicho there is much more than that, and it is undoubtedly one of the most characteristic areas of Tokyo. In recent years, more and more tourist attractions have been opened.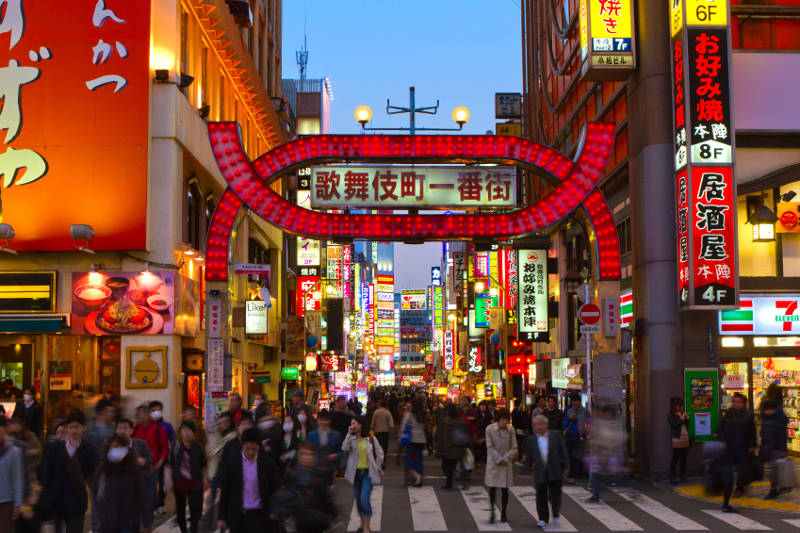 the red sign in the photo is a famous entry point to the red light district of Kabukicho
Non-sexual attractions and entertainment in Kabukicho
If, on the one hand, the neighborhood offers different forms of sexual entertainment to fulfill any sexual fantasy, on the other hand there are also many normal restaurants, cafés, izakaya, karaoke, pachinko rooms, arcades,
host and hostess clubs
, etc. In 2015, a giant statue of
Godzilla
was inaugurated. In 2018, a
samurai museum
also opened there.
Samurai Museum
(admission 1900¥, opening hours 10:30-21:00)
A private museum about samurai, their weapons and their history, located in the heart of Kabukicho.
Do not expect a museum full of exhibits of historical value, it is a fairly limited private collection made up mostly of reproductions, not of originals, although very accurate. The museum is designed for foreign tourists, attracted by that "legendary" world of samurai perhaps seen in some movies. To be clear, it is not a museum for archaeologists and you will hardly encounter Japanese visitors inside. The ticket price is incredibly expensive for the Japanese average, and the museum itself is quite small. However, the ticket includes a guided tour in English, the opportunity to wear a samurai armor and take a picture, the opportunity to watch a short katana show. In other words, if you see it as an attraction to spend an hour and maybe even learn something about the history of the Japanese Middle Ages, it's an interesting place to visit. If you prefer a classic "boring" museum, full of priceless artifacts, better go to one of the history museums of Ueno.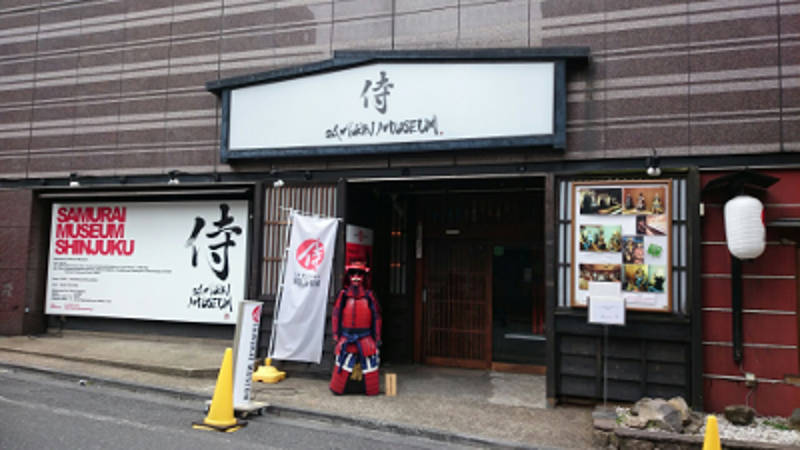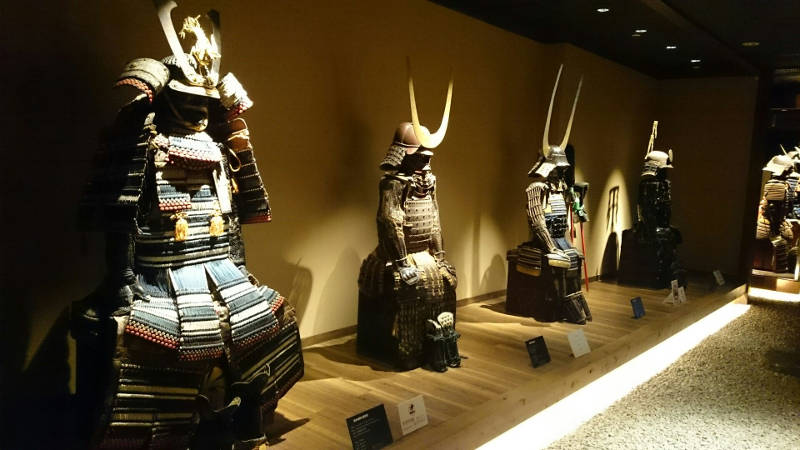 Samurai Museum (credits)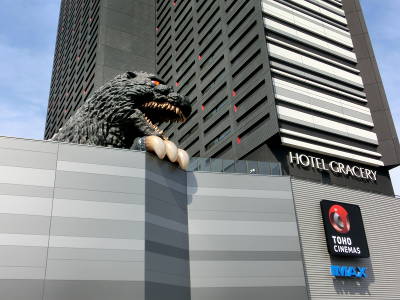 Giant Godzilla head
Walking the streets of Kabukicho, look up from time to time. Sooner or later you will notice a big head of Godzilla on the roof of a building. The building houses a cinema (Toho Cinemas) in the first floors, and then a hotel (Hotel Gracery Shinjuku).
The head of Godzilla is located on the terrace of the eighth floor, together with the hotel lobby and a café, the Cafè Terrace Bonjour.
If you want to see Godzilla more closely you can go up to the eighth floor and go to the terrace. It is not clear whether the terrace is reserved only for hotel guests or is public. In any case, nobody checks so if you are really interested, you can drop by, and if someone asks you can simply say that you want to go to the café. Or maybe you can really go to the cafè, since the menu also includes some Godzilla-themed desserts. Every hour, from 12 to 20, the giant Godzilla begins to emit loud roaring and flashing lights for a few minutes.
Toho cinemas Shinjuku
(standard tickets 1800¥, IMAX +500&yen, 3D +400&yen, IMAX3D +800&yen, MX4D +1200&yen, several discounts and promotions available)
If you want to try to go to the cinema in Japan, the Toho Cinemas of Kabukicho, just below the giant head of Godzilla, is one of the coolest and most modern cinemas in Tokyo. Opened in 2015, the cinema has 12 screens, two of which are an IMAX and a MX4D.
In Japan foreign films are rarely dubbed but only subtitled. So, if for example you want to watch an Hollywood movie, just go!
The cinema is open all day, with the first shows around 9 am and the last shows around 10:30 pm. On weekends, some films are shown all night. You can consult films and timetables on the official website (in japanese). For IMAX movies only, you can check this website (in English).
Don Quijote
Don Quijote, abbreviated by the locals to Donki (ドンキ), is a popular discount shop chain in Japan. Generally foreigners go crazy for these shops because inside there is a kind of chaos, with items of all types displayed almost randomly. It is a perfect shop to find original souvenirs, but also necessities or strange and curious things. You will find everything, snacks, food and drinks, clothes, cosmetics, bath products, appliances, electronics, party items, cosplay, sex toys, jewelry, bags and backpacks, really everything.
There are a lot of shops scattered around Japan, only in Shinjuku there are 5 of them and they're all open 24 hours a day. The biggest one is right in Kabukicho and going to have a look inside late in the night is a good idea to kill some time, also because the shop will be full of "interesting people" (after all, what does a person do in a similar store in the middle of the night?). Some of them are workers (or more often, female workers) of the many adult clubs in the neighborhood.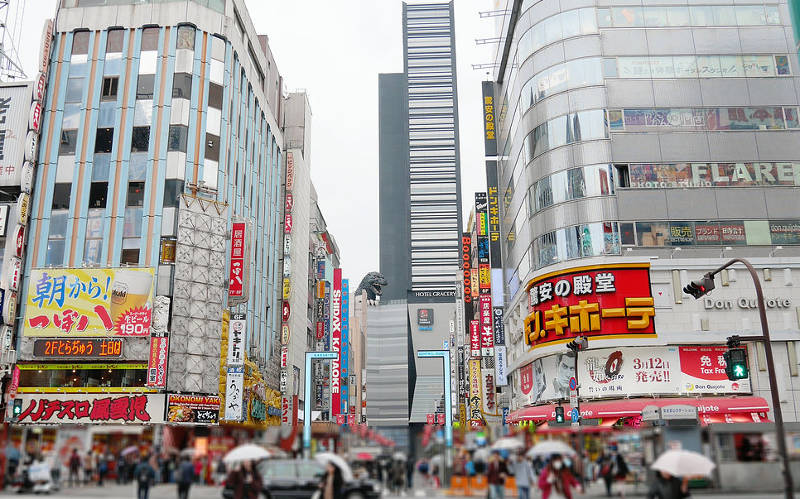 on the right, the Don Quijote branch in Kabukicho, in the background the building housing the Toho Cinemas and the Hotel Gracery, with Godzilla on the roof. This road is sometimes called "Godzilla street"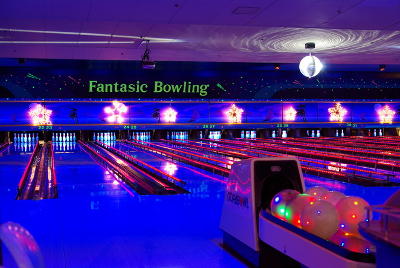 Shinjuku Copa Bowling
(opening hours from 11 am till 6, 7 or 8 of the next morning)
Shinjuku's only bowling alley is located right in Kabukicho, inside the building Humax Pavillon, right next to the Toho Cinemas and the head of Godzilla.
The bowling has two alleys, on the 3rd and 4th floors of the building. The 4th floor is a classic bowling, the 3rd floor has a very particular lighting, super recommended!
A game costs 470-660¥, shoe rental 350¥.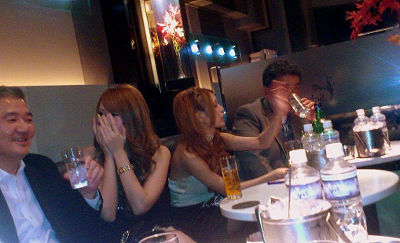 Hostess Club
Hostess clubs, also called
kyabakura
, are a typical Japanese entertainment place for men. In these places, people come to drink and have fun in the company of young women whose job is precisely to sit together with customers and have a good time with them. The hostesses light up your cigarette, pour you drinks, listen to you and chat with you, sometimes they sing at karaoke.
Hostesses can be seen as a kind of "
modern geisha
". Kyabakura should not be confused with other similar "adult" clubs where girls are also available to offer various sexual services. In kyabakura customers who look for too much physical contact or insist on sexual conversations are kicked out.
If you are a man and want to experience a kyabakura, you need to be able to speak at least a little Japanese, and even this is sometimes not enough because some hostess clubs do not accept foreign customers.
Kabukicho is full of kyabakura of all kinds. If you want to visit one, the best way is to find a Japanese male friend to take you there.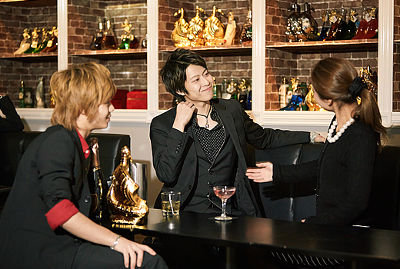 Host Club
Host clubs are similar to hostess clubs, but here
women are those who pay
to stay in the company of a young man.
Once inside you can choose a man from the catalog, usually with very extravagant looks, and from then on he will become a sort of
fake boyfriend
within the club. Your host will sit together with you, chat with you, pour you drinks, and he will try to do his best to make you feel special. Here, too, there is nothing sexual, but the rules are less severe than in hostess clubs. It can happen that the host and the customer also agree to have sexual encounters (but only outside the club).
If you are a woman and want to experience a host club, you need to be able to speak at least a little Japanese.
Kabukicho is full of host clubs. If you want to visit one, the best way is to find a Japanese female friend to take you there. or, alternatively,
go there with this tour accompanied by a guide
.
Sex tourism in Kabukicho
Kabukicho and more generally Japan
are not a great destination for sex tourism
. The reasons are mainly two.
The first and most obvious is about prices. Prostitution in Japan is very expensive compared to any other Asian country, and if you are a foreigner it becomes even more expensive than it already is. The second and most important reason is the
huge linguistic and cultural barrier
. The crazy (sometimes weird) Japanese perversion is famous everywhere and here there are truly unique places, too bad that most of these "unique" places
does not accept foreign customers
. The main reason is of course because you can't speak japanese, but also because each of these places usually has very particular rules that foreigners might not well understand or try to break. If you speak decent Japanese you can have many more possibilities. If you don't speak Japanese at all the choice becomes very poor. We're aware that out there is full of guys
dreaming to sleep with a Japanese girl
, and they're ready to pay for this. We're not here to judge, so if you don't have budget problems and you really want a prostitute while you are in Tokyo, it is much safer and easier to contact one of the many escort services on the internet and meet each other at the hotel rather than looking for it in the streets of Kabukicho.
Below are some types of places for adults that you can find in Kabukicho. There are many places like those described below, but very few accept foreign customers.
Massage parlor
In the area there are a lot of
massage parlors
where the masseuses are naked or half naked, and that at the end of the massage offer a so-called "
happy ending
".
Seku kyabakura / Oppai bar
An
oppai bar
is a kind of place for adults where you take a seat for a certain period of time, order your drinks, and during your stay inside several women will come and sit with you. The girls will rotate. For example, you pay for 60 minutes, and every 10 minutes a new girl comes to your seat. You can kiss them, touch or suck their breast and other "soft" contacts. Going beyond this is generally prohibited. It is not a place where to climax, but only to chat and "play" in a naughty way with some sexy girls. Here
being able to have a conversation in japanese
is very important, otherwise you wouldn't understand much. If you don't speak Japanese it is really very rare that such a place can let you in, even the "foreign-friendly" ones. The average price for this kind of place is 10,000-15,000¥ for 1 hour.
Pink salon
In a
pink salon
(ピンサロ, pinsaro) you choose a girl and go to take a seat. The girl will bring you a drink and give you a oral service for as long as you have paid for.
Soapland
Soaplands
(ソープランド, sōpurando) are one of the most particular kinds of brothel in Japan. Officially you go to a soapland to
be washed
in a bathtub by a prostitute (but there are also some less common soaplands for women!). Of course, while and after being washed there is plenty of time to get massages, blow jobs and sometimes even a complete sexual intercourse (but pay attention because the last one is illegal in Japan). In Tokyo there is another area famous for soaplands,
Yoshiwara
. There are soaplands in Kabukicho too, but usually foreigners who do not speak japanese are not accepted.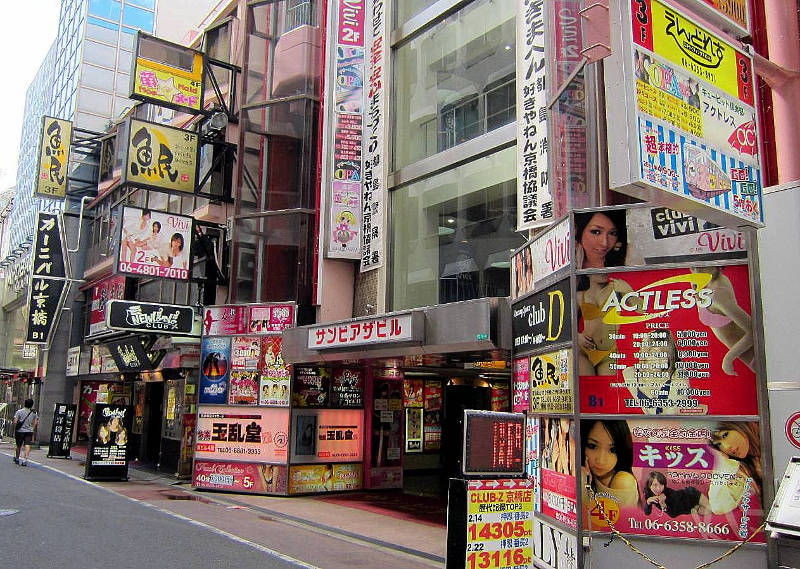 typical billboards of red-light shops in Japan
Safety in Kabukicho
It is known that many of Kabukicho's businesses, especially those related to prostitution and pachinko parlors, are managed by the Japanese mafia, the
Yakuza
, and also for this reason the neighborhood does not have a good reputation.
Some articles could tell you that Kabukicho is one of "
the most dangerous neighborhoods in Tokyo
".
Do not be frightened by statements of this kind, because they are very exaggerated
. In Kabukicho nothing will ever happen to you related to petty crime (robberies, muggings, rapes, etc.), the kind of danger you might run into is completely different.
If during the day most of the adult businesses are closed and the neighborhood is super quiet, starting from a certain time of the evening the streets get filled with
guys who try to invite customers to their nightclubs
. If you are a male and you're walking alone, the possibility that you will be approached by these people is very high.
The risk in this kind of situation is that you may be scammed. Many places in Kabukicho are very expensive and are full of hidden costs. The guys on the street could attract you by promising beautiful women and other such things. Then, they end up asking you to pay for a super expensive bill, and it will be difficult to refuse to pay. That's all. If you take a few simple precautions, for example to completely ignore these people, nothing else should happen.
The area is also very popular among
nanpashi
, guys doing "
nanpa
", in other words, boys with very flashy hair and clothes trying to pick up girls on the street inviting them to drink or eat something. But it is very rare that these people can speak English or start to disturb foreign girls. In any case they are not dangerous, just politely refuse them.
Where to stay in Kabukicho
If you want to sleep in the heart of Tokyo's red-light district you'll have many alternatives. In recent years more and more hotels have opened in the streets of Kabukicho.
Capsule hotels
The Shinjuku Kuyakushomae Capsule hotel is the best "classic" capsule hotel in Kabukicho. It is located in one of the quietest streets. On the ground floor of the hotel building you will find an English pub and a great kaiten sushi. The narrow streets of Golden Gai are just behind the building. Inside there's also a large public bath. Only problem, being inside a nightlife district, it happens that guests arrive at any time of the night, even very late, perhaps making some too much noise. It costs between 3000¥ and 4500¥. Check the price on Booking.com.
The Booth Netcafe & Capsule is a mix between a capsule hotel and a manga kissa. The structure occupies 4 floors: one floor for internet cafe-style booths, with armchair or tatami (2000¥ for 8 hours), two floors for capsules (3500¥ one night) with a women-only area, and a floor with the reception, common areas with chairs, sofas, computers, many manga, magazines and books, unlimited drinks dispensers for all guests. It is located along one of the main streets of Kabukicho.
The
Book And Bed Tokyo Shinjuku
is a fantastic place, with a unique atmosphere in the world (except for the other branches of the same chain in Tokyo). The large common areas are furnished with style and have a very relaxing atmosphere, with sofas, armchairs and very long shelves full of books. The beds, similar to those of capsule hotels, are "slotted in" between one shelf and another. Unlike capsule hotels, here you can also find beds for two people. Prices are a bit high for a capsule hotel, ranging between
4000¥
and
5500¥
. If you stay out all day and as soon as you arrive you go immediately to sleep, without enjoying the common areas, maybe it's a waste of money. Sometimes there are discounted rates,
check the price on Booking.com
.
Hotels
The Wing International Shinjuku is one of the cheapest hotels in the area, located in the heart of Kabukicho. The Wing International chain is a guarantee of excellent value for money. Single rooms from 8000¥, doubles from 10,000¥ per night.
The Premier Hotel Cabin Shinjuku is another cheap hotel with a good value for money. It is located in the area of love hotels of Kabukicho, 10 minutes from Shinjuku station. Single rooms from 8000¥, doubles from 9,000¥ per night.
The Citadines Central Shinjuku Tokyo is a slightly higher quality hotel, located on one of the quieter streets of Kabukicho, behind the area of Golden Gai. Bigger than average double rooms from 14,000¥ per night.
Hotels with panoramic view
The APA Hotel Shinjuku-Kabukicho Tower is a 27-story skyscraper in the heart of Kabukicho. Like all APA hotels, the rooms are very small but equipped with all comforts. It is the cheapest hotel with rooms with panoramic views. Ask for it explicitly otherwise you may get a room on the lower floors. The hotel also has large public baths with panoramic views. Single rooms from 10,000¥, doubles from 12,000¥ per night.
The Gracery Shinjuku is located in that modern skyscraper that became famous for its Godzilla head. All the rooms are at least on the 9th floor, so you can get a panoramic view for sure, ask for a room on the highest floor available. The most luxurious hotel in Kabukicho, fares are high but it is not impossible to afford it. Inside the hotel there is also a Godzilla-themed café and the possibility of sleeping in themed rooms overlooking the giant statue of Godzilla. Double rooms for 2 people for 20-22,000¥ per night. Check the price on Booking.com.
The Shinjuku Prince hotel is a 25-story skyscraper in a super-strategic location at the entrance to Kabukicho, so both inside the red light district but also very close to Shinjuku station. If you want a room with a view you should explicitly ask for a room on higher floors. If you want a view of Shinjuku skyscrapers, ask for a room on the west side. Inside the hotel there is also an elegant lounge bar and restaurant on the last floor. Double rooms for 2 people from 18-20,000¥ per night. Check the price on Booking.com.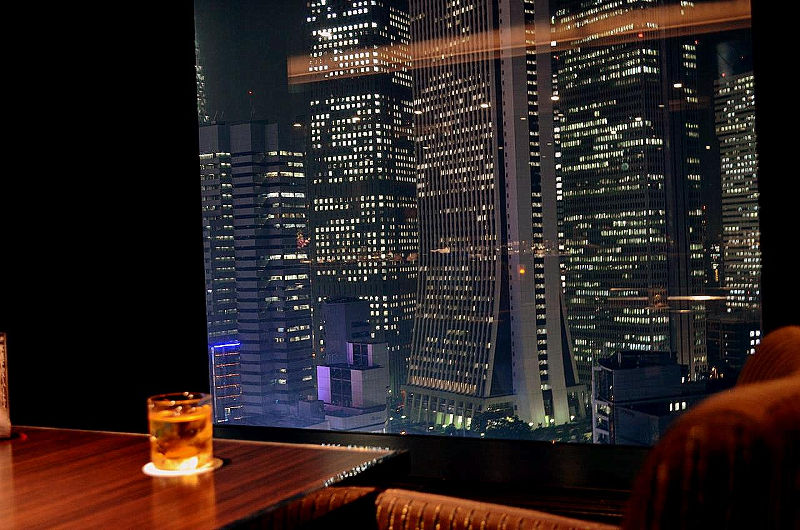 typical view of Shinjuku skyscrapers from the upper floors in Kabukicho (in the photo a room of the Shinjuku Prince Hotel)
Love hotels
The northern area of Kabukicho is full of
love hotels
(ラブホテル, rabu hoteru), hotels where you can stay for a few hours or all night and targeted to couples and sex encounters. Japanese love hotels are special and unique in the world. Spending a night in a love hotel is a very interesting experience. We definitely recommend to come here as a couple if you travel with boyfriend/girlfriend.
Read more about love hotels in Japan
.
By sleeping in a love hotel, you can have the opportunity to stay in huge rooms full of luxury amenities, like whirlpool tubs and saunas, at relatively low prices. Love hotels can't usually be booked but you just have to go on the spot and take one of the available rooms (fares between 10,000¥ and 20,000¥).
Some love hotels, in recent years, have also started to use booking.com to make it easier for foreign tourists to find them.
For example, you can take a look at these love hotels in Kabukicho:
How to get to Kabukicho, Tokyo
The entrance to Kabukicho is about 400 meters north of the
East Exit
of
Shinjuku
station.
After leaving the station and walking along a short pedestrian street, you will arrive to the intersection with a big road,
Yasukuni Dori
. After crossing this street, you are in Kabukicho.
You can also reach Yasukuni Dori from inside Shinjuku station via underground passages. In this case you have to follow the underground directions for the
Seibu Shinjuku Line
and the underground mall called
Subnade
(Exit B10).
If you are not very familiar with Shinjuku, you may want to take a look at the
guide of Shinjuku station
.
Map of Kabukicho, Tokyo
Guided tours, activities and other things to do
If you are planning a trip to Japan and you want to do something more than just visiting famous places and monuments, we suggest you to use
Rakuten Travel Experiences
.
How to use Rakuten Travel Experiences
Rakuten Travel is a very useful website to
enrich your travel experience
, especially if you are going solo or it's your first time in Japan.
Because of the language barrier (and more), in Japan it is very difficult to interact with the locals and to get off the tourist track.
Thanks to Rakuten Travel you can find a lot of interesting and sometimes unique
guided tours and activities
all over Japan (and not only in Japan), that you would otherwise never be able to enjoy.
But there's more: on Rakuten Travel you can also
buy tickets
for several famous attractions, events, transportation and other useful services for tourists. Last but not least, you can
reserve a table
in hundreds of restaurants.
Some examples
Take a look at Rakuten Travel Experiences