Shimokitazawa
Shimokitazawa
, very often shortened to
Shimokita
by the locals, is a small neighborhood just east of
Shibuya
, in the special district of Setagaya. From the mid-1970s, the neighborhood began to fill up with students looking for a cheap area where to rent a house, creating a
free and unconventional youth counterculture of the time
. Even today Shimokitazawa is one of the most charming and evocative areas of Tokyo, frequented by hipsters and other extravagant people, and famous for its small independent fashion shops, cafes, theaters, bars and live music venues.
Things to do and things to see in Shimokitazawa
Shimokitazawa station divides the small neighborhood into two areas, one north and one south of the station, however within a few hundred meters of each other. North Shimokitazawa has a more upscale vibe, while South Shimokitazawa is more hippie.
The most characteristic thing of this area are the many independent fashion shops, especially vintage, record shops, small theaters, pubs that host live concerts of rock, jazz, blues. It is the district of film and music lovers, aspiring actors and musicians. Most of the streets in the area are narrow streets and the whole area can be easily explored on foot, breathing in a very special atmosphere.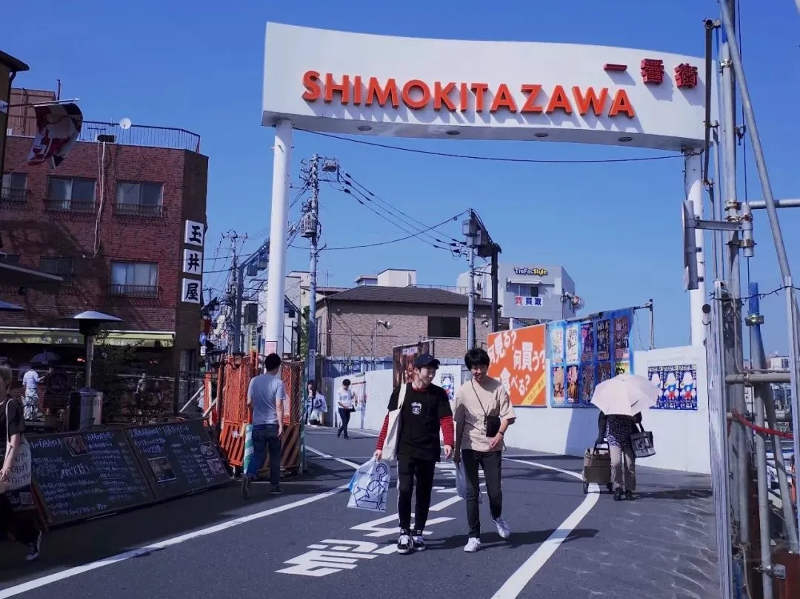 Best shops
New York Joe Exchange, a second-hand clothing shop located in a former public bathroom, well stocked with high quality clothing.
Ragla Magla, a vintage clothing store that sells almost everything for 990 yen.
Stick Out, another vintage clothing store where everything costs 700 yen.
Flash Disc Ranch, one of the best record shops in Shimokitazawa, on the second floor of a building on the south side of the station.
Village Vanguard, a shop that sells lots of weird items: a large variety of books, CDs, food, anime and character items, souvenirs, clothes, artist merchandise, stationery and fun items, all jumbled inside the shop.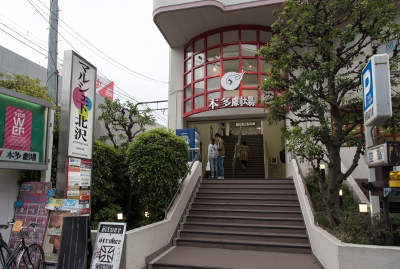 Honda Theatre
The Honda Theater has been one of Tokyo's most iconic stages since it opened in 1982. It was created by Kazuo Honda, a former actor who had to stop his career due to financial difficulties. Subsequently, he founded ten small theaters in Tokyo, because he wanted to provide young actors with a place to act and give them a chance in the world of acting. The Honda Theater in Shimokitazawa is one of them. Check out the show schedule (in Japanese only).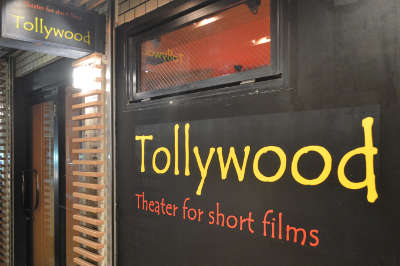 Shimokitazawa Tollywood
Shimokitazawa Tollywood is a so-called independent cinema, where films produced by independent directors and without a large film studio financing it are screened. It is the only cinema in the area, with 47 seats, and it shows films of different genres, both Japanese and foreign. A standard ticket costs 1800¥. Makoto Shinkai, the director of the animated film Your Name, first showed his independent film "Hoshi No Koe" right here. You can check out programming and more on their website (in Japanese).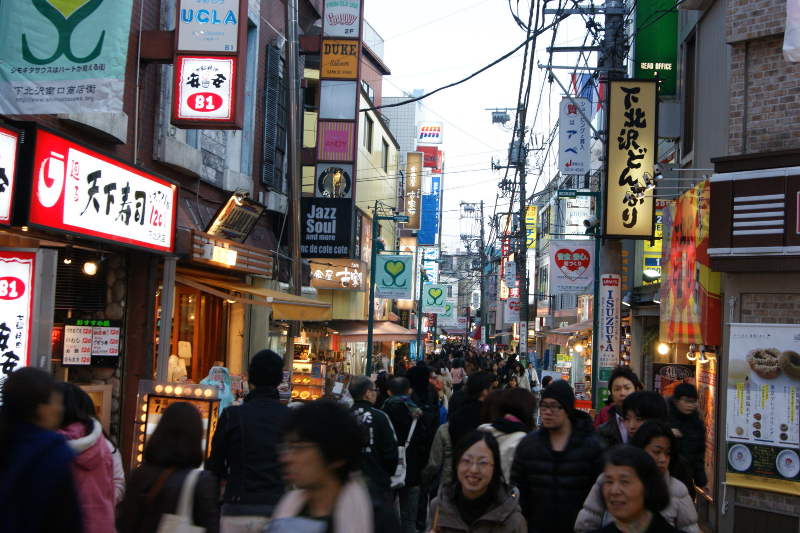 A very busy street in Shimokitazawa
Where to stay in Shimokitazawa
Shimokitazawa is not a hotel area, we only point out the
The Wardrobe Hostel FOREST
, a good hostel located right in the heart of Shimokitazawa, just 100 meters from the station, with shared dorm beds starting at 2200¥ per night.
You will be spoiled for choice of hotels in the nearby neighborhoods of
Shibuya
and
Shinjuku
.
Eating and drinking in Shimokitazawa
Recommended restaurants
Magic Spice Shimokitazawa, a restaurant specializing in a curry soup flavored with Indonesian, Indian and Nepalese ingredients and spices. You can choose from various types of broths, toppings and levels of spiciness. It is the only restaurant of this chain in Tokyo, the other branches are located in Sapporo, Nagoya and Osaka (website).
Bio Ojiyan Cafe Shimokitazawa, a very welcoming shabby-chic cafe-restaurant. The specialty of this place is a dish called Ojiya, a typical Japanese rice soup that vaguely resembles Italian risotto (instagram page).
Village Vanguard Diner, a burger restaurant founded by the same chain of quirky shops you find in the recommended shops above. The most popular sandwich is the avocado cheesburger, the most curious sandwich the pineapple and bacon burger. There are four other restaurants from this chain scattered around Tokyo (instagram page).
Seven Colors, a bar-restaurant with a truly remarkable range of craft beers, as well as specialty coffees and Italian dishes (pasta, risotto, lasagna). The house specialty is cheese and curry risotto, a mix of Italian and Japanese cuisine (facebook page).
Katsuyoshi, a historic restaurant in the neighborhood, founded in 1974. The specialties are tonkatsu (pork cutlet) and fried shrimps, but the menu also includes burgers and steaks (website).
Shirubee izakaya, a wonderful Japanese-style pub, where to eat and drink in a cheerful and festive atmosphere. The prices are quite affordable and the place welcomes foreign tourists with enthusiasm (website).
Torisoba Soruto, a very good ramen and gyoza restaurant, also very cheap. The broth prepared by this restaurant is the so-called shio ramen, based on chicken and salt, but there are also strange and special ramen on the menu (website).
Sakae, a small restaurant of yakitori (chicken skewers), with a history of several decades and almost exclusively frequented by locals.
Recommended bars and cafes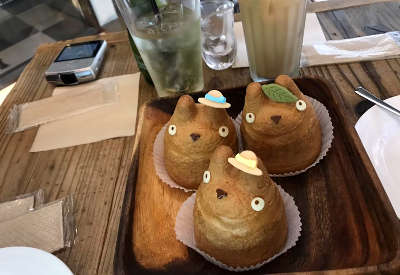 Shiro-Hige's Cream Puff Factory
This cafe is a very special place in Tokyo and deserves a paragraph of its own. It is located about 500 meters south of Shimokitazawa station, and a few meters from Setagaya-Daita station. Sometimes nicknamed
Totoro cafe
, this place has become famous for its
Totoro cat-shaped cream puffs
, the character starring in the movie
My Neighbor Totoro
by Studio Ghibli. The puffs are available in four flavors, chocolate, custard, peach cream and mango cream, and cost 420-520¥. The interior is also full of references to this famous film. The menu also includes several Italian pasta dishes. There are some seats upstairs, however the place is often full and once seated you will also have to order a drink. If you came here only for the Totoro cream puffs, you can take them to go on the ground floor, where they cost a few yen less.
How to get to Shimokitazawa
The small neighborhood of Shimokitazawa is located in the surroundings of
Shimokitazawa station
. The station is served by the
Odakyu Odawara Line
(8 minutes from
Shinjuku
) and the
Keio Inokashira Line
(6 minutes from
Shibuya
).
Map of Shimokitazawa, Tokyo
Guided tours, activities and other things to do
If you are planning a trip to Japan and you want to do something more than just visiting famous places and monuments, we suggest you to use
Rakuten Travel Experiences
.
How to use Rakuten Travel Experiences
Rakuten Travel is a very useful website to
enrich your travel experience
, especially if you are going solo or it's your first time in Japan.
Because of the language barrier (and more), in Japan it is very difficult to interact with the locals and to get off the tourist track.
Thanks to Rakuten Travel you can find a lot of interesting and sometimes unique
guided tours and activities
all over Japan (and not only in Japan), that you would otherwise never be able to enjoy.
But there's more: on Rakuten Travel you can also
buy tickets
for several famous attractions, events, transportation and other useful services for tourists. Last but not least, you can
reserve a table
in hundreds of restaurants.
Some examples
Take a look at Rakuten Travel Experiences
You may also be interested in