Roppongi Hills - Roppongi, Tokyo
last update: January 12, 2019
Roppongi Hills
is a majestic building complex inaugurated in 2003.
The initial idea was to create a unique place to concentrate the place of residence, the workplace, the places for entertainment and shopping in order to reduce the time wasted on commuting and give more free time to those who would have lived there. Who knows if this really happened.
The complex includes a skyscraper (
Mori Tower
), the
TV Asahi headquarters
, a luxury hotel (
Grand Hyatt Tokyo
), a garden (
Mori Garden
), a multiplex cinema (
Toho Cinemas
) and some residential buildings.
There are numerous art installations, sometimes quite curious, scattered on the ground in Roppongi Hills. At
this link
you can find an exhaustive map.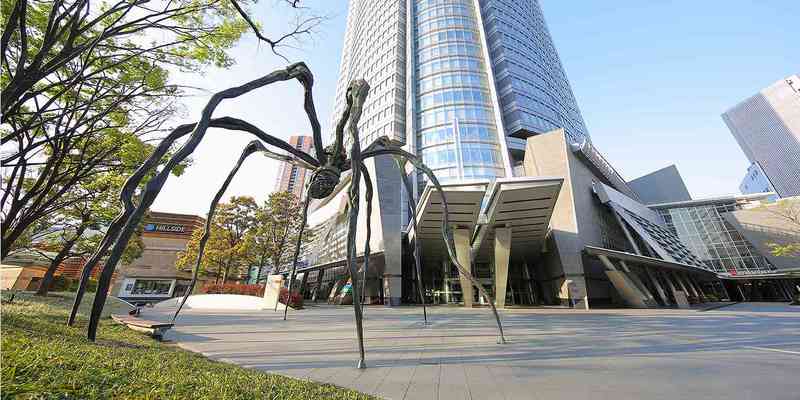 Maman (1999) is a bronze, stainless steel and marble sculpture by the artist Louise Bourgeois in Roppongi Hills
Mori Tower
A 53-story skyscraper, landmark of Roppongi Hills and Tokyo. 238 meters high, it is one of the tallest buildings in the city.
On the first six floors of the skyscraper there is a luxurious shopping center, with around 200 shops and restaurants. From the 7th floor onwards they are all offices. Several large multinational companies have offices in Roppongi Hills.
On the last two floors there is a paid observation deck called Tokyo City View, the Mori Art Museum and the Mori Arts Center Gallery.
Tokyo City View and Skydeck
(admission 1800 yen, opening hours 10-23, 10-25 fri sat, 33% off if you buy tickets online)
An observation deck characterized by a very high roof and large windows. It is located on the 52nd floor of the Mori Tower. The ticket office is located on the 3rd floor.
In our opinion, this is the most beautiful observatory in Tokyo. Let's see why:
1) its position is excellent, it allows a 360 degree view near the Tokyo Tower and many skyscrapers and not too far from the sea;
2) the windows are very high and completely cover the external walls of the building;
3) the Tokyo City View in Roppongi Hills is the only observatory in Tokyo that also offers a panoramic outdoor terrace with its Skydeck (admission +500 yen, opening hours 11-20, you can avoid paying the extra 500 yen by buying the ticket online);
Watching Tokyo from above, especially in the evening, is a fantastic experience, but it is even more so when standing in the open air on the roof of the Mori Tower at an altitude of 238 meters. Beware that the Skydeck may remain closed depending on weather conditions, and in winter dress warmly because there is a strong icy wind up there.
You can check if the Skydeck is open the same day by visiting the official website home page.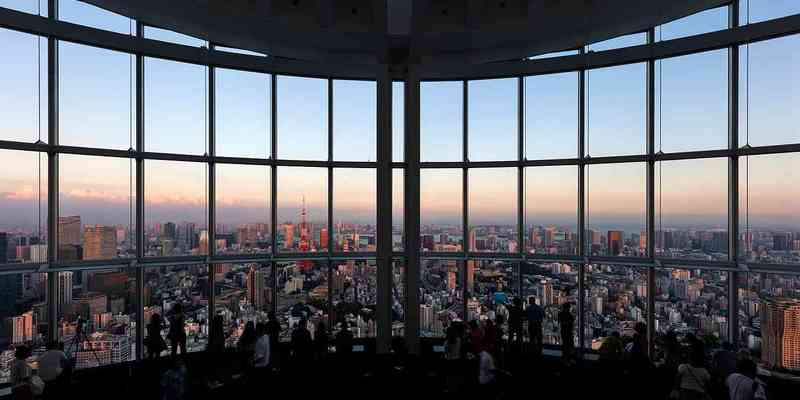 the indoor observation deck Tokyo City View
Buy Tokyo City View and Skydeck skip-the-line tickets online 33% OFF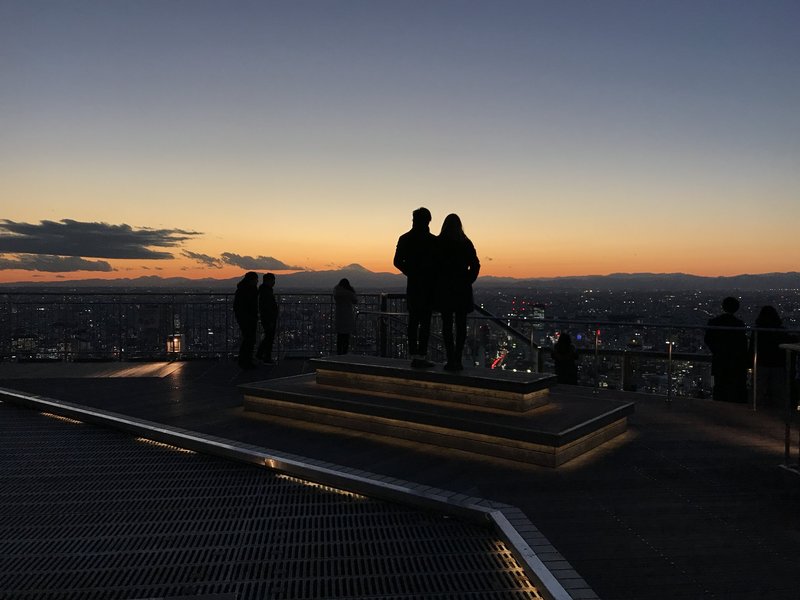 view from the Skydeck, on the roof of the Mori Tower
Buy Tokyo City View and Skydeck skip-the-line tickets online 33% OFF
Mori Art Museum
An art museum located on the 53rd floor of the Mori Tower. The ticket office is located on the 3rd floor.
The museum does not have a permanent collection, but it is rather a place where several exhibitions are set up throughout the year. The themes often concern contemporary art and architecture.
Check out the museum's calendar of events.
Mori Arts Center Gallery
An art space on the 52nd floor of the Mori Tower, next to the observation deck.
This place hosts several special exhibitions throughout the year. The themes often concern the contemporary world, such as manga, anime, cinema, fashion, design.
Check out the museum's calendar of events.
TV Asahi Headquarters
Asahi TV is one of the main broadcasters in the country and has its own headquarters in Roppongi Hills in a large 8-storey building.
Several famous children's series are related to this television channel. In particular Doraemon, Crayon Shin-chan, Super Sentai and Kamen Rider.
The ground floor of the building is open to the public. Inside there is a shop and several things related to the characters and TV programs broadcasted on this channel. One of the most popular attractions is the life-size reproduction of Nobita Nobi's room (the child protagonist of Doraemon).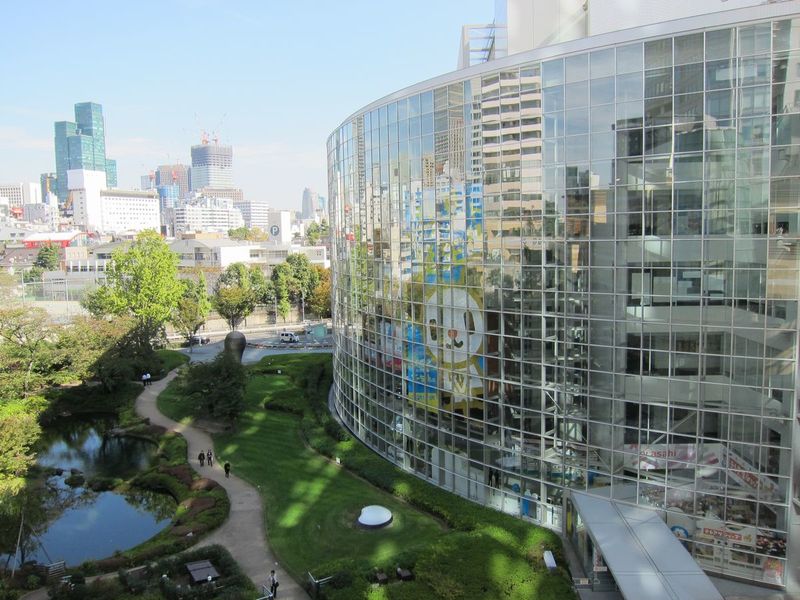 the Asahi TV headquarters building in front of the Mori Garden
Mori Garden
(opening hours 7-23)
A small traditional Japanese style garden located in front of the Asahi TV headquarters, conceived as a green oasis of peace and relaxation amidst huge concrete and steel buildings. In April it is also possible to see some cherry trees in bloom.
It is commonly said that some extra-terrestrial fish swim in the ponds of this park. The medaka - this is how the species of these small freshwater fish swimming in the park is called - are descendants of those raised aboard the space shuttle Columbia during an experiment in 1994.
Grand Hyatt Tokyo hotel in Roppongi Hills
Grand Hyatt Tokyo
★★★★★
Roppongi

(

Roppongi 6-10-3

,

Minato-ku

,

Tokyo

,

106-0032

Japan

)
|
+81 3-4333-1234
|
Map
One of the most luxurious hotels in Tokyo, belonging to the renowned Grand Hyatt international chain, and located right inside the enormous Roppongi Hills complex mentioned in this page. Roppongi station is a 4-minute walk away and is directly connected to the hotel by an underground passage.
The size of the rooms ranges from a minimum of 42 square meters for the standard up to 85 square meters for the suites. Available to all guests is a wonderful spa (Nagomi Spa) with a large indoor pool, whirlpool, sauna and gym. Inside this hotel there are 10 high-end restaurants and the concierge service takes care of anything you need.
If you are looking for a luxury hotel this hotel is fantastic.

Recommended restaurants in Roppongi Hills
Kushinobo
On the 5th floor of the Mori Tower you can find a branch of
Kushinobo
, a very good
Kushikatsu
restaurant originally from Osaka.
Kushikatsu (also called kushiage) it is a "way of cooking" rather than a specific dish. It consists of various ingredients that can be meat, fish or vegetables, skewered in bamboo sticks and fried in a particular way.
Medium-high price range. You can save some money if you go for lunch.
How to get to Roppongi Hills, Tokyo
Roppongi station
is the nearest metro station and is served by the
Tokyo Metro Hibiya line
and
Toei Metro Oedo line
.
If you come from the Hibiya line, follow the signs for the
Exit 1C
, which is located right inside Roppongi Hills.
If you come from the Oedo line, the closest to Roppongi Hills is the
Exit 3
, about 5 minutes on foot.
Other stations not far from Roppongi Hills are
Nogizaka station
(
Tokyo Metro Chiyoda line
, 10 minutes on foot) and
Azabujuban station
(
Tokyo Metro Namboku line
, 10 minutes on foot).
For Japan Rail Pass holders
Roppongi Hills is one of the few tourist areas in Tokyo not served by any JR line. The nearest JR station is
Shibuya station
and it is 2.8 km away.
If you want to go by metro paying as little as possible, you can go to the JR Yoyogi station with your pass and change there with the Toei Oedo line (Yoyogi-Roppongi costs 180 yen).
Guided tours, activities and other things to do
If you are planning a trip to Japan and you want to do something more than just visiting famous places and monuments, we suggest you to use
Govoyagin
.
How to use Govoyagin
Govoyagin is a very useful website to
enrich your travel experience
, especially if you are going solo or it's your first time in Japan.
Because of the language barrier (and more), in Japan it is very difficult to interact with the locals and to get off the tourist track.
Thanks to Govoyagin you can find a lot of interesting and sometimes unique
guided tours and activities
all over Japan (and not only in Japan), that you would otherwise never be able to enjoy.
But there's more: on Govoyagin you can also
buy tickets
for several famous attractions, events, transportation and other useful services for tourists. Last but not least, you can
reserve a table
in hundreds of restaurants.
Some examples
Take a look at Govoyagin
You may also be interested in