Yokohama
Yokohama (横浜) is a vibrant city located in the Kanagawa Prefecture, just 30 km south of Tokyo. With about 3.7 million inhabitants, it is Japan's second largest city and an important commercial and industrial center. Like Kobe, it is a large port city incorporated into the metropolitan area of a larger city (Tokyo and Yokohama, Osaka and Kobe) and was one of the five cities designated in 1858 to open up to foreign trade while the rest of the country remained isolated. Today, Yokohama is a city of contrasts, where the evidence of its past as the country's gateway to the world blends with its modern and futuristic neighborhoods, reflecting a strong projection towards the future. The city is particularly known for its picturesque Chinatown, the largest Chinese neighborhood in all of Japan, and for the futuristic area of Minato Mirai, which hosts an endless number of attractions and entertainment and where the evening lights of the imposing skyscrapers are reflected in the sea of the bay. But that's not all, for the more curious there are many other unique places and hidden gems that this city offers its visitors. Many tourists who visit Tokyo often snub Yokohama, although it is very close, and in our opinion they are wrong.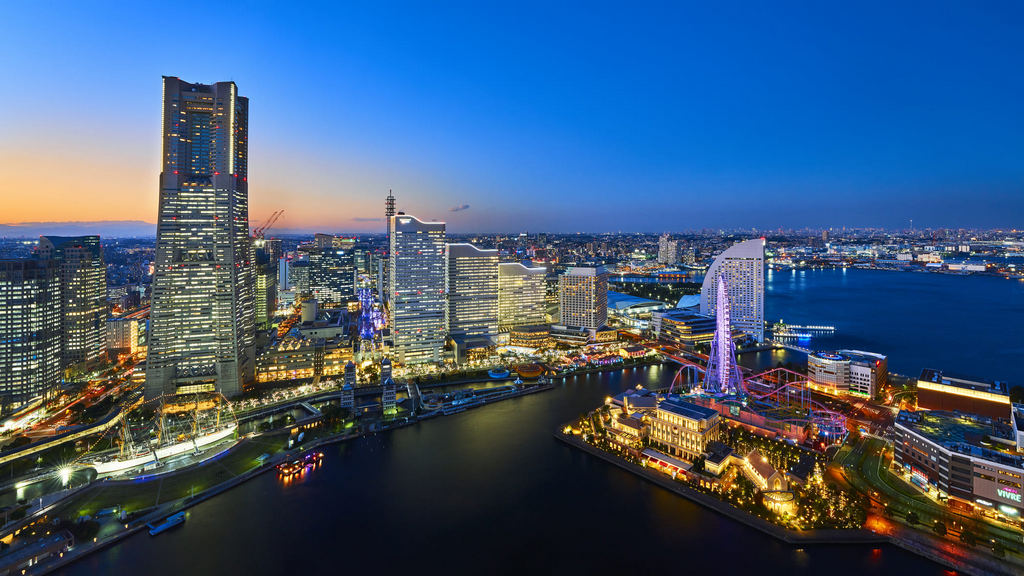 Plan your trip to Yokohama
Where to stay
the best areas and advice on hotels, hostels, capsule hotels, hotels with panoramic views and other original ideas on where to stay in Yokohama
Yokohama travel guide area by area
Chinatown
the Chinese district, famous for its restaurants
Gundam Factory
a unique place that houses a huge Gundam statue that can really move and other attractions related to the famous Japanese robot
Molo Ōsanbashi
a pier that extends 400 meters out to sea, between Yamashita Park and Minato Mirai
Shin Yokohama
an area north of the city where the Ramen Museum is located
Yamashita
a charming park by the sea very popular with couples
Yokohama Bay Bridge
the most famous bridge in the city, part of its skyline, it is also possible to go up to a panoramic observatory located under the bridge
Yokohama station
the area around the main station of the city, full of shops and restaurants
Quick answers about Yokohama
Is it worth visiting Yokohama?
It is absolutely worth visiting Yokohama
. The two most famous areas, the futuristic waterfront that extends from the Minato Mirai area to Yamashita Park, and the city's Chinatown, are two unique features that you will not find anywhere else in Japan except for Kobe (but much smaller). In Tokyo, there is no Chinese district and no seafront so extensive and full of attractions. In addition, given the extreme proximity to Tokyo, it is a shame to leave the Japanese capital without having spent at least one evening in Yokohama. The two cities are excellently connected and you can almost consider Yokohama as if it were a neighborhood of Tokyo.
How many days to stay in Yokohama?
The number of days to spend in Yokohama depends on personal preferences and the time available. Keep in mind that Yokohama is a very large city and offers many tourist attractions. Here are some tips:
If it is your first trip to Japan and you don't have much time, a day trip from Tokyo is fine, just walking around Minato Mirai and the waterfront to Yamashita Park during the day, and then dining in Chinatown before returning to Tokyo. You can also consider visiting Chinatown or Minato Mirai in the evening just to eat or drink something and then return to your hotel in Tokyo on the last trains around midnight. From many central stations in Tokyo, you can reach these areas of Yokohama in 30-40 minutes by train with departures every 2-3 minutes.
If you want to explore the city in depth, such as visiting Yamate Hill with its Western-style buildings, taking a boat cruise in Yokohama Bay, or visiting other gems such as the Sankeien Garden, the Ramen Museum and other interesting museums in the city, at least two full days are needed.
Regardless of what you do during the day, spending a night in one of the panoramic hotels in Minato Mirai is one of the most romantic experiences you can have in the Tokyo area, especially if you are traveling as a couple. On our page on where to stay you can find out which are the most charming hotels.
Finally, consider that Yokohama is in a somewhat strategic position, so you can also consider sleeping in Yokohama for several nights, using the city as a starting point to also visit some famous tourist destinations west of Tokyo, much closer to Yokohama than to Tokyo. We are particularly thinking of Kamakura, Enoshima and Hakone. This option is very valid especially if this is not your first time in Japan and you have already spent many days in Tokyo in the past.
What to eat in Yokohama?
Yokohama does not have particular dishes that are native to the city that are worth trying here more than elsewhere. However, there are several interesting culinary experiences, not related to individual dishes but to the experience as a whole:
One is ramen. In the neighborhood of Shin Yokohama there is indeed the most famous ramen museum in Japan. This does not mean that the ramen in this museum is particularly good, but it is interesting to learn about the history of this dish and to taste various styles of ramen. As you may know, there are countless styles of preparing ramen in Japan. In a very evocative environment that reconstructs the Tokyo of the last century, you will find, side by side, many restaurants that serve different styles even in small portions, so that you can try more than one. In addition, in the area of Minato Mirai you will find the cup noodles museum dedicated to the inventor of instant ramen now widespread throughout the world, with the possibility of taking home a personalized cup noodle. Finally, from a purely culinary point of view for true connoisseurs of this dish, Yokohama also has its own style of ramen, known as iekei ramen and mainly found in the vicinity of Yokohama Station.
A second essential chapter is the Chinese cuisine of Chinatown, both in restaurants and in street stalls that offer street food such as nikuman (baozi in Chinese). Once again, it does not mean that the Chinese restaurants in Yokohama's Chinatown are the best in all of Japan. Chinese cuisine is very widespread throughout the country. But the atmosphere of Chinatown, with hundreds of restaurants side by side, is unique. It will be like jumping to China a stone's throw from the Japanese capital.
Finally, dining on a boat sailing in Yokohama Bay can be an unforgettable experience and difficult to replicate in other cities in Japan, admiring the view of the city illuminated while enjoying a delicious dinner. There are several options, with typical Japanese and international cuisine. Some boats also offer live entertainment, such as music and dance.
Guided tours, activities and other things to do
If you are planning a trip to Japan and you want to do something more than just visiting famous places and monuments, we suggest you to use
Rakuten Travel Experiences
.
How to use Rakuten Travel Experiences
Rakuten Travel is a very useful website to
enrich your travel experience
, especially if you are going solo or it's your first time in Japan.
Because of the language barrier (and more), in Japan it is very difficult to interact with the locals and to get off the tourist track.
Thanks to Rakuten Travel you can find a lot of interesting and sometimes unique
guided tours and activities
all over Japan (and not only in Japan), that you would otherwise never be able to enjoy.
But there's more: on Rakuten Travel you can also
buy tickets
for several famous attractions, events, transportation and other useful services for tourists. Last but not least, you can
reserve a table
in hundreds of restaurants.
Some examples
Take a look at Rakuten Travel Experiences
You may also be interested in