Roppongi
last update: February 27, 2021
Roppongi is a renowned district of Tokyo, famous above all for its incessant nightlife that attracts many foreigners in search of fun, but also for art: "Art Triangle Roppongi" is a nickname given to the grup of 3 international art museums located just minutes away from each other. Roppongi Hills and Tokyo Midtown, two of the largest building complexes ever built in Japan, are located in Roppongi.
Things to see and things to do in Roppongi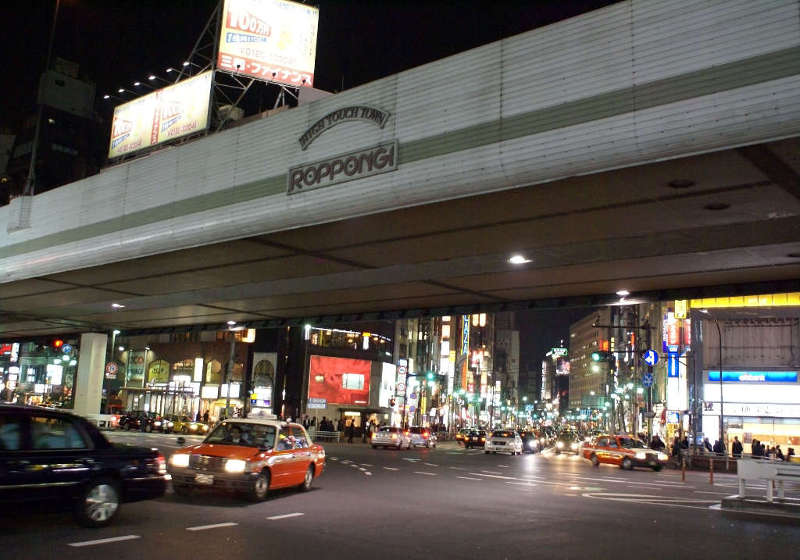 Roppongi's main crossroad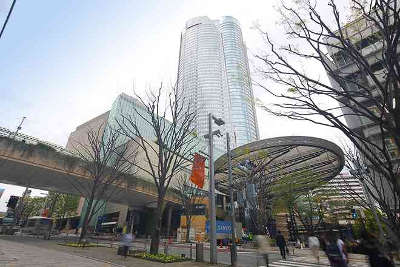 Roppongi Hills is a huge building complex opened in 2003 that includes several places of interest: over 200 shops and restaurants, a skyscraper with the best observation deck in the city (Tokyo City View) where you can also get on the roof, an art museum (Mori Art Museum, one of the three of the so-called Art Triangle Roppongi), the Asahi TV headquarters, a traditional garden where extraterrestrial fish swim, and more. It is one of the most visited places in Tokyo. More information on Roppongi Hills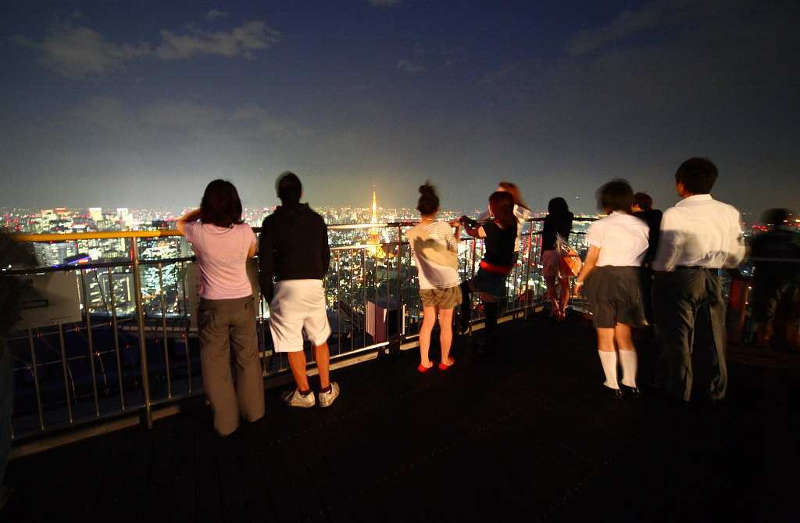 The "skydeck" on top of the Mori Tower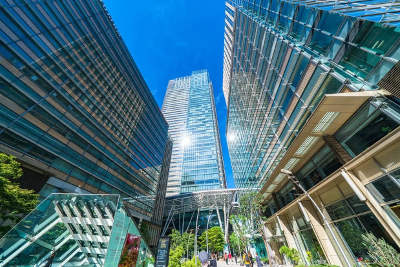 Tokyo Midtown
Very close to Roppongi Hills, it is something very similar.
It is a mega complex that includes residential, commercial and leisure spaces.
The main building, which is also the second tallest skyscraper in Tokyo, is the Midtown Tower. It is home to many multinational companies, such as Yahoo or Fujifilm, and the latter has its own showroom inside Tokyo Midtown.
An art museum is also part of the complex: the Suntory Art Museum, one of the three vertexes of the so-called Art Triangle Roppongi.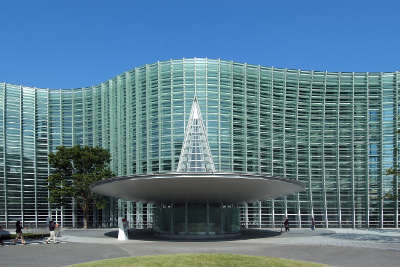 The National Art Center (NACT)
(opening hours 10-18, closed on monday)
A large exhibition space, among the largest in all of Japan, in an interesting building designed by architectKisho Kurokawa. One of the three museums of the so-called Art Triangle Roppongi.
This museum does not have its own permanent collection, but it is a place where many internationally known temporary exhibitions are held. It is permanently among the top 20 most visited museums in the world.
If you are planning a trip to Tokyo, check out the official website and check whether during your stay there is some exhibition of your interest.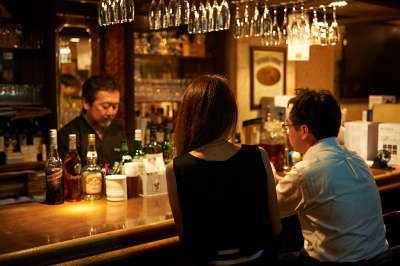 Nightlife in Roppongi
Roppongi is a neighborhood full of clubs of all kinds, discos, pubs, night clubs, etc.
The neighborhood becomes particularly busy in the evening, and is always alive every day of the week at least until 5 am (when the subway reopens). The district is very popular with foreigners of all nationalities and Japanese people who usually seek contacts with foreigners.
If you are looking for opportunities to pick up girls in a typical "western-style" way (that is, dancing closer and closer, offering a drink, etc.), Roppongi might be the right place, and we want to emphasize the word
might
, because it is not at all obvious.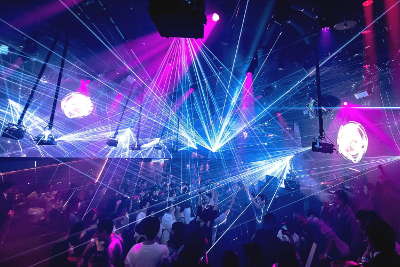 Clubbing in Roppongi
Roppongi is one of the areas of Tokyo where to find several discos and clubs, along with
Shibuya
. While Shibuya is frequented by many locals, if you are looking for foreigners of all nationalities, Roppongi is the best place.
If you love clubbing we recommend to
buy this pass
which gives you unlimited admission for 7 days to a selection of discos in Tokyo, five of which are located in Roppongi:
Esprit Tokyo
,
New Lex GOLD LOUNGE
,
Jumanji 55
,
Magnet
and
Seven Sense
.
Buy online Tokyo Nightclubbing 7-day Unlimited Pass
Is Roppongi safe?
Roppongi, along with
Kabuki-cho
(Shinjuku), enjoys the reputation of
Tokyo's most dangerous district
. We would like to make just a couple of clarifications on this topic:
Don't be scared, because the evaluation parameters in Japan are very different compared to the rest of the world. Japan is the safest country in the world, in Roppongi you can safely walk at any time of day or night.
Late at night, you might run into some drunken brawl. Just stay away from these people.
Another thing that has been reported a few times is the phenomenon of certain girls who apparently "let themselves be picked up", but then when you arrive at the hotel sure to have succeded, they ask you for money in exchange for sex.
Keep in mind that these dangers are not the rule but the exception, most people go there simply in search of "entertainment" for the night. Then, as in all nightclubs, a fight breaks out every now and then, but certainly much less often than in many other cities in the world.
Where to stay in Roppongi
The Roppongi area is full of things to do at all hours of the day and night, however the lack of JR stations in the area makes it a little inconvenient for everyday trips to visit the city.
Where to stay after clubbing in Roppongi
One of the main problems when you want to spend an evening dancing in Roppongi is that the subway closes around midnight, so there are three options: either you go home very early, or you stay out all night until the subway reopens between 5 and 6, or you take an expensive taxi back to the hotel.
If you want to spend the night in Roppongi without this problem we suggest you to sleep at the
First Cabin Nishiazabu
, the cheapest place a short walk from the center of Roppongi.
If you succeed to pick up a girl
and a single room is no longer suitable, the best advice I can give you to save money is to take a taxi and go to the area of
Dogenzaka
(
Shibuya
) about 3 km away.It should cost no more than 2000 yen and in the area you can then start looking for a
love hotel
.
Recommended restaurants in Roppongi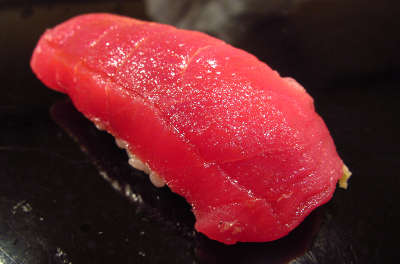 Sushi Jiro Roppongi 2-Star Michelin
In Roppongi there is the sushi restaurant run by one of the sons of
Jiro
, the legendary 3-Michelin-star restaurant owner located in
Ginza
where Barack Obama went for dinner during his visit to Japan in 2014.
If the father's restaurant is almost an impossible mission (you have to book at least 6 months in advance and the bill can easily reach 100 thousand yen), this 2 Michelin star restaurant opened by one of his sons is slightly more affordable: just book a few weeks in advance and you get to have a nice meal with 30-40 thousand yen. We are obviously talking about luxury sushi.
Booking from abroad is a bit complicated and once you've arrived in Japan it may be too late. If you want a top-level experience like this, you can use
this reservation service
.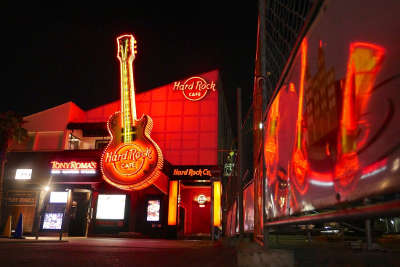 Hard Rock Cafe Roppongi
In Tokyo there are two Hard Rock Cafes, one inside Ueno station, the other in Roppongi.
How to get to Roppongi
Roppongi is one of the few tourist areas in Tokyo without a JR station. The nearest JR station is
Shibuya station
, about 2.5 km to the west.
In Roppongi there are several metro stations.
Roppongi station
(
Tokyo Metro Hibiya line
and
Toei Metro Oedo line
) it is the most convenient of all, being directly connected to both Roppongi Hills and Tokyo Midtown.
Map of Roppongi, Tokyo
Guided tours, activities and other things to do
If you are planning a trip to Japan and you want to do something more than just visiting famous places and monuments, we suggest you to use
Govoyagin
.
How to use Govoyagin
Govoyagin is a very useful website to
enrich your travel experience
, especially if you are going solo or it's your first time in Japan.
Because of the language barrier (and more), in Japan it is very difficult to interact with the locals and to get off the tourist track.
Thanks to Govoyagin you can find a lot of interesting and sometimes unique
guided tours and activities
all over Japan (and not only in Japan), that you would otherwise never be able to enjoy.
But there's more: on Govoyagin you can also
buy tickets
for several famous attractions, events, transportation and other useful services for tourists. Last but not least, you can
reserve a table
in hundreds of restaurants.
Some examples
Take a look at Govoyagin
You may also be interested in