Kichijoji
last update: February 09, 2020
Kichijoji is a very characteristic neighborhood located in Musashino, in the western part of Tokyo. Here some anime have been set, one above all the famous GTO. Kichijoji is one of the most desired areas to live in Tokyo, offering tranquility but also commercial and cultural vitality, all next to one of the most beautiful parks in Tokyo (Inokashira Koen) and a few minutes by train from Shinjuku and Shibuya.
Things to do and things to see in Kichijoji
As for tourist attractions in the strict sense, the list is quite short: just take the
south exit
of
Kichijoji station
, and in a few minutes walk you will arrive in one of the largest and most enchanting parks in Tokyo,
Inokashira Koen
. Inside this park there is also a
zoo
and the famous
Ghibli Museum
.
But Kichijoji is also a neighborhood to be explored in its daily life. Taking the
north exit
of the station, you will find, in addition to some department stores (Parco, Isetan, Bic Camera, others), the entrance to the
Sun Road
, a covered shopping arcade (
shotengai
) which is the commercial heart of the neighborhood.
Shopping and nightlife: Sun Road and surroundings
Kichijoji is full of delicious cafes, live jazz, theaters and shops, with a warm and inviting atmosphere.
East of the Sun Road there is Kichijoji's nightlife area. Besides jazz clubs, izakaya, restaurants and pubs of all kinds, there are also several love hotels and kyabakura, in what can be considered a sort of small red light district.
Harmonica Alley
is another special place, that is a very narrow alley with some bars and restaurants that come alive in the evening. For video game lovers, in one of the cross streets of the Sun Road you will find a large game center called
Plaza Capcom
.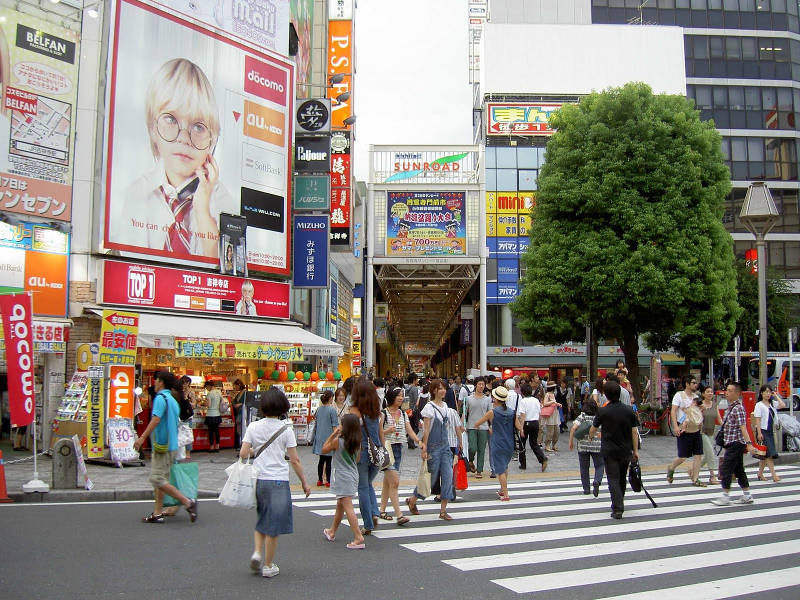 the entrance to the Sun Road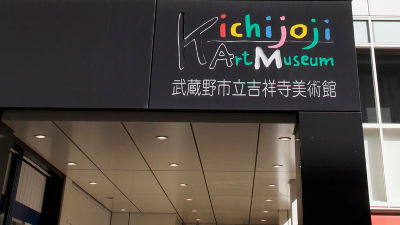 Kichijoji Art Museum
(admission 100¥, opening hours 10-19:30)
A small art museum located on the 7th floor of the Coppice Kichijoji shopping center.
The permanent collection includes copper works by the artist Yozo Hamaguchi and wooden works by Hideo Hagiwara. One area of ​​the museum hosts art exhibitions created by neighborhood residents.
Inokashira Park (Inokashira Koen)
Inokashira park is the most famous place in Kichijoji. It is part of the top 5 of the most beautiful parks in Tokyo where you can see the cherry trees in bloom in spring, but also the yellow-red foliage in autumn.
The park is very large and inside there is a pond, where you can rent the typical rowboat or pedal boats. According to an urban legend, this lake is cursed, and all couples renting a boat here are destined to break up. The reason lies in the fact that, on the shores of the lake, there is a small shrine dedicated to the deity
Benzaiten
, who is said to be very jealous. The atmosphere around this temple is very suggestive.
Inside this park there are also a
zoo
and the legendary
Ghibli Museum
.
Inokashira Zoo
(admission 400¥, opening hours 9:30-17, closed on Mondays)
A quiet zoo, very popular with families with children.
The park is divided into two separate areas, accessible with the same ticket: the main zoo, which mainly houses mammals but also other attractions (including a botanical garden, a small funfair, a museum dedicated to the sculptor Seibo Kitamura), and one smaller zoo that houses Japanese and tropical birds, and aquatic creatures.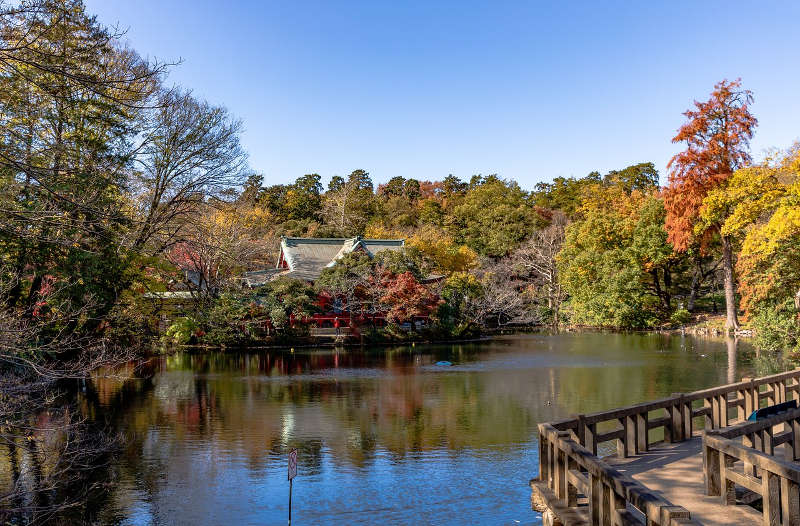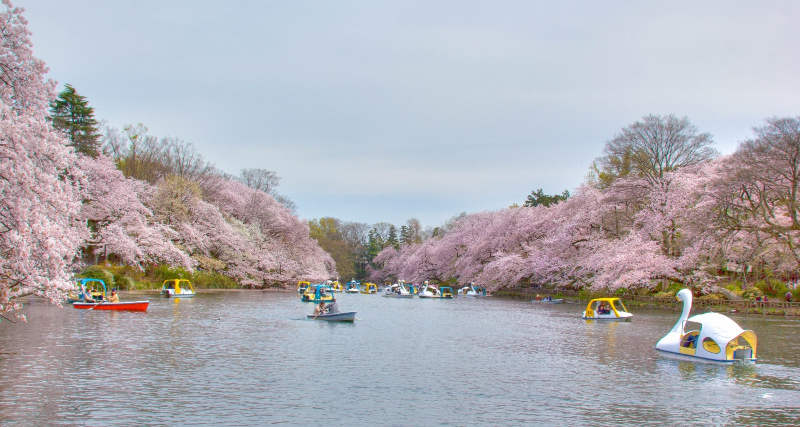 Inokashira Koen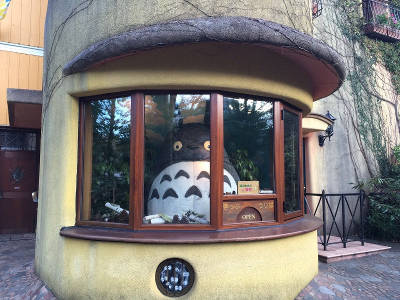 The museum of Studio Ghibli, a world-famous animated film studio, wanted and designed by Hayao Miyazaki.
A Tokyo attraction not to be missed for lovers of Totoro and all the other Ghibli films.
Find out more about the Ghibli Museum.
Where to stay in Kichijoji
Kichijoji is a residential neighborhood, there are not many hotels in the area. In the streets east of the Sun Road you can find some
love hotels
.
If you want to stay in Kichijoji, there are a few options.
The
Kichijoji Daiichi Hotel
is an excellent business hotel with spacious rooms in the heart of the neighborhood, 400 meters from the station (a room for two for 10,000¥ per night).
The
The Micro Museum Hostel
is a very simple hostel, just 100 meters from Inokashira park and the station, with capsule-style beds in mixed dormitories. Very low prices (from 2000¥ per night).
Eating and drinking in Kichijoji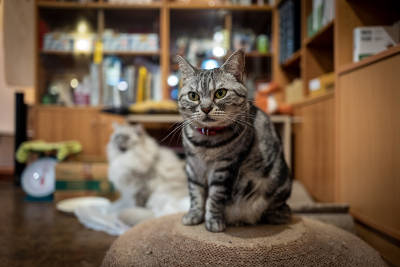 Neko cafe
Kichijoji is a neighborhood full of
neko cafes
(cat cafe). For example: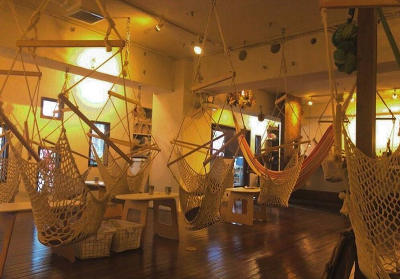 Mahika Mano Hammock Cafe
Mahika Mano was one of the first to open one of Tokyo's latest bizarre trends,
hammock cafes
. In this cafe, with a menu that includes sweets, food and drinks (it is also possible to have lunch), you will sit not in chairs but in comfortable
hammocks
where you can take a nap helped by relaxing background music (
official website
)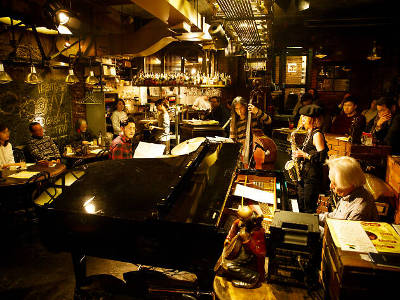 Sometime
Most of the city's jazz musicians have performed at this place at least once. The club offers live jazz every night, always at 1,500¥ or so, a very low price in Tokyo. Musicians play in the center of the club, with people sitting all around. A highly recommended place for lovers of the genre and beyond.
How to get to Kichijoji
Kichijoji station
is a station along the
JR Chuo line
just west of Shinjuku (15 minutes). The station is also served by the
Keio Inokashira line
.
Once you arrive at the station, it is very easy to find the north exit or the south exit and then continue exploring the neighborhood on foot.
If you are looking for the
Ghibli Museum
, it is also possible to reach it on foot from Kichijoji station, crossing the whole park of Inokashira (1.4 km), but it is not the only way. More information on the
Ghibli Museum guide
.
Map of Kichijoji, Tokyo
Guided tours, activities and other things to do
If you are planning a trip to Japan and you want to do something more than just visiting famous places and monuments, we suggest you to use
Rakuten Travel Experiences
.
How to use Rakuten Travel Experiences
Rakuten Travel is a very useful website to
enrich your travel experience
, especially if you are going solo or it's your first time in Japan.
Because of the language barrier (and more), in Japan it is very difficult to interact with the locals and to get off the tourist track.
Thanks to Rakuten Travel you can find a lot of interesting and sometimes unique
guided tours and activities
all over Japan (and not only in Japan), that you would otherwise never be able to enjoy.
But there's more: on Rakuten Travel you can also
buy tickets
for several famous attractions, events, transportation and other useful services for tourists. Last but not least, you can
reserve a table
in hundreds of restaurants.
Some examples
Take a look at Rakuten Travel Experiences
You may also be interested in