Kichijoji
last update: December 16, 2014
Kichijoji is a small neighborhood which is located in Musashino, in western Tokyo. In this neighborhood some anime have been set, one out of all the famous
GTO
.
The neighborhood
Kichijoji is a very nice neighborhood, especially the area north of the station, a very busy shopping area, full both of big stores (Parco, Isetan, Bic Camera, others) and small boutiques. The shopping hub of the area is a covered street,
Sun Road
.
East of the Sun Road there is the area of the nightlife, where you can find jazz clubs, izakaya, every kind of pubs and restaurants, but also love hotels and escort agencies, it is maybe the third
red light district
in Tokyo after Kabuki-cho and Yoshiwara (and excluding Roppongi).
Inokashira park
Inokashira Park is perhaps the most famous site in Kichijoji, also mentioned in GTO (for fans: when Tontako participate in the election of Miss Inokashira). It is one of the best parks to admire the cherry blossoms in spring.
The park is very large and within there is a small zoo and a lake big enough to be navigated with small boats that you can rent.
On the banks of the lake there is a small temple dedicated to the Buddhist Goddess Benzaiten. I think the atmosphere around the temple, surrounded by the greenery of the park and the lake, is very impressive.
The park is especially crowded on weekends when it fills with stalls, street artists, or people doing a picnic (especially during hanami).
South of Inokashira park there is the Ghibli Museum (see below).
Ghibli museum
(admission 1000 yen, opening hours 10-18, closed on tuesdays, advance purchase required)
The Ghibli Museum is a museum of Studio Ghibli, a well-known animation film studio, and has been chosen and designed by
Hayao Miyazaki
. Inside there are numerous exhibitions and reproductions having to do with many of Miyazaki's films, a path that explains how to create an animated film, a cafe, a gift shop, an arena (the ticket includes the vision of one short film), as well as temporary exhibitions ranging over the years.
Unfortunately you can not buy tickets on the spot and you have to buy them in advance: in Japan in a Lawson convenience store (konbini) or in advance paying something more, you can simply use google to search some agency that sells these tickets in your country.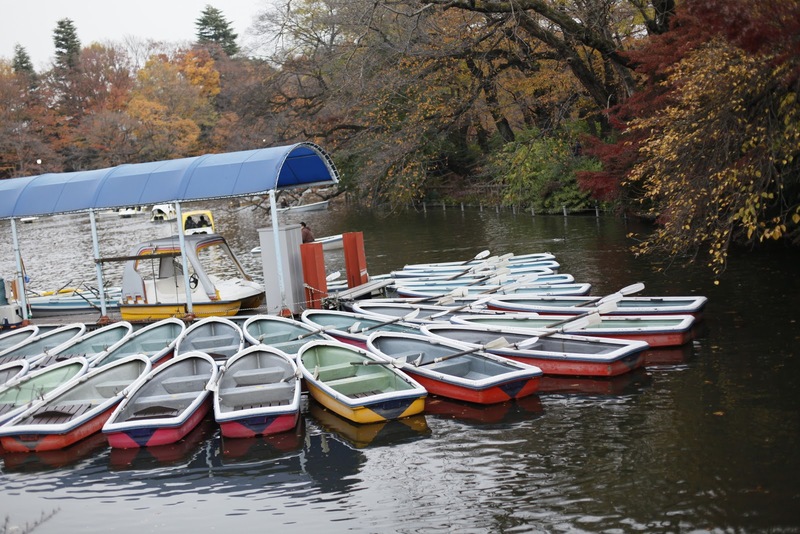 The boats that you can rent in the pond inside the Inokashira park
Sleeping in Kichijoji
The only hotel near Kichijoji station is the
Kichijoji Daiichi Hotel
.
I also point out two internet cafes, a Popeye media cafè and a Gran Bagus Cyber Cafè in Sun Road area, and some love hotels (for example
this one
).
Pratical guide, how to get to Kichijoji
Kichijoji station is easily accessible. It can be reached directly via the JR Chuo line from Tokyo station or Shinjuku station, or by Keio Inokashira line if for example you come from Shibuya.
The closest stop to the Inokashira park is instead Inokashirakoen station, which is the stop before Kichijoji Station on the Keio Inokashira line.
For the Ghibli Museum, take the Chuo line. You can get off at Kichijoji station crossing then the park in the right direction, or at the next stop, Mitaka station, where you can find a shuttle bus to the museum. Going on foot there are 1.4 km from both stations.
Map of Kichijoji, Musashino, Tokyo
Guided tours, activities and other things to do
If you are planning a trip to Japan and you want to do something more than just visiting famous places and monuments, we suggest you to use
Govoyagin
.
How to use Govoyagin
Govoyagin is a very useful website to
enrich your travel experience
, especially if you are going solo or it's your first time in Japan.
Because of the language barrier (and more), in Japan it is very difficult to interact with the locals and to get off the tourist track.
Thanks to Govoyagin you can find a lot of interesting and sometimes unique
guided tours and activities
all over Japan (and not only in Japan), that you would otherwise never be able to enjoy.
But there's more: on Govoyagin you can also
buy tickets
for several famous attractions, events, transportation and other useful services for tourists. Last but not least, you can
reserve a table
in hundreds of restaurants.
Some examples
Take a look at Govoyagin
You may also be interested in