Omotesando
last update: December 09, 2020
Omotesandō
(表参道) is a wide and elegant tree-lined boulevard in central Tokyo, extending from the entrance to the
Meiji Jingu
shrine to the Aoyama district. Originally built as an access avenue to the famous shrine, Omotesando is today a famous shopping street, which is mainly home to many fashion shops. Someone calls this street "
Tokyo's Champs-Elysees
".
Things to do and things to see in Omotesando
Omotesando is quite the opposite of the nearby
Takeshita dori
in
Harajuku
. If the latter is Tokyo's most famous reference point for extreme youth fashion and street wear, Omotesando is instead an area geared towards a more mature and refined clientele, with numerous flagship stores of famous international brands. Together with
Ginza
, Omotesando is also the city's main reference point for
luxury fashion
, and one of the most famous shopping streets in the world. During the Christmas period the avenue is decorated with lights.
Omotesando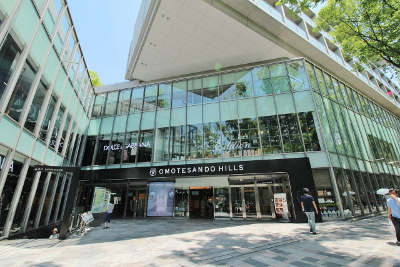 Omotesando Hills
Omotesando Hills is a six story (three are underground) shopping mall with over 130 exclusive shops, cafes and restaurants, which opened in 2006. Thirty-eight apartments are located above the shops. The building was designed by the famous architect Ando Tadao and has a very interesting design. This complex is the most important place in Omotesando and extends for 250 meters in length, practically a quarter of the entire Omotesando boulevard.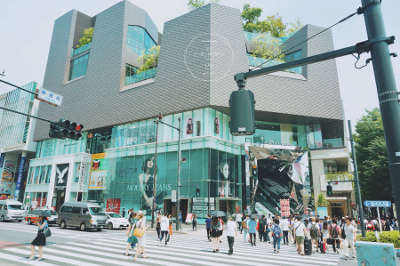 Tokyu Plaza Omotesando Harajuku
This is partly just another multi-story shopping center in a city full of places like this, but still it is worth mentioning it for a couple of reasons. The building stands on the corner of Omotesando Avenue and Meiji Dori, it has an interesting architecture and is a landmark of the area. It was designed by architect Hiroshi Nakamura and it was completed in 2012. The entrance in particular is stunning, with an escalator surrounded by mirrors. Moreover, on the sixth-floor there is rooftop terrace area that looks out over Harajuku.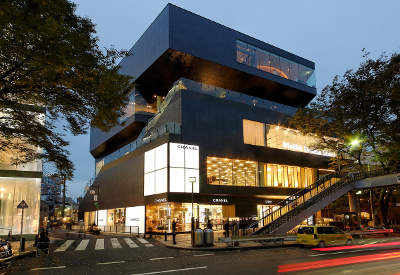 Gyre
Gyre is a fashion complex with an avant-garde structure that resembles five stacked boxes twisted into a spiral, giving a sort of sense of movement. In total there are 18 shops and restaurants within the building's six floors. The most particular shop you can find here is the MoMA Design Store on the 3rd floor, featuring a lineup of goods from the Museum of Modern Art in New York. On the same floor, there's also an art gallery hosting different exhibitions throughout the year (calendario). On the 4th floor there is a gourmet food court with a large and uniquely-designed space where visitors can sit and relax.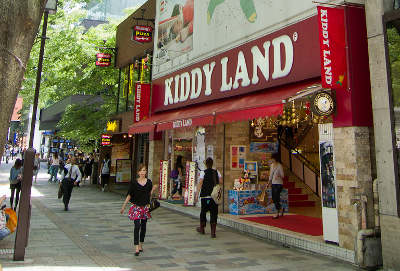 Kiddy Land
Kiddyland is a four-story toy store in the middle of Omotesando's fashion shops. It is a kind of paradise for both children and adults and is probably the most popular shop on the street with foreign tourists. Here you will find toys and merchandise of all the main Japanese characters such as Hello Kitty, Gudetama, Rilakkuma or Studio Ghibli, but also a large amount of merchandise from famous American brands such as Star Wars, Disney and Marvel.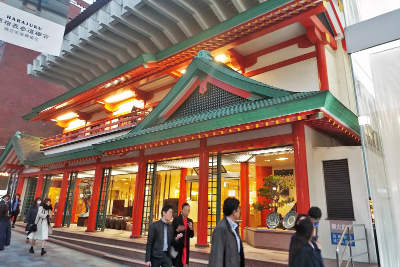 Oriental Bazar
A large three-storey shop, which from the outside looks like a Shinto shrine, specializing in the sale of typical Japanese souvenirs. You will find everything: t-shirts, dolls, china, yukata, kimonos, furniture, antiques, books and so on. The prices are no higher than in other places. The ideal place if you hate buying souvenirs but you are forced to bring something to someone. Here you will solve all your problems.
Flagship stores with particular architecture
Some major international brands have chosen Omotesando to open their flagship stores with very sophisticated architecture and often designed by famous architects. In particular, the buildings of:
Louis Vuitton (by Jun Aoki);
Hugo Boss (by Norihiko Dan);
Tod's (by Toyo Ito);
Christian Dior (by studio SANAA);
Prada (by studio Herzog & de Meuron), located 200 meters from the end of Omotesando, in Aoyama.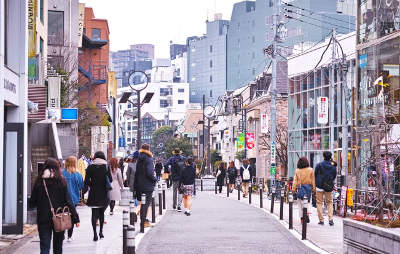 Ura Harajuku and Cat Street
Ura-Harajuku, sometimes abbreviated to Ura-Hara, is a network of alleys around Harajuku and Omotesando. The area features winding streets with small independent shops, galleries and restaurants, with a mix of modern and vintage. The main street of Ura-Harajuku is Cat Street, a shopping street, about 600 meters long, that connects Shibuya and Omotesando with a very chic and international atmosphere. This is nothing special, but if you have to walk between the areas of Harajuku, Omotesando and Shibuya, you can take the opportunity to have a look through this area.
Staying in Omotesando
Neither in Omotesando nor in Harajuku there are hotels of any kind. The only accommodations you can find are rooms in apartments that are sometimes rented on the internet by private individuals (such as
this house
and
this house
). If you are looking for a hotel you will find many of them in the nearby area of
Shibuya
.
One of the best hotels in the area, just 500 meters south of Omotesando towards Shibuya, is the
Dormy Inn Premium Shibuya Jingumae
, with very comfortable rooms, large public baths to relax and a bowl of free ramen for all guests in the evening.
Eating in Omotesando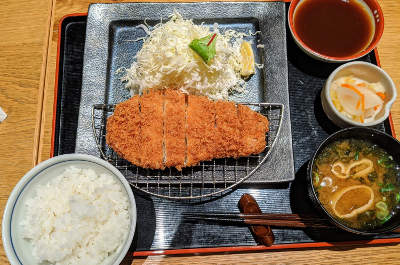 Tonkatsu Maisen Aoyama
This restaurant is located in the alleys of Omotesando and is considered one of the best
tonkatsu
(Japanese pork cutlet) restaurants in all of Japan. Nowadays they have about 11 stores in Japan and some even overseas, but it all started with this restaurant here, which opened in 1965 in a former public bathhouse. Their menu offers different types of tonkatsu. Two delicious and must-try types are "Amai Yuwaku" and "Kurobuta" tonkatsu.
How to get to Omotesando
Two different metro stations are located at either end of Omotesando boulevard, for a total of 4 metro lines serving the area and connecting Omotesando with most of the city without having to change lines.
At the end of the avenue, west side (towards Harajuku), there is
Meiji-jingumae station
(Tokyo Metro
Chiyoda
and
Fukutoshin line
). Exits 4 and 5 of this station take you to the start of Omotesando, opposite the Tokyu Plaza Omotesando Harajuku shopping center.
At the end of the avenue, east side (towards Aoyama), there is
Omotesando station
(Tokyo Metro
Chiyoda
,
Ginza
and
Hanzomon line
). Exits A1, A2 and A3 take you directly to Omotesando boulevard.
Harajuku station
, a station on the
JR Yamanote line
, two stops south of Shinjuku and one stop north of Shibuya, is 350 meters from Omotesando. The nearest exit is the east exit.
Map of Omotesando, Tokyo
Guided tours, activities and other things to do
If you are planning a trip to Japan and you want to do something more than just visiting famous places and monuments, we suggest you to use
Rakuten Travel Experiences
.
How to use Rakuten Travel Experiences
Rakuten Travel is a very useful website to
enrich your travel experience
, especially if you are going solo or it's your first time in Japan.
Because of the language barrier (and more), in Japan it is very difficult to interact with the locals and to get off the tourist track.
Thanks to Rakuten Travel you can find a lot of interesting and sometimes unique
guided tours and activities
all over Japan (and not only in Japan), that you would otherwise never be able to enjoy.
But there's more: on Rakuten Travel you can also
buy tickets
for several famous attractions, events, transportation and other useful services for tourists. Last but not least, you can
reserve a table
in hundreds of restaurants.
Some examples
Take a look at Rakuten Travel Experiences
You may also be interested in