Recommended travel insurance
Travelex Travel Insurance
Travelex Travel Insurance
is part of the Travelex Group, the world's leader of foreign exchange services. In North America, they're are also leaders in the travel insurance market.
They offer a wide range of different insurance plans, in order to meet the needs of everyone, and every part of you travel can be insured.
Available for US and Canada citizens only
.

Get a free quote
.
Allianz Travel Insurance
Allianz Travel Insurance
is the travel insurance program of Allianz, the largest insurance company in the world.
The cost of a basic plan, including medical protection up to $10,000 and covering, among other things, baggage damage, baggage delay, and trip delay, starts from $20.
Available for US and Canada citizens only
.

Get a free quote
.
Atlas Travel Insurance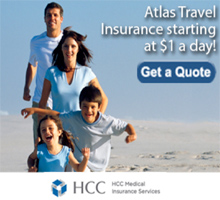 Atlas Travel Insurance
is one of the biggest companies in the world specializing in travel insurance.
Prices vary according to three factors: age of the insured, deductible and coverage amount. For instance, a young guy would pay from
$11
for a two weeks holiday to Japan.
Available for people living in any country in the world
, including Thailand, Singapore, Malaysia, Hong Kong, Indonesia, Philippines.

Get a free quote
.
Guided tours, activities and other things to do
If you are planning a trip to Japan and you want to do something more than just visiting famous places and monuments, we suggest you to use
Rakuten Travel Experiences
.
How to use Rakuten Travel Experiences
Rakuten Travel is a very useful website to
enrich your travel experience
, especially if you are going solo or it's your first time in Japan.
Because of the language barrier (and more), in Japan it is very difficult to interact with the locals and to get off the tourist track.
Thanks to Rakuten Travel you can find a lot of interesting and sometimes unique
guided tours and activities
all over Japan (and not only in Japan), that you would otherwise never be able to enjoy.
But there's more: on Rakuten Travel you can also
buy tickets
for several famous attractions, events, transportation and other useful services for tourists. Last but not least, you can
reserve a table
in hundreds of restaurants.
Some examples
Take a look at Rakuten Travel Experiences
You may also be interested in