Odaiba
last update: July 30, 2018
Odaiba is a large artificial island in Tokyo Bay. Conceived to house offices and headquarters of big financial companies in the late 80s, it turned out to be a huge under-utilized area after the economic crisis that hit Japan in the early 90s. Since 1996 the metropolitan government had tried to convert it into a leisure area, favoring the opening of shopping centers and various attractions. They succededed, and today Odaiba is one of the most popular areas of the city, packed with places of interest and tourists throughout the year.
The neighborhood
Odaiba is a neighborhood that offers lots of opportunities for recreation, if your goal was to see all that this island has to offer, just one day would not be enough. There are huge shopping centers, museums, parks and beaches on the sea with fantastic views of the city, futuristic buildings, convention centers, museums, spas, and more.
Tokyo Bay view from the panoramic elevator of the Fuji TV Building in Odaiba
Shopping Centers
Decks Tokyo Beach
A shopping center with a lot shops and eateries open from 11.00 to 21.00 (some restaurants until later). The complex also includes several attractions:
Sega Joypolis
Buy tickets for the Sega Joypolis online 10% Off
An indoor theme park, based on advanced video games, special effects and virtual reality. It was completely renovated in 2012, so if you've been there before then, you can go again.
The admission ticket costs 800 yen, plus the cost of every single attraction you decide to try. You can also buy an unlimited pass for all the attractions for 4,300 yen. You can save money by going late in the afternoon or by buying tickets in advance
on this website
.
Takoyaki Museum
An area located on the 4F of the shopping center, here do not be fooled by the word "museum". In this place you can freely enter and inside you will find 6 restaurants that offer takoyaki with different toppings. There is also a corner where you can buy souvenirs and everything you need to cook takoyaki at home.
Daiba 1-chome Shoutengai
Located on the 4F next to the Takoyaki Museum, an area with a nostalgic atmosphere related to the late Showa era, with numerous souvenir shops for tourists and retro stuff, and above all with a large games room full of video games from the 70-80s. Here you can play the original video games of Super Mario, Tetris, Street Fighter, but also many other curious and never before seen Japanese videogames of the time;
Tokyo Trick Art Museum
A small "museum" with various three-dimensional installations and optical effects and very curious things where to relax a bit, taking some funny pictures. Located on the 4F, the entrance is located near the Takoyaki Museum and the 1-Chome Shoutengai. Admission 900 yen, opening hours 11-21;
Madame Tussauds
Buy tickets for the Madame Tussauds Tokyo online 30% Off
On the 3F of the shopping center there is the Japanese branch of the world's most famous wax museum, originally from London. Entry costs 2300 yen but you can get a 30% discount by
buying it online
. Opening hours 10-21.
Legoland Discovery Center
Buy tickets for the Legoland Discovery Center Tokyo online 25% Off
Palette Town
Another leisure complex in Odaiba, famous for its giant ferris wheel. The complex includes several attractions:
-
Venus Fort
, a shopping center built in the style of an elegant Renaissance European city, with a particular roof that looks like a real sky;
-
Daikanrasha ferris wheel
, a 115 meter high Ferris wheel, the 3rd highest in Japan and among the top 20 in the world; Admission 1000 yen; Opening hours 10-22;
-
Megaweb
, a sort of museum dedicated to cars with free entry and owned by Toyota. Inside there is a large Toyota showroom, a vintage car showroom with cars from around the world and several other exhibitions and attractions related to cars, including the possibility of doing a test-drive of one of the many Toyota available, on a short track within the complex (1.3 km length);
-
Mori Building Digital Art Museum: Epson teamLab Borderless
, the most recent attraction of Palette Town, open in June 2018. A wonderful place to admire incredible works of art created by computers and projectors.
Read more about the Digital Art Museum
.
Diver City Tokyo
The most recent shopping center in Odaiba, opened in 2012.
In addition to the various shops and restaurants, this mall is super popular thanks to a giant statue of
Gundam Unicorn
(19,7 high) outside. Until April 2017 there was a different statue of Gundam RX-78-2.
On the 7F there is an area called
The Gundam Base Tokyo
(opening hours 10-21), basically a large store where you can find any kind of merchandise dedicated to the famous robot, as well as
gunpla
models. There is also a gallery where to find all the Gundam model kits ever placed on the market, and a few other things of interest aimed to the fans of the series. If you don't know anything about Gundam, just a few minutes are enough to visit this place.
On the 2F there is also a
Gundam Cafe
(another Gundam Cafe is located in
Akihabara
).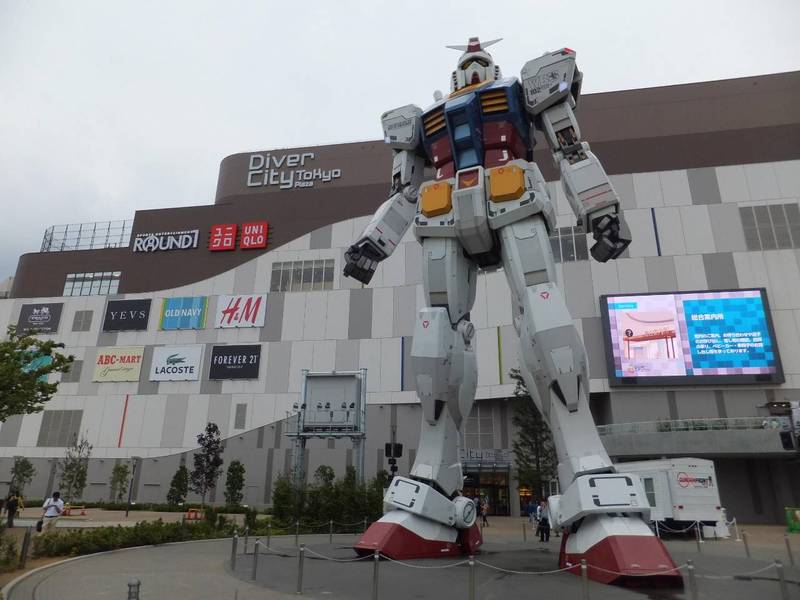 Diver City and the life-size Gundam statue
Aquacity
This shopping center is located opposite the famous
Fuji TV building
, and also includes a multiplex cinema.
On the 5F, among the various restaurants, there is also a special area dedicated to
ramen
called
Tokyo Ramen Kokugikan Mai
, where different restaurants serve different ramen (a complete list
here
).
Museums
Museum of Maritime Science
(free admission, opening hours 10-17, closed on Mondays)
This museum once included a large collection that has been closed until further notice. Currently only a small area is still open, and for this reason the admission is free. An icebreaker that can be visited internally belongs to the collection.
National Museum of Emerging Science and Innovation (Miraikan)
(admission 620 yen, opening hours 10-17, closed on Mondays).
A museum about science and in particular dedicated to those branches most projected in the future such as information technology, biology, robotics, the exploration of space. Many exhibitions are interactive and have an educational purpose. One of the most famous pieces on display is the famous robot
ASIMO
.
(admission 3200 yen, opening hours 11-19, fri and sat until 21, closed every 2nd and 4th Tuesday of the month)
The most recent attraction of Palette Town, inaugurated in June 2018. A wonderful place to admire incredible works of art created by computers and projectors. Inside there is also a tea house where you can taste one of the most exciting teas of your life.
More information on the dedicated page
.
Architecture
I point out some very futuristic architecture buildings.
The most famous is certainly the
Fuji TV Building
, headquarters of Fuji TV, designed by Kenzo Tange, a "symbol" that appears also in some animes.
However, unless you live in Japan and usually watch Japanese television, these attractions may be a little boring, because you have no idea about what you see.
More interesting is the futuristic observatory deck within the "sphere" at the 25th floor, the admission is 550 yen. Opening hours 10-18.
Another building which is worth mentioning is the
Tokyo Big sight
, an exhibition center with a very futuristic architecture, where it takes place also the famous
Tokyo International Anime Fair
. Visit the
official website
for the calendar of events.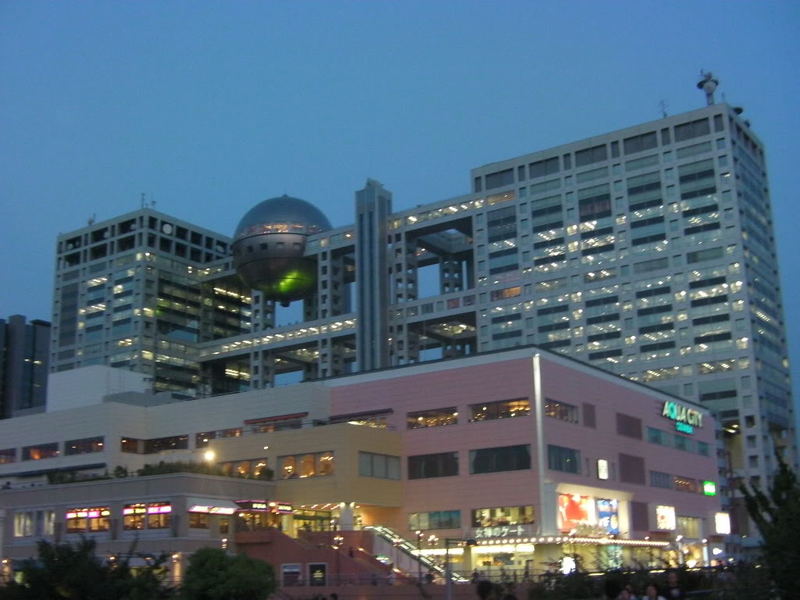 The mall Aquacity in the foreground and the Fuji TV building in the background
Lastly, I point out the
Telecom Center Building
, another modern building with an observation deck (500 yen, 15-21, 11-21 on weekends, closed on tuesdays), and the
Panasonic Center
(
http://panasonic.net/center/tokyo/
), a Panasonic showroom with an area dedicated to Nintendo, something like the Sony Building in Ginza.
Oedo Onsen Monogatari
(
official website
)
This is a very large spa park.
Inside, there are many restaurants and souvenir shops in an environment that reproduces the Tokyo Edo period, but the main attractions are the various pools of thermal water. To enter into the various pools you must follow the rules of traditional Japanese bath.
Another peculiarity is that in practice is open 24 hours on 24, it is closed only between 9 am and 11 am for maintenance. You can not enter between 2 and 5 at night (but if you entered before you can stay inside).
It also offers rooms to rest, both traditional (a bit expensive), and capsule hotel-style.
Entrance fees (only onsen): 2400 yen, 1980 yen if you enter after 18. If you keep staying after 2 am (without getting a room) you pay an extra fee of 2000 yen, otherwise you just pay the price of your room (a capsule hotel-style bed costs 3900 yen).
At
this link
a beautiful 360 degree view of the whole structure.
Buy tickets for Oedo Onsen Monogatari online 42% Off
Parks
Undoubtedly one of the most charming places of Odaiba, beyond all the shopping malls, is its waterfront, characterized by an artificial beach that, however, is not recommended for bathing due to pollution, and by a coastal park assuming different names,
Higashi-yashio park
,
Shiokaze park
,
Kaihin park
. This place is something fantastic at sunset.
I also point out the presence of a replica of the
Statue of Liberty
: between April 1998 and May 1999, France "loaned" to Japan a copy of the statue of liberty because of some anniversary. Because of the popularity it had achieved, another replica was built in the same place where the French one had been placed.
Typical postcard from Tokyo. The Rainbow Bridge, the Statue of Liberty and the Tokyo Tower taken from Odaiba
Sleeping, where to stay in Odaiba, hotels with view over the Tokyo Bay
In Odaiba there are some great modern high-level hotels with quite high rates: the
Grand Pacific Le Daiba hotel
(double rooms from 24,000 YEN) and the
Nikko Tokyo hotel
(double rooms from 26,000 YEN). You may opt to spend a romantic night with views over the bay of Tokyo with your girlfriend or with some Japanese girl.
Anyway I don't recommend you to stay in Odaiba for more than one night, because of its bad position compared to many parts of the city.
One more particular option (to do for one night only too) is to sleep inside the
Onsen Monogatari
(see the paragraph above).
Pratical guide, how to get to Odaiba
You can get to Odaiba across multiple solutions.
On foot
The island of Odaiba is connected to the mainland by the
Rainbow Bridge
, that you can cross on foot walking on the sidewalks on either side of the road. It takes about half an hour to arrive in the area of the waterfront and shopping centers of Odaiba. The bridge is open from 9am to 9pm in summer and from 10am to 6pm in winter, the crossing is free and you can't cross it by bicycle. You also have to choose if you want to walk along the "sidewalk" north or south of the bridge. From the north walkway you will enjoy a better view of the skyscrapers of the city. Unfortunately, the sidewalks are on the side of the road all the way then you have to breathe constantly the exhaust of vehicles.
The nearest station to the entrance of the bridge (on the mainland) is Shibaura-futo station served by the yurikamome.
Yurikamome
The Yurikamome is an automatic train (without driver) that connects the station of Shimbashi with Toyosu station, passing through the skyscrapers of Shiodome, crossing the Rainbow Bridge, and passing by all the stations in Odaiba; The view from the trains is very fascinating, especially from the "head" of the train.
Get off at "Odaiba-kaihinkoen" or "Daiba" station for the waterfront, the Fuji TV building and all the main shopping centers; get off at "Fune-no-kagakukan" station for the Museum of Maritime Science, at "Telecom center" for the Telecom center and Onsen Monogatari, at Aomi for the ferris wheel, at "Kokusai-tenjijo-seimon" or "Ariake" station for the Tokyo Big Sight and the Panasonic Center.
Anyway, if you get off at any of these stops except for the last two stops that are a bit further away (do not go beyond because then there are only industrial areas), you can reach any interesting point of Odaiba on foot.
Leaving from Shinbashi, the Yurikamome costs between 320 and 380 yen depending on where you get off.
By boat
You can also reach Odaiba by boat, from
Hinode Pier
(20 minutes, 400 yen) or from the Sumida River in
Asakusa
(1 hour, 1500 yen).
Map of Odaiba
Guided tours, activities and other things to do
If you are planning a trip to Japan and you want to do something more than just visiting famous places and monuments, we suggest you to use
Govoyagin
.
How to use Govoyagin
Govoyagin is a very useful website to
enrich your travel experience
, especially if you are going solo or it's your first time in Japan.
Because of the language barrier (and more), in Japan it is very difficult to interact with the locals and to get off the tourist track.
Thanks to Govoyagin you can find a lot of interesting and sometimes unique
guided tours and activities
all over Japan (and not only in Japan), that you would otherwise never be able to enjoy.
But there's more: on Govoyagin you can also
buy tickets
for several famous attractions, events, transportation and other useful services for tourists. Last but not least, you can
reserve a table
in hundreds of restaurants.
Some examples
Take a look at Govoyagin
You may also be interested in