Harajuku
last update: December 18, 2020
Harajuku
(原宿) is an area near Harajuku station, located between Shinjuku and Shibuya on the Yamanote line. Harajuku has many souls. It is first and foremost the main point of reference in Tokyo for the most extreme and extravagant youth fashion. At the same time, it is also the district of
Meiji Jingu
, one of the main Shinto shrines of the city and surrounded by a huge green park. Finally, a few hundred meters from Harajuku there is
Omotesando
, an avenue full of elegant shopping centers and high fashion boutiques.Harajuku is one of the most unmissable neighborhoods in the city.
Things to do and things to see in Harajuku
Takeshita dori
Takeshita Dori is a pedestrian street just under 400 meters long, easily recognizable thanks to the large signs placed at the end of the street on both sides. One is located right in front of Takeshita exit of Harajuku station, the other is located at the intersection of Takeshita Dori and Meiji Dori.
Along Takeshita Dori there are numerous small fashion shops and independent boutiques that offer the most extravagant and unconventional styles, aimed mainly at teenagers. There are also numerous cafes and restaurants. In the past it was also a reference point for counterfeit garments of the most famous Japanese brands, but nowadays this feature has almost completely disappeared. On weekends, this street reaches crowding levels that are hard to imagine by those who have not been there in person, and there is a real risk of being blocked up for several minutes in a human crowd. Another characteristic thing are the shouts of some sellers with megaphones to draw attention to their shops.
Beyond the fashion shops and cafes, a very popular shop among tourists is Daiso, a chain of shops where everything costs 108¥. The Harajuku branch, in addition to being very large (3 floors), is very stocked with small objects that can be excellent low-cost souvenir ideas.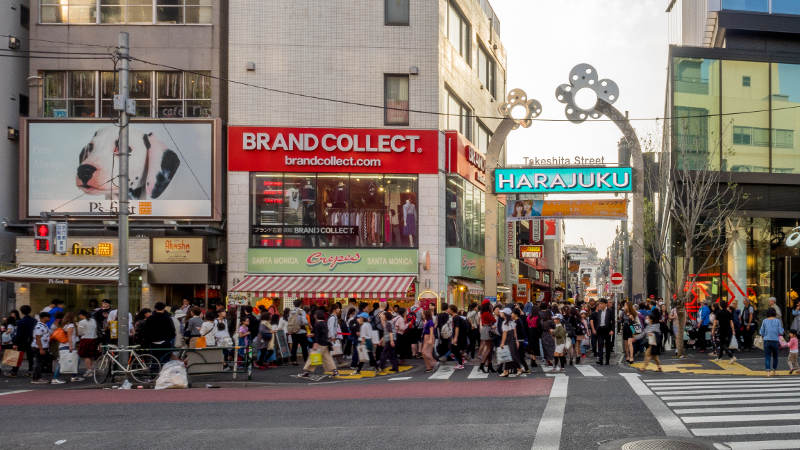 one of the two entrances to Takeshita Dori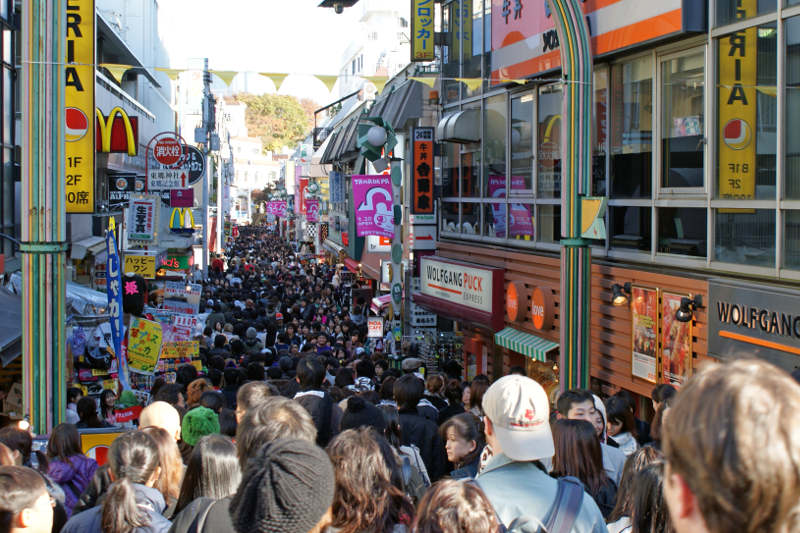 how crowded Takeshita Dori is on a Saturday afternoon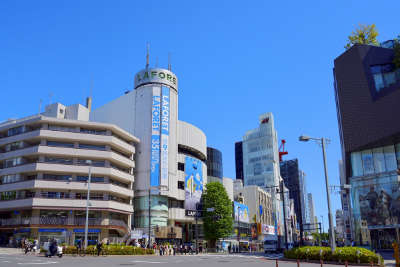 Laforet Harajuku
Located near the intersection of Omotesando and Meiji-dori, this is a historic shopping center in Harajuku, which opened in 1979. It houses around 150 fashion stores, mostly for customers under 30. There are also some foreign brands, but the majority are small Japanese brands. On the sixth floor of the building there is also the Laforet Museum, an exhibition space where temporary art exhibitions are held.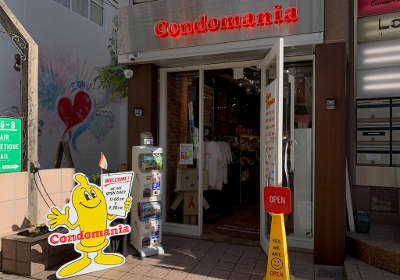 Condomania Harajuku
This small shop of condoms and lubricants, at first glance insignificant, has actually been one of the landmarks of the neighborhood for many years, also thanks to its original location at the intersection of Meiji Dori and Omotesando. Unfortunately in 2018 it was forced to move to a small street nearby, and has since lost some of his popularity. If you are looking for condoms of all possible and imaginable flavors, or special gift ideas such as Kenshiro condoms, you can go to have a look (see map).
Yoyogi Park
Yoyogi Park (Yoyogi Kōen) is one of the largest city parks in Tokyo, with extensive lawns, ponds and trees. It is located near Harajuku station (just cross a bridge on the railtracks to reach it), and, together with the park surrounding the Meiji Jingu shrine, it forms a huge green lung in the center of Tokyo. The park is full of ginkgo trees, which turn everything golden yellow in autumn. Here people come to do a variety of outdoor activities, especially on weekends. You will see everything from picnics, jogging, dancing, martial arts, yoga, frisbee, badminton and other sporting activities. Yoyogi National Stadium , the stadium designed by Kenzo Tange for the Tokyo 1964 Olympics , is located right next to the park. In fact, before it became a city park in 1967, Yoyogi park's area had been the site of the Olympic village for the 1964 Olympics.
Street performers and people watching
The area from the entrance to Yoyogi Park to the railway bridge to get back to Harajuku Station is often filled with many street performers, especially on Saturdays and Sundays. The most famous of all are undoubtedly the rockability group, a group of people dressed in 50's style dancing a rock&roll of yesteryear. They generally perform in front of the park entrance. The whole area of Harajuku is also famous for being full of boys and especially girls wearing very eccentric dresses. In the past years, the phenomenon of gothic lolita girls was very strong, but recently we see much less.
Yoyogi Park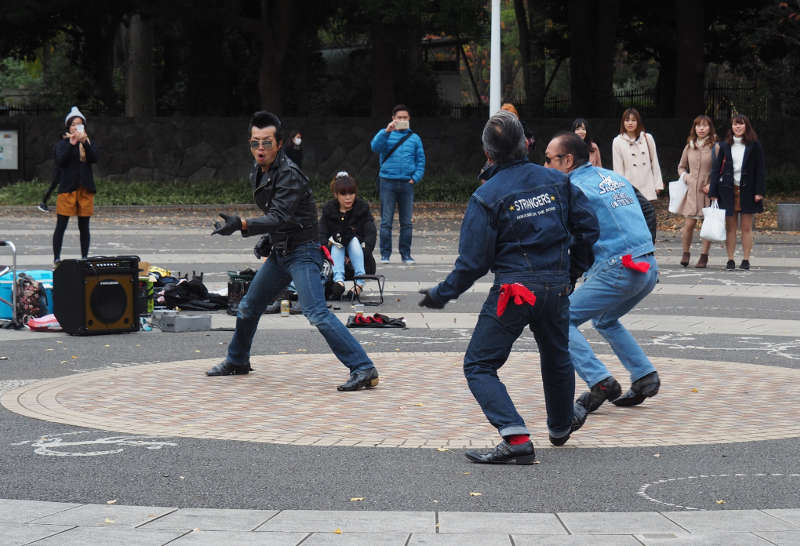 rockabilly group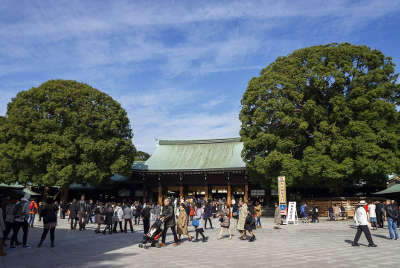 Next to Yoyogi park there is Meiji Jingu, the most famous Shinto shrine in Tokyo, inaugurated in 1920 in honor of Emperor Mutsuhito and his wife Shoken, who passed away a few years earlier.
This shrine is very popular with the Japanese for New Year celebrations, as well as traditional style wedding celebrations.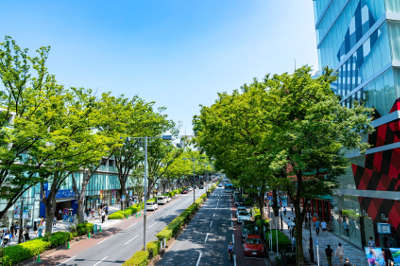 Omotesando is a large and elegant tree-lined avenue that runs from the entrance to the Meiji Jingu shrine to the Aoyama district. Initially born as an access avenue to the famous shrine, Omotesando is nowadays a famous shopping street full of fashion shops. The people coming here are usually older and more sophisticated than the people going to the nearby Takeshita Dori.
Staying in Harajuku
Neither in Omotesando nor in Harajuku there are hotels of any kind. The only accommodations you can find are rooms in apartments that are sometimes rented on the internet by private individuals (such as
this house
and
this house
). If you are looking for a hotel you will find many of them in the nearby area of
Shibuya
.
One of the best hotels in the area, just 700 meters south of Takeshita Dori, is the
Dormy Inn Premium Shibuya Jingumae
, with very comfortable rooms, large public baths to relax and a bowl of free ramen for all guests in the evening.
Eating in Harajuku
Harajuku is full of cafes and restaurants of all kinds, with a particularly wide choice of international cuisine (kebabs, hamburgers, pizza, crepes). Here are some suggestions of very original and unique places in the neighborhood.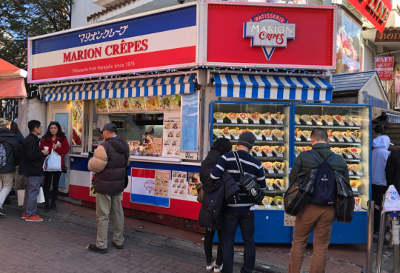 Harajuku crêpes
According to various sources, crêpes appeared for the first time in Japan in the Harajuku area in the late 1970s. For this reason, Takeshita Dori is still known today for its many "Japanese crêpes" shops. Crêpes in Japan are usually served as street food, rolled up and stuffed with various ingredients, and all wrapped in an easy-to-carry paper cone. The most popular combinations are strawberries and cream or chocolate and strawberries, but there are also salty flavors. The most famous crêpes shop in Harajuku is
Marion Crêpes
.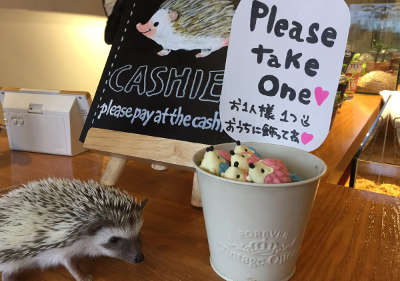 Harry Hedgehog Café Harajuku
The Japanese cat cafes, where you can play with dozens of cats, are now famous all over the world. Much less famous are the
hedgehog cafes
like this one in Harajuku, where instead of cats you will find lots of little hedgehogs. The system is simple: you pay a fee of 1400¥ for every 30 minutes of stay inside the café, during which you can play with these little animals and take all the drinks you want through vending machines. Harry has two cafes in the Harajuku area (see map), another is located in
Roppongi
.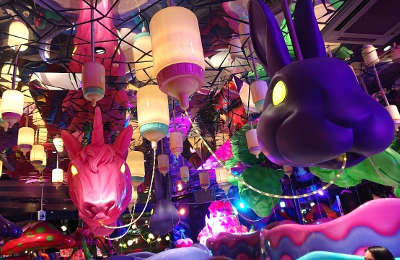 Kawaii Monster Cafe
At the entrance of this venue, the staff will inform you that you are about to enter the stomach of a monster called
Mr. Choppy
. Once through the entrance, you will find yourself in one of the craziest places in Tokyo, surrounded by heads of whimsical animals and almost psychedelic colors and lights. The place is both a cafe during the day and a restaurant at night. Regardless of your order, there is an entrance fee of 500¥. The food served here is more beautiful than delicious.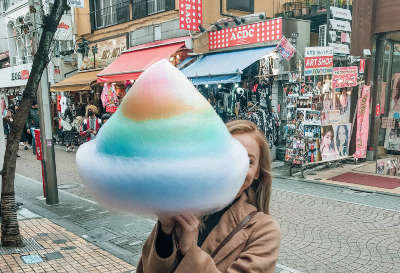 Totti Candy Factory
A candy shop selling various sweets, all looking incredibly "kawaii" (cute). In recent years, the store has climbed the instagram charts with its huge rainbow-colored cotton candy (900¥) that thrills Japanese and tourists alike.
How to get to Harajuku
Harajuku
is a station along the
JR Yamanote line
, located two stops from
Shinjuku
and one stop from
Shibuya
.
The most convenient exits are
Takeshita Exit
for Takeshita Dori, located right in front of it,
West Exit
for Meiji-jingu and Yoyogi Park,
East exit
for
Omotesando
.
Getting to Harajuku on foot
Harajuku can be easily reached on foot from
Shibuya
(1.5 km) or
Shinjuku
(2 km). Either way, it's hard to get lost, just follow the elevated railroad tracks of the Yamanote line. From Shibuya the route is very interesting and full of shops. If you walk from Shinjuku, you could walk part of the way inside the Meiji Jingu park.
Map of Harajuku, Tokyo
Guided tours, activities and other things to do
If you are planning a trip to Japan and you want to do something more than just visiting famous places and monuments, we suggest you to use
Rakuten Travel Experiences
.
How to use Rakuten Travel Experiences
Rakuten Travel is a very useful website to
enrich your travel experience
, especially if you are going solo or it's your first time in Japan.
Because of the language barrier (and more), in Japan it is very difficult to interact with the locals and to get off the tourist track.
Thanks to Rakuten Travel you can find a lot of interesting and sometimes unique
guided tours and activities
all over Japan (and not only in Japan), that you would otherwise never be able to enjoy.
But there's more: on Rakuten Travel you can also
buy tickets
for several famous attractions, events, transportation and other useful services for tourists. Last but not least, you can
reserve a table
in hundreds of restaurants.
Some examples
Take a look at Rakuten Travel Experiences
You may also be interested in