Harajuku
last update: January 19, 2015
Harajuku is an area of Shibuya, north of Shibuya station, considered as a center of japanese youth culture and extreme fashion.
The neighborhood
There are two main streets in this neighborhood:
Takeshita Dori
y
Omotesando
.
Takeshita dori
This street (pedestrian only) is the main landmark of the neighborhood, a very narrow street 400 meters long, where you can find shops and "boutiques" of the most eccentric youth styles and the most "inn" cafes. The small streets arond Takeshita can be very interesting too. On weekends it could be unbelievably crowded.
Beyond the various fashion shops that you can discover by yourself, I point out "
Daiso Harajuku
", a large 100 yen shop (everything costs 108 yen).
I also point out a quite famous Shinto shrine, the
Togo Shrine
, located in a side street of Takeshita Dori.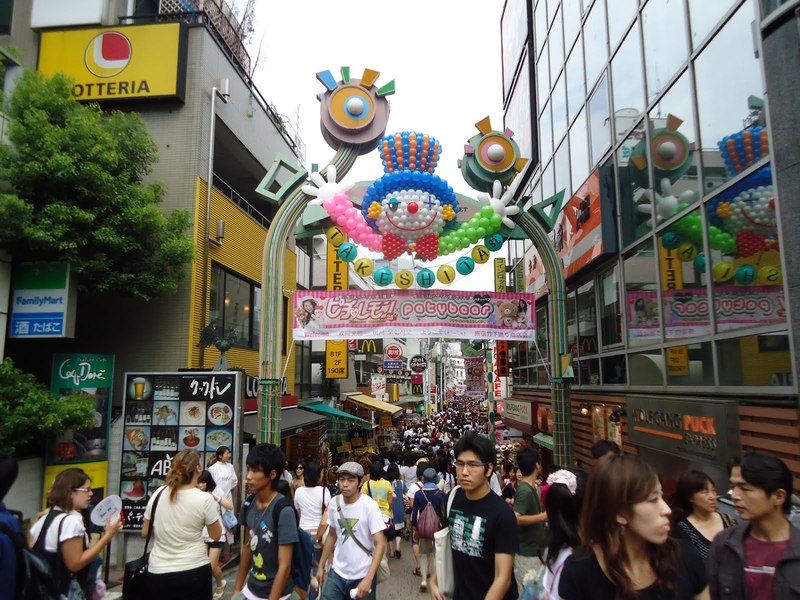 crowded Takeshita Dori, but it might be even more crowded
Omotesando
Omotesando is something different from Takeshita dori, it is not a narrow street with small boutiques, but a wide tree-lined avenue with big stores of big names of fashion. Someone calls it the "
Champs-Elysees of Tokyo
". Here you can find a lot of big shops of worldwide famous fashion brands, for example Burberry, Louis Vuitton, Tod's, Prada.
I also point out the shopping center
Omotesando Hills
(more than 100 shops and restaurants), the
Oriental Bazaar
(10-19, closed on thursday), a great gift shop, and
Kiddyland
(11-21), a very nice toys store (6 floors).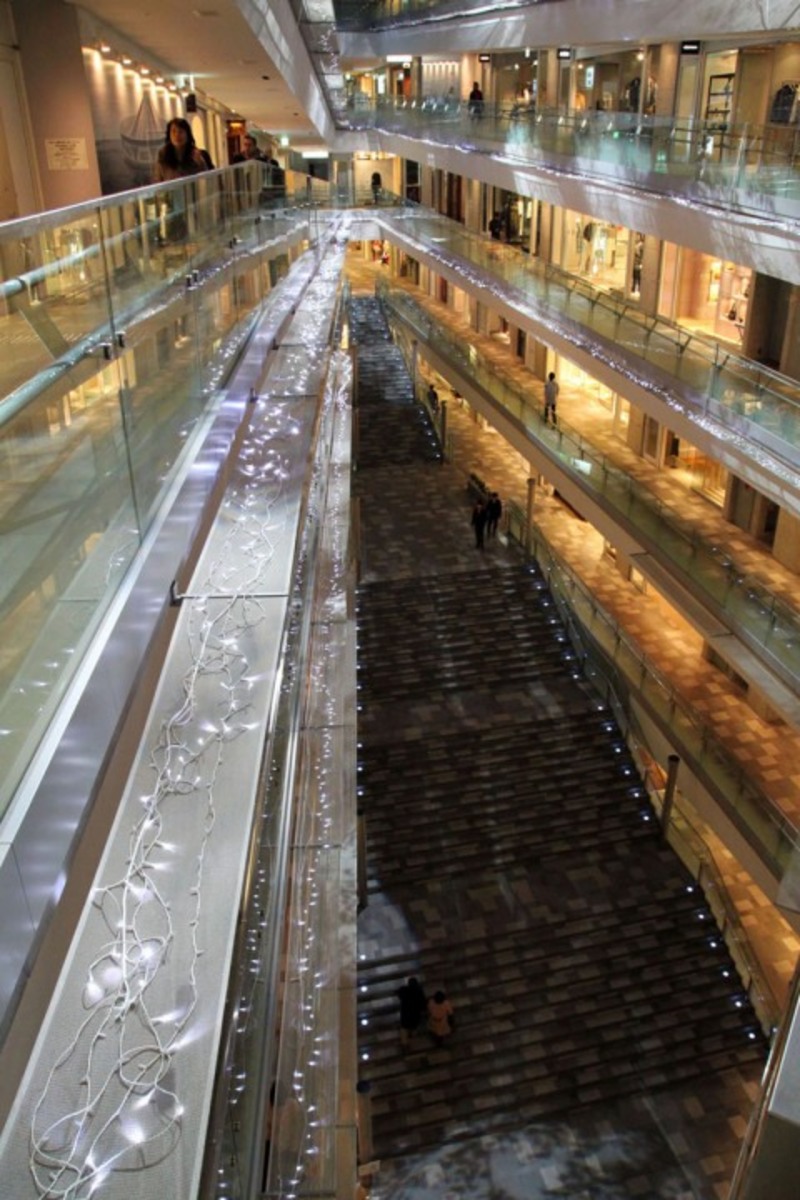 The elegant interiors of Omotesando Hills mall
Yoyogi park
(5-20, until 17 in winter)
A very large park near the station of Harajuku, you can reach it crossing a bridge over the railroad tracks. This is not a "Japanese Garden" style park, but a green area where people go to jog, picnic or walk the dog. Within this park you will see people who practice the most strange things, especially on weekends, from frisbees to martial arts and groups who try various dances and other activities.
On weekends the park and the area around the park are filled with girls dressed in the "Gothic Lolita" style (but in recent years this trend has markedly declined), bands and various other street artists who perform there.
Just next to the park you can see the
Yoyogi national stadium
, designed by Kenzo Tange for 1964 Olympics games in Tokyo.
Meiji Jingu
Just north of Yoyogi Park there is the most famous Shinto shrine in Tokyo,
Meiji Jingu
, inaugurated in 1920 in honor of the emperor Mutsuhito and his wife Shoken, passed away a few years earlier.
This shrine is very popular both for New Year celebrations and wedding celebrations in the traditional Japanese style. It's not very difficult to catch some weddings (even more than one at the same time) during your visit to this shrine, many couples choose this place to get married.
Sleeping
Harajuku is not a hotel area, you can stay in the nearby
Shinjuku
or
Shibuya
.
Eating in Harajuku
The area is full of restaurants, cafes and fast food of all types, and many of them deal with international cuisine (kebab, hamburgers, pizza, crepes).
I recommend this area more for a tea and a sweet in the afternoon in one of the many cafes than to have dinner. Pay attention to the prices in restaurants and cafes in Omotesando, which is definitely not known for its low prices. A few meters away along a cross street of the avenue of Omotesando there is one of the most famous
tonkatsu
restaurants of the city,
Tonkatsu Maisen Aoyama Honten
.
If you have time and want to have to queue for a while, you could try
crepes
of Harajuku, rolled up and served to be eaten while walking, they're very popular and tasty, there are a few crepe shops around there.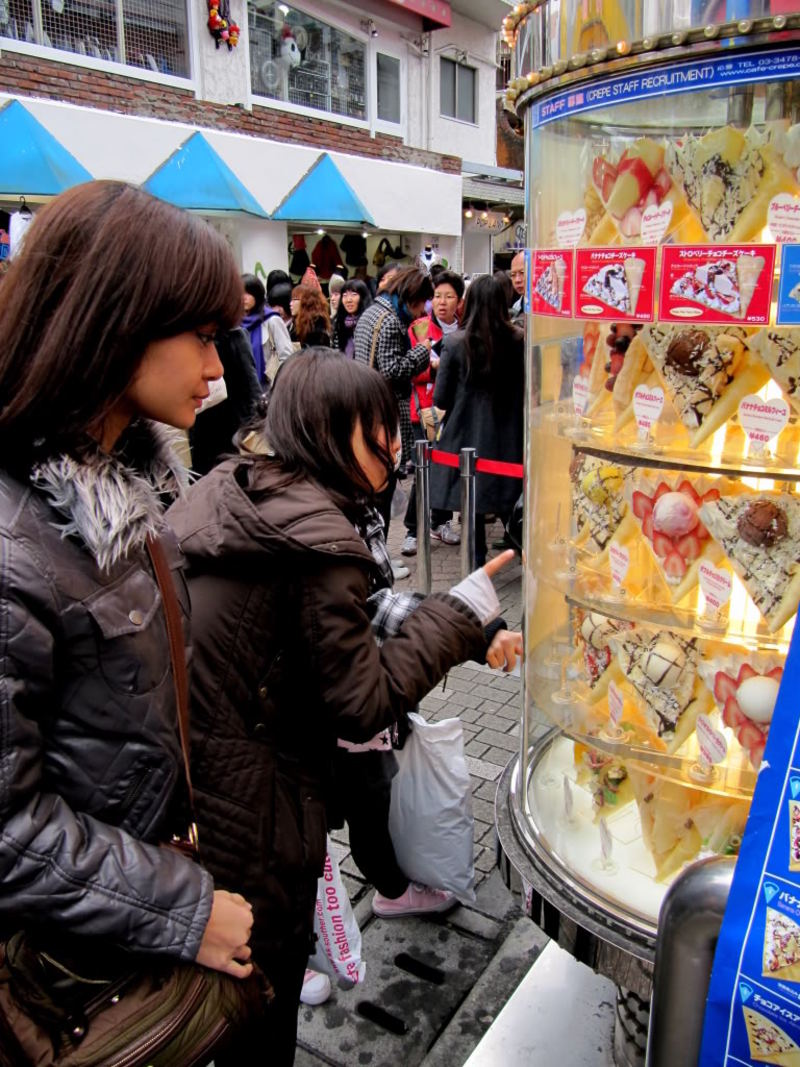 Crepes shop at Harajuku
Pratical guide, how to get to Harajuku
Harajuku station
is a very useful station, served by the JR
Yamanote line
.
Alternatively, anothere station in the area is
Meiji-Jingumae Station
, served by the
Fukutoshin
and
Chiyoda line
of Tokyo metro.
Down the street Omotesando (about 1 km far from Takeshita dori) there is the well served
Omotesando station
(
Chiyoda line
,
Ginza line
and
Hanzomon line
).
You can also reach Harajuku on foot from Shibuya (1,5 km) or Shinjuku (2 km), it's very easy, just roughly follow the railroad tracks to the south (Shibuya) or north (Shinjuku).
Map of Harajuku, Tokyo
Guided tours, activities and other things to do
If you are planning a trip to Japan and you want to do something more than just visiting famous places and monuments, we suggest you to use
Govoyagin
.
How to use Govoyagin
Govoyagin is a very useful website to
enrich your travel experience
, especially if you are going solo or it's your first time in Japan.
Because of the language barrier (and more), in Japan it is very difficult to interact with the locals and to get off the tourist track.
Thanks to Govoyagin you can find a lot of interesting and sometimes unique
guided tours and activities
all over Japan (and not only in Japan), that you would otherwise never be able to enjoy.
But there's more: on Govoyagin you can also
buy tickets
for several famous attractions, events, transportation and other useful services for tourists. Last but not least, you can
reserve a table
in hundreds of restaurants.
Some examples
Take a look at Govoyagin
You may also be interested in