Akasaka
last update: November 14, 2020
Akasaka is an upscale commercial and residential district in the special ward of Minato. It is located very close to
Roppongi
and it is one of the most international areas of the city. Here you will find several embassies, schools and cultural institutes from other countries. Many wealthy foreigners living in Tokyo live in this area.
Things to do and things to see in Akasaka
Akasaka is a very elegant and refined neighborhood, full of high-end residential condominiums and the headquarters of large Japanese and foreign companies. For a tourist, there is nothing that is really a priority to see, it is a neighborhood to explore only if you already know the city.
Akasaka Sacas
A modern complex of five buildings inaugurated in 2008: the headquarters of the TV network TBS (Tokyo Broadcasting System), two theaters (Akasaka ACT Theater and Blitz theater), a residencial skyscraper, and an office skyscraper called Biz Tower. Most of the shops and restaurants are located on the first floors of the Biz Tower.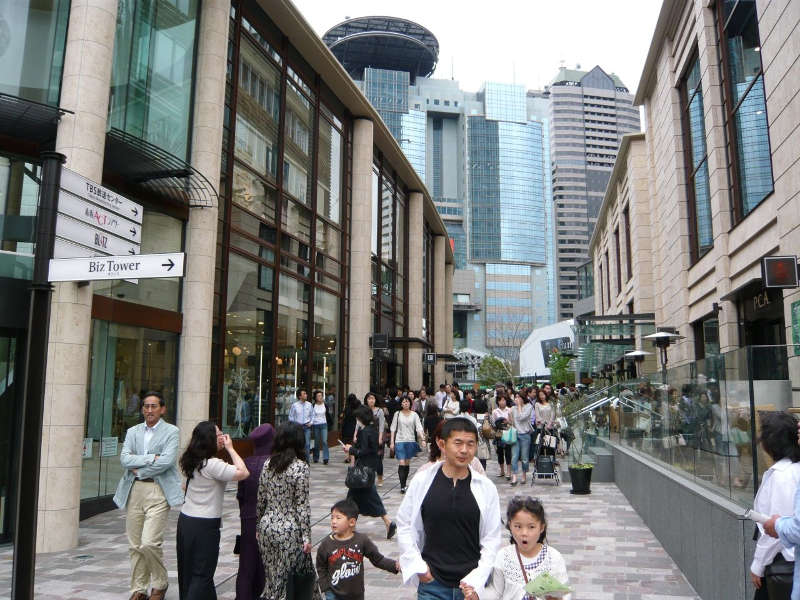 Akasaka Sacas
Akasaka Palace
An ancient imperial palace in neo-Baroque style, since 1974 it is used as an official residence for foreign authorities on a state visit to the country. The first person to be hosted in this location was the former president of the US Gerald Ford.
The building was built in 1909 and designed by Katayama Tokuma, one of the most important architects that introduced Western architecture in Japan at the turn of the nineteenth century and the twentieth century.
It is difficult to be able to visit the building inside (only by guided tour and at certain times of the year). A look and some photographs from outside, if you are in the area, may be enough.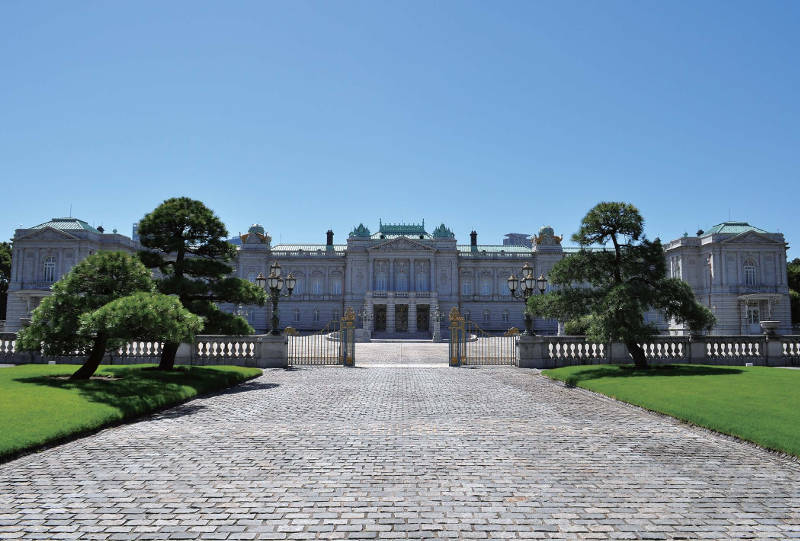 Akasaka Palace
Little-known Shinto shrines
Hie-jinja Shrine
If you want to get to this shrine you have to climb a short but steep staircase under so many orange torii. The old shrine was destroyed during the World War II, the current buildings date back to 1967. This shrine is famous mostly for a traditional festival which is considered one of the most important of Tokyo, the Sanno Matsuri: a procession of about 500 people that starts from this shrine and parades for about 20 kilometers before going back to the starting point. The festival is held during even numbered years only, around the middle of June. During that week, other small events take place at the shrine. A visit is highly recommended if you're in Tokyo during the matsuri, the rest of the year you can simply ignore it.
Hikawa Shrine
There are at least two cases in which it is worth visiting this unknown shrine. A first case is that you are a fan of Sailor Moon, this shrine is sure enough that one which inspired the authoress Naoko Takeuchi to draw the temple of Sailor Mars (Rei Hino) in the series. A second case is that you are in Tokyo in mid-September, when the matsuri festival organized by the temple takes place. Although it is not certainly one of the most famous festivals, it is worth to drop by.
Besides these two cases, it is just a common Shinto shrine as many others in Japan.
Toyokawa-Inari-jinja Shrine
A Shinto shrine dedicated to the deity Inari, full of statuettes of kitsune (holy foxes).
Staying in Akasaka
Akasaka is a very central area of Tokyo. However, it is not served by the JR lines (in particular the Yamanote line), so the area is not very convenient as a starting point for visiting the whole city. Prices are also usually higher than average.
Still, the area is full of hotels. In particular we recommend the
Super Hotel Lohas Akasaka
(with a large public bath) and the
Hotel Vista Premio Tokyo Akasaka
(from some rooms on the upper floors there is a decent view over the city).
Eating in Akasaka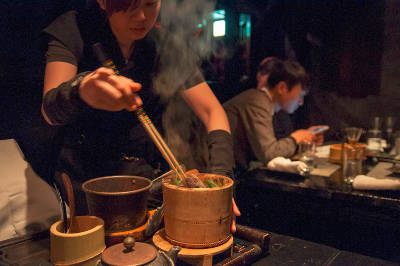 The Ninja Restaurant Akasaka is one of Tokyo's most famous and weird themed restaurants. It's easy to guess that everything inside this restaurant is ninja-themed: the costumes of the waiters, furniture, lighting, dishes and entertainment.
More information about the Ninja Restaurant Akasaka
.
How to get to Akasaka
The area is served by some Tokyo Metro stations.
Akasaka station
(
Chiyoda line
) is located right under Akasaka Sacas. Another useful station is
Akasaka-mitsuke station
(
Ginza Line
and
Marunouchi Line
). The nearest JR station is
Yotsuya station
, about 2 km from the center of Akasaka but a few meters from Akasaka Palace.
Map of Akasaka, Tokyo
Guided tours, activities and other things to do
If you are planning a trip to Japan and you want to do something more than just visiting famous places and monuments, we suggest you to use
Govoyagin
.
How to use Govoyagin
Govoyagin is a very useful website to
enrich your travel experience
, especially if you are going solo or it's your first time in Japan.
Because of the language barrier (and more), in Japan it is very difficult to interact with the locals and to get off the tourist track.
Thanks to Govoyagin you can find a lot of interesting and sometimes unique
guided tours and activities
all over Japan (and not only in Japan), that you would otherwise never be able to enjoy.
But there's more: on Govoyagin you can also
buy tickets
for several famous attractions, events, transportation and other useful services for tourists. Last but not least, you can
reserve a table
in hundreds of restaurants.
Some examples
Take a look at Govoyagin
You may also be interested in