Hamamatsucho, Tokyo
Hamamatsucho
is a business center full of office skyscrapers that gravitate around Hamamatsucho station, where thousands of commuters arrive every morning. It is located just south of another modern business center,
Shiodome
, just east of the
Tokyo Tower
and a few hundred meters from the sea of Tokyo Bay.
Things to see in Hamamatsucho
In this district you can visit the former imperial garden
Kyū Shiba Rikyū
surrounded by skyscrapers, a ferry terminal from which to enjoy the view of Tokyo Bay, and a statue of a child peeing. Another historic garden is also located a short distance from Hamamatsucho (see
Hamarikyu Gardens
).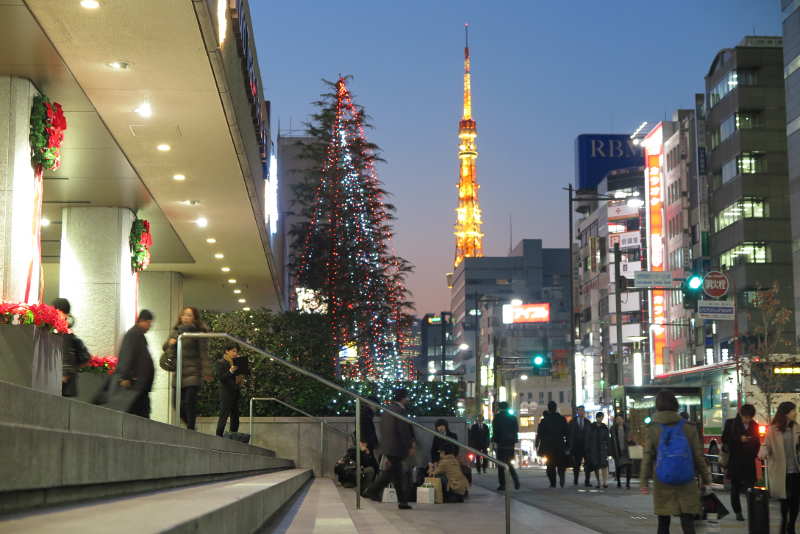 the Tokyo Tower from Hamamatsucho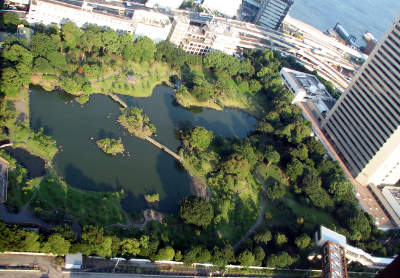 Kyu-Shiba-Rikyu Gardens
(admission 150¥, opening hours 9-17)
Kyu Shiba Rikyu (旧芝離宮) is a classic Japanese landscape garden located right next to Hamamatsucho Station. Built in the second half of the seventeenth century, it is one of the four gardens from the Edo period that survive to this day in Tokyo. Although it is the smallest of all, according to some it is also the one with the most beautiful design. Over the centuries, it served as the residence of various feudal lords, until in 1875 it was transformed into a detached imperial villa. It was later destroyed by the earthquake of 1923 and definitively reopened as a public park a year later, in 1924. In the center of the lake there is a large pond, populated by carp and ducks, with four islets, two of which are crossed by bridges. The pond is inspired by the West Lake of Hangzhou, China. The park is populated by mothers with children in the morning, and is filled with office workers in suits at lunchtime, who come down here from their offices to relax and have their meal. The strong contrast between the traditional view of the garden seen from the inside and the modern view of the huge skyscrapers that surround it is very beautiful.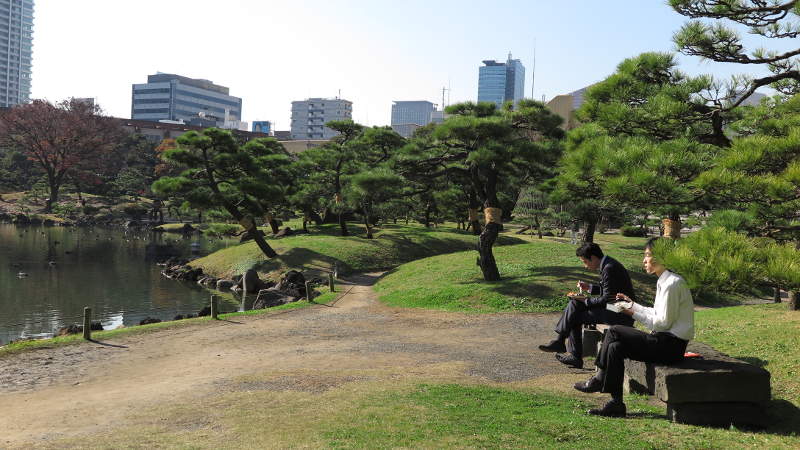 local office workers have lunch at Kyushiba Rikyu Gardens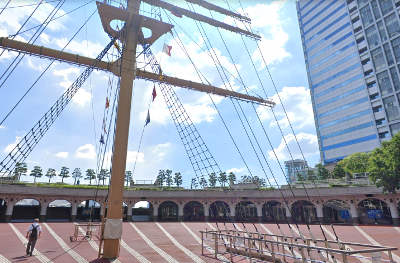 Takeshiba Pier
The Takeshiba Pier is nothing more than a passenger terminal where you can embark for the islands Izu and Ogasawara, as well as for some cruises on Tokyo Bay. It is about 5 minutes walk from Hamamatsucho station. Around the terminal there are some skyscrapers that house hotels and restaurants, and a waterfront with several benches with an unusual panoramic view of Tokyo. In the evening you can admire the illuminated Rainbow Bridge, during the day the blue sea full of boats and surrounded by skyscrapers.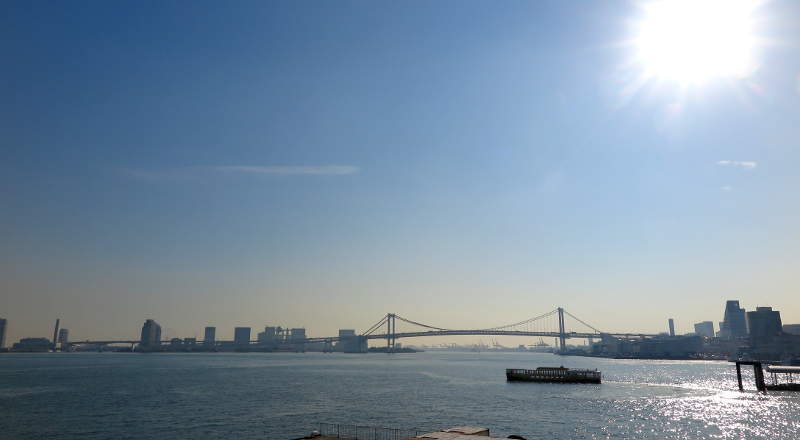 Rainbow Bridge and Odaiba Island from Takeshiba Pier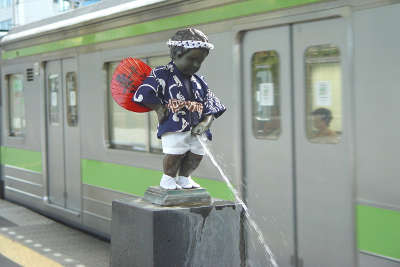 Little Peeing Monk of Tokyo
This curious statue (in Japanese 小便小僧, Shōben-kozō), inspired by the Manneken Pis in Brussels, is located between platforms 3 and 4 of Hamamatsuchō station, so you must have a valid train ticket to get there. A writing in front of the statue explains that a local dentist named Hikaru Kobayashi donated it to the train station in 1952. The statue was originally naked, but in November 1986, things changed. That month, local firefighters asked a group of volunteers to dress the statue in a fireman costume for a fire prevention campaign. Since then, this group of volunteers called Ajisai has begun to change the costume of the statue periodically, reflecting the seasons or current topics. So over the years this little monk has been dressed in a variety of ways. In the months of March and November he goes back to dressing up as a firefighter. Ajisai volunteers usually change their costumes on the 26th of each month, at 1pm.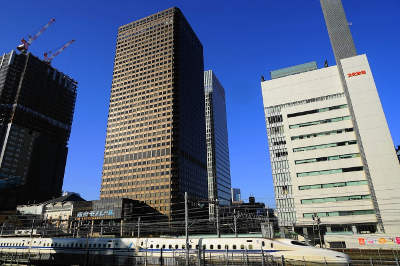 World Trade Center Tokyo
The World Trade Center is a 163-meter-high office skyscraper with a total of 40 floors, completed in 1970. At the time, it was one of the first large skyscrapers in Tokyo and became the tallest in Japan. However, it lost the record the following year with the completion of the Keio Plaza hotel in Shinjuku. The building houses the Tokyo World Trade Center, a member of the World Trade Centers Association.
On the top floor of the building there was one of Tokyo's oldest, least known but also most fascinating observation decks, called Seaside Top. Unfortunately, the observatory was closed on January 31, 2021. The entire area will be redeveloped, the skyscraper demolished and rebuilt. The redevelopment works will last at least until 2024.
Where to stay in Hamamatsucho
Pros and cons
Hamamatsucho is a very strategic area, located less than 15 minutes by train from many tourist areas of Tokyo (Ginza, Marunouchi, Ueno, Odaiba, Tokyo Tower, Roppongi), as well as very close to Haneda airport and half an hour from
Yokohama
. The only famous areas that need at least half an hour are Shinjuku and Ikebukuro. However, it is an area almost exclusively for offices, so in the evening you will find yourself walking along large deserted streets. In Hamamatsucho, however, there is a wide choice of hotels and the prices are very low. If staying in a neighborhood full of life 24/7 is not your priority, this is one of the most recommended areas to book a hotel in Tokyo.
In addition, in Hamamatsucho there are also several hotels with panoramic views, with views of Tokyo Tower to the west and views of Tokyo Bay to the east.
Hotels overlooking Tokyo Tower
Hamamatsucho is located approximately one and a half kilometers from the
Tokyo Tower
. It can be very fascinating to fall asleep looking at the lights of one of Tokyo's most famous monuments from the window. For this reason, we suggest you some alternatives.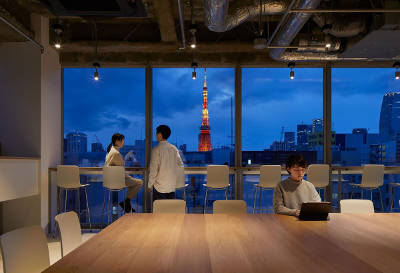 A very comfortable capsule hotel located near Hamamatsucho station, 20 minutes walk from Tokyo Tower. As this is a capsule hotel you will obviously have no view from the room. On the top floor of the building, however, there is a panoramic common room with several tables and seats. On the roof there is also a terrace open to the public.
Price range: 3,000-4,000¥.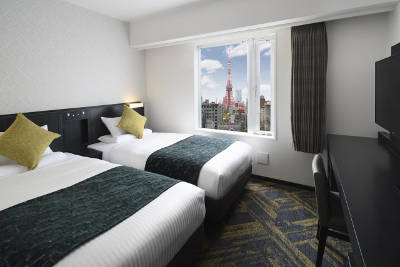 A no-frills, reasonably-priced business hotel located near Hamamatsucho station, and also about 20 minutes from Tokyo Tower. Some rooms have a view of Tokyo Tower, although not perfect (the building is not very tall). If interested, do not forget to specify this preference when booking.
Price range: single rooms 5,500-7,000¥, double rooms 6,500-8,000¥.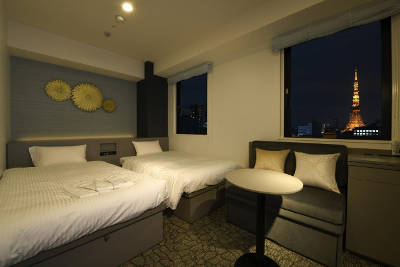 Henn na is a Japanese hotel chain that has become famous because the receptionists are robots. Beyond that, they are normal business hotels. The Hamamatsucho hotel, a stone's throw from the JR station and about 20 minutes from Tokyo Tower, also has rooms with a view of the tower that can be chosen directly when booking.
Price range: single rooms 7,000-7,000¥, double rooms 9,000-10,000¥.
Hotels overlooking Tokyo Bay
Near the
Takeshiba Pier
, about 500 meters from Hamamatsucho station, there are two hotels with an enviable position, facing the sea and overlooking the Tokyo Bay. There are not many hotels in Tokyo built facing the sea (some hotels on the island of
Odaiba
and little else), because much of the city waterfront is still used for port and industrial activities. If you want to spend a romantic night in central Tokyo with a sea view, these two hotels in Hamamatsucho are among the few options available.
A high-rise hotel facing the sea, next to Takeshiba Pier. Unlike its neighbor Intercontinental, the rates at this hotel are very affordable and anyone can afford to stay here. This is not a luxury hotel, but the rooms are still more spacious than the Japanese average and many have views of the city or Tokyo Bay. On the top floor of the building there is a spa (you pay an entrance fee of 550¥) with onsen, sauna, whirlpool and armchairs where you can relax while watching the view. A great compromise if you want to enjoy a Tokyo sea view but don't want to spend too much.
Price range: single rooms 7,000-9,000¥, double rooms 8,000-10,000¥.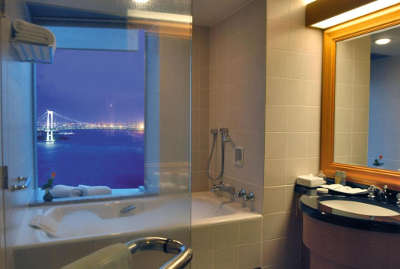 A luxury skyscraper hotel facing the sea, directly connected to Takeshiba station and 5 minutes from Hamamatsucho station, connected by a free shuttle. Very elegant and spacious rooms. When booking you can choose both the bay view and the floor. The highest rooms are located on the 24th floor. Some rooms (such as the king premium) also have a panoramic bathtub next to the window. The hotel houses several fine restaurants, including a French restaurant (but curiously called Manhattan) with spectacular sea views from the top floor of the building.
Price range: double rooms 20,000-30,000¥.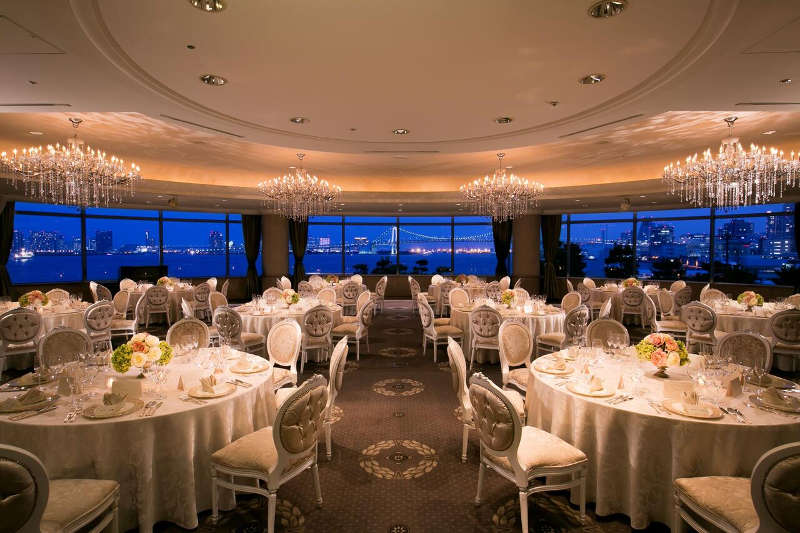 the restaurant on the top floor of the Intercontinental Tokyo Bay hotel
How to get to Hamamatsucho
Hamamatsucho station
is a train station along the convenient
JR Yamanote
circular line, thanks to which you can reach several important Tokyo stations in a few minutes and without having to change lines. The
JR Keihin-Tohoku line
also allows you to reach
Yokohama
directly in about half an hour.
The station is also directly connected to
Haneda airport
via the
Tokyo Monorail Haneda Airport Line
(500¥, 20 minutes).
It is very easy to find your way around Hamamatsucho station. There are two main exits, north and south. The most convenient exit is the
north exit
, located under the elevated railroad tracks. Once you exit, walk to your left to reach the World Trade center in 1-2 minutes. Walk to your right to reach Kyu Shiba Rikyu Garden, also in 1-2 minutes, keep straight for another 4-5 minutes to reach Takeshiba Pier.
Daimon
subway station (
Toei Oedo line
and
Toei Asakusa line
) is located a few meters from Hamamatsucho station.
Getting to Hamamatsucho on foot
You can easily walk to Hamamatsucho from
Tokyo Tower
in about 20 minutes, simply by following the tower which is clearly visible from all over the area. Similarly, you can walk to the nearby skyscrapers of
Shiodome
in about 15 minutes. One of the entrances to the
Hamarikyu Gardens
is located less than 15 minutes from Hamamatsucho. Finally, in the same direction as Shiodome, continuing a little longer, you can also reach the areas of
Tsukiji
and
Ginza
(25 minutes).
Map of Hamamatsucho, Tokyo
Guided tours, activities and other things to do
If you are planning a trip to Japan and you want to do something more than just visiting famous places and monuments, we suggest you to use
Rakuten Travel Experiences
.
How to use Rakuten Travel Experiences
Rakuten Travel is a very useful website to
enrich your travel experience
, especially if you are going solo or it's your first time in Japan.
Because of the language barrier (and more), in Japan it is very difficult to interact with the locals and to get off the tourist track.
Thanks to Rakuten Travel you can find a lot of interesting and sometimes unique
guided tours and activities
all over Japan (and not only in Japan), that you would otherwise never be able to enjoy.
But there's more: on Rakuten Travel you can also
buy tickets
for several famous attractions, events, transportation and other useful services for tourists. Last but not least, you can
reserve a table
in hundreds of restaurants.
Some examples
Take a look at Rakuten Travel Experiences
You may also be interested in