Osaka
Osaka (大阪) is the third largest city in Japan, after Tokyo and Yokohama. Formerly called Naniwa, it has been the economic powerhouse of the Kansai region for many centuries. Nowadays, with a population of almost 3 million, it is the main component of the so-called Keihanshin (京阪神), a metropolitan area that includes the neighboring cities of Osaka, Kyoto and Kobe. The entire Keihanshin has a population of over 19 million people and is Japan's second largest urban region after Tokyo. At first glance, or even just looking at the photos from above, Osaka seems like a less immense version of Tokyo, but in reality there are many facets that make these cities different. There are plenty of things to do and see in Osaka. Some of these aren't that different from what you might do in Tokyo, but the city has several uniqueness as well. Three examples of things you will find in Osaka but not in Tokyo: a large Japanese feudal castle (Osaka Castle), a huge shopping area that develops along the typical covered shopping arcades (Namba), and the legendary Universal Studio Japan amusement park. Last but not least, Osaka is nicknamed the "kitchen of Japan" because of its culinary delicacies, and its street food is considered one of the best in the world.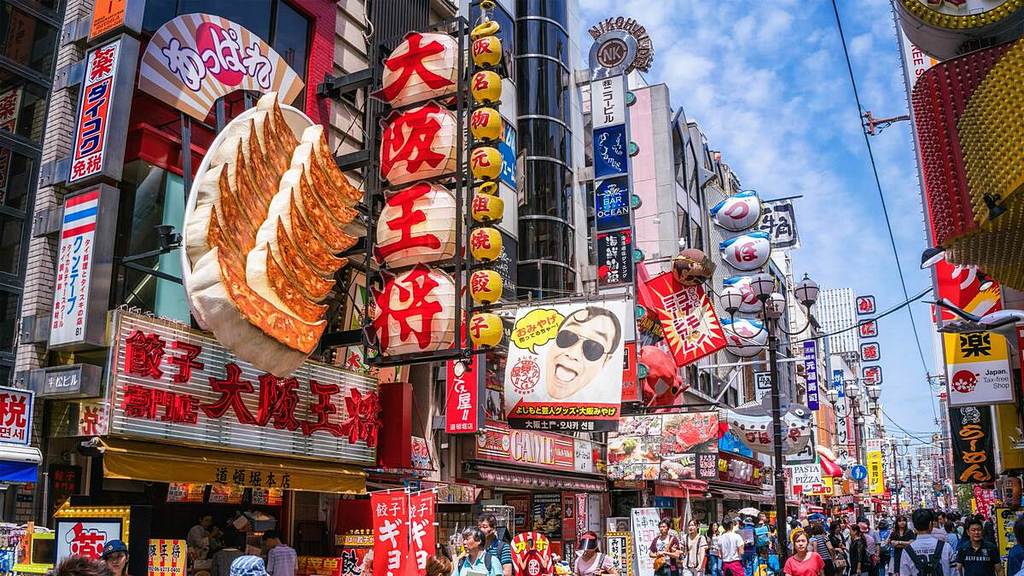 Plan your trip to Osaka
Where to stay
the best areas and advice on hotels, hostels, capsule hotels, hotels with panoramic views and other original ideas on where to stay in Osaka
Connections with the city's airports
Osaka Itami
the second airport of the city, where only domestic flights land
Osaka travel guide area by area
Central Osaka can be divided into two large areas, known as
Kita
(北, "north") and
Minami
(南, "south"). Kita is home to the Umeda district, with its important railway hub of Osaka Station, numerous skyscrapers and shopping malls. Minami encompasses the city's most popular neighborhoods for tourists, such as the Namba and Shinsaibashi shopping areas, the Dōtonbori canal, the Nipponbashi otaku area, and the quirky Amerikamura neighborhood. A long and elegant boulevard,
Midosuji Dori
, connects Kita and Minami through a series of business districts. Further south of Minami there are Shinsekai and Tennoji, two interesting and particular neighborhoods, and the working-class district of Kamagasaki, in whose streets sleep a large number of homeless people. The west side of the city overlooks Osaka Bay, and is home to the city's port and several tourist attractions, including Universal Studios Japan. The east side of the city is home to mainly residential districts, but also Osaka Castle Park and the nearby Osaka Business Park.
Namba
the most amazing area of osaka, in the Naniwa district: it includes the areas of Dotonbori, Shinsaibashi, Amerikamura
Osaka Castle Park
the area of the park where the famous castle of the city is located
Shinsekai and Tobita Shinchi
a neighborhood that housed one of the most avant-garde amusement parks in all of Asia a hundred years ago, today a neighborhood in decline but with a magical and nostalgic atmosphere (Shinsekai), near one of the largest red light districts in all Japan (Tobita Shinchi)
Tennoji
recently modernized area with large shopping malls, home to a large park, a zoo, the tallest skyscraper in Japan and one of the most important temples in Osaka
Umeda
the second "downtown" of Osaka after Namba, in the northern part of the city, Kita district
Quick answers about Osaka
Is it worth visiting Osaka?
The short answer is yes, Osaka is definitely worth a visit. Tokyo and Osaka have always been opposite cities, for various reasons. In Osaka, a particular dialect is spoken that is very different from standard Japanese, and the people are known for having mannerisms that are slightly different from the usual Japanese stereotypes. The people of Osaka are considered loud (loud talk), nice and sociable. Walking through the streets of Osaka you will not fail to see a few cigarette butts or other rubbish on the ground, something almost impossible to find in Tokyo and in the north of the country. Downtown Osaka, Namba and Dotonbori in particular, have an atmosphere you won't find in Tokyo. The long covered shopping arcades, the huge illuminated signs, the delicious street food of the region everywhere and at low prices. However, if it is your first trip to Japan, it is necessary to evaluate each case on the basis of the days available and the other places you intend to visit. If you only have time to visit Tokyo and one other location, we do not recommend coming to Osaka. Although with different nuances, these are two large Japanese cities with similar types of attractions. In this case it is recommended to combine Tokyo with a more different location, for example Kyoto, a rural location with hot springs, or Hiroshima and Miyajima. Osaka is perfect in combination with Kyoto if you have enough time, as the two cities are very close. You can base yourself in one or the other, depending on your preferences, and then go on excursions to the nearby city.
How many days do you need to visit Osaka?
One night and two days in Osaka is the most popular solution among Japan tours. By doing so, you can explore the Namba area at your own pace, and have time for a stroll to other areas such as Shinsekai or Umeda.
A day trip to Osaka is very easy if you are staying in Kyoto. It's not a bad choice if you are short on time, in this case it is recommended to visit something of interest to you in the morning and early afternoon, and then close the day with a walk and dinner in Dotonbori before returning to Kyoto. If you leave from Tokyo it is still feasible but it doesn't make much sense, you might as well stay at least one night in Osaka and return the next day so as to enjoy the evening in the city without having to run to catch the last shinkansen. Hotels in Osaka are also cheaper.
Three days to be dedicated only to Osaka are ideal if you want to visit all the main tourist areas of the city at a leisurely pace, therefore the Castle, Namba, Shinsekai, Umeda, and maybe an exciting day at Universal Studios Japan.
More than three days in Osaka make sense if it's not your first trip to Japan, you already know the main cities and want to get to know this city thoroughly. The cost of living here is lower than in Tokyo, but the city is still full of things to do, the surroundings are full of interesting towns and it will also be much easier to get to know locals.
What to eat in Osaka?
Osaka's number one specialty is takoyaki, octopus balls made by dipping small pieces of octopus tentacle into a batter, and cooking it all on a special round grill. They are served covered in various sauces, including Japanese mayonnaise, katsuobushi flakes and pickled ginger. Takoyaki are one of the most exquisite street foods in the world, and even if you don't like octopus, we suggest you try them, you will be pleasantly surprised. Takoyaki are commonly found at street stalls during festivals throughout Japan, but in Osaka, you'll find takoyaki shops on every corner (especially at Dotonbori) and at lower price than in the rest of Japan. Remember to wait at least a minute before biting into your freshly made takoyaki, as they are hot inside.
Another famous specialty of the city is okonomiyaki, a typical Japanese dish that according to some was born in Osaka, according to others in Hiroshima. The citizens of both cities are very proud of their way of preparing okonomiyaki. The basic okonomiyaki is a batter made from flour, water, cabbage and other vegetables, mixed and then cooked on the griddle giving it a round shape. In okonomiyaki restaurants you will find a menu with different toppings, like the menu of a pizzeria. The most populare ones are okonimiyaki with pork or with squid and other seafood. When cooked, okonomiyaki are usually garnished with aonori seaweed, katsuobushi, otafuku sauce and mayonnaise.
If okonomiyaki is a popular dish throughout the Kansai region and nowadays widespread throughout Japan, the variant called negiyaki is, on the contrary, very typical of the city of Osaka. Negiyaki follow much the same recipe as okonomiyaki, but spring onions ("negi" in Japanese) are used instead of cabbage. Also, instead of mayonnaise, a sauce made from soy sauce and lemon juice is used as a garnish. Today you find this dish on the menu of many okonimiyaki restaurants in Osaka, but for a more authentic experience you can go in search of the restaurant that invented negiyaki in 1965, Negiyaki Yamamoto, a couple of kilometers away north of the Umeda area.
In third place among the most famous specialties of Osaka we find the kushi-katsu, that is skewers of meat, fish or vegetables that are first covered in batter and then fried. They are eaten hot and after having dipped them in a special sauce. The neighborhood where kushi-katsu was born and where you will still find many restaurants today is Shinsekai.
Also in Shinsekai you can taste the doteyaki, a dish of beef stewed with miso paste, mirin, sake and sugar, served on skewers.
Oshizushi is a type of sushi that stands out from the others, widespread in the Kansai region and historically opposed to the famous nigiri, once widespread in the Tokyo area. It is also called "pressed sushi" or "Osaka-style sushi" and is served in rectangular, compact and rectilinear portions. The fish used is generally cooked and eaten without the addition of soy sauce or wasabi. Traditional in Osaka is battera, mackerel-based oshizushi. Unfortunately, places to eat oshizushi in Osaka have become increasingly rare, as nigiri and other world-famous types of sushi have taken over, being also cheaper and faster to prepare. However, you will still find oshizushi on the menus of several sushi restaurants in the city, so make the most of it!
Although not as famous as others, there is also an Osaka-style ramen, which uses very thick and stiff noodles, and a broth made from chicken, konbu seaweed and soy sauce. This ramen is also called Takaida ramen, a name that comes from a suburban area of Osaka with several restaurants of this style of ramen. A famous chain of this style of ramen, with six restaurants in various areas of the city, is Menya 7.5Hz. Otherwise, all regional styles of ramen are hugely popular in Osaka, and you'll find exquisite ramen restaurants around all major stations.
Finally, if the typical dishes of Osaka don't meet your palate, no problem. Osaka is a great city where you can find excellent restaurants of all specialties of Japanese and international cuisine.
Map of Osaka
Guided tours, activities and other things to do
If you are planning a trip to Japan and you want to do something more than just visiting famous places and monuments, we suggest you to use
Rakuten Travel Experiences
.
How to use Rakuten Travel Experiences
Rakuten Travel is a very useful website to
enrich your travel experience
, especially if you are going solo or it's your first time in Japan.
Because of the language barrier (and more), in Japan it is very difficult to interact with the locals and to get off the tourist track.
Thanks to Rakuten Travel you can find a lot of interesting and sometimes unique
guided tours and activities
all over Japan (and not only in Japan), that you would otherwise never be able to enjoy.
But there's more: on Rakuten Travel you can also
buy tickets
for several famous attractions, events, transportation and other useful services for tourists. Last but not least, you can
reserve a table
in hundreds of restaurants.
Some examples
Take a look at Rakuten Travel Experiences
You may also be interested in