Azabu
last update: March 18, 2015
Azabu is a large area of Minato special ward.
It is one of the most international areas in Tokyo, in fact it is home to many embassies and international schools.
A large part of Azabu is a high-class residential area, many artists and famous people live there, for example
Ayumi Hamasaki
or
Naoko Takeuchi
.
The neighborhood
Azabu Juban
I discovered this area just because Naoko Takeuchi, Sailor Moon's creator, lives there, and the manga/anime is set in Azabu-juban.
It is a very nice and little shopping district, not far from the busy neighborhood of
Roppongi
, walking around its narrow streets is very pleasant.
Around here there is also one of the oldest temples in Tokyo, the
Zenpuku-ji
Buddhist temple.
Arisugawa park
Not far from Azabujuban station and very close to Hiroo station you can find this beautiful park, that would be much more famous if it wasn't located in Tokyo. Among the masses of beautiful parks and gardens of Tokyo, it can easily be ignored. Within the park there is a very quiet atmosphere with a beautiful pond where sometimes you can see some "fishermen" trying to fish something. At certain times of the morning the park is filled with many children from the neighboring schools.
Moreover, in this park take place a few episodes of the anime and manga of
Sailor Moon
.
Tokyo Tower
(opening hours 9-22)
The famous Tokyo Tower is located just south of the area of Azabujuban, facing a park known as
Shiba-koen
.
It was completed in 1958 as a telecommunications tower by the architect
Tachū Naitō
, who had already projected similar structures in other cities of Japan.
You can go up to the top of the tower for a panoramic view, the ticket costs 900 yen for the main observatory (150 meters high), where you can also find a gift shop and a cafe. If you want to reach the highest observation deck (250 meters high) you have to pay additional 700 yen.
At the base of the tower is a five-story building with some strange attractions, including the
Tokyo One Piece Tower
, shops and restaurants.
It is a landmark of Tokyo, one of the most famous ones, and in the past it wasn't so uncommon to stand in a queue for a long time to go up to the observatory. Now that the new
Tokyo Sky Tree
has been opened, the Tokyo Tower has become less popular, especially among the Japanese.
Tokyo One Piece Tower
(admission 3200 yen, opening hours 10-22)
A new attraction inaugurated on March 13, 2015 dedicated to the famous anime and manga of One Piece.
You can buy the ticket also online, with a small discount (3,000 yen), on
this website
.
Close to the Tokyo Tower there is a famous buddhist temple, the
Zojoji temple
, which can be visited for free.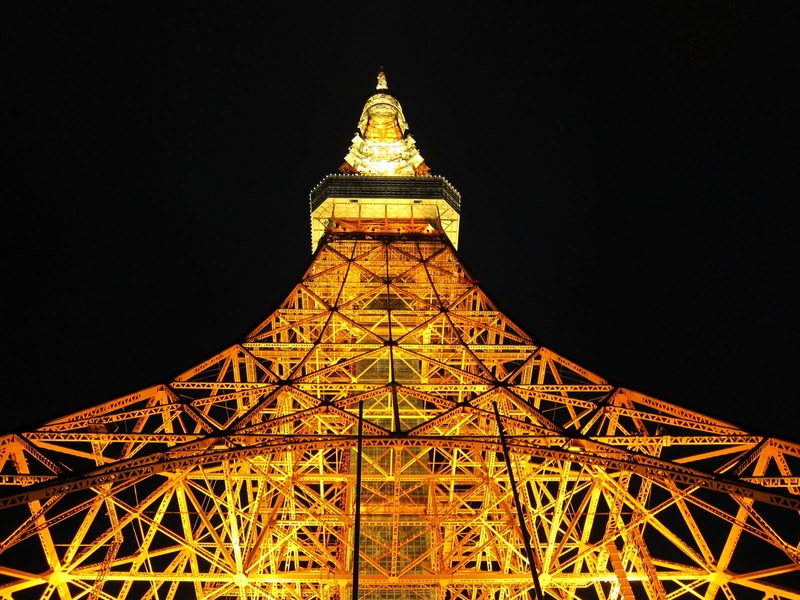 The Tokyo Tower lit in the night
The Tokyo Tower seen from the Zojoji Temple
Sleeping near the Tokyo Tower, hotel with panoramic views of the Tokyo Tower
It might be fascinating for someone to stay in a hotel where you can see the Tokyo Tower from your room. There are some hotels in the area, belonging to a high price range, in particular the
Shiba Park hotel
and the
Park Tower Tokyo Prince hotel
.
If you are looking for something cheaper, the cheapest hotel of all where you can fall asleep while looking at the Tokyo Tower is located in the nearby area of
Hamamatsucho
, and is called
MyStays Hamamatsucho
, with tower-view double rooms from 10,000 yen per night.
Eating in Azabu
Soba restaurants
Azabujuban is famous for its characteristic
soba
restaurants.
Azabu National Supermarket
A big supermarket with a lot of international imported food, located near
Hiroo
station.
Tokyo Curry Lab
A very popular restaurant specializing in curries, located on the second floor of the building at the base of Tokyo Tower.
Curry rice from 1000 yen.
Pratical guide, how to get to the Tokyo Tower and Azabu and map
Get off at
Azabu-juban station
for the district of Azabujuban, served by the Toei
Oedo line
and Tokyo Metro
Namboku line
.
The Tokyo Tower is about 1 km far on foot from there, but the nearest station is
Akabanebashi station
, the next stop after Azabu-juban station along the Oedo line.
View
Azabu
in a larger map
Guided tours, activities and other things to do
If you are planning a trip to Japan and you want to do something more than just visiting famous places and monuments, we suggest you to use
Govoyagin
.
How to use Govoyagin
Govoyagin is a very useful website to
enrich your travel experience
, especially if you are going solo or it's your first time in Japan.
Because of the language barrier (and more), in Japan it is very difficult to interact with the locals and to get off the tourist track.
Thanks to Govoyagin you can find a lot of interesting and sometimes unique
guided tours and activities
all over Japan (and not only in Japan), that you would otherwise never be able to enjoy.
But there's more: on Govoyagin you can also
buy tickets
for several famous attractions, events, transportation and other useful services for tourists. Last but not least, you can
reserve a table
in hundreds of restaurants.
Some examples
Take a look at Govoyagin
You may also be interested in