Narita
Where to stay in Narita
How to get to Narita and map
Tokyo Narita is probably one of the most widely known names among those who go to Japan, since it is the main airport of Japan for international and long-haul flights, very few people know Narita town instead, the town near the airport which gave it that name.
From the main railway stations of the town (JR Narita and Keisei Narita), the main and most interesting attraction is Naritasan Park (
Naritasan Koen
), you can get there on foot from both the stations walking for about 1 km, along a tourist street, full of small shops selling souvenir and traditional products and restaurants. In particular, a street called
Omotesando
is very nice, but it is very popular among tourists so prices are a bit high.
The whole area, and the city in general, is quite accustomed to deal with foreigners, Narita is in fact very popular both among tourists who spend their last hours in Japan before coming back to their country, and by the crews of the numerous airlines serving the nearby airport.
Naritasan Koen
(free admission)
A huge park, partly in the Japanese style, partly in western style, in which there are also 3 small ponds, with that magical atmosphere typical of Japanese parks and gardens.
In the southern/western area of the park there are many buildings belonging to the Buddhist temple
Naritasan Shinshoji
. Other minor buildings are scattered throughout the park, in particular the wonderful
Great Pagoda of Peace
in the north end.
It is a very important temple, visited by millions of Japanese people every year, especially during the new year period. If you planned to go to Tokyo during the Christmas holidays and your return flight is within January 3, you could visit this temple for hatsumode (see
New Year in Japan
).
Moreover, in the northern area of the park there are two small museums, the
Naritasan Shodo Museum
(closed on mondays, opening hours 9-16, admission 500 YEN), which exhibits mainly works of Japanese calligraphy, and the
Naritasan Reikokan Historical Museum
(closed on mondays, opening hours 9-16, admission 300 YEN), a museum about the nearby temple and the city of Narita.
Museum of Aeronautical Sciences
(admission 500 YEN, opening hours 10-17, closed on mondays and dec 29-31, no closing days in august)
A museum dedicated to the world of aviation. There is an outdoor area which exhibits some small aircrafts, while the indoor area of the museum consists of 3 floors. There is also a structure shaped like a control tower (4th and 5th floor), where there is respectively a themed panoramic restaurant and a reproduction of a real control tower, with a panoramic view over the surrounding area, including the nearby airport and its runways.
This museum practically borders the south end of the airport, however the passenger terminals are located about 5 km away, so the best solution to get there is by taxi.
Sakura-no-Yama
(opening hours 6-23) A hill near the airport, where there is a beautiful park with many cherry trees. From this place you can see and shoot pics of the airport and the many take-offs and landings of aircrafts.
A fantastic place for spotters.
Unfortunately the only way to reach this place is by taxi (about 3 km from Terminal 2). Perhaps there is also a bus service, but I can not accurately understand
this page
in japanese (if anyone can, please contact me, thanks a lot!).
Sleeping, where to stay in Narita
Reasons to sleep one night in Narita
-To visit a small Japanese town, especially if during your trip you have visited only a metropolis like Tokyo;
-To reach the airport with comfort and calm to catch the return flight;
-If your outbound flight to Japan arrives in the evening, perhaps it is better to face Tokyo the next morning and sleep the first night in Narita.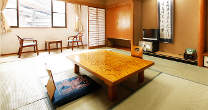 Wakamatsu Honten
A small
ryokan
just in front of the entrance to Naritasan Park and Shinshoji Temple. If you've been in Japan and you have not slept in a traditional hotel yet, you could spend your last day in Japan at this lovely place in a traditional style. Here you can also try
kaiseki
cuisine.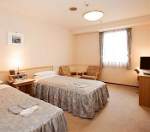 Narita U-City Hotel
Business hotel near JR Narita amd Keisei Narita stations, one of the cheapest in the area, it is perfect for an unpretentious overnight stay the first or last day of your trip. Small but clean rooms. Moreover, it offers a free shuttle service to the airport.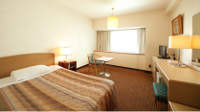 Narita Airport Resthouse
If you are not interested in the town of Narita, and you just want to spend a night near the airport, due to a connection, a very early flight in the morning, or any other reason, this hotel is definitely the best solution, both for its low rates (from 6000 YEN for a single room, from 7000 for a double), and its position. This hotel is located between Terminal 1 and Terminal 2 of the airport, it can be reached on foot in a few minutes, or by free shuttle.
Pratical guide, how to get to Narita town and map
The main stations of the town of Narita are
JR Narita station
and
Keisei Narita station
, the first one served by JR and the other by the private company Keisei Railways.
From/to Tokyo
The best solution to get to Narita from Tokyo is to use the railway company
Keisei
, which connects
Ueno station
(Keisei-Ueno) to Keisei-Narita station (75 minutes, 810 YEN).
The JR connects
Tokyo station
to JR Narita station (fare 1100 YEN) through the
Rapid Service
of the
JR Sobu line
.
However, I don't recommend this alternative because there are few direct trains (about 1 train per hour, journey time 70 minutes), so you often need to make at least one change (usually at Chiba station).
From/to Tokyo Narita Airport
Narita Airport is located very close to the city (about 8 km), so if you want to visit Narita before taking the plane, don't be anxious, for any problem you can immediately take a taxi and get to the airport in 10 minutes.
By train, the
JR
offers approximately one train per hours (12 minutes, 230 YEN), the
Keisei
one train every 20 minuts (9 minutes, 250 YEN).
It may be helpful to consult also the page dedicated to
Tokyo-Narita Airport
connections.
Guided tours, activities and other things to do
If you are planning a trip to Japan and you want to do something more than just visiting famous places and monuments, we suggest you to use
Govoyagin
.
How to use Govoyagin
Govoyagin is a very useful website to
enrich your travel experience
, especially if you are going solo or it's your first time in Japan.
Because of the language barrier (and more), in Japan it is very difficult to interact with the locals and to get off the tourist track.
Thanks to Govoyagin you can find a lot of interesting and sometimes unique
guided tours and activities
all over Japan (and not only in Japan), that you would otherwise never be able to enjoy.
But there's more: on Govoyagin you can also
buy tickets
for several famous attractions, events, transportation and other useful services for tourists. Last but not least, you can
reserve a table
in hundreds of restaurants.
Some examples
Take a look at Govoyagin
You may also be interested in