Sanrio Puroland
last update: August 24, 2021
Sanrio Puroland (サンリオピューロランド) is a covered theme park, opened in 1990 by the Japanese company Sanrio, world famous for bringing to life characters such as Hello Kitty, My Melody and Cinnamoroll. The park is located on the far western outskirts of Tokyo, in Tama New Town. Here you can enjoy various shows, attractions, rides and themed restaurants.
Hours, fees and tickets
Opening hours
The park is usually open every day from 9 to 17, while on weekends and holidays it remains open until 18. However, there are sporadic closing days, always check the
official calendar
.
Fares
The entrance ticket, with which you can do all the attractions, costs 3300¥ on weekdays and 3900¥ on weekends and holidays. Discounts are available for people over 65 and under 18 (2500¥ on weekdays and 2800¥ on weekends and holidays). Discounted tickets are available after 2pm when the park closes at 5pm and after 3pm when it closes at 6pm, and they're called
afternoon pass
(2000-2200¥). Before you go it is also recommended that you take a look at
this link
and check if there is any discount coupon, thanks to which you can often save 200-300 yen.
Where to buy tickets
Tickets can be purchased at the ticket offices at the park entrance.
Things to do at Sanrio Puroland
It is absolutely not a theme park with roller coasters and other attractions like that. The main attractions are the various parades and shows, all related to various characters created by Sanrio. Very popular among foreigners is, for example, the life-size reconstruction of the
House of Hello Kitty
, awithin an area of the park opened in 2011, called
Sanrio Town
. In general, therefore, this theme park is mainly aimed at an audience of children, but as you can probably imagine, there's no shortage of Japanese teenagers, sometimes fairly grown-up, going crazy and taking thousands of photos with these characters typical of the japanese "kawaii culture".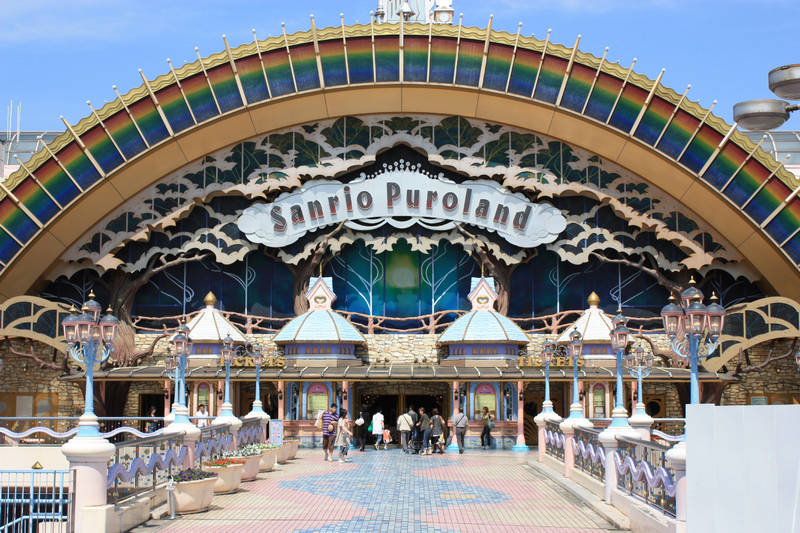 the entrance to Sanrio Puroland
The
restaurants
inside the park are also very characteristic, serving dishes with themed decorations, and shops where you can find practically any existing type of object on earth connected to the Sanrio characters.
How to get to the Sanrio Puroland
The nearest station to the Sanrio Puroland is
Tama Center station
. With this name the Japaneses usually refer to the station served by the
Tama Toshi Monorail line
, a line of little use if you are a tourist.
Actually there are two other stations in the area, with the same name, belonging respectively to the rail companies
Odakyu
and
Keio
.
The most convenient station for those coming from the center of Tokyo is
Keio Tama Center station
, served by the
Keio Sagamihara line
. From
Shinjuku station
you can reach this station without any changes (you have to look for those trains bound for
Hashimoto
), or changing at
Chofu station
(approximately 30 minutes in total). From the Keio station, the park is about 500 meters far.
Map of Sanrio Puroland
Guided tours, activities and other things to do
If you are planning a trip to Japan and you want to do something more than just visiting famous places and monuments, we suggest you to use
Rakuten Travel Experiences
.
How to use Rakuten Travel Experiences
Rakuten Travel is a very useful website to
enrich your travel experience
, especially if you are going solo or it's your first time in Japan.
Because of the language barrier (and more), in Japan it is very difficult to interact with the locals and to get off the tourist track.
Thanks to Rakuten Travel you can find a lot of interesting and sometimes unique
guided tours and activities
all over Japan (and not only in Japan), that you would otherwise never be able to enjoy.
But there's more: on Rakuten Travel you can also
buy tickets
for several famous attractions, events, transportation and other useful services for tourists. Last but not least, you can
reserve a table
in hundreds of restaurants.
Some examples
Take a look at Rakuten Travel Experiences
You may also be interested in