Ryokan
A ryokan (旅館) is a typical Japanese type of hotel, where everything is in the traditional Japanese style handed down over the centuries and adapted to modern times. On planet Earth, you will only be able to experience this type of experience in Japan. A night in a ryokan, with its furnishings, the kindness of the staff, and the atmosphere of absolute relaxation, combined with the magical experiences of the onsen, of the kaiseki dinner and the traditional Japanese breakfast, is generally one of those experiences that most make foreigners who visit Japan for the first time fall in love with it and should be on the top list of things to do for anyone planning a first trip to Japan.
Ryokans at a glance
Where to find them: in spa towns full of onsen and other rural tourist spots and cities famous for their history such as Kyoto. Even if it is not a tradition, in recent years some ryokans have opened in big cities like Tokyo to attract foreign tourists.
Price range: a good ryokan costs a lot, but it is difficult to give a precise price because the rates can vary greatly depending on the level of the structure, the location, the season and the type of meals included in the price. Remember that if a ryokan has very low rates, it is almost certainly not a real ryokan but just a traditionally furnished hotel that calls itself a ryokan. For one night for two people with dinner and breakfast included you need at least 20,000¥.
Pros: experience something you will never forget for the rest of your life, and try the traditional Japanese spas (onsen) found inside many ryokans.
Cons:not all cities have ryokans, and sometimes the prices are very high.
Recommended for: everyone.
Not recommended for: no one in particular.
All the details on Japanese ryokans
The arrival in a ryokan
Once you open the front door of a ryokan, most likely you will find yourself in front of the
genkan
, the typical floor one step below the level of the main floor, which acts as a border between the outside and the inside world, and, in practical terms, a place to take off your shoes and put on slippers (provided by the ryokan). In fact, it is very rare that you can walk around with your own shoes inside a ryokan. Once this is done, you can go to the reception and check-in as in any hotel, but probably immediately after opening the front door someone will come to welcome you, especially if the ryokan is not very large. During check-in you will be explained all the ryokan services with an almost excessive kindness and wealth of details, and, if you have included meals in the booking, you will be given the times, for which it is good to be punctual. Sometimes it is possible to choose between different times for dinner or breakfast, and in that case you will be asked for your preference during check-in.
the entrance to a ryokan, with the area where you can take off your shoes
The rooms of a ryokan
Obviously the "luxury" of a room depends on the level of the ryokan and the price. Common elements of any room are the
tatami floor
, the
sliding doors in wood and paper
, where you enter strictly without shoes, and a low table. If you are lucky the table will be heated (
kotatsu
), you will love this type of table in winter. In the evening, the
futon beds
are prepared on the tatami, thus sleeping "on the floor". The next day the beds are put away in sliding wardrobes and the whole room is free. In the most luxurious ryokans, the staff will perform these operations for you in the morning (while you are having breakfast) and in the evening (while you are having dinner or at the onsen), in others you will do it yourself. The interior is furnished in an essential and minimalist style, perhaps adorned with a bonsai, a vase of flowers or some calligraphy work hanging on the wall. The most sought after ryokans have a window that typically overlooks a garden, but this is not always the case. An ever-present accessory is the tea kettle, accompanied by several green tea bags and, sometimes, other types of tea and small traditional sweets. A
yukata
is also provided for each guest, a garment that vaguely recalls in its shape the much more precious kimonos and that can be worn while staying inside the ryokan, for example to go to the onsen or in the restaurant. Finally, most of the rooms are equipped with a television and a small refrigerator.
Toilet and bathroom in the rooms of a ryokan
The normal rooms of a ryokan generally have a sink and a small room with the toilet inside, complete with specific slippers to enter this room, while often there are no showers or bathtubs. The bathroom where to wash is common for all guests and divided by gender following the rules of the traditional Japanese bath (ofuro). If it is a spa resort, the bathtubs will be filled with thermal water. Many ryokans also offer the possibility of using a traditional bathroom privately (upon reservation), for those who do not like to bathe with other people or simply want a little intimacy with their partner. Some higher level ryokans also offer rooms with a full private bathroom in the room, with shower or bathtub. In extremely luxurious places you can also find rooms with private thermal water tubs, which at the height of luxury could also be outdoor, on a private terrace of the room.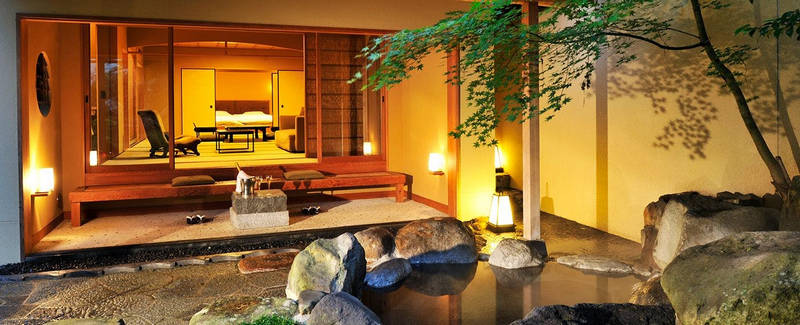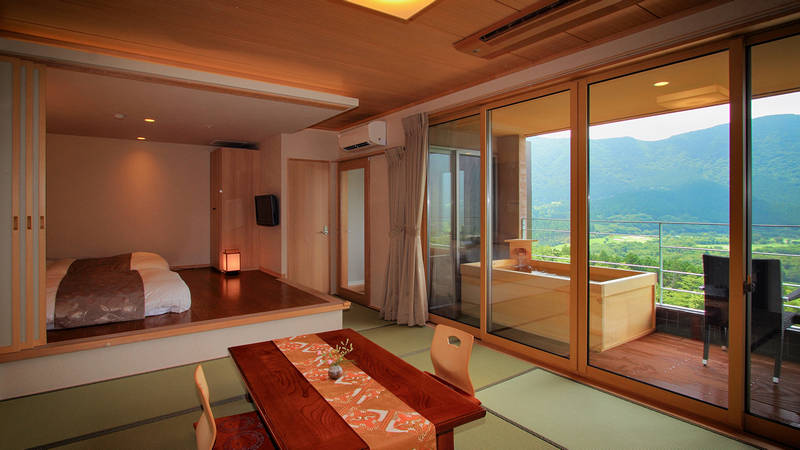 examples of luxurious rooms with private terraces and outdoor bathtubs
Public onsen
Many ryokans are located near hot springs, and have inside wonderful public baths where you can relax with a bath in thermal water (onsen). Even if you are not in a spa town, many ryokans still have public baths filled with normal hot water, as
taking a nice relaxing hot bath is one of the favorite activities of Japanese ryokan guests
. The public baths of ryokans generally follow the traditional rules, for which there are areas separated by gender, where you undress, wash beforehand and then soak in the pool completely naked. Usually blue curtains are used for the men's public bath and red curtains for the women's one, with their respective kanji, as in the photo below. Sometimes, some ryokans equipped with very special public baths (for example with a panoramic view), at a certain time switch the men's bath with that of the women, so as to allow all guests to try all the baths. To walk between your room and the public bathroom, it is customary to wear a yukata. People usually go for a swim before dinner, after dinner, or early in the morning before breakfast, and many guests bathe several times during their stay. Most ryokan baths are open 24 hours or with a short closure in the later hours of the night or in the range from late morning to early afternoon.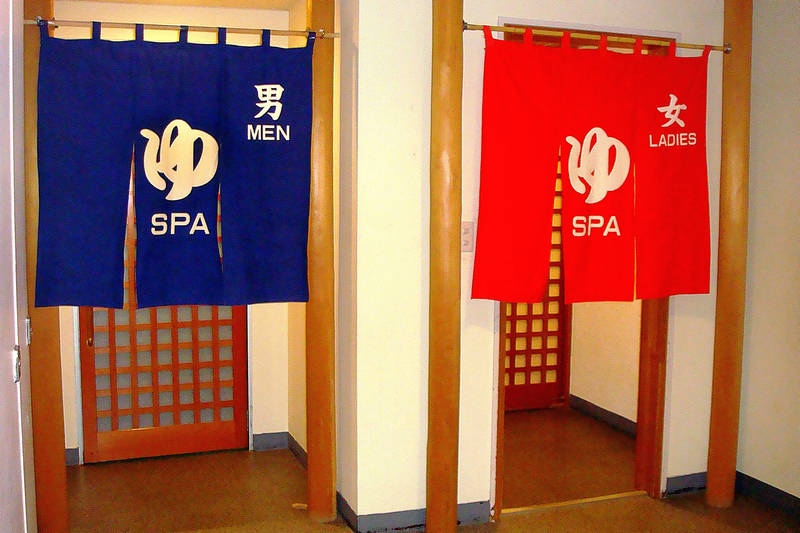 the typical entrances to a separate onsen for men (in blue) and women (in red)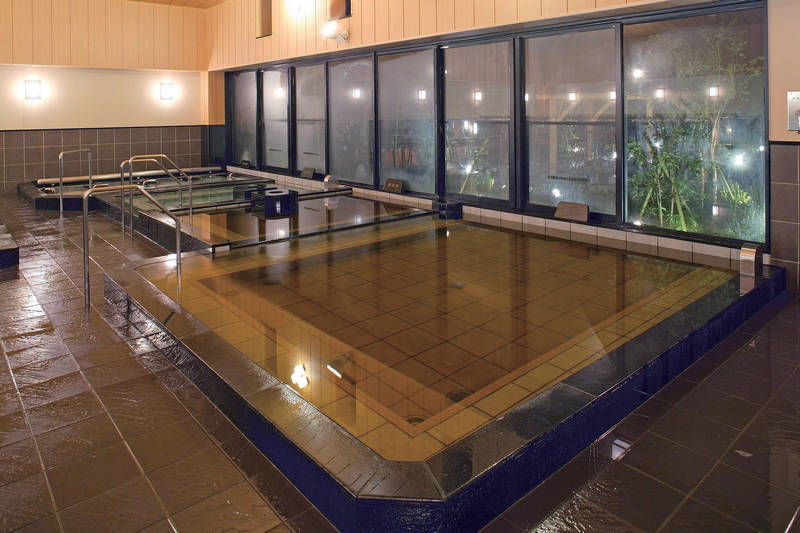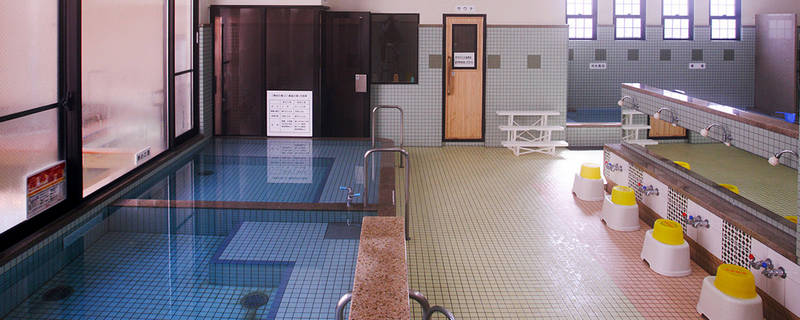 examples of typical public baths in normal ryokans, not particularly luxurious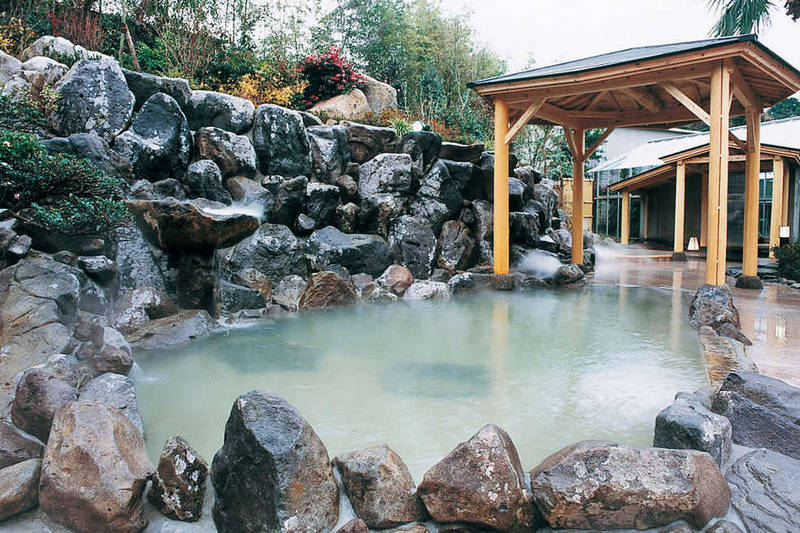 a charming outdoonr onsen (rotenburo) of a ryokan
Food in a ryokan: breakfast and dinner
If you are staying in a ryokan it is recommended that you try both the breakfast and dinner that are served at least once, if there is that possibility.
Dinner is often prepared following the kaiseki style, it is usually very expensive but at least once in your life it is worth it, you will keep certain memories forever. This is served directly in your room, or, in some larger ryokans, in dedicated restaurant rooms. Even in this second case, however, a lot of privacy is usually guaranteed between the different tables, through booths or other arrangements. In addition to water and green tea, the menu generally does not include other drinks, that can be ordered separately. With kaiseki cuisine it is traditional to order sake or other traditional spirits, but you can also order beer, wine or whatever you want. Don't feel compelled to order anything else if tea and water is okay with you.
Breakfast is served buffet-style in some ryokans, with a good choice of Western foods. In the smaller family-run ryokans, or in those closer to tradition, breakfast is served at the table (or in the room) and includes a series of traditional Japanese food, based on rice, miso soup, and various dishes of fish and vegetables. Traditional Japanese breakfast is very unusual for a foreigner and not everyone appreciates it, but it is still a great experience to try at least once.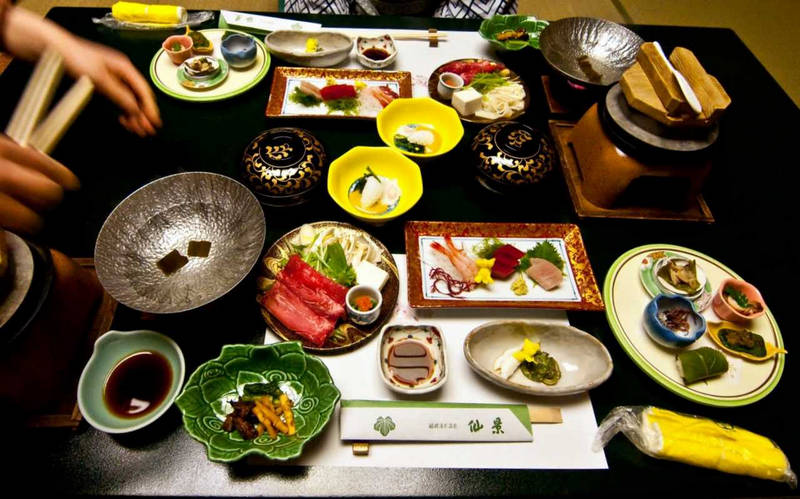 a kaiseki-style dinner served in a ryokan
How to choose a good ryokan. The best ryokans
In a ryokan, quality is very important. Staying in a high-end ryokan means having extra services that are memorable experiences such as beautiful thermal baths and high-end kaiseki cuisine. In general, in large cities such as Tokyo and Osaka there are no high-level ryokans, also because there are no hot springs. The best ryokans are found in all spa towns and other tourist spots famous for their history, such as Kyoto or Kanazawa. The
Japan Ryokan & Hotel Association
lists many ryokans (as well as hotels) throughout Japan with a minimum guarantee of quality. In general you have to ask yourself what you want, based on your budget, time available and wishes. If you just want to try the experience of sleeping in a traditionally furnished structure, with tatami floors, futon beds and all the other features of Japanese furniture, then almost any ryokan is fine. If, on the other hand, you want to fully experience what it means for a Japanese to spend one or more relaxing days in a ryokan, it is advisable to go outside the big cities, to a ryokan that has large onsen and offers half board.
Typical ryokans in traditional wooden buildings in Ginzan Onsen, a spa town in Yamagata prefecture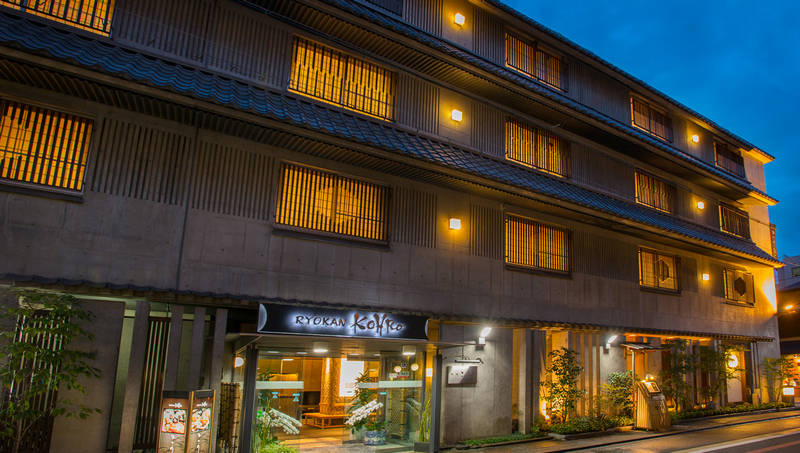 A ryokan in a modern building in central Kyoto
Guided tours, activities and other things to do
If you are planning a trip to Japan and you want to do something more than just visiting famous places and monuments, we suggest you to use
Rakuten Travel Experiences
.
How to use Rakuten Travel Experiences
Rakuten Travel is a very useful website to
enrich your travel experience
, especially if you are going solo or it's your first time in Japan.
Because of the language barrier (and more), in Japan it is very difficult to interact with the locals and to get off the tourist track.
Thanks to Rakuten Travel you can find a lot of interesting and sometimes unique
guided tours and activities
all over Japan (and not only in Japan), that you would otherwise never be able to enjoy.
But there's more: on Rakuten Travel you can also
buy tickets
for several famous attractions, events, transportation and other useful services for tourists. Last but not least, you can
reserve a table
in hundreds of restaurants.
Some examples
Take a look at Rakuten Travel Experiences
You may also be interested in