Capsule Hotel
What are Capsule hotels
Capsule hotels (カプセルホテル, kapuseru hoteru) are a type of accommodation typical of modern Japan. The first hotel of this kind opened in Osaka in 1979, designed by Kisho Kurosawa, founder of the metabolist movement and author of important architectural works around the world. Large Japanese cities during that period were characterized by continued urban population growth, and space in large metropolises was in short supply. Since then, numerous capsule hotels have sprung up in major Japanese cities and, very recently, also in some foreign cities.
Capsule hotels at a glance
Where to find them: around big train stations in large cities such as Tokyo, Osaka, Kyoto, Nagoya, Yokohama, Kobe, Sapporo. In other cities it is very rare to find capsule hotels.
Price range: between 2500¥ and 3500¥ , depending on the city, the area and the level of the hotel. Some hotels in very touristy areas of Tokyo (for example Shinjuku) can cost up to 4000-4500¥ per night.
Pros: it allows you to stay in very central areas of the main Japanese cities at a low cost, it is also an opportunity to have an almost unique experience in the world and to get in touch with the Japanese urban society. Additionally, some capsule hotels offer large common spaces that may include public baths, saunas, and other relaxation opportunities.
Cons: limited room, poor air flow, poor privacy, it can be noisy, not easy access to your luggage. In addition, guests who stay multiple days in a row often have to leave the capsule in the morning.
Recommended for: people traveling alone, people on a very tight budget who want to save as much as possible, people who need a place to sleep a few hours at night and stay out all day.
Not recommended for: people who suffer from claustrophobia, people who find it hard to sleep (in this case it is advisable to use earplugs), people who travel as a couple or in small groups due to the impossibility of sleeping together, but also because you don't save that much (sometimes the price of two capsules is almost the same as a cheap double room in a business hotel).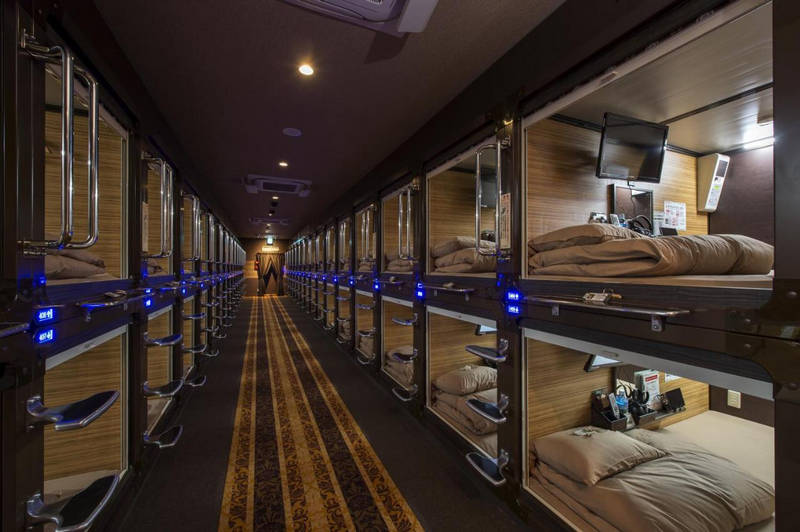 What are capsule hotels? All the details
A capsule hotel is a hotel with many small bedrooms, the so-called capsules, in which there is space for just the bed and little else. A standard capsule is generally just over a meter wide and about 2 meters long, to allow anyone to be able to lie down. On the other hand, it is not possible to stand inside a capsule, as the height of the ceiling is about one meter. With a bit of macabre imagination, capsule hotel capsules remind some of the body compartments of a morgue. The capsules are generally located next to each other on long corridors, on two levels. There are the lower capsules which can be accessed directly from the corridor, and the upper capsules which are accessed via a ladder. The interior of a capsule hotel can be divided into at least three areas:
The entrance, where you can check-in and find the lockers for shoes and luggage.
The capsule area, where you must always be absolutely silent because there are people who sleep at any time of day or night.
A common relaxation area, often with tables and armchairs, where you can work, relax, eat and drink. Here, too, in general, one must be quiet so as not to annoy the other guests, but the rule is less strict.
Capsules are generally very similar between different capsule hotels
. They are equipped with sheets, blankets and pillows, a small TV to listen to via earphones (TVs are often equipped with at least one channel with pornographic content), wifi, alarm socket and dimmable lights. A small tent provides some privacy from the other guests in the capsules opposite.
What differentiates a capsule hotel from another is the quantity and quality of the services it offers in the common area
. All capsule hotels offer at least toilets, showers and vending machines for snacks and drinks. Some capsule hotels also offer
large public baths
(onsen style) and saunas, or laundromats, massage services, game rooms, manga or book libraries, or an on-site restaurant.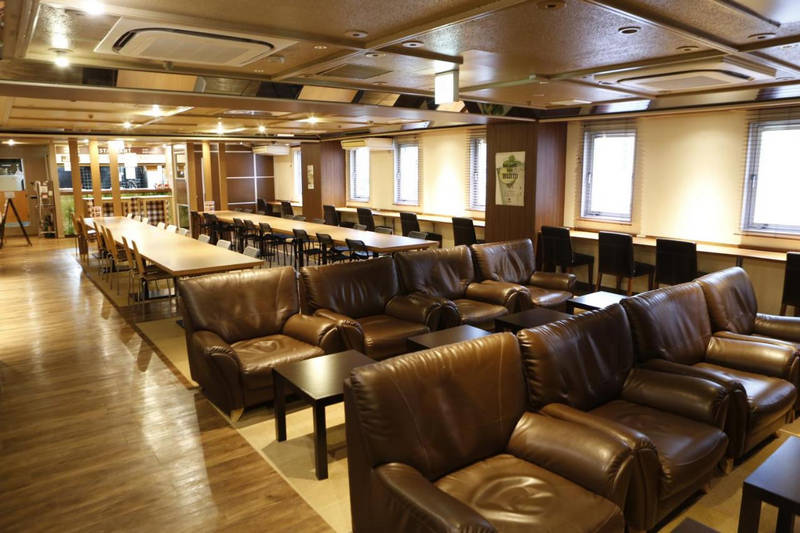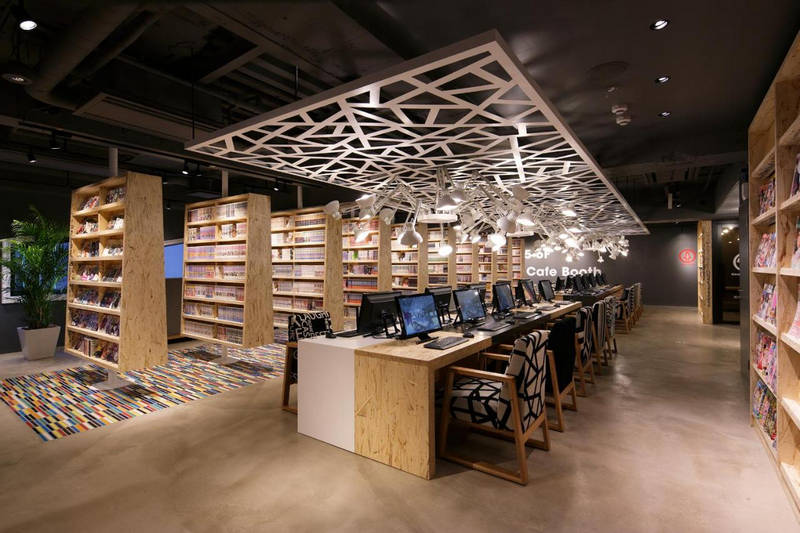 examples of common rooms inside capsule hotels, one more traditional and one more modern, full of manga.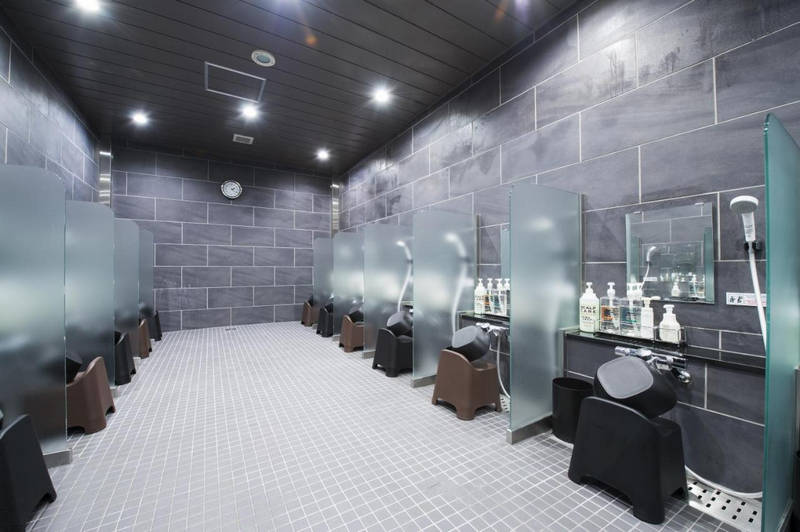 typical Japanese-style common bathroom of a capsule hotel
Other frequently asked questions and curiosities about capsule hotels
Who usually sleeps in capsule hotels?
In addition to penniless tourists, this type of hotel is often used as temporary accommodation by the many employees (the so-called
salarymen
) who find themselves in a series of unpleasant situations and cannot return home. For example, when they miss the last train to go home and don't want to take an expensive taxi, or if they have drunk too too much and prefer not to be seen by the family. The next morning they can then go directly to the office if it is a weekday or home if it is a weekend. So don't be surprised if in some capsule hotels you should come across curious vending machines for socks or ties.
Can women sleep in capsule hotels?
Historically, capsule hotels have always been a place for men only. In recent years, however, women's interest in this type of accommodation has grown more and more, either because of the increasing number of working women, or because of the growing number of tourists. It is not uncommon to find, especially in the more touristic areas, capsule hotels that have floors dedicated only to women. In any case, women and men sleep in capsules that are on separate floors, and it is not possible, for example for a couple, to sleep in two adjacent capsules.
Practical guide: How to use a capsule hotel
How to book a capsule hotel
Except in special circumstances, there is always room in a capsule hotel, and reservations are not necessary. However, if you come on a trip from abroad and want to know for sure where you will stay, perhaps for several days, it is better to book through the internet. For example
booking.com
allows you to book many capsule hotels in all major Japanese cities.
How to enter a capsule hotel
Before entering a capsule hotel, one usually takes off one's shoes. In some cases these are simply stored outside, in others there are compartments to be locked, only for shoes. In the latter case, look for a free locker, put your shoes in, lock it and take the key to the reception desk. This is usually done the first time before you have even checked in, and then each time you go out and back in the hotel.
How to check in at a capsule hotel
When checking into a capsule hotel, you will be asked for your passport and sometimes even to fill out a short form. Then, you will be given a capsule number and a key for a locker (usually numbered) where you can store your belongings. The lockers, except in some cases, are not very large. Many tourists with large suitcases often have problems storing their luggage because it is too big for these lockers. Many capsule hotels in recent years have added areas to store larger luggage, outside the locker and therefore with no guarantee that no one will steal anything. Thefts are almost non-existent in Japan, but better be cautious and avoid leaving anything of value in the luggage.
How to behave during your stay in a capsule hotel
Most capsule hotels will give you pajamas, often similar to traditional yukata. You can wear it and walk freely inside the capsule hotel. Remember that it is not allowed to eat and smoke inside the capsules, but to do this you can go to the common areas. In general, guests are asked to be silent, especially in the area of the capsules.
How to check out a capsule hotel
Check-out time is generally in the morning, rarely later than 10am. Although it is possible to stay for consecutive nights, most capsule hotels require their guests to leave their capsules every day by checkout time and remove all your personal belongings.
Guided tours, activities and other things to do
If you are planning a trip to Japan and you want to do something more than just visiting famous places and monuments, we suggest you to use
Rakuten Travel Experiences
.
How to use Rakuten Travel Experiences
Rakuten Travel is a very useful website to
enrich your travel experience
, especially if you are going solo or it's your first time in Japan.
Because of the language barrier (and more), in Japan it is very difficult to interact with the locals and to get off the tourist track.
Thanks to Rakuten Travel you can find a lot of interesting and sometimes unique
guided tours and activities
all over Japan (and not only in Japan), that you would otherwise never be able to enjoy.
But there's more: on Rakuten Travel you can also
buy tickets
for several famous attractions, events, transportation and other useful services for tourists. Last but not least, you can
reserve a table
in hundreds of restaurants.
Some examples
Take a look at Rakuten Travel Experiences
You may also be interested in