Manga cafe (manga kissa)
Manga kissa (漫画喫茶), where "kissa" is short for "kissaten" which means cafe in Japanese, were conceived as a place to spend a few hours of relaxation reading manga, playing video games or surfing the internet, and for this reason they are also called netto cafe (ネットカフェ). In English they can be indifferently called manga cafe or internet cafe. For a long time the Japanese manga kissa have also become places where you can spend the night on a budget, for example among the many penniless students who miss the last train to go home at night, and, why not, among tourists looking for tricks to spend as little as possible but also looking for unforgettable experiences. Japanese manga kissa are indeed unique places in the world that you will never forget.
Manga kissa at a glance
Where to find them: only in big cities, especially in Tokyo and Osaka, near large railway stations and in particular in very popular neighborhoods among young people.
Price range: between 1200¥ and 3000¥ per night for a small room with a soft mattress or a reclining chair where you can relax. The rates vary according to the place, the number of hours and also the day of the week.
Pros: they allow you to sleep in very central areas of Tokyo spending very little, and it is a unique experience in the world to get in touch with a particular facet of contemporary Japanese urban society.
Cons: very uncomfortable accommodation for many reasons, suitable only for those with a strong spirit of adaptation.
Recommended for: young people with little money, fans of manga and video games, people particularly eager to immerse themselves in a culture very different from their own.
Not recommended for: those who travel in groups, and in general to all those who have difficulty sleeping even in their own bed, they would not be able to sleep enough in an internet cafe.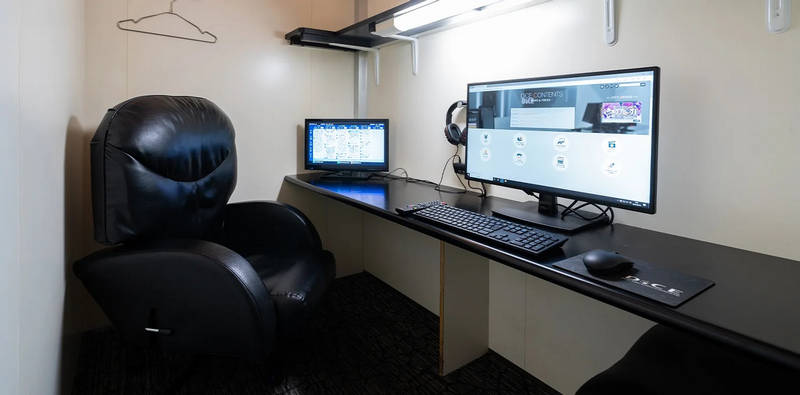 All the details on manga kissa in Japan
In this guide, manga kissa are presented as a cheap alternative to spend the night, but actually they are places open 24 hours a day where most people go a few hours during the day to rest for a moment or read some manga. Most manga kissa offer two types of seats, defined in Japanese with the English term "seat":
First of all, there are classic office workstations, with desks and PCs, one next to the other (called "open seat"), which cost very little and where you will have no privacy.
Then there are small cabins, or cubicles if you prefer (called "personal seat" or "private seat"), inside which you will find a PC and a reclining chair or a soft mattress in which you can sit but also stretch out to sleep. These are more expensive than open seats, but you will have a little personal space.
Some manga kissa may also offer larger private cabins that can accommodate two people.
endless manga and magazine libraries
that you can read as much as you wish. Generally there are also some very well-stocked erotic and porn sections. Most manga kissa also offer
unlimited free drinks
using the vending machines inside. You can choose among soft drinks such as tea, coffee, and other drinks similar to coca cola, fanta, sprite, as well as various typical Japanese soft drinks such as Calpis. The Bagus chain also offers free ice cream dispensers. In addition to this, you can of course use the bathrooms, the free wifi, and take a shower (although generally this will cost you an extra 200 or 300 yen). Some places also offer additional services such as the rental of consoles for playing video games or special rooms for playing darts, billiards or table tennis.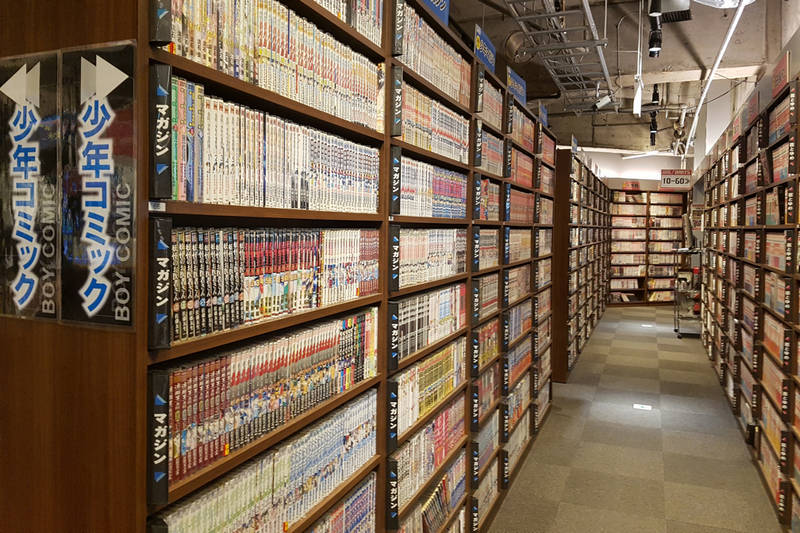 How the rate system works
Each manga cafe has its own price list. For private cabins, fares start from 150-250¥ for the first 30 minutes, after which you will pay 50-100¥ every additional 10 minutes. Said this way it may seem like a very expensive place, but in reality hardly anyone uses this standard rate. The price list always offers packages for a certain number of hours at a very discounted price, and it is good to choose immediately upon arrival how many hours to stay. On weekdays you can stay 6 hours at night spending 1200-1500¥ or 8 or 10 hours spending 2000-2500¥. On Friday and Saturday evenings the prices are slightly higher. Open seats, on the other hand, cost less.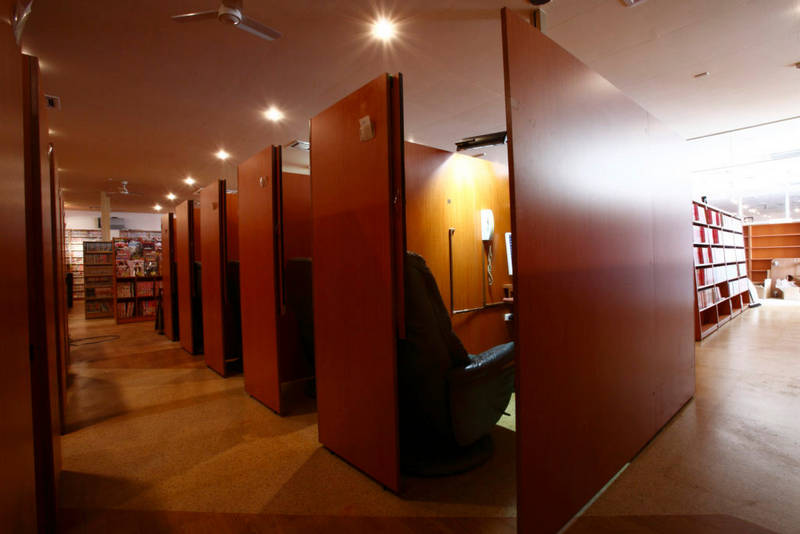 Practical guide: how to use a manga kissa
The procedure for entering a manga kissa scares some foreigners, also due to language barriers that could hinder understanding. However, by reading this guide carefully you should be able to do it without problems. Maybe try a first time in some very touristy place where there might be someone who speaks English. The procedure is more or less the same in all Japanese manga kissa, so once you do it for the first time you will be able to do it easily everywhere.
1. Find the manga kissa
This first fundamental thing, which may seem trivial, is not so trivial. Manga kissa cannot be reserved and you will not find them on the various hotel booking sites, so you have to find them directly on the spot. You can locate a manga kissa belonging to one of the larger chains in advance by visiting their websites. Otherwise the only alternative is to look for them on the streets around the main stations, but it's not easy. The manga kissa are not so many and almost never are found on the ground floor but on the upper floors of the buildings. You will therefore have to look at the signs above for Japanese words that can make you understand that it is a manga kissa. Sometimes they are called "internet cafe" (インターネットカフェ), or "manga kissa" (マンガ喫茶) or "media cafe" (メディアカフェ).
2. Register
Almost all manga kissa require registration before you can be accepted as a customer. If this is your first time visiting the manga kissa of a particular chain, you will need to register by providing an identity document (your passport) and filling out a form. The staff will issue a membership card that you can use from that moment on every time you visit that same manga kissa or others of the same chain.
3. Choose the type of seat and the length of your stay
Usually you will be shown a price list which includes different types of seats. The most common, as already mentioned, are open seats and personal seats. The price list will include both the hourly rate and the rate for special packages of a certain number of hours, thanks to which you can save a lot. Think in advance how long you will stay. Choosing a 9-hour package (if available) will cost much less than paying 9 hours at the standard hourly rate or a 6-hour package with 3 extra hours. When you have chosen, the staff will give you a ticket containing your name, seat or cabin number and the time of entry. In some manga cafes you pay in advance, in others when you leave.
4. Go to your cabin
Generally there are numbered maps to help you find the cabin, or the staff will help you.
5. Enjoy time inside the manga kissa
Manga cafes are generally very quiet places. Any audio must be listened to with earphones and it is absolutely forbidden to talk on the phone or make other types of noise that could disturb other guests. On the other hand, you are allowed to drink and eat inside. You can bring your own food or buy food on site. Cup noodles and many other snacks are on sale inside.
6. Leave the manga kissa
When it's time to leave go to the counter at the entrance with the note that was given to you upon your arrival. At this point, if you have not already done so, you will have to pay and then leave.
Other frequent doubts about manga cafes in Japan Where to put your luggage If you have a hand luggage or a backpack, you can take it with you inside the cabin. If you have a very large suitcase, this could be a problem. Some manga cafes have special spaces for luggage, but this is not necessarily the case. If you want to avoid any inconvenience, you can leave your large suitcase in a coin locker. A few words about computers inside internet cafes They are very normal computers like western ones, generally they have Windows installed. The keyboards have Western characters. In a Japanese internet cafe you can do whatever you want with your pc, download and install any software and use it. Each time the user changes, the computer restarts and "resets" itself automatically. The main manga kissa chains in Japan Guided tours, activities and other things to do If you are planning a trip to Japan and you want to do something more than just visiting famous places and monuments, we suggest you to use Rakuten Travel Experiences. How to use Rakuten Travel Experiences Rakuten Travel is a very useful website to enrich your travel experience, especially if you are going solo or it's your first time in Japan.
Because of the language barrier (and more), in Japan it is very difficult to interact with the locals and to get off the tourist track.
Thanks to Rakuten Travel you can find a lot of interesting and sometimes unique guided tours and activities all over Japan (and not only in Japan), that you would otherwise never be able to enjoy.
But there's more: on Rakuten Travel you can also buy tickets for several famous attractions, events, transportation and other useful services for tourists. Last but not least, you can reserve a table in hundreds of restaurants. Some examples Take a look at Rakuten Travel Experiences You may also be interested in