Yokohama station area
last update: June 08, 2021
Yokohama station (横浜駅, Yokohama-eki) is an important train station in the center of Yokohama, and one of the busiest in Japan and the world. The area surrounding the station is, like all areas around large stations in Japan, very lively and full of shops, department stores, restaurants and other leisure activities, but also of many offices. Not far from the station you can find for example the Nissan headquarters, with a large showroom, and a Shiseido research center, with different attractions open to visitors.
Things to do and things to see near Yokohama Station
The area around Yokohama station is full of shops and malls, but the atmosphere changes dramatically depending on whether you exit the station on the east side or the west side. To the west, the atmosphere is more "no frills", with narrow streets full of restaurants and small shops like those seen around many large Japanese stations. To the east, the atmosphere is more aseptic and serious, with many modern office buildings connected by a series of glass and steel pedestrian bridges. Tourist attractions in the area (excluding shopping malls) are located on the east side.
West Exit
The west side of Yokohama Station is the most lively one. In addition to some large shopping centers very close to the station, just 200 meters south-west (behind the large Takashimaya building) there are several noisy streets packed with shops, restaurants, izakayas, arcades, pachinko and karaoke. In this area you will find branches of all the most popular Japanese chains, Big Echo karaoke, Taito Station arcades, Don Quijote, just to name a few. Beyond that, there isn't much else to do in this area.
Department stores and shopping centers
Once out of the west exit of the station, on your left you will see the huge Takashimaya shopping center, and next to it another mall, the Sotetsu Joinus, the latter characterized by an elegant garden full of sculptures on its roof. On the right is the Yokohama More's, which also houses a branch of Tokyu Hands (hobbies, DIY, furniture, curious objects). The Diamond shopping center is located underground, with another 150 shops. Finally, the two largest electronics stores in the area, Yodobashi Camera and Bic Camera, are also located on this side.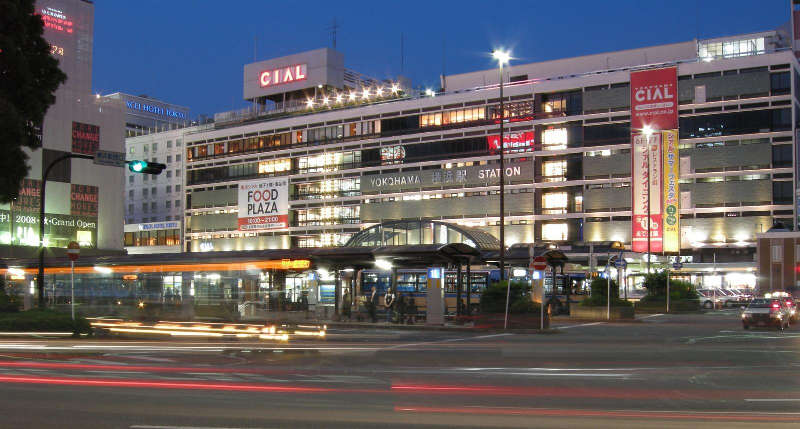 Yokohama Station west exit
East Exit
The east side of Yokohama station is also home to some shopping centers, but also several attractions, including a wellness center with a panoramic view, a curious museum dedicated to model trains, a Nissan showroom, a center dedicated to the Anpanman character. Next to
Shin-Takashima station
, 700 meters from the east exit of Yokohama station towards Minato Mirai, you will also find the museum of the railway company
Keikyu
and the
Shiseido Global Innovation Center
(also known as
S/Park
), a new research center opened in April 2019 by the Japanese cosmetics multinational, with several areas open to visitors, including a cafe and a museum.
Department stores and shopping centers
The Lumine shopping center is located just above Yokohama Station on the east side. Underground you will find Porta. Walking briefly across the pedestrian bridges that pass under a few elevated highways, you can get to the Sogo Yokohama department store, which also houses a small art museum on the sixth floor (Sogo Museum of Art) and about thirty restaurants on the 10th floor. Next to Sogo, on the south side, is the Yokohama Sky Building (see next paragraph), while on the north side, crossing a pedestrian bridge over a canal, you get to Bay Quarter Yokohama. This partially open-air shopping mall is the most fascinating from an architectural point of view, with a structure reminiscent of cruise ships and with terraces overlooking the canals that surround it. Opposite this mall is the pier where the Seabass boats depart, connecting this area with Minato Mirai and Yamashita Park.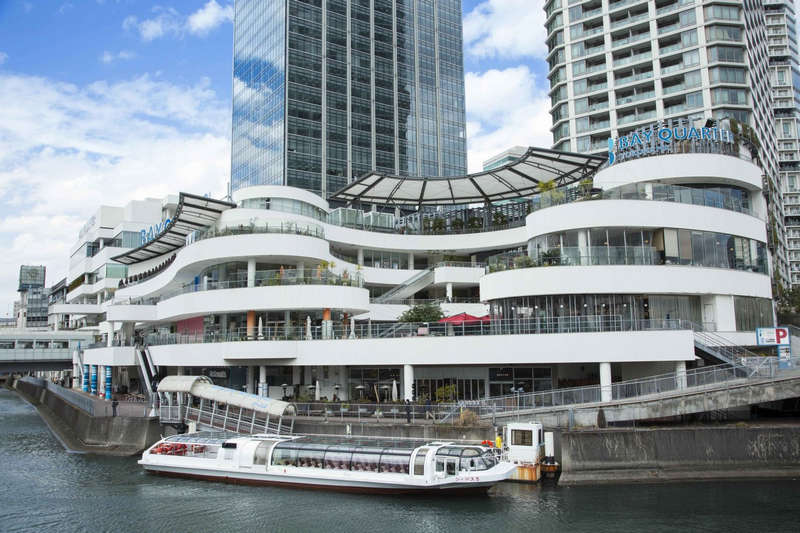 Bay Quarter Yokohama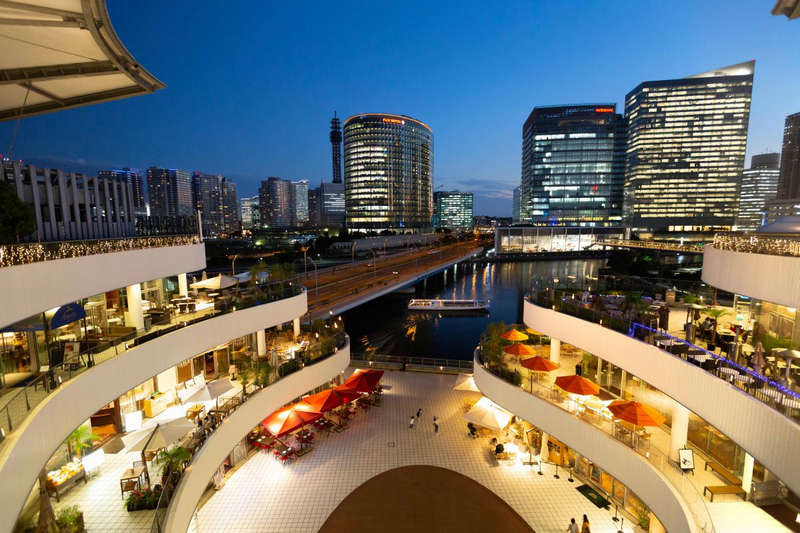 Night view from the terrace of Bay Quarter Yokohama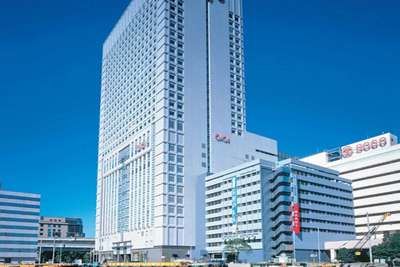 Yokohama Sky Building
This skyscraper is located next to the Sogo department stores and is home to several places of interest:
On the ground floor you will find the Yokohama City Air Terminal (YCAT), a bus station served by shuttle services for Narita and Haneda airports, and long-distance buses for different cities in Japan.
The lower part of the skyscraper, up to the eighth floor, hosts Marui City, a department store specializing in clothing, accessories, and cosmetics. Pokemon Store Yokohama is also located on the eight floor of Marui City.
On the 14th floor there is the Yokohama Sky Spa, a wellness center with large thermal baths and sauna with panoramic views, massage service, and also the possibility of spending the night in shared dormitories or in capsules. You can book this place to stay directly on booking.com and guests can also use the wellness center free of charge.
Finally, the last three floors of the skyscraper (27th, 28th and 29th floor) house several panoramic restaurants of Japanese, French, and Mexican cuisine. Next to the elevators there is a small window from which you can enjoy the view for free (station side).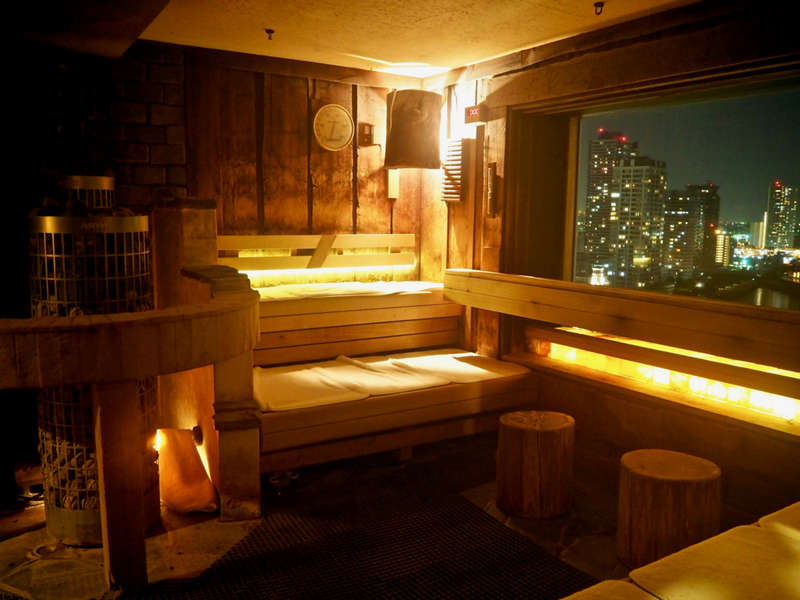 The sauna with panoramic view inside the Yokohama Sky Spa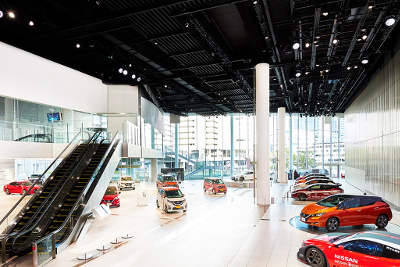 Nissan Gallery
(free admission, opening hours 10-20)
A few minutes walk from Yokohama station there is a skyscraper that houses the Nissan headquarters, one of the largest car manufacturers in the world. On the ground floor of the skyscraper you will find the Nissan Gallery, a showroom with all the models currently on sale, and also various vintage models on display. Inside you will also find several driving simulators and, if you have an international driving license, you can book a free test drive with different models. Finally, at the Nissan Boutique you can buy scale models, clothing and many exclusive Nissan-branded gadgets.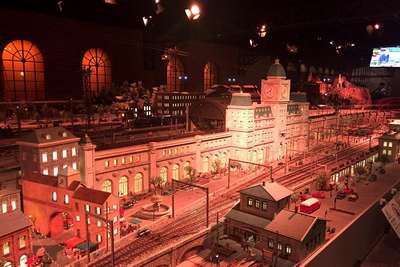 Hara Model Railway Museum
(admission 1000¥ opening hours 10-17, closed on Tuesday)
The Hara Model Railway Museum is located on the second floor of the Yokohama Mitsui Building, a five-minute walk from Yokohama Station, the city where Japan's first railway (Shinbashi-Yokohama) was inaugurated. This museum is said to have the largest collection of model trains in the world. The collection once belonged to Nobutaro Hara, a mechanical engineer born in 1919 who has spent his life building and collecting model trains from all over the world. After declining many invitations to exhibit his collection for many years, he was convinced in 2012, two years before he died in 2014 at the age of 95. Around 1000 objects from Hara's private collection are now on display in this museum. The main attraction of the museum is the Ichiban Tetsumo Park, a 30 meter long diorama with 450 meters of railway tracks.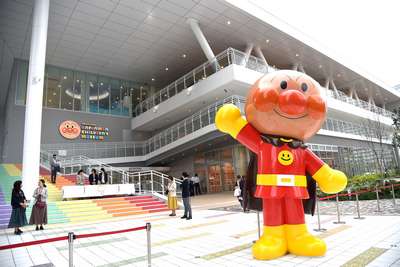 Yokohama Anpanman Children's Museum
(admission 2200¥ opening hours 10-17)
This museum is one of five in Japan dedicated to the popular Anpanman franchise. Although little known in the West, Anpanman is perhaps the most famous character among Japanese children, thanks to an anime TV series of about 1500 episodes and still in progress. Creator Takashi Yanase, who published the first manga in 1973, continued to draw new chapters of this series until the year of his death in 2013. The museum is freely accessible on the first floor, where there are themed shops and restaurants. The second and third floors house the real museum for a fee. It is a place to entertain your children, including with shows and interactive attractions.
Where to stay near Yokohama Station
In front of the
west exit
of Yokohama station you will see an imposing skyscraper housing the
Yokohama Bay Sheraton Hotel
, a luxurious five-star hotel from whose rooms you can enjoy a panoramic view over the whole city. Around the west exit there are also several business hotels with sometimes quite cheap rates (6-7000¥ per night), you can have a look at the
Plumm Hotel
or at
The Knot Hotel
.
Eating near Yokohama Station, cafes and restaurants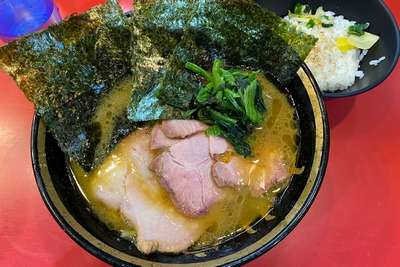 Yokohama-style ramen (Iekei ramen)
A few steps from Yokohama station (see map below) is the restaurant that "invented" a type of ramen known today throughout the country as
Iekei ramen
(家系) or also as "
Yokohama-style ramen
". Today there are various restaurants serving this style scattered around Japan (especially in the Kanagawa region) but the original one where it all began is called
Yoshimura-ya
(吉村家) and is located just minutes from Yokohama station. It is a very popular restaurant and there is often a queue. Alternatively, near the station we also recommended
Tsuruichi-ya
(鶴一家), a ramen restaurant open 24 hours, also specializing in iekei ramen, and especially in a very spicy version of iekei ramen.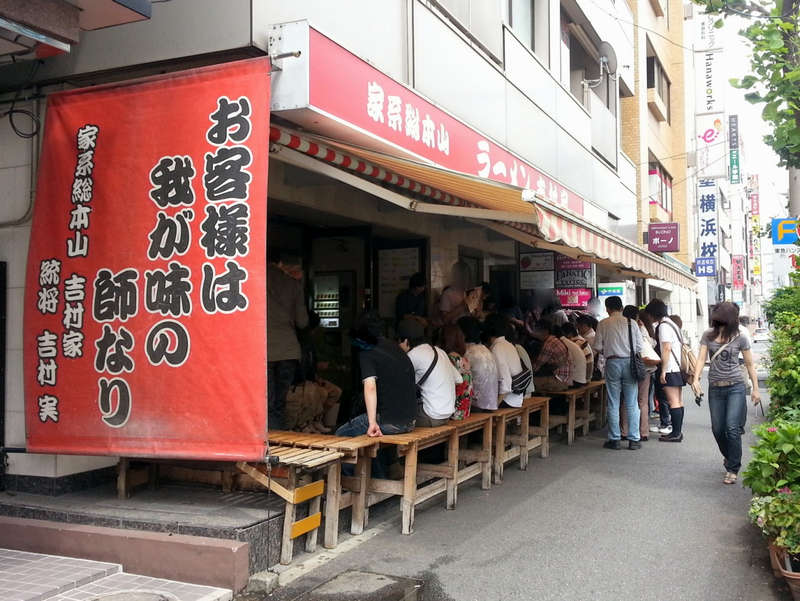 the exterior of Yoshimura-ya
How to get to Yokohama Station area
Yokohama station is one of the main interchange railway stations of the city and the Kanagawa region. All lines from Tokyo to Yokohama also stop at Yokohama station. For more information we recommend the guide on
how to get to Yokohama
.
Minato Mirai
, the most famous tourist area of the city, can be reached from Yokohama station also on foot in about 20 minutes.
Map of Yokohama Station area, Yokohama
Guided tours, activities and other things to do
If you are planning a trip to Japan and you want to do something more than just visiting famous places and monuments, we suggest you to use
Govoyagin
.
How to use Govoyagin
Govoyagin is a very useful website to
enrich your travel experience
, especially if you are going solo or it's your first time in Japan.
Because of the language barrier (and more), in Japan it is very difficult to interact with the locals and to get off the tourist track.
Thanks to Govoyagin you can find a lot of interesting and sometimes unique
guided tours and activities
all over Japan (and not only in Japan), that you would otherwise never be able to enjoy.
But there's more: on Govoyagin you can also
buy tickets
for several famous attractions, events, transportation and other useful services for tourists. Last but not least, you can
reserve a table
in hundreds of restaurants.
Some examples
Take a look at Govoyagin
You may also be interested in