Ōsanbashi Pier
last update: August 12, 2021
Ōsanbashi Pier (大さん橋, ōsanbashi) is the main international passenger dock in the Port of Yokohama. Originally built between 1889 and 1896, a renovation project was initiated in the 1990s which led to the inauguration, in 2002, of an avant-garde architectural structure. Today the Ōsanbashi Pier is not only the main landing place for cruise ships that stop in the city, but also a walking place for citizens and tourists from which to enjoy a splendid view of the city.
Things to do and things to see at Ōsanbashi Pier
The pier is open to anyone, not just those who have to embark or cruise passengers. The architecture of the terminal has a minimal visual impact on the surrounding environment. The structure is equipped with a basement, dedicated to parking, a second floor dedicated to procedures relating to the embarkation and disembarkation of passengers, an area with some shops and a space for events, and a roof that is the real attraction of this wharf. Conceived as a place to relax and stroll, it is characterized by a wooden floor with a curved and asymmetrical design, interspersed with green lawns.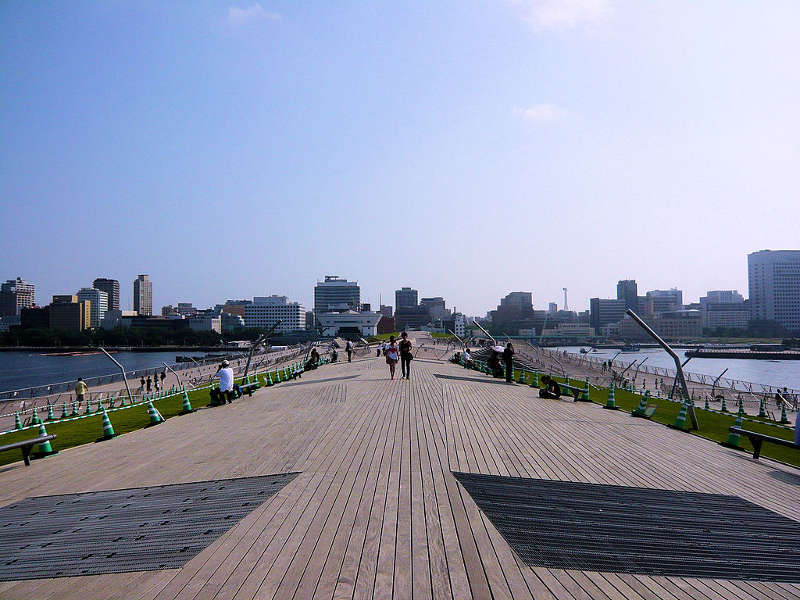 Ōsanbashi Pier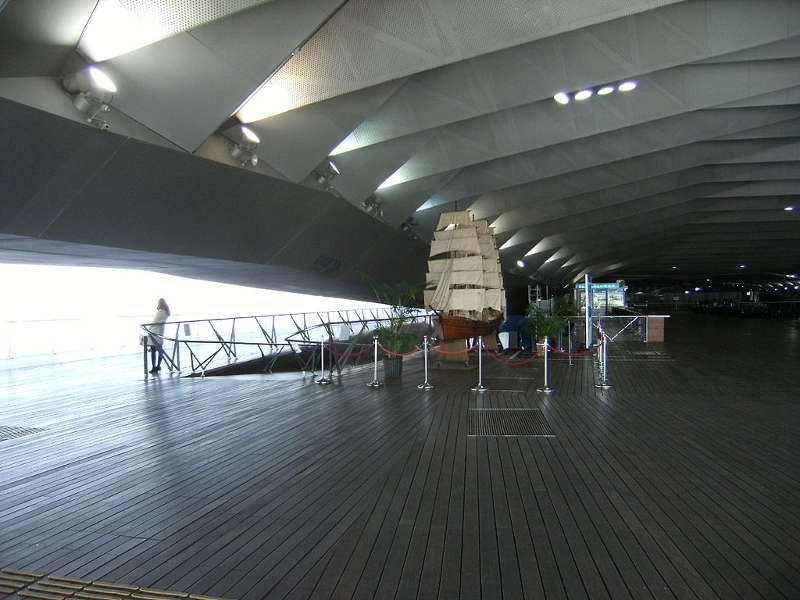 inside the cruise terminal on Ōsanbashi Pier
view of a cruise ship docked at Ōsanbashi Pier
Ōsanbashi Pier is one of the most beautiful places to take pictures and admire the Yokohama waterfront, being right in the center between the
Minato Mirai
area to the west and the
Yamashita Park
to the east. Also to the east, you can see in the distance the
Yokohama Bay Bridge
and the giant Gundam statue of the
Gundam Factory
. Ōsanbashi is finally considered the best observation point of the so-called "
Three Towers of Yokohama
", a nickname that refers to three historical towers, in turn nicknamed "The King" (Kanagawa Prefectural Office), "The Queen "(Yokohama Customs building) and" The Jack "(Yokohama Port Opening Memorial Hall).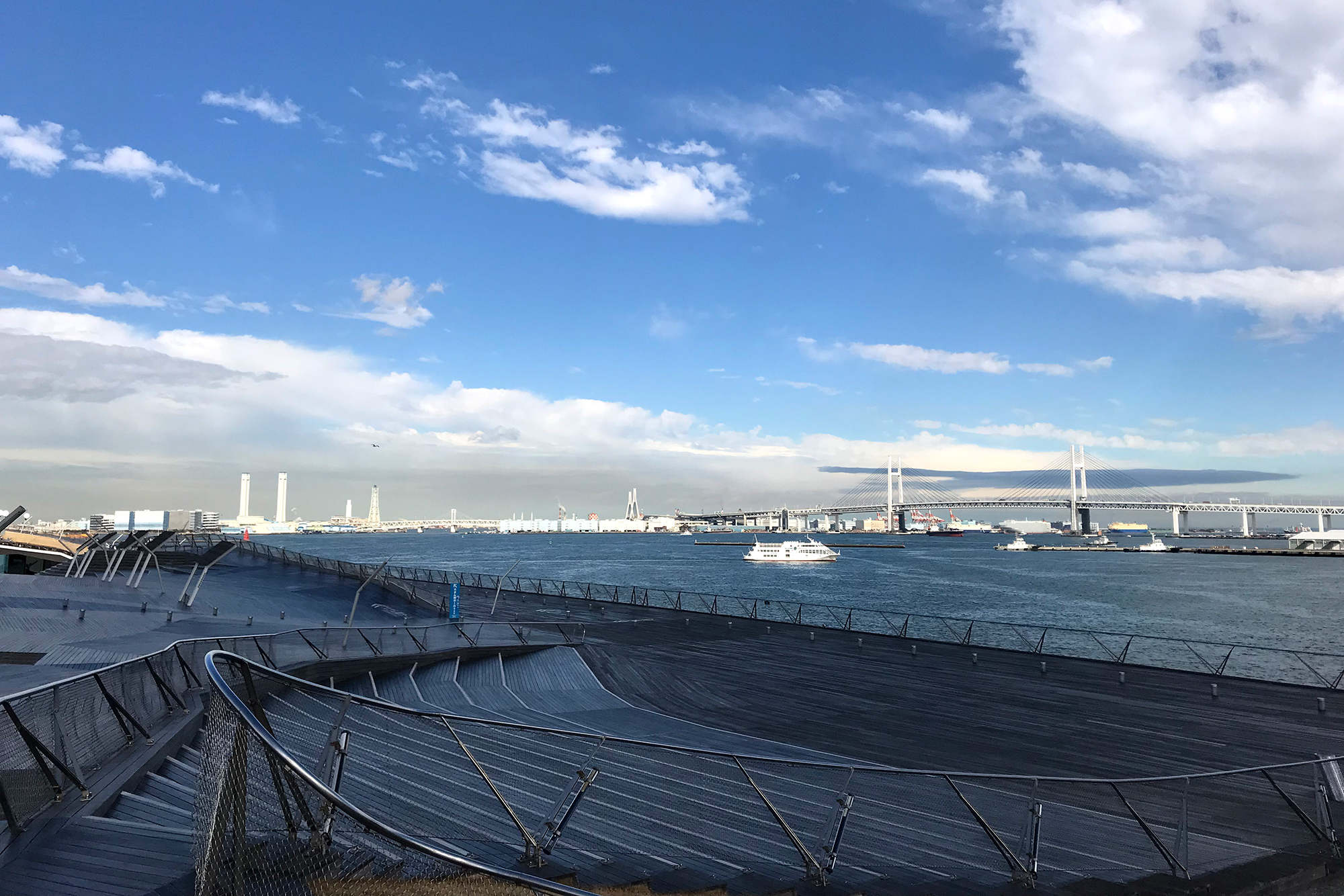 Yokohama Bay Bridge from Ōsanbashi
How to get to Ōsanbashi Pier
As already mentioned, the Ōsanbashi Pier is located between
Minato Mirai
and
Yamashita Park
. It is easily reachable on foot from both areas along the pedestrian path that connects them. Alternatively, the nearest station is
Nihon-Odori
along the
Minato Mirai Line
(6 minutes from Yokohama station).
Map of Ōsanbashi Pier, Yokohama
Guided tours, activities and other things to do
If you are planning a trip to Japan and you want to do something more than just visiting famous places and monuments, we suggest you to use
Govoyagin
.
How to use Govoyagin
Govoyagin is a very useful website to
enrich your travel experience
, especially if you are going solo or it's your first time in Japan.
Because of the language barrier (and more), in Japan it is very difficult to interact with the locals and to get off the tourist track.
Thanks to Govoyagin you can find a lot of interesting and sometimes unique
guided tours and activities
all over Japan (and not only in Japan), that you would otherwise never be able to enjoy.
But there's more: on Govoyagin you can also
buy tickets
for several famous attractions, events, transportation and other useful services for tourists. Last but not least, you can
reserve a table
in hundreds of restaurants.
Some examples
Take a look at Govoyagin
You may also be interested in