Shin Yokohama
last update: June 08, 2021
With the term Shin Yokohama we refer to the area around Shin Yokohama station (新横浜駅, Shin-yokohama-eki), a station inaugurated in 1964 as the only city stop on the high-speed train line (Tokaido Shinkansen) between Tokyo and Osaka. At the time, the surrounding area was completely rural. Today the area is completely urbanized, however it remains quite featureless. The only attraction that has brought so many tourists to this area in recent years is the Ramen Museum. There are also several sports facilities in the area, including Japan's largest football stadium.
Things to do and things to see in Shin Yokohama
Ramen Museum
(admission 380¥, opening hours 11-22)
The legendary Shin Yokohama Ramen Museum is the largest institution in the country dedicated to this famous Japanese dish of Chinese origin. Inside you can learn a lot about the history of ramen and how this dish has evolved over the last few centuries, as well as buy utensils, ramen kits to to make at home and much more. But the main attraction is found in the museum's two underground floors: a life-size reproduction of a Tokyo city view from 1958, complete with an artificial sky that changes shades during the day. Here, inside a large square, there are several kiosks, each serving a different style of ramen from different restaurants around the country. In fact, the secret agents of this museum periodically go around Japan in search of new original and successful ramen recipes to take to the museum, and there is a change in the ramen offered every 2-3 years. Since 2013, the museum has also begun to unleash its ramen hunters even outside the national borders, in search of particular ramen recipes from abroad to take to the museum.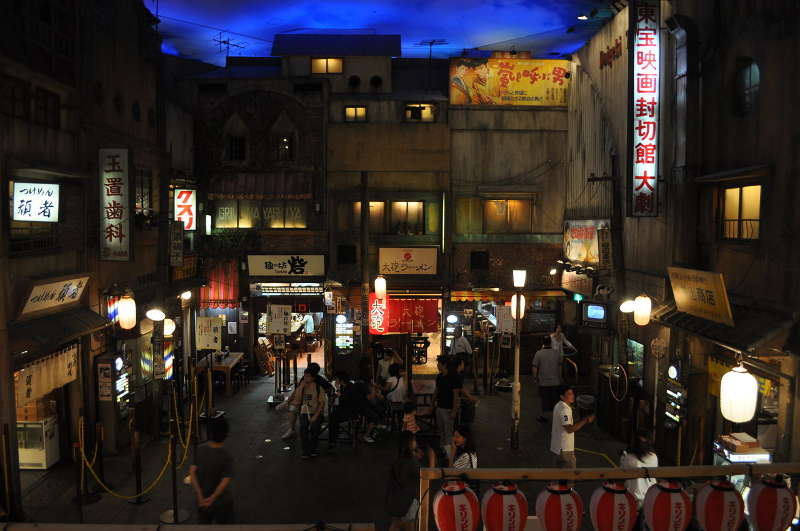 Inside Shin Yokohama Ramen Museum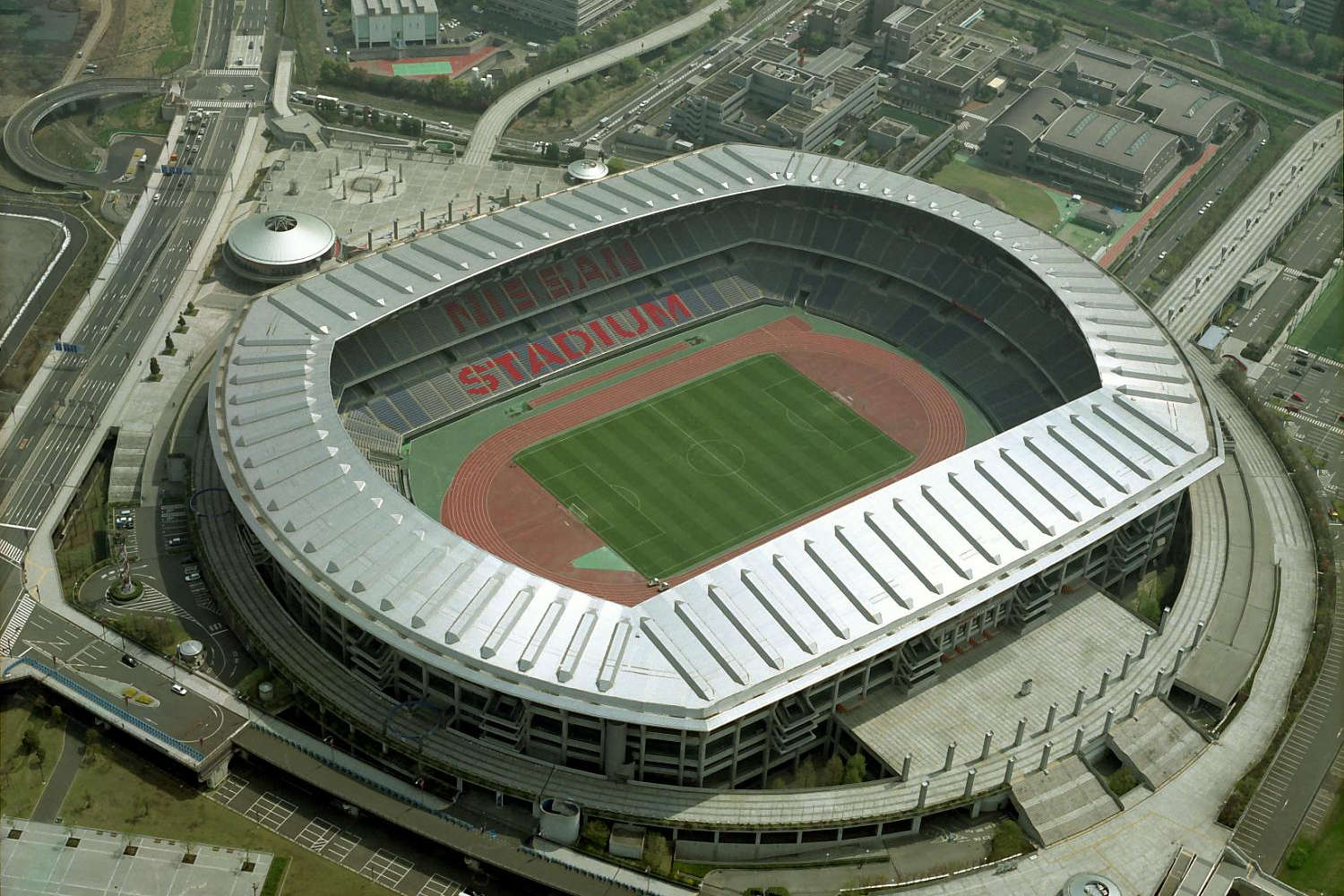 Nissan Stadium
With over 72,000 seats, the Nissan Stadium (also called International Stadium Yokohama) is the largest sports facility in Japan. Inaugurated in 1998, four years later it hosted the 2002 World Cup final. Over the years it has hosted several editions of the Intercontinental Cup, since 2000 replaced by the FIFA Club World Cup, which generally takes place in December of each year. The Nissan Stadium is also the home stadium of the Yokohama F. Marinos team, which plays in the first division of the Japanese league and which has a rich history of success both nationally and in Asian tournaments.
Watch a Yokohama F. Marinos match at Nissan Stadium
Throughout most of the year you will have the opportunity to watch a home team match at Nissan Stadium. For the Japanese National League (
J-League
, tickets start at a price of around 2500¥ in the supporters section. Tickets can also be purchased online, at the
official J-League website
(in Japanese only), or, depending on the events, also at other international online ticket retailers, such as for example
Viagogo
.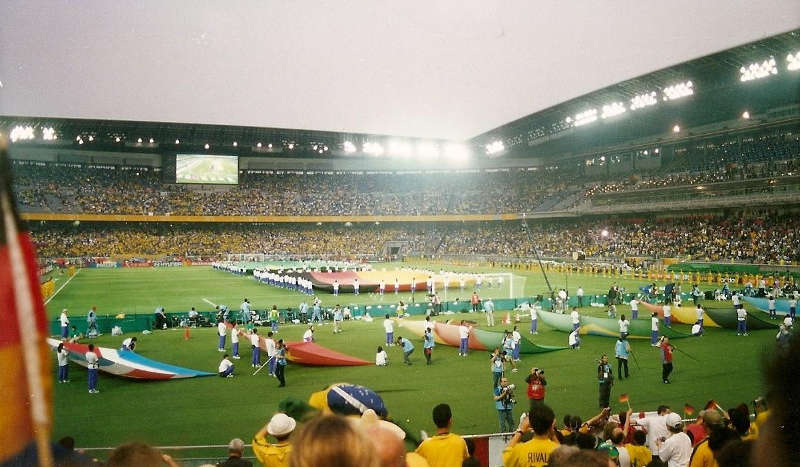 The interior of the stadium during the 2002 World Cup final (credits)
Where to stay in Shin Yokohama
Pros and cons
Although the surroundings of Shin Yokohama are full of hotels, it is not recommended to stay in this area. It is not very busy in the evening and it is far from other areas of the city and you must necessarily take the subway. However, there are exceptions for which sleeping in Shin Yokohama can be a good idea. For example if you need to take a shinkansen train very early in the morning. Or if you are in the area to watch a match at the Nissan Stadium, for example if you have come to Japan to follow the FIFA Club World Cup. Walking back to the hotel in the evening right after a game instead of queuing up in packed public transport is certainly a good thing.
Recommended hotels near Shin Yokohama station and Nissan Stadium
For those on a budget, we recommend the cheap hotel chains in the area, and in particular the
Toyoko Inn
, the
Super Hotel
and the
Fuji view hotel
(which also has an internal onsen), where to sleep with 4-5000¥ a night. If, on the other hand, you don't have budget problems, we cannot fail to mention the luxurious
Shin Yokohama Prince Hotel
, in a 42-floor skyscraper with magnificent views over the city. Finally, note the presence of some
love hotels
in the area south of the station, along the elevated shinkansen tracks (for example the
Lowerl Hotel
).
Eating in Shin Yokohama, cafes and restaurants
If you are in Shin Yokohama, it is not difficult to imagine that you have come this far because you love
ramen
. Inside the ramen museum, as already mentioned, various selected ramen recipes are served from all over the country, and for some years also from abroad, with new recipes introduced every 2-3 years (
list of ramen recipes that are currently served
). Ramen prices inside the museum are slightly higher than average, ranging from 900 to 1400¥. There is also the option to order mini-bowls of ramen so you can try more than one type. If for some reason your visit to the ramen museum should fail (for example in some periods there may be a line that makes you give up), don't worry. There are several ramen restaurants along the road between Shin Yokohama Station and the museum. In particular, we recommend tsukemen's restaurant
Tsukemen Tesshou
(reviews are oddly low, but we found it great!).
How to get to Shin Yokohama
Every
Tokaido shinkansen
, the high-speed train connecting Tokyo with Osaka and Kyoto, makes a stop at Shin Yokohama station. From Tokyo, you can reach Shin Yokohama very quickly by shinkansen (17 minutes from Tokyo station), but this only makes sense if you have a Japan Rail Pass, otherwise the cost of the trip is insane (2600¥). If you don't have a Japan Rail Pass, you need to get to
Yokohama station
first by local train.
From Yokohama station you can reach Shin Yokohama station by taking the
JR Yokohama Line
(11 minutes, 170¥), or the
Blue line
of the subway (12 minutes, 250¥). The Blue Line also provides a direct connection between Shin Yokohama and Minato Mirai (Sakuragicho station, 16 minutes).
Map of Shin Yokohama, Yokohama
Guided tours, activities and other things to do
If you are planning a trip to Japan and you want to do something more than just visiting famous places and monuments, we suggest you to use
Rakuten Travel Experiences
.
How to use Rakuten Travel Experiences
Rakuten Travel is a very useful website to
enrich your travel experience
, especially if you are going solo or it's your first time in Japan.
Because of the language barrier (and more), in Japan it is very difficult to interact with the locals and to get off the tourist track.
Thanks to Rakuten Travel you can find a lot of interesting and sometimes unique
guided tours and activities
all over Japan (and not only in Japan), that you would otherwise never be able to enjoy.
But there's more: on Rakuten Travel you can also
buy tickets
for several famous attractions, events, transportation and other useful services for tourists. Last but not least, you can
reserve a table
in hundreds of restaurants.
Some examples
Take a look at Rakuten Travel Experiences
You may also be interested in