Onomichi
Onomichi is a town that overlooks an inlet of the
Seto Inland Sea
between the islands of Honshu and Shikoku, in Chugoku region, about 80 km away from Hiroshima.
It is not very popular among tourists around Japan, but it is one of the best alternatives (excluding the famous island of
Miyajima
) nearby Hiroshima for a day trip.
Index
Sleeping in Onomichi
Eating in Onomichi
Pratical guide, how to get to Onomichi and map
Onomichi is mainly famous for its temples, there are about 90 scattered around the city.
Old Temple Path
In the heart of the city there is a special well-marked tourist route, which helps tourists to visit all the main temples of the town (about 25) just walking through it . The total length of the route is 2 and a half kilometers.
Senkōji Park
The most important park of the town, it is located over a hill from whose top you can enjoy a beautiful view of the city and the sea. You can climb the hill on foot deviating from the Old Temple Path (Temple Walk), or by a cable car (3 minutes, opening hours 9-17.15, 280 YEN one way 440 YEN round trip).
Inside the park, as well as enjoying the view, you can visit various attractions:
-
Senkoji Temple
(free admission), a Buddhist temple of the Shingon sect from which comes the name of this park, the most famous building is its bell;
-
Onomichi Literature Museum
(nov-mar 9-17, apr-oct 9-18, closed on tuesdays, admission 300 YEN), a museum dedicated to the many writers and poets who lived in the city of Onomichi. The museum owns also two houses that once belonged respectively to Kenkichi Nakamura and Naoya Shiga, two of the most important Japanese writers of the twentieth century. The visit of the two houses is included in the entrance ticket to the museum.
-
Onomichi City Museum of Art
(9-17, closed on mondays, variable admission fee), an art museum, mostly Japanese.
Ichibangai Shotengai
, is located a few meters east of JR Onomichi station.
Shimanami Kaido
Onomichi is also the starting location of a very impressive and famous route in Japan, usually called
Shimanami Kaido
, or sometimes also
Nishiseto Expressway
.
It is a modern highway that connects Onomichi to the town of
Imabari
in the island of
Shikoku
, passing through 6 small islands in the Seto Inland Sea (Mukaishima, Innoshima, Ikuchijima, Omishima, Hakatajima and Oshima), thus repeatedly crossing the sea through modern bridges.
The peculiarity of this route is that, in addition to the highway for cars, it was also built a parallel path, only for pedestrians and, above all, bicycles, which includes dedicated access ramps to the bridges. The route deviates from the highway in the part that crosses the island, and rejoins the main route to cross the connecting bridges to the next islands (the crossing of each of these bridges requires the payment of a small toll).
In simple words, it is a 70 km long bike path along a fantastic natural setting.
You can rent bikes for about 500 yen per day in many places. In particular, there are 14 "Cycling Terminal" along the entire route, which allow the return of the rented bike at any of the cycling terminal other than that of departure (it costs additional 1000 YEN). So, you could also decide to cover just a part of the route and stop whenever you want.
In Onomichi, the easiest to get cycling terminal is located just south of JR Onomichi station, in front of it, next to the "Green Hill Hotel".
Just behind this hotel there is also the ferry terminal to the islands of Mukaishima, Innoshima, and Ikuchijima, which I wrote in order of proximity. You can take one of these three ferries to begin your cycling adventure around the Sea of ​​Seto. From the island of Mukaishima the cycle route itself starts. If you do not feel like doing all the way, you can take a shortcut-ferry to one of the other two islands, the choice is up to you.
Eating in Onomichi
Onomichi is one of those places in Japan whose way of making ramen has become so popular as to give life to the "Onomichi-style ramen", in chicken broth and soy sauce, with the addition of fresh fish from the nearby Sea of Seto.
The most famous Onomichi-style ramen restaurant is called
Shukaen
(marked in the map at the bottom), a tiny restaurant that you can recognize due to the likely long queue at the entrance.
Near Onomichi station, along the first street on the right just after entering the Ichibangai Shotengai arcade, I recommend the restaurant
Arikiya
.
Sleeping, where to stay in Onomichi
There are very few tourists on holiday in Japan who decide to stay one or more night at Onomichi. Those few foreigners who go there, just visit the city (one day is enough) and then go back to Hiroshima or other places before evening.
Instead, you must stay at least one night at Onomichi if you are planning to take a walk along the Shimanami Kaido (see above).
Another reason for choosing to spend a night at Onomichi might be just the fact that no foreign tourist usually spends a night there and so enjoy a little bit of "Remote Japan".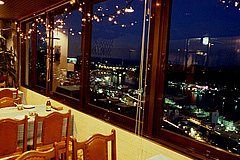 Seizan View Hotel
This hotel is located behind Onomichi station, on the hill where there are many temples scattered along the paths and stairways. It is 500 meters high above sea level, so you can admire a beautiful view of the city, the sea and the neighboring island of Mukaishima. It offers various types of accommodation suitable for every need: dorm beds (2250 YEN per night), cheap private rooms (4500 YEN), and also other types of larger and more expensive rooms.
Pratical guide, how to get to Onomichi and map
Onomichi has two main stations,
Onomichi station
and
Shin-Onomichi
station, about 3 km from each other (the route is well served by public bus).
Shin-Onomichi station
is served exclusively by shinkansen, thus you can reach this station through high-speed trains from Hiroshima station (3650 YEN, 37 minutes).
Onomichi station
is served by the
JR Sanyo Main Line
. Using this line you can reach Onomichi from Hiroshima station at a much cheaper price (1450 YEN, 90 minutes). However, there are few direct trains, you'll probably have to make a change at
Itozaki station
.
Guided tours, activities and other things to do
If you are planning a trip to Japan and you want to do something more than just visiting famous places and monuments, we suggest you to use
Govoyagin
.
How to use Govoyagin
Govoyagin is a very useful website to
enrich your travel experience
, especially if you are going solo or it's your first time in Japan.
Because of the language barrier (and more), in Japan it is very difficult to interact with the locals and to get off the tourist track.
Thanks to Govoyagin you can find a lot of interesting and sometimes unique
guided tours and activities
all over Japan (and not only in Japan), that you would otherwise never be able to enjoy.
But there's more: on Govoyagin you can also
buy tickets
for several famous attractions, events, transportation and other useful services for tourists. Last but not least, you can
reserve a table
in hundreds of restaurants.
Some examples
Take a look at Govoyagin
You may also be interested in