City center, Hiroshima
last update: September 30, 2022
Hiroshima has a large and lively
central area
, extending east of the
Peace Park
, towards Hiroshima Station. The area does not have a specific name.
Kamiyacho
and
Hondori
are the areas most devoted to shopping, while
Nagarekawa
and
Yagenbori
are the areas of nightlife, with dozens of bars, izakaya, and also several red light clubs.
Things to do and things to see in central Hiroshima
The easiest thing to do is to take
Hondori
, a quaint indoor pedestrian mall filled with shops and restaurants, as a reference point. The road is about 500 meters long, starts on one side just in front of the Peace Park, and ends on the other side in front of the
Parco
shopping center, the largest in the area. Parallel to Hondori, to the north, there is the area of
Kamiyacho
and
Aioi Dori
, a large, very busy road and also crossed by the tram. Along Aioi Dori there are several shops and also some department stores. In particular,
Sogo
and
Motomachi Cred-Pacela
. Under the ground is
Kamiyacho Shareo
, a real underground city that connects the different stations in the area and with many shops and pastry shops.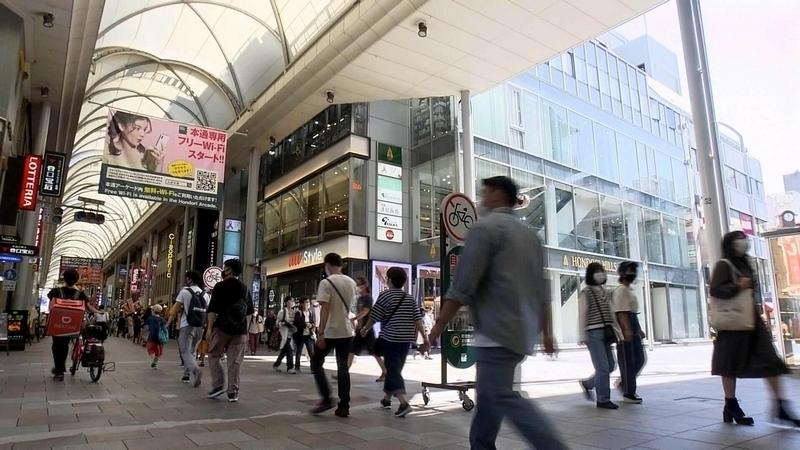 Hondori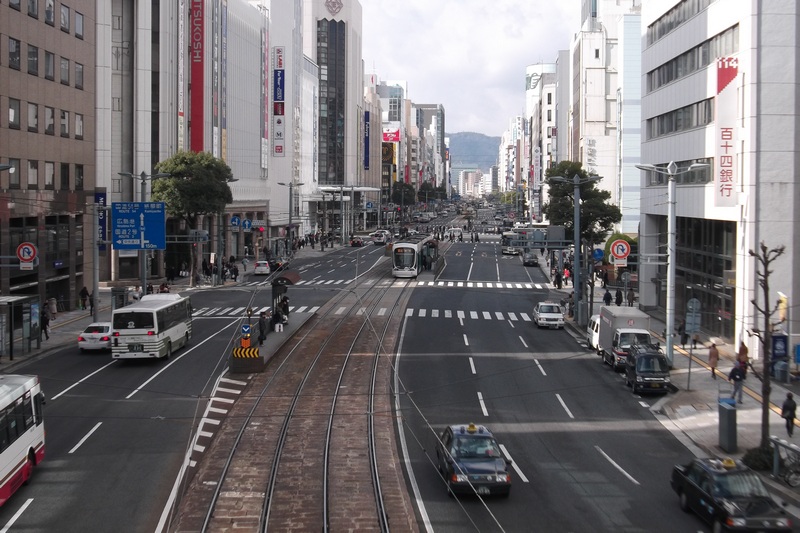 Aioi Dori
Major department stores
Parco
Sogo
Motomachi Cred-Pacela
Mitsukoshi Hiroshima
Nagarekawa and Yagenbori
Nagarekawa and Yagenbori are two parallel streets, two blocks east of the Parco shopping center at the end of Hondori. This area is full of restaurants, discos, bars, izakaya, and, especially along Yagenbori, of red light bars as hostess bars but also real prostitution places. During the day there is nobody in this area, but in the evening the colorful neon signs light up and many people arrive in search of entertainment of all kinds. It is not a dangerous place, you can take a walk without problems or even stop to eat or drink something in the many normal places in the area.
Eating and drinking in the center of Hiroshima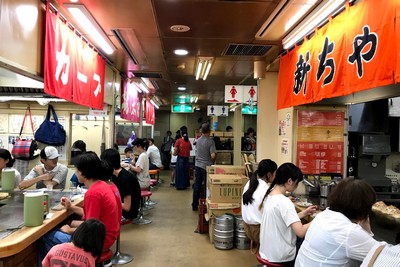 Hiroshima-style Okonomiyaki
Many restaurants along Hondori and Aioi streets offer the dish Hiroshima citizens are most proud of, Hiroshima-style okonomiyaki, a direct competitor to the more famous Osaka-style onomiyaki. If you want to avoid searching for a restaurant, you can go to Okonomimura. Literally "okonomiyaki village", it is a three-storey building where to find about twenty okonomiyaki restaurants. The place is very tourist-friendly and you can also find menus in English. Alternatively, you can try one of the two Micchan branches in the area, a popular okonomiyaki restaurant in the city.
Pubs and discos
In the Nagarekawa and Yagenbori area there are several places to have a drink in the evening or even go dancing. As a techno music club, we recommend
Herbie
, or
Mambos
for Latin music (frequented mainly by South American or Filipino expats). For a bar with good live background music, with a refined atmosphere, we recommend the
Mac Bar
. For the best Japanese whiskeys, the
Little Happiness
. Finally the best of all: the
Tropical Bar Revolución
, a small bar on the eighth floor of a building, with an owner who speaks excellent English and where to sip excellent cocktails at reasonable prices.
How to get to the center of Hiroshima
The downtown Hiroshima neighborhoods mentioned on this page are within walking distance of Peace Park, and a 10-15 minute tram ride (
lines
1
,
2
or
6
) west of Hiroshima Station, which is approximately 25 minutes' walk away. The tram stops in the area are, in order from east to west,
Hatchobori
,
Tatemachi
,
Kamiya-cho-higashi
and
Kamiyacho-nishi
, all 300-400 meters from each other along Aioi Dori. The area is also served by the Hiroshima Sightseeing Loop Bus (Meipuru-pu).
Map of downtown Hiroshima, Hiroshima
Guided tours, activities and other things to do
If you are planning a trip to Japan and you want to do something more than just visiting famous places and monuments, we suggest you to use
Rakuten Travel Experiences
.
How to use Rakuten Travel Experiences
Rakuten Travel is a very useful website to
enrich your travel experience
, especially if you are going solo or it's your first time in Japan.
Because of the language barrier (and more), in Japan it is very difficult to interact with the locals and to get off the tourist track.
Thanks to Rakuten Travel you can find a lot of interesting and sometimes unique
guided tours and activities
all over Japan (and not only in Japan), that you would otherwise never be able to enjoy.
But there's more: on Rakuten Travel you can also
buy tickets
for several famous attractions, events, transportation and other useful services for tourists. Last but not least, you can
reserve a table
in hundreds of restaurants.
Some examples
Take a look at Rakuten Travel Experiences
You may also be interested in