How to get to Hiroshima
last update: September 30, 2022
Hiroshima is located in the Chugoku region in the southern part of the country. It is about 800 km from Tokyo, 350 km from Osaka and Kyoto and 250 km from Fukuoka. The city is served not only by long-distance buses and local trains, but also by high-speed shinkansen trains and a small international airport.
By train
From Tokyo
If you are a Japan Rail Pass holder, you can take a
Hikari shinkansen
from Tokyo to Shin Osaka (or sometimes Shin Kobe depending on the timetable), and then change to a
Sakura shinkansen
to
Hiroshima station
. The whole journey takes about 5 hours and without the Japan Rail Pass it would cost 18,950¥ one way, with the Japan Rail Pass it's free. There are also some direct Tokyo-Hiroshima shinkansen, the
Nozomi
, which take about 4 hours but are not covered by the Japan Rail Pass. If you don't have this pass, you might as well get a nozomi, as they are faster and cost slightly less (19,440 ¥).
From Osaka, Kobe
From Osaka there are the
Nozomi
and
Mizuho
shinkansen, which take about 90 minutes and are not covered by the Japan Rail Pass, and the
Sakura
shinkansen, which always take around 90 minutes but are covered by the Japan Rail Pass. There would also be the
Kodama
shinkansen but they take half an hour longer to arrive and it's not worth choosing them. For non-Japan Rail Pass holders, a one-way ticket costs approximately 10,000¥. You can also take these trains from nearby Kobe (Shin Kobe Station). Alternatively, making two or three changes along the way, it is not impossible to make this route also by local train: it will take from 6 to 7 hours and the cost is about 6000¥.
From Kyoto
Kyoto and Hiroshima are connected to each other by direct Nozomi trains, which take about 95 minutes and, as already mentioned, are not covered by the Japan Rail Pass. Otherwise, a transfer from a Hikari or Kodama train to a Sakura train at Shin-Osaka station is required and the journey will take approximately two hours. The normal one-way fare from Kyoto to Hiroshima is approximately 11,000¥.
From Fukuoka
From Fukuoka (
Hakata station
) you can take the
Mizuho
shinkansen, which take about an hour but are not covered by the Japan Rail Pass, or the
Sakura shinkansen
, covered by the Japan Rail Pass and which take approximately 70 minutes. For non-holders of a Japan Rail Pass, a one-way ticket costs approximately 9,200¥.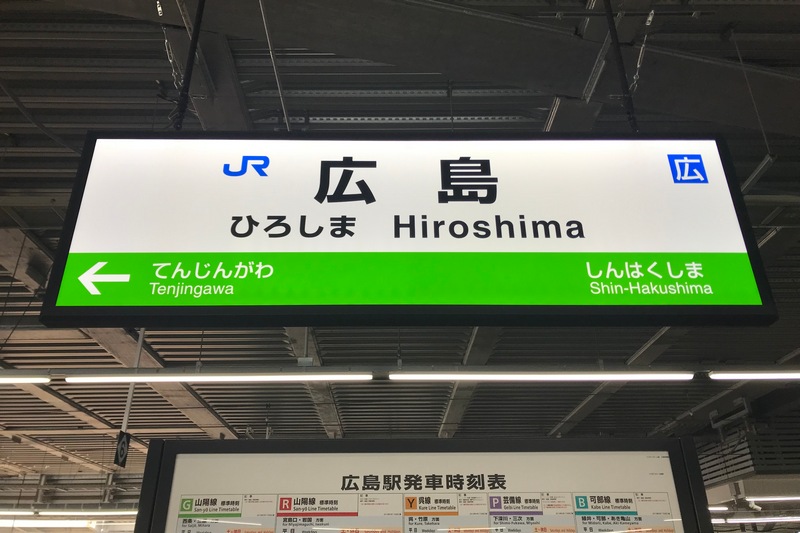 Hiroshima Station
By bus
The city's main long-distance bus stations are sometimes located near the north exit of
Hiroshima station
, most often at the
Hiroshima Bus Center
in the city center, near the Peace Park and inside the Sogo department store.
Willer Express
The low-cost bus company
Willer Express
offers direct connections to Hiroshima on both day and night buses (highly recommended so as not to lose precious time), from various locations in Japan: from Tokyo (12 hours, from 6,000¥), Osaka (6.5 hours, from 3,200¥), Kyoto (7 hours, from 3,500¥), and other smaller cities. For more information on schedules and prices, and to book directly online, you can visit the
Willer Express official website
(also in English).
Chugoku JR Bus
Moreover, the company
Chugoku JR Bus
(
official website
) offers numerous connections from Hiroshima to various cities in Japan, however the website is less targeted to foreign tourists and a bit more difficult to use. Rates are similar to Willer Express or slightly higher. We recommend that you consider Chugoku JR Bus for routes not listed on the Willer Express website.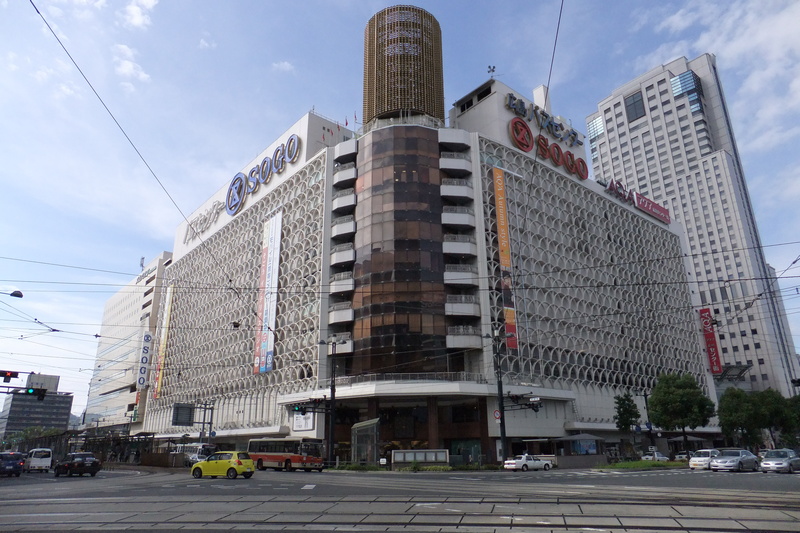 the Sogo department store with the Hiroshima Bus Center inside
By plane
Hiroshima Airport is located about 40 km from the city and offers several national daily connections with the cities of Tokyo, Sapporo, Sendai and Okinawa. There are also often some international connections, in particular with Hong Kong and Shanghai. This airport is mainly operated by the major companies
Japan Airlines
and
ANA
, with fares starting from around 10-12,000¥ each way. The regional company Ibex also flies to Sendai, while to Tokyo Narita there is also the low-cost company Spring Airlines, with fares starting from 8000 ¥ each way.
How to get to the center of Hiroshima from the airport
The airport is connected to the city of Hiroshima and other cities in the region by frequent buses. In particular, there are two lines for the city of Hiroshima. One connects the airport to the north exit of JR Hiroshima Station (45 minutes), another to the Hiroshima Bus Center near Peace Park (55 minutes). The rates are the same, ie 1300¥ one way or 2360 ¥ round trip (return within 7 days). Learn more about these and other connections on the
airport website
.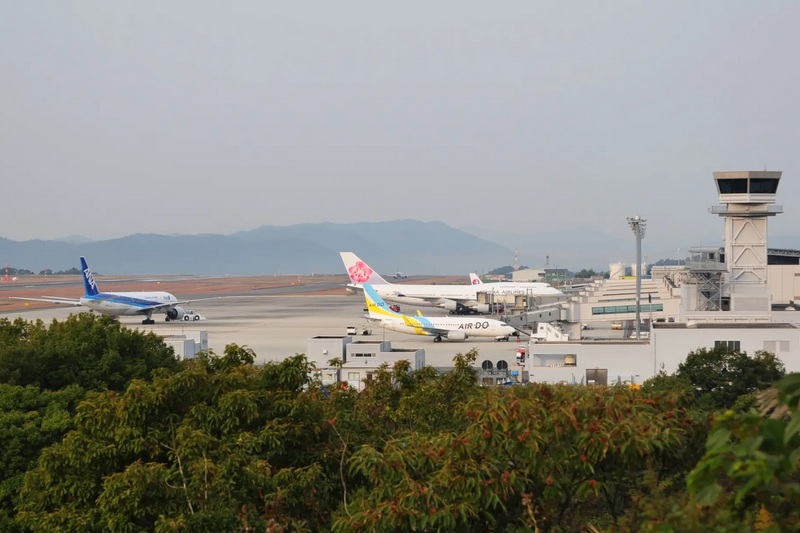 Hiroshima Airport
Guided tours, activities and other things to do
If you are planning a trip to Japan and you want to do something more than just visiting famous places and monuments, we suggest you to use
Rakuten Travel Experiences
.
How to use Rakuten Travel Experiences
Rakuten Travel is a very useful website to
enrich your travel experience
, especially if you are going solo or it's your first time in Japan.
Because of the language barrier (and more), in Japan it is very difficult to interact with the locals and to get off the tourist track.
Thanks to Rakuten Travel you can find a lot of interesting and sometimes unique
guided tours and activities
all over Japan (and not only in Japan), that you would otherwise never be able to enjoy.
But there's more: on Rakuten Travel you can also
buy tickets
for several famous attractions, events, transportation and other useful services for tourists. Last but not least, you can
reserve a table
in hundreds of restaurants.
Some examples
Take a look at Rakuten Travel Experiences
You may also be interested in