Where to stay in Hiroshima
last update: September 30, 2022
Hiroshima is full of hotels and hostels of all types and for all budgets. Prices are very low compared to the Japanese average and especially compared to Tokyo. It is advisable to sleep in Hiroshima at least one day to be able to visit the city calmly and take an excursion to the nearby island of Miyajima. If you have more time available, you can sleep in Hiroshima for several nights, using the city as a home base to visit the different attractions in the region.
The best area to stay in Hiroshima
Considering that in most cases you will only stay one or two days in Hiroshima, and that in case of excursions you will need to take the train several times,
it is recommended to stay in an area not too far from Hiroshima Station, and close at the axis of the tram lines
, between the station terminus and Kamiyacho-Nishi. In this way you can move easily in the evening on foot in the nightlife area, and you can easily reach both the station and the main attractions of the city, with long walks on foot or in a few minutes by tram. All the hotels, capsule hotels and hostels recommended on this page are located in the city center between Hiroshima Station and the Peace Park, corresponding more or less to the area highlighted in the map below.

Recommended hotels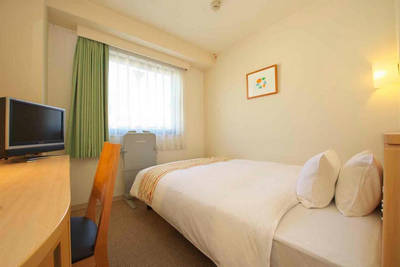 Chisun Hotels are a Japanese business hotel chain known for their excellent value for money, with prices generally among the lowest. Hiroshima's Chisun is conveniently located along Aioi Dori boulevard and not far from Nagarekawa's nightlife. The only drawback, the rooms are quite small, especially the economy doubles.
Price range: single rooms 4,000-5,000¥, double rooms 5,000-7,000¥.
A large hotel 300 meters from the Hiroshima station south exit. This is not a business hotel, but a hotel for events (weddings and corporate meetings). Especially recommended because, unlike other nearby business hotels, it has more spacious than average rooms, from 20 square meters up, and the hall and common areas are also very spacious, albeit with a slightly dated decor. The hotel also offers elegant Japanese-style rooms with tatami mats and futons, at higher but not excessive priced. Large breakfast buffet for a fee (about 1500¥ per person).
Price range: single rooms 5,000-6,000¥, double rooms 7,000-9,000¥.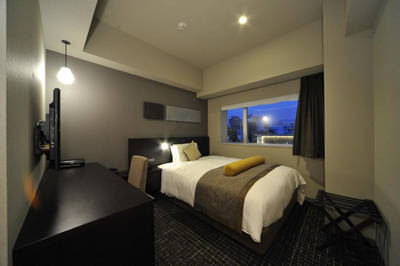 The Washington Hotels are a chain of mid-range Japanese business hotels, with prices not among the lowest but still affordable for everyone. The Washington hotel in Hiroshima is located in the center, a few meters from the Hondori gallery and Nagarekawa, along a lively shopping avenue. The nearest tram stop (Hatchobori) is 350 meters away. Larger rooms than many other business hotels in the area and also other Japanese Washington hotels (especially in Tokyo the rooms are smaller). Great breakfast buffet for a fee (about 1600¥ per person).
Price range: single rooms 6,000-7,000¥, double rooms 6,000-9,000¥.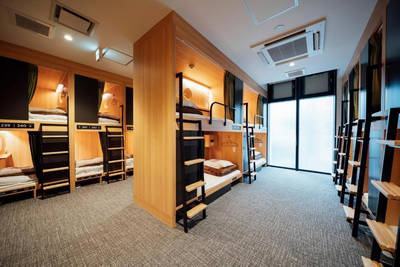 This hotel is very close to Hiroshima Station, 400 meters from the nearest tram stop (Inarimachi). We recommend it especially for its incredibly low prices, especially the singles with shared bathroom. The property also offers a decent level of amenities, including free tea and coffee in the lobby. Despite the name, however, it offers no other opportunities for relaxation than the massage service.
Price range: single rooms 2,900-3,500¥, double rooms 4,900-6,000¥.
Capsule hotels
If you don't know what capsule hotels are, or want to know more about how this typically Japanese type of accommodation works, read
our guide
.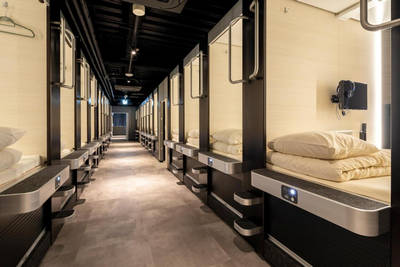 A modern capsule hotel in the center, along Aioi Dori avenue and opposite the tram stop (Kanayamacho). The term capsule hotel is also an understatement, because in addition to the normal capsules (really cheap), this hotel also has superior capsules, which also have a mini corridor with a desk for personal use, and single private rooms (with shared bathrooms) at rock bottom prices. We invite you to take a look at the details of the structure to better understand. There are floors reserved for men and floors reserved for women. Also available to all guests are spacious common rooms with windows overlooking the avenue in front, constantly crossed by trams.
Price range: standard capsule 2,000-2,500¥, superior capsule 2,900-3,500¥, single rooms 3,300-4,000¥.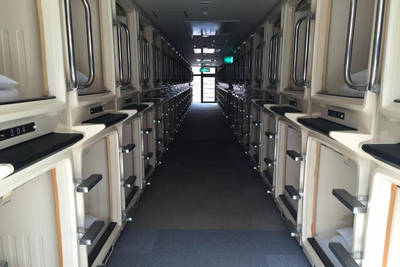 An old-fashioned capsule hotel, in the heart of the nightlife district, in a side street between the izakayas of Nagarekawa and the red light clubs of Yagenbori. Unfortunately, as is sometimes the case in Japanese capsule hotels, it is a male-only facility, there are no floors reserved for women. Especially recommended for the very low price and for the services available to guests. In addition to a large common room, there are also large public bathrooms with hot tubs and saunas. Inside there is also a bar-restaurant with an extensive menu and very low prices open until late at night.
Price range: capsule 2,500¥.
Hostels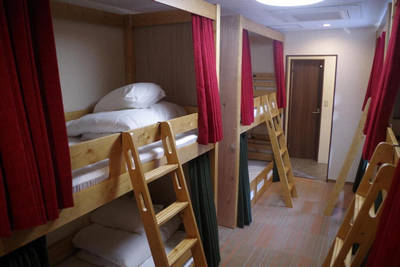 A small guest house in the heart of Hiroshima's nightlife area, a few meters from Yagenbori and Nagarekawa streets, and from the Kanayamacho tram stop. The station is also easily reachable on foot, in about 15 minutes. In addition to the location, another strong point of this property is the price among the lowest ever in the city. For the rest, it is a structure organized like a normal hostel, with a large shared room with bunk beds (for privacy, you can use a curtain) and without distinction between men and women. There is no fully equipped kitchen but there are refrigerators, tea and coffee corners, kettle, sink, a TV, and lots of info about the city and how to get around, both on the walls and by talking directly to the friendly owner.
Price range: bunk beds 1,500-2,000¥.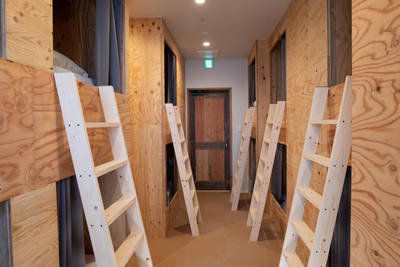 A slightly larger guesthouse and closer to Hiroshima station, which is only 200 meters away, while the nearest tram stop (Enkobashicho) is literally in front of the modern building where the guesthouse is located. This has bunk beds in mixed dormitories or for women only, arranged in a capsule hotel style, thus ensuring a good level of privacy. There are also private double rooms, but for those the price is not very competitive. Inside there is also a delightful cafe.
Price range: bunk beds 2,300-2,500¥, private rooms for two people 10,000-12,000¥.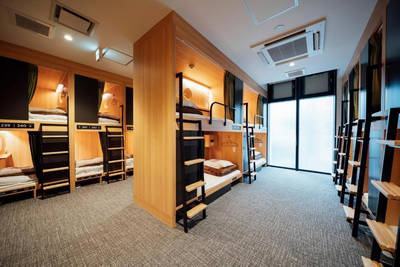 A very modern hostel in a very strategic position for visiting the city, a few meters from the Hondori shopping arcade, 800 meters from the Peace Park and 600 meters from the nearest tram stop (Tatemachi). The hostel has a variety of bed types, from cheap bunk beds in shared rooms to private rooms for one, two and four people. Guests have access to a kitchen, coin-operated washing machines, a large and modern common room equipped with power sockets and perfect for working remotely, and a café where you can have breakfast or have something to drink or eat during the day.
Price range: bunk beds 2,200-3,000¥, private rooms for two people 4,000-6,000¥.
Map of Hiroshima
Guided tours, activities and other things to do
If you are planning a trip to Japan and you want to do something more than just visiting famous places and monuments, we suggest you to use
Rakuten Travel Experiences
.
How to use Rakuten Travel Experiences
Rakuten Travel is a very useful website to
enrich your travel experience
, especially if you are going solo or it's your first time in Japan.
Because of the language barrier (and more), in Japan it is very difficult to interact with the locals and to get off the tourist track.
Thanks to Rakuten Travel you can find a lot of interesting and sometimes unique
guided tours and activities
all over Japan (and not only in Japan), that you would otherwise never be able to enjoy.
But there's more: on Rakuten Travel you can also
buy tickets
for several famous attractions, events, transportation and other useful services for tourists. Last but not least, you can
reserve a table
in hundreds of restaurants.
Some examples
Take a look at Rakuten Travel Experiences
You may also be interested in