Shinsekai, Tobita Shinchi
Shinsekai and Tobita Shinchi are located a few kilometers south of the vibrant and central area of
Namba
, but unlike the latter, it is one of the poorest and most infamous neighborhood of Osaka and in all of Japan, famous for the incredible number of homeless people on the streets and for prostitution.
Walking a few minutes to the east you can reach the
Tennoji Park
and the area of
Tennoji
, recently renovated.
The neighborhood
Shinsekai
is a district for entertainment created in 1912, in the same area where a few years earlier had taken place a national industry fair. The architects that projected this area were inspired by Paris for the northern part and New York (Coney Island) for the southern part.
The area fell into decline after the war, and until a few years ago it was known as a center of large criminal activities. Today it still has a bad reputation, together with the nearby red light area of Tobita Shinchi, but more than "dangerous" this area of Osaka is nowadays just a "poor" district, inhabited by many homeless people, mostly elderly and from all over the country, and more generally by people with low incomes, attracted there right by the rock bottom prices for rents of houses.
At the center of the district of Shinsekai stands the
Tsutenkaku Tower
, another attraction of the area is a huge spa complex called
SPA World
(see below).
The main attraction of this small neighborhood are however its streets, lined with shops and restaurants that give a charming and a bit nostalgic feeling, where to eat the specialty of the area (
kushikatsu
) or many other dishes of the wonderful cuisine of Osaka at very affordable prices.
Tsutenkaku Tower
(admission 700 yen, opening hours 9-21)
This tower, 103 meters high, has a 91 meters high observation deck. It was built in 1956 to replace the old tower of the district, destroyed by fire in 1943.
Very special are the lights that illuminate the tower at night, that change color depending on the months of the year, and especially the lights that illuminate the top of the tower, whose different combinations of color express the weather forecast of the next day.
The ticket office and the elevators to the top you are on the 2nd floor, which will take you up to the top floor (5th), where in addition to the panoramic view, you can see many statues depicting some sort of lucky charm deity known as
Billiken
. In order to get out from the tower, you'll have to pass through all the floors below: The 4th floor is another observation deck where you can find this time a statue of the Hindu deity
Ganesha
, the 3rd floor is located several meters below, at the base of the tower, and houses a
Glico
official store, a cafe and some dioramas and photographs depicting the old district of Shinsekai, the 2nd floor houses an exhibition space dedicated to
Kinnikuman
(
Kinnikuman Museum
), an old manga precursor of the much more famous
Ultimate Muscle
, and an area full of
gacha-gacha
machines. After going through all these absurd attractions you will finally be free to leave the tower.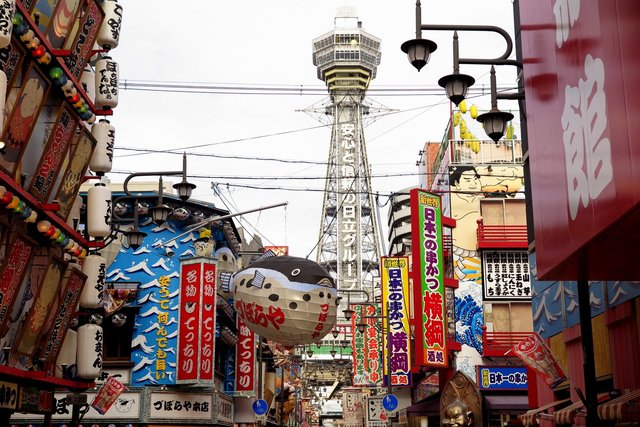 SPA World
A giant spa complex, it mustn't be confused with traditional Japanese onsen or sento.
Within this place you can find a number of pools, bath houses and saunas inspired by styles from around the world, including a reproduction of the famous
Blue Grotto
of Capri. The structure is divided into a "European zone" and an "Asian zone", depending on the style of the pools, divided by gender on alternate months. More information on the
official website
(in English).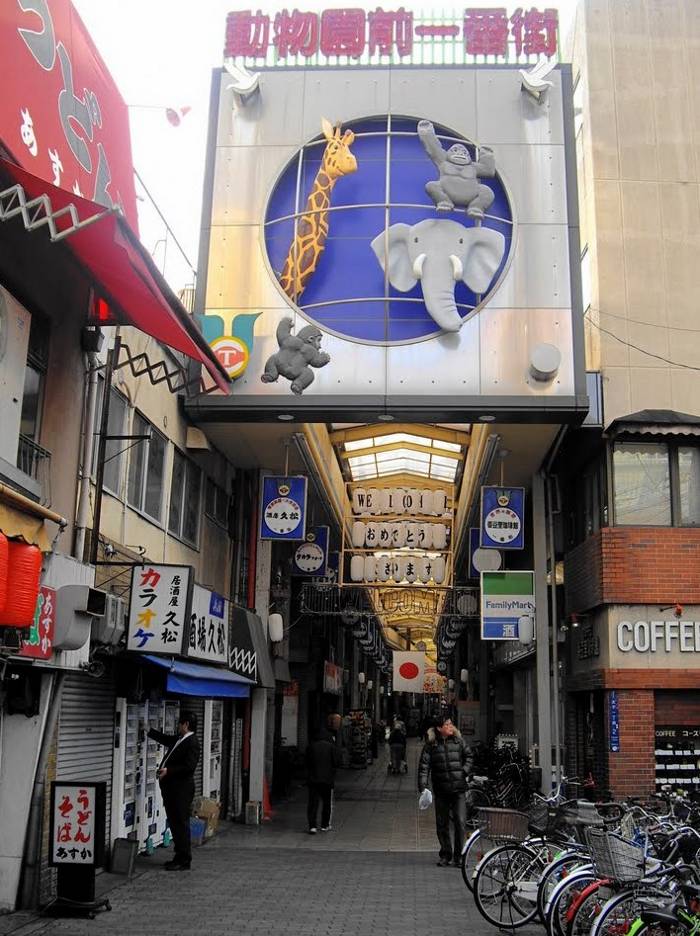 the entrance to the covered arcade Dobutsuenmae ichiban machi
Walking south for about one kilometer, following the elevated highway running just east of Shinsekai, you arrive in the main red light district of the city,
Tobita Shinchi
. The red light area is located more or less along the streets around the point where the elevated highway curves to the east.
In parallel to the elevated highway, there is also a long covered arcade (
Dobutsuenmae ichiban machi
, pictured above) full of shops, bars and restaurants partly dirty and run down, and all very cheap. It is not uncommon to find lowered shutters of former commercial activities.
Tobita Shinchi
The biggest red light district of western Japan.
This area is completely different from
Kabuki-cho
in Tokyo, in Tobita Shinchi there is absolutely nothing more than prostitutes, and as already mentioned, it is one of the most infamous areas of the city. As regards safety, we must also say that the standards in Japan are light years better than any American or European city, thus even the city's most dangerous area is probably safer than many central areas of London or New York, so do not let that scare you too much.
The particularity of this red light area lies in the manner in which prostitution is practiced: around the streets of the area there are many dozens of houses, side by side, on which ground floors, you can see prostitutes sitting on cushions or on a tatami, together with an older woman speaking with all potential customers.
I must say two things to
all those who are thinking about visiting prostitutes in Tobita Shinchi
: the first one is that the prices are very high, I don't want to go into details because this is not an appropriate site, but nevertheless prices there are definitely higher than in most of european countries; the second one is that in most cases non-Japanese customers are not accepted, unless maybe you have a good knowledge of the Japanese language. In order to "locate" those few ones who accept foreigners, just walk, look and wait for their smile or their call, in that case, perhaps they could accept you, but if they will ignore your look, it is almost certain that foreigners are not welcome.
In any case, it is
not recommended at all
for sex tourism, both for the high prices and for the enormous communication difficulties.
Sleeping, recommended hotels in Shinsekai, Osaka
Near Shin-Imamiya station you can find many of the cheapest hotels in the city and perhaps in all of Japan. Sorted by price starting from the cheapest:
-
Hotel Diamond
(starting from 900 yen per night)
-
Hotel Park Inn
(from 1200 yen per night)
-
Hotel Toyo
(from 1800 yen per night)
-
Hotel Taiyo
(from 2000 yen per night)
-
Hotel Raizan North
and
Hotel Raizan South
(from 2400 yen per night)
-
Hotel Shin-Imamiya
(from 3000 yen per night)
There's also some other hotel of higher level and price, but I would not recommend spending more than 3000 yen to stay in this area, that the evening is full of homeless and drunk people, from 3000 yen up you can find decent accommodation also in other areas of the city.
Some good quality hotel can be found in the nearby area of
Tennoji
.
Pratical guide, how to get to Shinsekai and Tobita Shinchi
The most convenient station in the area is
Dobutsuen-mae station
of the subway (Midosuji line and Sakaisuji line).
From this station, just walk 500 meters to the north to reach the area of Shinsekai and Tsutenkaku Tower, or walk through the Dobutsuenmae ichiban machi covered arcade (next to the exit number #2 of the station) to the south for about 600 meters and you'll find yourself in the middle of Tobita Shinchi.
Another station in the area is
Shin-imamiya station
(JR Osaka Loop line and Yamatoji line, Nankai Main line and Koya line), 400 meters west, or
Tennoji station
, 1 km east.
Map of Shinsekai and Tobita Shinchi, Osaka
Guided tours, activities and other things to do
If you are planning a trip to Japan and you want to do something more than just visiting famous places and monuments, we suggest you to use
Govoyagin
.
How to use Govoyagin
Govoyagin is a very useful website to
enrich your travel experience
, especially if you are going solo or it's your first time in Japan.
Because of the language barrier (and more), in Japan it is very difficult to interact with the locals and to get off the tourist track.
Thanks to Govoyagin you can find a lot of interesting and sometimes unique
guided tours and activities
all over Japan (and not only in Japan), that you would otherwise never be able to enjoy.
But there's more: on Govoyagin you can also
buy tickets
for several famous attractions, events, transportation and other useful services for tourists. Last but not least, you can
reserve a table
in hundreds of restaurants.
Some examples
Take a look at Govoyagin
You may also be interested in