Shinsekai, Tobita Shinchi
last update: August 11, 2022
Shinsekai
(新世界) and
Tobita Shinchi
(飛田新地) are located a few kilometers south of the rich and sparkling area of
Namba
, but, unlike the latter, they are among the most poor infamous areas, not only of Osaka, but in the whole of Japan, and known for the high number of homeless on the streets and for prostitution. However, the neighborhood retains a
charming nostalgic atmosphere
and is home to several places of interest. Walking a few minutes to the east you can reach
Tennoji Park
and the neighborhood of
Tennoji
, recently renovated.
Things to do and things to see in Shinsekai and Tobita Shinchi
Shinsekai
Shinsekai
(which in Japanese means "new world") is a district for entertainment created in 1912, in the same area where a few years earlier had taken place a national industry fair. The architects that projected this area were inspired by Paris for the northern part and New York (Coney Island) for the southern part. The area fell into decline after the war, and until a few years ago it was known as a center of large criminal activities. Today it still has a bad reputation, together with the nearby red light area of Tobita Shinchi, but more than "dangerous" this area of Osaka is nowadays just a "poor" district, inhabited by many homeless people, mostly elderly and from all over the country, and more generally by people with low incomes, attracted there right by the rock bottom prices for rents of houses. In recent years, the boom in tourism has helped to revive the fortunes of the area.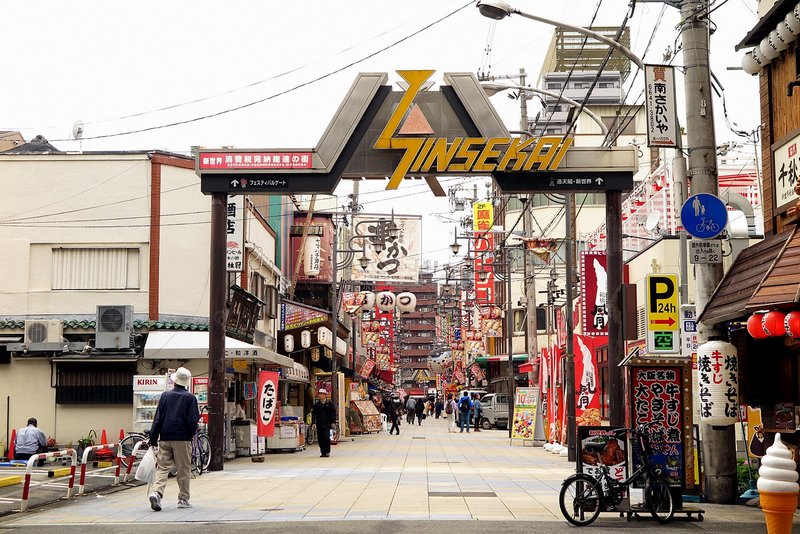 At the center of the district of Shinsekai stands the
Tsutenkaku Tower
. Also in the area is a huge spa complex called
SPA World
. However, the main attraction of this small neighborhood are its colorful streets, lined with shops and restaurants with large signs that give a charming and a bit nostalgic feeling, where to eat the specialty of the area (
kushikatsu
) or many other dishes of the delicious cuisine of Osaka, at very affordable prices.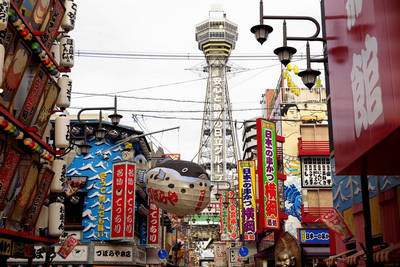 Tsutenkaku Tower
(admission 900¥, opening hours 8:30-21:30)
This tower, 103 meters high, has a 91 meters high observation deck. It was built in 1956 to replace the old tower of the district, destroyed by fire in 1943.
Very special are the lights that illuminate the tower at night, that change color depending on the months of the year, and especially the lights that illuminate the top of the tower, whose different combinations of color express the weather forecast of the next day.
The ticket office and the elevators to the top you are on the 2nd floor, which will take you up to the top floor (5th), where in addition to the panoramic view, you can see many statues depicting some sort of lucky charm deity known as Billiken. In order to get out from the tower, you'll have to pass through all the floors below: The 4th floor is another observation deck where you can find this time a statue of the Hindu deity Ganesha, the 3rd floor is located several meters below, at the base of the tower, and houses a Glico official store, a cafe and some dioramas and photographs depicting the old district of Shinsekai, the 2nd floor houses an exhibition space dedicated to Kinnikuman (Kinnikuman Museum), an old manga precursor of the much more famous Ultimate Muscle, and an area full of gacha-gacha machines. After going through all these absurd attractions you will finally be free to leave the tower. For an additional cost of 300¥ it is also possible to go up to a small outdoor terrace on the roof of the tower.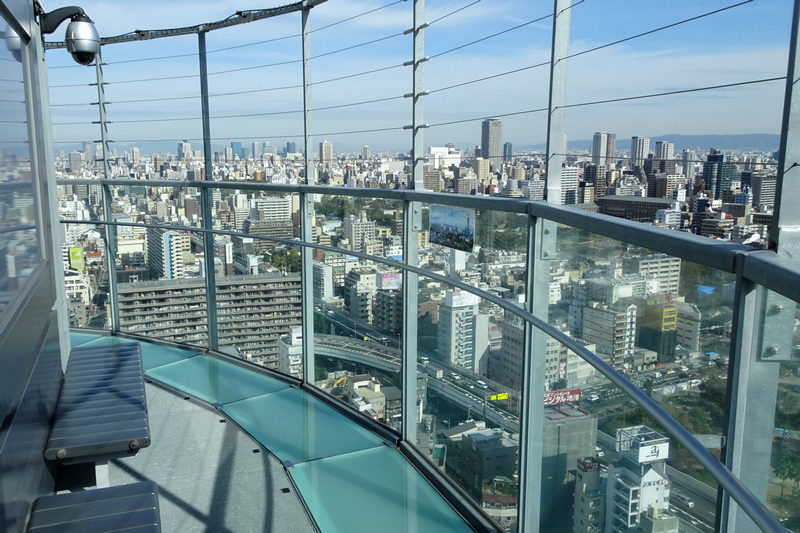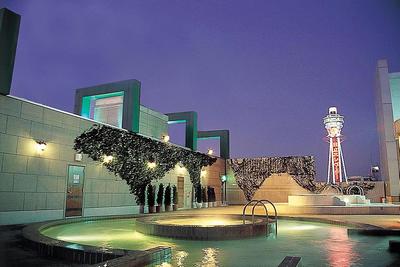 SPA World
(admission 1500¥, almost 24 hours a day)
A huge spa complex, not to be confused with traditional Japanese onsen. This center is in fact a sort of thermal theme park that has nothing to do with the typical spas that are usually found in Japan. Inside you will find many different baths, thermal pools and saunas, each inspired by a different style from the world. The park is divided into a "European zone" and an "Asian zone", divided by sex every other month. In the European area, among others, you can't miss the thermal baths in the style of ancient Rome, a reproduction of the Blue Grotto of Capri, and the Finnish sauna. In the Asian area you will find a Japanese onsen-style area, but also a Middle Eastern hammam and much more. Inside there are also many other ways to have fun: darts, billiards, karaoke, table tennis, a gym, as well as various restaurants and cafes. More information on the official website.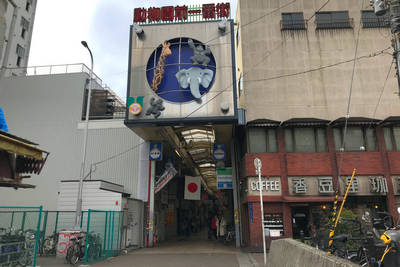 Dobutsuenmae ichiban machi
A few meters south of the Shinsekai district, after crossing the railway via one of the pedestrian underpasses, you arrive in an area with a slightly run-down atmosphere. Here you will notice the entrance to a covered shopping arcade with animal figures (a giraffe, a monkey and an elephant). This is the entrance to Dobutsuenmae ichiban machi, a typical Japanese commercial street full of small shops, bars, karaoke and restaurants, all very cheap. Along this road there is a feeling of a mixture of nostalgia and unsafety, and there is also a bit of dirt (which is quite rare in Japan). It is also not uncommon to see lowered shutters of former businesses gone down the drain. Recommended area for those looking for places with real life stories and not just tourist attractions.
Tobita Shinchi
Walking south for about a kilometer, following the elevated highway just east of Shinsekai, you will arrive at the city's main red light district,
Tobita Shinchi
. The red light area is located more or less along the narrow streets around the point where the elevated highway turns east. Tobita Shinchi is not only the main red light district of the city, but, excluding Tokyo, of all of Japan. However, this area has nothing to do with
Kabuki-cho
, Tokyo's legendary adult neighborhood. If Kabuki-cho is an area full of life and with thousands of commercial activities of all kinds, in Tobita Shinchi there are only prostitutes and little else, and it is one of the most infamous areas of the city. Regarding the safety factor, however, it must be said that the standards in Japan are light years higher than any other country in the world, so even the most infamous neighborhood in Japan is probably safer than many very central areas of large European or American cities. So, don't be too frightened by these rumors.
The peculiarity of this red light area lies in the way in which prostitution is exercised: in the streets there are several dozen houses, one next to the other, on the ground floor of which there are, on display, the girls, sitting on cushions or on a tatami, together with an older woman who negotiates the price with customers. This could vaguely resemble the famous Amsterdam shop windows, due to the way girls advertise themselves.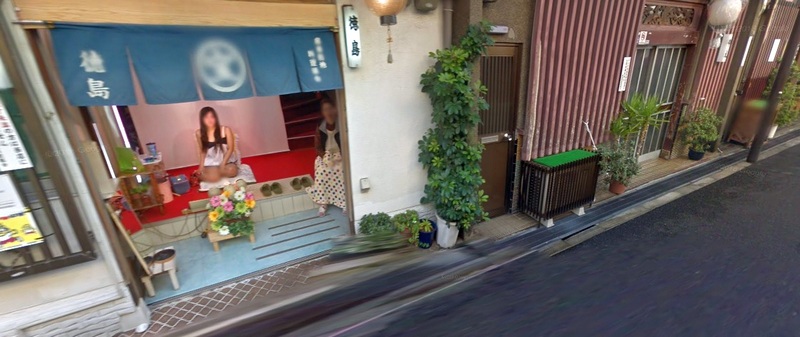 girl in Tobita Shinchi waiting for customers
Some things should be specified
to all those who are thinking of doing sex tourism in Tobita Shinchi
: the first is that the prices are very high, we do not go into details but they are considerably higher than any other Asian country; the second is that in most cases non-Japanese customers are not accepted, unless perhaps you have a good knowledge of the Japanese language. To identify those few who accept foreigners, walk, look, and wait for their smile or their invitation, in that case perhaps they could accept you. On the contrary, if you notice no reaction (as if they were ignoring you) it is very likely that foreigners are not welcome. In summary this place is
not recommended for sex tourism
, both because of the cost and because of the big difficulties of communication.
Where to stay in Shinsekai
In this area you will find the cheapest hotels in the whole city
. In general, however, considering that hotels in Osaka do not cost much, we do not recommend staying in this area as, especially in the evening, the streets are filled with homeless people, drunken wanderers, and strange characters. Not that it's really dangerous, but some might feel a sense of insecurity. Conversely, if you are someone who likes adventure and exploration of these real-life areas, read on to discover the best cheap places to stay.
Hotels in Shinsekai
Inside Shinsekai there are many bars and restaurants which make the area more lively and less disturbing at night. There are also at least a couple of regular business hotels:
Toyoko Inn Osaka Tsutenkaku Mae, belonging to a popular low-cost chain of business hotels, located on a colorful street of the neighborhood, a few meters from Tsutenkaku Tower. Single rooms from 4000¥ per night, double rooms from 5000¥. Breakfast is always included in the price..
Joytel Hotel Shinsekai Sakaisujidori, the newest and most modern hotel in the area. Opened a few years ago in a tall building right next to one of the entrances to Shinsekai. Single rooms from 5000¥ per night, double rooms from 7000¥.
Super cheap hotels in Shin Imamiya
Between the stations of Shin-Imamiya and Dobutsuenmae, behind the red light district of Tobita Shinchi, there are some of the cheapest hotels in the city and perhaps in all of Japan. Recommended area for those who want to save as much as possible and have a certain spirit of adaptation, as, obviously, at these prices you will not find many comforts, and in the evening the area is certainly not teeming with Ferraris and Rolls Royces. If you find yourself in the description, you can take a look at:
Eating in Shinsekai, cafes and restaurants
Shinsekai is a neighborhood full of restaurants where you can savor all the typical dishes of Osaka's super cuisine. However, two dishes in particular are typical of this neighborhood.
One of these is
kushi-katsu
, which are skewers of meat, fish or vegetables that are first coated with batter and then fried. They are eaten hot and after having first dipped them in a special sauce. A peculiarity of Shinsekai's kushi-katsu restaurants is that the bowls of sauce on the tables are shared by the following customers. A strict rule characterizes the neighborhood's kushi-katsu restaurants: customers can dip their skewers in the sauce only once before taking their first bite. The reason today is trivially hygienic in nature, since the same sauce will later be used by other customers. However, this rule has its origins in the early postwar Japanese years. Born as restaurants for low-wage workers, with this rule the owners tried to limit the costs for the sauce. Today a skewer of kushi-katsu costs from 100 ¥ up, and usually when you go to these restaurants you order many different skewers, perhaps accompanied by a nice cold beer.
doteyaki
, a dish of beef stewed with miso paste, mirin, sake and sugar. The delicate and slightly sweet flavor of doteyaki goes well with its chewy texture. Although this dish can be served in various ways, in Shinsekai it is usually served on skewers. Three skewers cost approx 300¥.
Yaekatsu
is one of the most popular restaurants in Shinsekai, serving both kushi-katsu and doteyaki. Another famous restaurant is
Kushikatsu Daruma
, which seems to be the birthplace of kushi-katsu. At the time it was just a stall, while today Shinsekai's Kushikatsu Daruma is the flagship restaurant of a small chain of restaurants located around the city. Finally, if you can't do without the most famous Osaka dish in the world,
takoyaki
, you can go to
Kankan
, a kiosk with very cheap prices (400¥ for eight takoyaki) on the corner of an intersection in the heart of the neighborhood.
How to get to Shinsekai and Tobita Shinchi
L'area è facilmente raggiungibile in treno e metropolitana. The most convenient station in the area is
Dobutsuen-mae station
of the subway (
Midosuji
and
Sakaisuji Line
). From this station, just walk 500 meters to the north to reach the area of Shinsekai and the Tsutenkaku Tower, or walk through the Dobutsuenmae ichiban machi covered arcade (next to the exit number 2 of the station) to the south for about 600 meters and you'll get in the middle of Tobita Shinchi.
Another station a few hundred meters from Shinsekai and Tobita Shinchi is
Shin-imamiya station
, also served by the JR
Osaka Loop Line
and
Yamatoji Line
. Finally, about a kilometer away there is
Tennoji station
.
Map of Shinsekai and Tobita Shinchi, Osaka
Guided tours, activities and other things to do
If you are planning a trip to Japan and you want to do something more than just visiting famous places and monuments, we suggest you to use
Rakuten Travel Experiences
.
How to use Rakuten Travel Experiences
Rakuten Travel is a very useful website to
enrich your travel experience
, especially if you are going solo or it's your first time in Japan.
Because of the language barrier (and more), in Japan it is very difficult to interact with the locals and to get off the tourist track.
Thanks to Rakuten Travel you can find a lot of interesting and sometimes unique
guided tours and activities
all over Japan (and not only in Japan), that you would otherwise never be able to enjoy.
But there's more: on Rakuten Travel you can also
buy tickets
for several famous attractions, events, transportation and other useful services for tourists. Last but not least, you can
reserve a table
in hundreds of restaurants.
Some examples
Take a look at Rakuten Travel Experiences
You may also be interested in