Umeda
(梅田) is an important business and commercial district, with large areas dedicated to shopping and entertainment, developed around the large station complex that includes Osaka Station and Umeda Station. The city of Osaka is generally portrayed as a city of two centers, one to the south (
Namba
), while the other is right Umeda, to the north of the city.
Umeda
last update: April 11, 2022
Umeda
(梅田) is an important business and commercial district, with large areas dedicated to shopping and entertainment, developed around the large station complex that includes Osaka Station and Umeda Station. The city of Osaka is generally portrayed as a city with two city centers, one to the south (
Namba
), the other just Umeda, to the north of the city.
Things to do and things to see in Umeda
Shopping, or just window shopping and exploring the neighborhood's mammoth shops and malls are the main things to do in Umeda. Umeda is also a neighborhood full of opportunities to have fun and spend the evening, with the
HEP Five
center and its Ferris wheel, thousands of restaurants, karaoke, izakaya and more. There is something for all tastes: from modern restaurants in the many shopping centers, to classy pubs and restaurants in the
Kitashinchi
area, but also pachinko, izakaya and restaurants with a warmer atmosphere and no frills alonge some covered arcades like
Hankyu Higashidori
(sometimes called Estreet) and
Tenjinbashisuji
. Finally, in this area there is the
Umeda Sky Building
, a skyscraper with a futuristic architecture that houses various interesting things inside, including the most famous panoramic observatory in the city on the top floors.
Osaka Station City
Osaka Station City is the result of the massive redevelopment of the city's main station, completed in 2011. The station's new design is mind-blowing, especially its giant glass roof over the railway tracks. In addition to being an important station, the station building is also a multipurpose center for shopping, dining and leisure. A tour inside this station is definitely worth doing if you are in Umeda. If the day is nice, you can also go in search of one of the different roof gardens of the building.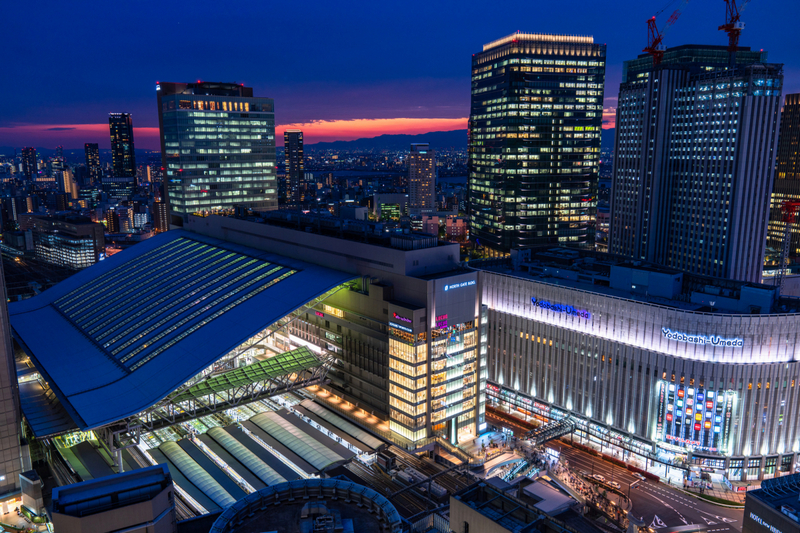 Osaka Station from above
Department stores and shopping centers
Using Osaka Station as a reference point, after taking the north exit of the station we find the LUCUA department store inside the station. Just opposite is the Grand Front Osaka complex and, next door, a large branch of Yodobashi Camera (electronics chain) and the Links Umeda shopping center. Taking the south exit, we find the Daimaru department store (inside which you will find the only Pokemon Center shop in Osaka), also incorporated in the mega building of the railway station. From this side, a few minutes' walk away, you can reach the Hanshin department store and the shopping center of luxury fashion brands Herbis Plaza (Bulgari, Gucci, Louis Vuitton, Tiffany, and many other brands with unapproachable prices for many of us). And again, between Osaka Station and the other large station in the district, Osaka-Umeda Station, you will find the Hankyu department store and HEP Five. The Osaka main branches of Maruzen Junkudo and Kinokuniya, Japan's two largest bookstore chains, are also located in this area. Finally, a vast network of interconnected underground shopping centers extends beneath the streets of Umeda, housing hundreds of other shops and restaurants of all kinds besides those outside. For those who are not from Osaka, it is a real underground labyrinth where it is not easy to find your way around.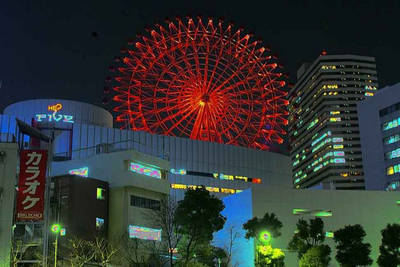 Hankyu Entertainment Park (HEP)
Hankyu Entertainment Park is a large shopping and entertainment complex between the area's two major stations. The complex is divided into two buildings. The HEP Navio building houses a large cinema (Toho Cinemas), and about twenty restaurants between the 6th and 7th floors. Next door, the HEP Five building is a large shopping mall with all kinds of shops and a Namco game center (11:00-22:30) between the 8th and 9th floors. Furthermore, in the very middle of the building stands a large red Ferris wheel (11:00-22:45), 105 meters high and landmark of the neighborhood. A ride costs 600¥.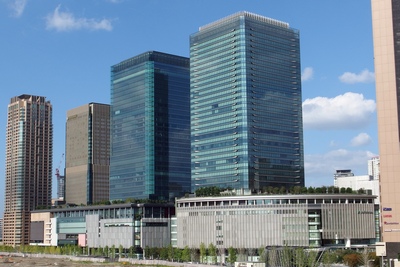 Grand Front Osaka
Grand Front Osaka is a large shopping complex north of JR Osaka station, opened in 2013. It consists of two main buildings (South Building and North Building) with a wide variety of shops and restaurants inside, and various other things. The complex also includes four skyscrapers, one of which houses the InterContinental Hotel Osaka. Elevated walkways connect the buildings of Grand Front Osaka to each other and to Osaka Station. The South Building is the first building you see coming from the station. It mainly houses fashion and furniture shops on the first six floors, and restaurants on the next three floors. In front of the north exit of the station, between it and the South Building, there is a modern square (Umekita Plaza) where you can relax sitting on the benches. In winter, an ice skating rink is set up here. The North Building's main attraction is the Knowledge Capital, a very particular place where to find a whole series of showrooms and flagship stores of different companies, with cutting-edge services that you will hardly find elsewhere. An example to better explain: on the third floor you will find the Asics Store Osaka, one of the largest Asics stores in the world, which offers a 3D foot and foot movement analysis service during running, to identify the most suitable shoe model for each of us. You will find this level of things in each of the shops featured here (complete list of shops and showrooms). The Cafe Lab on the ground floor offers free tablets to customers on which to consult a large collection of ebooks and digital magazines. Finally, if you visit the Grand Front Osaka it is also worth taking a look at its rooftop gardens of the two main buildings, where you can relax in a quiet corner of green nature surrounded by the disruptive modernity of what lies around.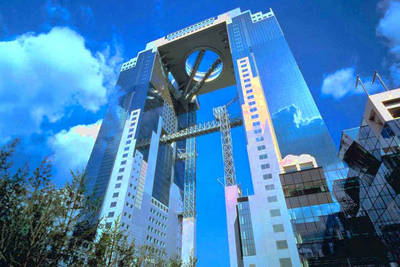 Umeda Sky building
The Umeda Sky Building is a highly sophisticated skyscraper, completed in 1993 and designed by Hiroshi Hara. It is one of the landmarks of Osaka and is about 10 minutes walk from Osaka Station. The entire structure is actually composed of two towers (East Tower and West Tower), 173 meters high and 40 floors, connected to each other on the top floors with by an escalator, and in the center of the towers by a horizontal bridge. On the top of the two towers lies a kind of circular atrium, as if it were a hat with a hole, which is today one of the most futuristic panoramic observatories in Japan and in the world. It's worth taking a trip just to see this one-of-a-kind example of contemporary architecture, and at the base of the building there is a nice urban garden too. Inside the towers you can do several things:
The arthouse cinema known as Cine Libre (website, located on the 3rd floor of the East Tower, which in its four screens shows a wide range of both Japanese and foreign independent films. Foreign films are always shown in their original language with subtitles.
The Takimi Koji Retro Street, an area with about twenty restaurants in the basement (B1) of the Sky Building, designed to resemble the streets of Osaka in the Showa era of the early and mid-20th century. Here they serve everything from local dishes like okonomiyaki and takoyaki, to more international dishes. Even if you eventually decide to eat elsewhere, if you've just visited the observation deck you can take a quick trip back in time by going down to floor B1.
A panoramic bar (Sky Lounge Stardust) and a panoramic Chinese restaurant (Sangu) on the 39th floor of the East Tower.
The Koji Kinutani Tenku Art museum, on the 27th floor of the West Tower (see below).
The observation deck known as Kuchu Teien at the top of the building, one of the most famous attractions of the city of Osaka. To reach it, you must first take the elevator to the 35th floor of the East Tower (see below).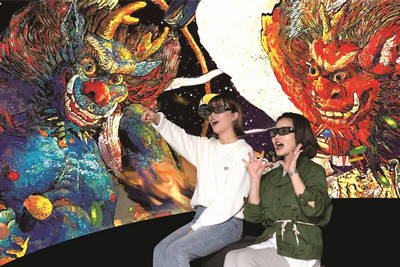 Koji Kinutani Tenku Art museum
(admission 1000¥, opening hours 10:00-18:00, until 20 on weekends)
This one-of-a-kind museum exhibits the works of artist Koji Kinutani, and has a great goal: to inspire the hopes and dreams of visitors. Once you enter, you will be given a pair of 3D glasses. In addition to the artist's frescoes made with the classic mural technique, you will find many works that, when viewed through glasses, will give you an even more engaging experience. The artist's idea is in fact to let visitors enter the images. Inside there is also a quiet café with a panoramic view of the city. A combined ticket (2000¥) includes a visit to the museum and the observation deck.
Kuchu Teien observation deck
(admission 1500¥, opening hours 9:30-22:30)
Getting to the Kuchu Teien Observatory, in English Floating Garden, is an interesting experience in itself, recommended even if in the end you will not climb to the top. You must first go up to the 35th floor of the East Tower, taking the elevator from the third floor. This lift is glazed, so you can immediately enjoy a first breathtaking panoramic view for free. From the 35th floor you have to take the highest escalators in the world, which are also glazed. These, suspended in the air, will transport you to the 39th floor of the West Tower opposite. Here you will finally find the ticket office to go up to the paid observatory, as well as a souvenir shop, a bar and a restaurant. The observatory is divided into two floors. An indoor first floor (the 40th floor), with a 360 degree view, several tables and armchairs to relax in, and a café where you can buy snacks and drinks (Cafe Sky 40). Finally, you can go up to the outdoor terrace on the roof of the building. The view from up here is incredible, you can see the whole city and you don't hear any noise from below except that of the wind.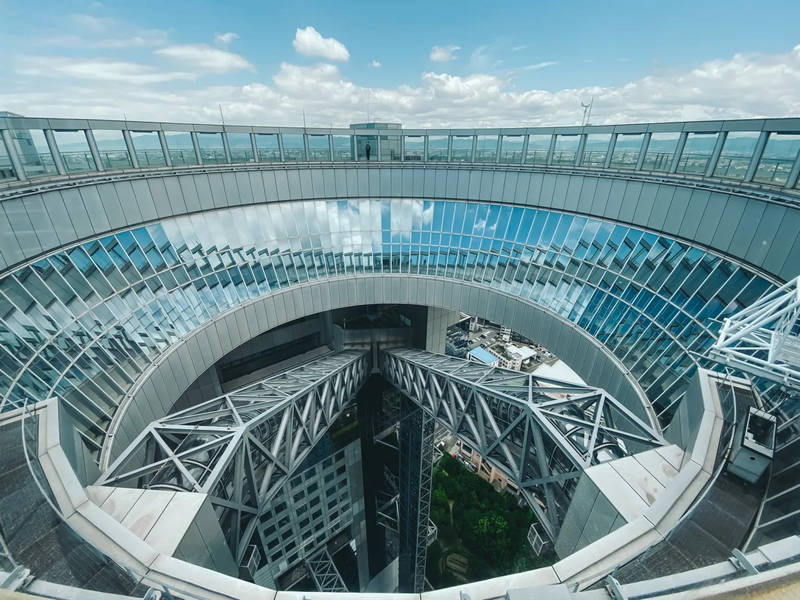 the escalators leading to the panoramic observatory of the Umeda Sky Building (credits)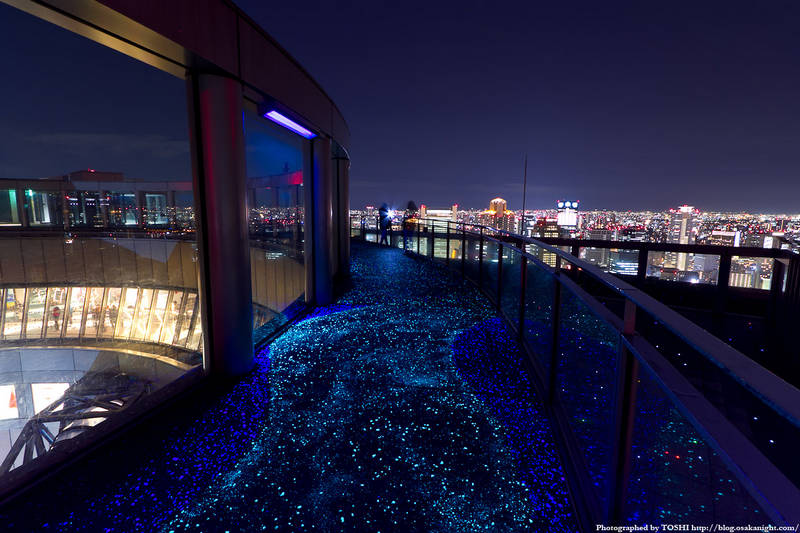 the outdoor observation deck on the roof of the building in the evening (credits)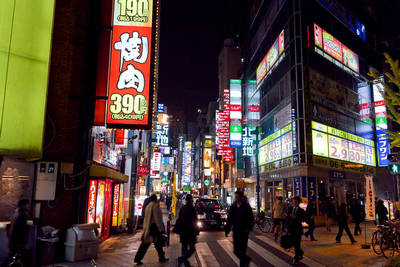 Kitashinchi
Kitashinchi is an area located about 500 meters south of Osaka Station. It is one of the most popular nightlife areas in the city, with hundreds of restaurants, pubs and nightclubs, mainly in the medium-high range. In principle it is not a red light area. The neighborhood comes to life in the evening and is popular with businessmen and white-collar workers from the nearby Umeda business center, who come there after work. The atmosphere is typically Japanese, with narrow streets lit by flashing neon signs and billboards.
Red light area
It is definitely not the largest red light area in Osaka, but in the narrow streets a few hundred meters east of Osaka Station, and south of Ogimachi Dori, you will find a number of hostess clubs and other more or less explicitly adult venues, and some love hotels.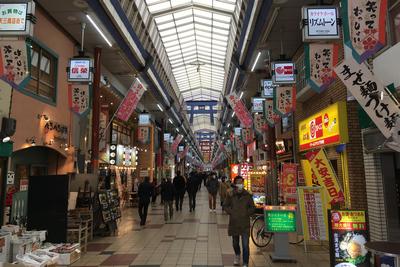 Umeda's shotengai: Hankyu Higashidori and Tenjinbashisuji
Umeda is at first glance a super modern neighborhood, but it is enough to walk a little east to meet several typical Japanese shopping arcades (shotengai), where you can find shops and restaurants of all kinds in a much less sophisticated atmosphere. Near Osaka Station and Osaka-Umeda Station, opposite the Hankyu department store, you will find Hankyu Higashidori. If you continue walking east for about a kilometer, you will get to Tenjinbashisuji, said to be the longest shotengai in Japan, nearly two kilometers and 800 shops.
Where to stay in Umeda
Umeda is full of business hotels and other hotels at low prices. It is one of the most recommended areas to stay, especially if you want to use Osaka as a starting point for visiting Kyoto as well. It is very easy to move between Osaka Station and Kyoto Station, almost as if they were two distant but well connected districts of the same large metropolis. Around Osaka Station there are also some large hotels in skyscrapers, with not too prohibitive prices. If you want to try this kind of experience, Osaka, and Umeda in particular, are one of the best places in Japan (hotels of the same standard would cost a lot more in Tokyo).
Recommended business hotels
Medium-high standard hotels
Love hotels
Particularly cheap accommodations
Guesthouse 888 per sole donne (600m da Osaka Station, posti letto 2,500¥)
Hotel Kansai (700m da Osaka Station, singole 2,500-4,000¥, doppie 4,000-6,000¥)
Ibis Budget Osaka Umeda (750m da Osaka Station, singole 4,000-5,000¥, doppie 5,000-6,000¥)
How to get to Umeda
This area is a very important railway hub of Japan, where there are two huge railway stations,
Osaka Station
(JR) and
Osaka-Umeda Station
(Hankyu Railways and Hanshin Railways). There are also several metro stations underground:
Umeda Station (Midosuji Line)
Nishi-Umeda Station (Yotsubashi Line)
Higashi-Umeda Station (Tanimachi Subway Line)
You can easily reach Umeda from anywhere in Osaka. From Namba, the other city center, you can take the Midosuji or Yotsubashi Line of the metro (8 minutes, 230¥). The area is also directly connected with various railway stations in Kyoto and Kobe, while the
Kansai Airport Rapid
service connects Osaka Station directly with Osaka's Kansai Airport. (1 hour and 15 minutes, 1210¥).
Map of Umeda, Osaka
Guided tours, activities and other things to do
If you are planning a trip to Japan and you want to do something more than just visiting famous places and monuments, we suggest you to use
Rakuten Travel Experiences
.
How to use Rakuten Travel Experiences
Rakuten Travel is a very useful website to
enrich your travel experience
, especially if you are going solo or it's your first time in Japan.
Because of the language barrier (and more), in Japan it is very difficult to interact with the locals and to get off the tourist track.
Thanks to Rakuten Travel you can find a lot of interesting and sometimes unique
guided tours and activities
all over Japan (and not only in Japan), that you would otherwise never be able to enjoy.
But there's more: on Rakuten Travel you can also
buy tickets
for several famous attractions, events, transportation and other useful services for tourists. Last but not least, you can
reserve a table
in hundreds of restaurants.
Some examples
Take a look at Rakuten Travel Experiences
You may also be interested in