Getting around by bus in Japan
Most convenient and easy to book companies in Japan
Despite the Japanese rail network is extensive and efficient, long-distance journeys by bus are still resisting despite the much higher duration of time travel, targeting mainly to the "low cost market". Travelling by bus is in fact
much more
convenient than by train or plane.
There are of course both daytime bus lines, and night bus lines.
For a tourist, I
advise against taking a daytime bus
, as you would lose a lot of hours on the bus, and during a holiday wasting time is not a very good idea. So I generally recommend to prefer the train to the bus if you want to move during the day.
As for the
night buses
, the benefits are
numerous
. Travelling by night bus means in fact to move around Japan almost
for free
.
Why?
If you decide to go to a certain place by night bus, you will have two different economic advantages:
1.
The cost of the ticket for a night bus is definitely lower compared to a shinkansen or other long-distance train, and the difference is usually considerable. A train ticket can cost up to three times the price of a night bus ticket for the same route.
2.
The night you have planned to take the night bus, you do not need to book any hotel because obviously you will spend the night on bus. So the price of the bus ticket is partially or fully "funded" by the money saved for the hotel.
In addition, you will also
save a lot of time
, since you will move during the time you usually use for sleeping, that otherwise would be "wasted". Trains and airplanes, even if they are very fast, they make you lose several hours of the day.
Example: travel from Tokyo to Osaka
Standard ticket for high-speed train Shinkansen
: 13,550 YEN (travel time: 3 hours)
Single room in a small business hotel
: 5,000-6,000 YEN
Standard seat ticket for Willer Express night bus
: 5,400 YEN
Best Japanese bus companies for tourists
There are many bus companies in Japan, but unfortunately most of them are difficult to be used by tourists who do not know Japanese, and also on the internet it is difficult to find information.
If you happen to know a little Japanese, you can try to take a look at these two portals to purchase tickets for various bus companies:
Highwaybus.com
or
J-bus.co.jp
.
If you do not know Japanese, I recommend you to directly choose one of these companies, which are also among the best ones:
the
Willer Express
(
the most foreign-friendly one
), the
JR
, or the
Keio
(only from/to Mount Fuji, Nagano, Takayama and a few other places).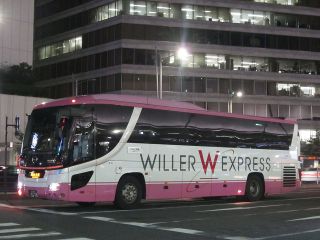 Willer Express
It is definitely the best bus company to get around Japan at low prices if you are foreign tourists.
By using
their website
, also available in English, it is practically possible to do everything, look for timetables, book and pay by credit card (or directly in Japan in conbini stores).
There are also detailed maps and descriptions about how to get to their bus stops in various cities,
don't overlook
this detail because their buses usually don't depart from the main bus stations, so finding the right stop could be a bit complicated.
This company also offers a valuable tool to visit Japan spending really little money, the
Japan Bus Pass
.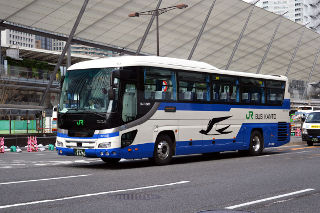 JR Bus
The JR (Japan Railways) also offers an extensive network of bus connections across the country through sub-companies by region (so there is the JR Kanto Bus, the JR Hokkaido Bus, the JR Chugoku Bus, etc..).
Unfortunately there are no websites in English on the internet for the consultation of timetables and fares, and neither for booking.
If you know a bit of Japanese, you can try to use the website
Kakuyasubus.jp
instead, a search and booking engine for all JR sub-companies.
Until some time ago, the
JR Kanto Bus
(Kanto is the region of Tokyo) had a website with some information in English that could be reached at
this web address
, which at the moment is no longer available. I decided to leave, however, this link, in the hope that by the time you read this page, the site will have been reactivated.
Finding information about and booking JR buses is thus possible
only while you are in Japan
. You can buy tickets at all major JR train stations, some of which sometimes offer information points for tourists with employees who speak English or other foreign languages.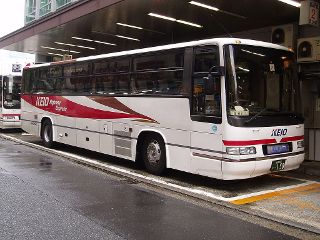 Keio Bus
This company offers various connections mainly from
Tokyo
to various places of Japan.
Using the English version of their
web site
you can make reservations for only a few lines: from
Tokyo
to
Nagano
,
Hakuba
and
Matsumoto
(
Nagano
area), to
Mount Fuji
and the nearby
FujiQ Highiland
theme park, and to
Takayama
, and from
Nagoya
to
Kanazawa
and
Takayama
.
You can not pay online, payment must be made at the departure station before boarding the bus.
Guided tours, activities and other things to do
If you are planning a trip to Japan and you want to do something more than just visiting famous places and monuments, we suggest you to use
Rakuten Travel Experiences
.
How to use Rakuten Travel Experiences
Rakuten Travel is a very useful website to
enrich your travel experience
, especially if you are going solo or it's your first time in Japan.
Because of the language barrier (and more), in Japan it is very difficult to interact with the locals and to get off the tourist track.
Thanks to Rakuten Travel you can find a lot of interesting and sometimes unique
guided tours and activities
all over Japan (and not only in Japan), that you would otherwise never be able to enjoy.
But there's more: on Rakuten Travel you can also
buy tickets
for several famous attractions, events, transportation and other useful services for tourists. Last but not least, you can
reserve a table
in hundreds of restaurants.
Some examples
Take a look at Rakuten Travel Experiences
You may also be interested in