SUICA, Pasmo, ICOCA prepaid IC cards
The IC prepaid cards are used to easily and quickly take any railway line and other means of public transport throughout Japan, without having to buy the ticket every time. There are many IC cards with this function all over Japan, and they are all more or less equivalent. The most common are the SUICA and Pasmo cards (sold in the Tokyo region) and the ICOCA card (sold in the Osaka and Kyoto region) . You can use any of these cards on public transport across the country. Having one of these cards is super recommended for anyone traveling in Japan for multiple days. In this article we will see how these prepaid cards like SUICA work and how to get one.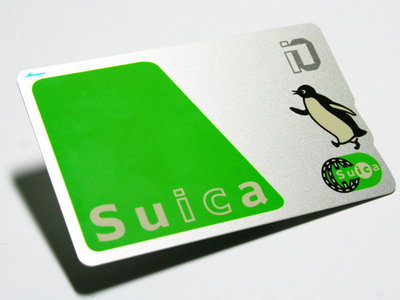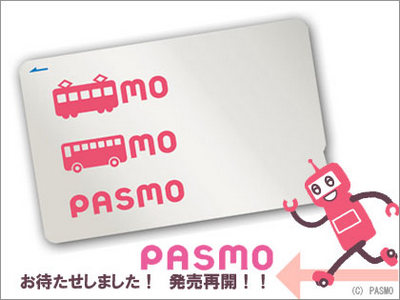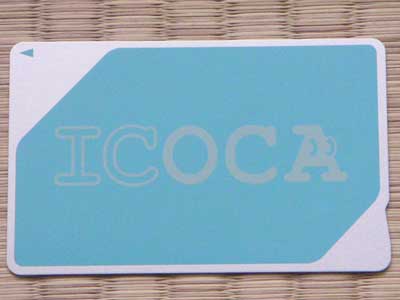 Differences among the various IC prepaid cards
Are SUICA, Pasmo, ICOCA cards equivalent to each other?
The situation has evolved a lot in recent years to the point that today there are basically no differences. The 10 most used cards in the country have become interchangeable and you can use them for any railway line and many other public transport services throughout Japan, there is no difference among the various regional prepaid IC cards.
There is only one geographical limitation: you can use any card in any region of Japan but only for routes whose first and last station are located within the same region. Example: you can use SUICA (issued in Tokyo) for a railway line in Kansai or Hiroshima or anywhere else, but not for example to travel between Tokyo-Osaka or Tokyo-Nagoya, because these routes would include mixed routes partially operated by JR East (the company that releases the SUICA) in the section near Tokyo and partially operated by JR West in the section near Osaka or JR Central in the section near Nagoya.
Which is the best prepaid IC card?
As you can see a few paragraphs below, there are many different prepaid cards in Japan, but if you are a tourist you will probably arrive at one of the three main airports in the country:
Tokyo Narita
,
Tokyo Haneda
or
Osaka Kansai
and there you will buy your first prepaid IC card. For this reason the cards usually bought by foreigners after landing in Japan are those cards issued in Tokyo and Osaka, that is the SUICA or Pasmo (Tokyo), and the ICOCA (Osaka). As already repeated several times, nowadays owning one or the other is
absolutely irrelevant
.
A practical guide to prepaid IC cards SUICA, Pasmo, and ICOCA
Where to buy SUICA, Pasmo or ICOCA cards
You can get your prepaid IC card from automatic machines (the same ones used to top up these cards) located anywhere in any train station and major international airports in the country, or
order it online and pick it up at a pick-up office upon arrival in Japan
. At each station you can only buy the card issued by the railway company operating at that station. In any case, as we have already said, one card is as good as another and if you arrive in Japan in Tokyo the easiest thing is to make a SUICA (in JR train stations or at the airport) or a Pasmo (in subway stations or at the airport). The vending machines are also in English. In addition, SUICA cards can be purchased at JR ticket offices and also at JR East Travel Service Centers located at Tokyo Main Stations and Narita and Haneda airports.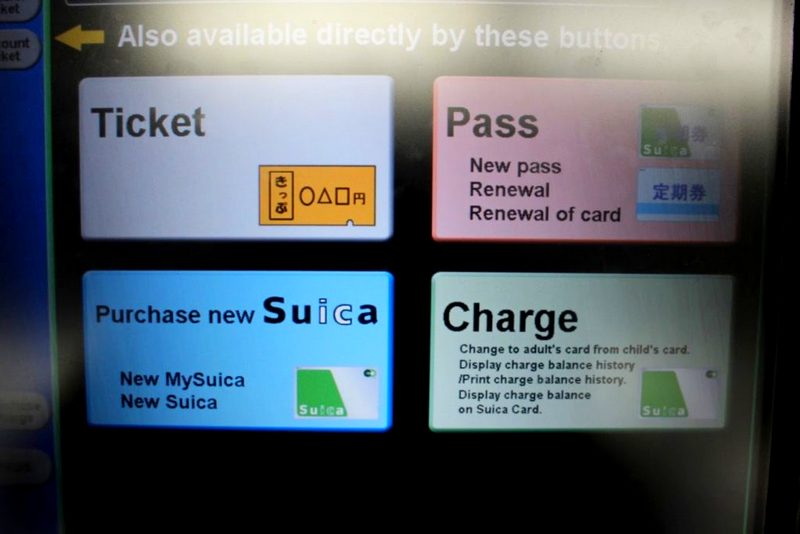 the screen of vending machines in JR stations where you can get a new SUICA card or top up your IC card (SUICA or any other)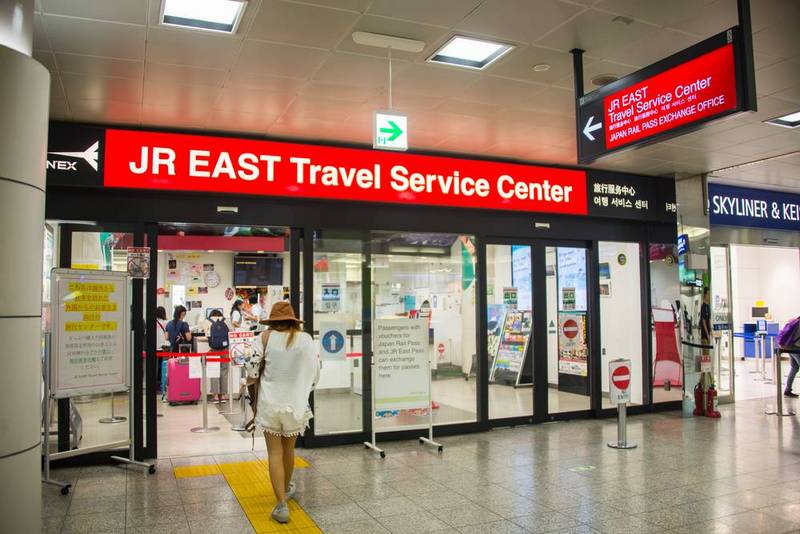 JR East Travel Service Center at Narita airport
Types of IC cards
If you are a tourist in Japan for no more than a few weeks, a regular SUICA or Pasmo card is just fine in any case. However, there are different types of cards that can be a good idea in some cases, such as tourist cards, personal cards, children's cards and especially digital cards.
Long-term cards and cards for foreign tourists
Standard SUICA and Pasmo cards are valid for life, and they only stop working if not used for 10 consecutive years. If you plan to return to Japan again in the future, or if you don't care about the 500¥ deposit to pay, you can opt for a standard card. Recently, both SUICA (
see here
) and PASMO (
see here
) have released special versions of their cards dedicated to tourists and valid only 28 days from the day of purchase. These cards can only be purchased at specific points of sale (including Narita and Haneda airports) and are called Welcome SUICA and Pasmo Passport respectively:
Welcome SUICA: The only difference with the standard SUICA, other than the duration of only 28 days and the more sophisticated design depicting cherry blossoms, is that when you buy this card you will not have to pay the 500¥ deposit required for the standard card and which would only be returned to you if you went to a dedicated JR office to return the card.
Pasmo Passport: this card is also valid for 28 days, but unlike the Welcome SUICA, you will still have to pay 500¥ at the time of purchase. This amount does not count as a deposit to be returned if you return the card, as this card is non-returnable. It counts as a real purchase price because it is a card with a particular design depicting Sanrio characters such as Hello Kitty, to take home as a sort of souvenir. In addition, there are a number of affiliated shops (not many actually) that offer discounts to the holders of this card.
Anonymous cards and personal cards
Anonymous standard cards: this is the most popular version among tourists and can be purchased the fastest. It does not require the insertion of any personal data.
Personal Cards: This version will have your first and last name printed on it. During the purchase, you will need to enter your name, surname, date of birth and gender. The advantage of this type of card is that, if it is lost, it will be possible to recover the remaining credit (by paying a commission, of 520¥ in the case of SUICA). This type of card is also used to purchase monthly passes on single routes.
Cards for adults and children
Children up to the age of 5 can generally travel on trains for free when accompanied by an adult. Each adult can accompany up to a maximum of two children for free. In this case, just use your SUICA card to open the gate. Any third child will have to pay the rate for children aged 6-11. In theory, the station staff could ask you to show documents to prove that the child's age is under 6, but this happens on rare occasions.
For children between the ages of 6 and 11, there is a dedicated version of the SUICA card and other prepaid cards that will automatically charge the child fares. Across the country, children in this age group pay half price on public transport.
Children aged 12 and over pay the full adult fare and will therefore need their own SUICA card or other equivalent card.
Physical and digital cards
In addition to the traditional physical cards, with the same shape and material as a credit card,
in recent years, digital versions of some of these cards have also been launched, to be used via smartphone
. With a digital card, just place the smartphone in the appropriate readers and the amount to be paid will be charged via NFC technology, the same used for contactless payments with Google Wallet and Apple Pay.
However, there are some complications for foreigners, especially if you use an android smartphone
. As for SUICA and Pasmo:
If you have an iPhone 8 or newer, you will be able to add a new or existing SUICA/Pasmo card to Apple Pay. This is actually a very convenient alternative, since you can set up a SUICA or Pasmo card on your smartphone whenever you want and find it ready for use upon arrival. Furthermore, you can top up your virtual card not only in cash, by placing your smartphone in the special machines in the stations, but also with credit cards (the physical card cannot in any way be top up with cards). However, the sore points come to this second aspect: problems are often reported in recharging SUICA or virtual Pasmo using cards issued abroad, it is not certain that the cards in your possession will work. Finally, in order for payments to go through, you will always need to have your smartphone connected to the internet while you are in Japan. To add a virtual card to your iPhone, just follow the instructions on the Apple website.
If you have an Android phone bought outside of Japan, you can just get mad and swear at Google. In the current situation, in the hope that sooner or later something will change, any android smartphone of any brand (even the Sony Xperia, a Japanese company) purchased outside Japan does not allow you to add SUICA and Pasmo cards to the Google Wallet app. In order for an Android smartphone to be able to manage a virtual SUICA/Pasmo, it must be compatible with Osaifu Keitai technology. To date (March 2023) we do not know that there are smartphones compatible with this technology on the market outside Japan, nor that there are any methods to force the system.
How much do SUICA, Pasmo, ICOCA cards cost
IC cards are usually free
. However, this does not mean that you can get them without spending a single yen. In fact, at the time of issue you will have to pay a certain initial amount which varies according to the card. For SUICA the minimum initial amount is 2000¥. For the Pasmo 1000¥. Almost all of this money goes directly to top up your new card,
while 500¥ are held as deposit
. The 500¥ will be returned to you only if you also return the card to the issuing company.
How to top up SUICA, Pasmo, ICOCA cards
After making one of these cards, you can top it up at the appropriate automatic machines dedicated to IC Cards, selecting the desired top up amount. You find this type of vending machine practically everywhere in any station. However, the machines only accept cash. To top up an IC card with a debit or credit card, you need to have a virtual SUICA or Pasmo in your Apple Pay app (iPhone) or Google Wallet (Android). For more info look above the section "Physical and digital cards".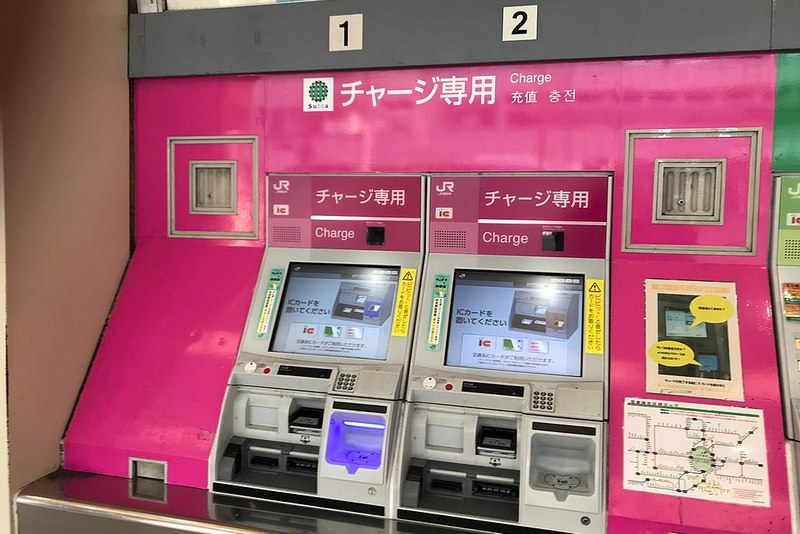 example of a machine where you can top up your prepaid IC card
How to use SUICA, Pasmo, ICOCA cards
How to take a train with an IC card
Place the card (or your smartphone if you have a virtual SUICA or Pasmo) on the reader in each turnstile, but do not insert it in the slot where you would insert normal tickets. The card must have residual credit equal to at least the minimum fare of the line or public transport service you want to access. Example: if you have 120¥ left and the cheapest route of all costs 130¥, you won't be able to go through the turnstiles. Once you arrive at your destination, you have to place your card or smartphone again on the reader at the exit turnstiles and you will be automatically charged for the amount corresponding to the route you have travelled. If you don't have enough credit, don't worry, you will always find at least one machine to top up your card near the exit turnstiles, or alternatively you can pay directly to the staff at each station.
How to take a bus or tram with an IC card
In Japanese city buses, you generally only get on through the back door and get off through the front door. This rule, which in principle also exists in other countries, is strictly observed in Japan. On bus and tram lines that allow the use of IC cards such as SUICA and Pasmo, you will find IC card readers next to the back and front doors. Place your card on the reader when you get on, and place it again when you get off. You will be charged automatically the amount corresponding to the route travelled.
How to check the remaining credit in your IC card
There are a few ways to do it:
When you pass the turnstiles in the stations, there are often small displays on the right that indicate for a few seconds the remaining amount on the card you have just used.
In automatic machines used for recharging IC cards, simply by inserting or placing your card in the space provided.
Through one of the many apps available in the app stores of both Android and Apple phones. Mind you, we are talking about the physical card, not the virtual one. Searching for "suica reader" in the apple store or play store you will find various apps (for example this) that allow you to read your physical IC card and view the remaining credit and the details (route and cost) of the last movements.
In the case of a virtual card, directly from your Apple Pay app or Google Wallet.
How to always have your IC card at hand and not lose it Going around Tokyo you will often notice locals passing the turnstiles at the stations by bringing their smartphone close to the reader. Someone is actually using a virtual SUICA or Pasmo, but not everyone. Among the Tokyoites, the custom of inserting one's IC card inside the smartphone case is widespread. In a special pocket if present or on the back, between the phone and the case, in the case of very basic cases. It's an easy technique to always have the card available and make sure you don't forget it (unless you forget or even lose your phone, which would be a much more serious problem!). List of major prepaid transportation card brands in Japan Interchangeable prepaid IC cards throughout Japan The 10 cards below are completely equivalent to each other in their usage. The only thing that changes is, as we have mentioned, the company that issues and manages these cards and therefore the place where you can buy them and some minor details that a tourist can ignore without problems.

SUICA

The JR EAST card, available at all JR stations in the Tokyo metropolitan area and in the Sendai and Niigata regions, including the international airports of

Tokyo Narita

and

Tokyo Haneda

.

Pasmo

Purchasable at non-JR stations (metro and private companies) in the Tokyo metropolitan area, including the international airports of

Tokyo Narita

and

Tokyo Haneda

ICOCA

The JR West card, available at all JR stations in Kansai and Chugoku regions (Osaka, Kobe, Kyoto, Hiroshima), including the international airport of

Osaka Kansai

.

Pitapa

Purchasable in non-JR stations of the Kansai region. The Pitapa is not a prepaid card but works differently, which is why foreign tourists usually don't buy it.

TOICA

The JR Central card, available at all JR stations in the Tokai region (Nagoya), including the international airport of

Nagoya Chubu Centrair

.

Manaca

Purchasable in non-JR and non-Kintetsu stations of the Nagoya metropolitan area.

KITACA

The JR Hokkaido card can be purchased at all stations in the Sapporo metropolitan area.

SUGOCA

The JR Kyushu card can be purchased at all JR stations in Fukuoka, Kumamoto, Kagoshima, Oita and Nagasaki.

Nimoca

Available at all Nishitetsu stations in the Fukuoka metropolitan area and other locations in the Kyushu region.

Hayakaken

Available at all Fukuoka subway stations.

Non-interchangeable prepaid IC cards

Okika

This card is valid for part of public transport on the main island of the Okinawa archipelago and in the city of Naha. In particular, the Yui Rail and some bus lines.

The cards listed above do not work in Okinawa.

Other uses of prepaid cards SUICA, Pasmo, ICOCA, etc.

Lately the use of these cards has also been extended to other things, they can be used as real prepaid cards to pay in some

convenience stores

(konbini) and other affiliated shops,

vending machines

,

coin lockers

,

taxis

,

toll parkings

.

If this is possible you will find the logo of the card printed somewhere. The generic logo that you see here is increasingly common, to indicate compatibility with any of the 10 interchangeable cards throughout Japan.

FAQ on Suica, Pasmo, Icoca, etc. prepaid IC cards Which lines can I use with SUICA, Pasmo, ICOCA cards? Prepaid IC cards can now be used for all JR lines in Japan, for the subway in Tokyo, Osaka, Nagoya, Fukuoka, Sendai, Yokohama, etc., and for all private railway lines around Japan.
If you are just a tourist in Japan you can rest assured that you will be able to use your prepaid card in any railway line you will have to take.
The card also works with all the Tokyo and Kyoto city bus lines, for JR long distance buses, and for many other urban transport systems other than trains and subways, in different minor cities of Japan (such as the tram in Hiroshima). Where can I NOT use SUICA, Pasmo, ICOCA cards? There are still very few areas in the country where prepaid cards have not been integrated. The only worthy of note is maybe Okinawa, where you can use the public transport services only if you have a local prepaid card called Okica. It is likely that in the coming years there will be a 100% integration.
In general, you can never use a prepaid card on all those trains where there is an extra charge in addition to the basic fare. Some examples are the Green Cars (First Class) available on some local railway lines, those trains with reserved seats such as the limited express trains or express services for airports (Keisei Skyliner, Narita Express, etc.), the shinkansen (although recently it is possible to use the suica also for some shinkansen).
Finally, some remote prefectures of Japan and in particular some small stations in the countryside may not yet use IC Cards but only paper tickets (for example, the railway lines in the prefecture of Akita). Is it possible to get reimbursement of the money loaded on my SUICA, Pasmo, ICOCA? To get back the money you have loaded on your card you must necessarily return the card. When you return the card in one of the appropriate offices, you will get the 500 yen of deposit paid at the time of purchase plus any remaining balance.
In the case of Suica/Icoca and other JR cards, the reimbursement of any money left in the card involves the payment of a 220 yen commission. So, if you have 1000 yen left on your SUICA, you will get 500 yen (deposit refund) + 1000 yen (the money left) - 220 yen (commission) = 1280 yen. If the card has less than 220 yen, you can only get back 500 yen of deposit.
In the case of the Pasmo card there is no commission, and you will have back the entire deposit money and the remaining money in the card. I have a Suica and I want to spend all the money left before leaving Japan, how can I do it? The easiest way to spend all the money in your SUICA, Pasmo or ICOCA card is to buy something in one of the many convenience stores (konbini) that accept this payment method. Some of them will allow you to use all the remaining balance in the card and if necessary add something in cash to pay what you are buying. Do I save money by using these prepaid cards? Prepaid IC cards are not designed to save money, but only to save time.
Nevertheless, in April 2014 the government increased the consumption tax from 5% to 8%, and as a result all prices, including transport, increased by 3%. After this price increase, ticket prices have been rounded to the nearest 5 or 10 yen for single tickets, while prepaid cards still round fares up to one yen.
Thus, for example, a route that costs 200 yen, from April 2014 has undergone a 3% increase. 200 + 3% = 206 yen. If you pay using the prepaid card you will pay that route 206 yen, but by purchasing the single ticket you will pay 210 yen.
With the prepaid cards you can therefore have a saving ranging from 1 up to 9 yen, depending on the area and the route. Do prepaid cards SUICA, Pasmo, ICOCA have an expiration date? No, they haven't, but cards stop working automatically if they are not used for 10 years. Guided tours, activities and other things to do If you are planning a trip to Japan and you want to do something more than just visiting famous places and monuments, we suggest you to use Rakuten Travel Experiences. How to use Rakuten Travel Experiences Rakuten Travel is a very useful website to enrich your travel experience, especially if you are going solo or it's your first time in Japan.
Because of the language barrier (and more), in Japan it is very difficult to interact with the locals and to get off the tourist track.
Thanks to Rakuten Travel you can find a lot of interesting and sometimes unique guided tours and activities all over Japan (and not only in Japan), that you would otherwise never be able to enjoy.
But there's more: on Rakuten Travel you can also buy tickets for several famous attractions, events, transportation and other useful services for tourists. Last but not least, you can reserve a table in hundreds of restaurants. Some examples Take a look at Rakuten Travel Experiences You may also be interested in