Sannomiya / Central Kobe
last update: November 13, 2020
The heart of Kobe is Kobe Sannomiya station, transportation hub of the city. A large commercial area stretches around this station.
Things to do and things to see in Sannomiya
Kobe Sannomiya station is the ideal starting point for visiting the city of Kobe. Exit from the north side to walk towards the mountains, or from the south side to walk towards the sea.
The north side of Sannomiya is full of bars, cafés and restaurants in the narrow streets near the station. By continuing to walk north, the area becomes very quiet and at a certain point you begin to climb the slopes of the mountains: it is the district of
Kitano
, the area where western merchants and diplomats once settled.
The south side of the station is the most lively. The commercial area extends eastwards to Motomachi and JR Kobe stations through a long series of covered shopping galleries.
Main shopping arcades
A few meters outside Sannomiya station, opposite the
Hankyu department store
, there is the entrance to
Sannomiya Center Gai
, an arcade, about 600 meters long, and one of the main shopping streets of Kobe, which connects the area of Sannomiya station with Motomachi station and the nearby
Chinatown
. In the area of Motomachi station you will also find the elegant
Daimaru department store
and the entrance to
Kobe Motomachi Shopping Street
, another long covered shopping arcade up to Nishi-Motomachi station.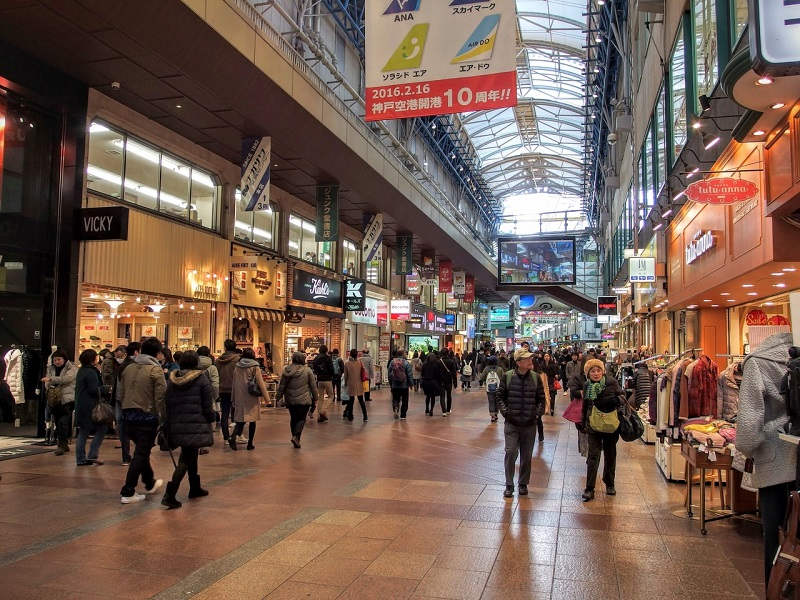 Sannomiya Center Gai
Shops under the railroad tracks
Furthermore, starting from Sannomiya station up to Kobe station, under the tracks of the elevated railway, there is a net of long and narrow covered arcades, full of small shops.
The first part is called
Piazza Kobe
and is located under the tracks between Sannomiya and Motomachi stations. This stretch is full of clothing stores and also some small eateries. It is a much more easy-going area than the main shopping galleries. Here shops are low-priced and frequented almost exclusively by locals.
Moreover, under the tracks between Motomachi and Kobe station, there is
Motoko Town
. This area has a somewhat
spooky atmosphere
. Born as a black market in the post-war period, today most of the shutters are lowered due to some uncertain renovation works. To date, only a few second-hand stuff shops survive, we don't know if Motoko Town will ever come back to life.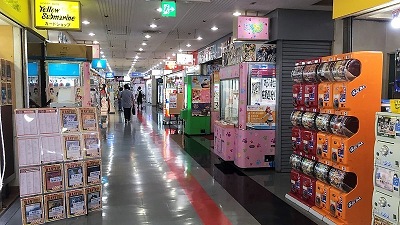 Sun Center Plaza
San Center Plaza is a large shopping mall with more than 500 shops 5 minutes walk from Sannomiya station, very close to Center Gai. The center is divided into three areas, "San Plaza", "Center Plaza" and "Center Plaza West". The most interesting part are the
2nd and 3rd floors
of Center Plaza and Center Plaza West, where to find several shops related to anime, manga and videogames, gacha-gacha machines, and stuff like that, and for this reason nicknamed
the Akihabara of Kobe
.
Other attractions within walking distance from Sannomiya
Ikuta Shrine
A Shinto shrine just 300 meters north of Sannomiya station. It is believed to be one of the oldest shrines in the country, founded by Empress Jingu in the early 3rd century AD.
There is also a small pond with ducks to the left of the main building. The traditional atmosphere of Japan that reigns around this shrine is surreal compared to the frenzy atmosphere of the nearby shopping district of Sannomiya.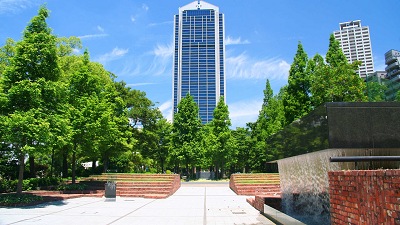 Kobe East Park (Higashi Yūenchi)
Kobe East Park is located opposite Kobe City Hall. It was first opened as a park for foreign residents in 1875. In this regard, you will find a curious monument reminiscent of the first bowling alley in Japan. Today it is one of the most elegant parks in the city, with numerous sculptures, fountains and some monuments commemorating the violent earthquake that hit the city in 1995. Several important city events take place in this park, including the Kobe Festival, the Kobe Luminarie and the commemorative ceremonies of the 1995 earthquake.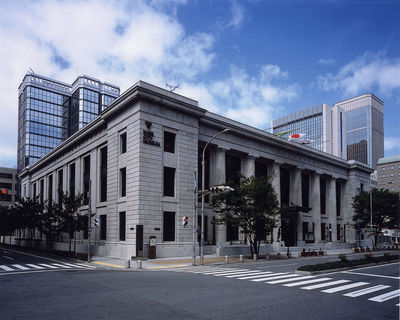 Kobe City Museum
(admission 500&yen, opening hours 10-17, until 19 on friday, closed on mondays)
A museum opened in 1982 inside a building with western neoclassical architecture, built in 1935. It is located about 750 meters south of Sannomiya station.
It houses a collection of ancient archaeological finds and a section dedicated to the history of Japan in its relationship with the rest of the world.
They have one of the largest collections in the world of Namban Art, a 16th century Japanese art influenced by contacts with foreign merchants and missionaries who began arriving in the country at that time.
At this link the official museum brochure (in English).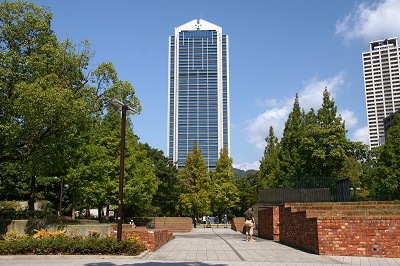 Kobe City Hall
(free admission, opening hours 8:15-22:00, from 10 on weekends)
A 132-meter high skyscraper that houses the city hall, located about 800 meters south of Sannomiya station.
On the 24th floor of this building there is a free observation deck. You will be able to enjoy the view from all four sides. Here you will also find information on the films shot in the city, on the twin cities, and other curiosities about Kobe.
There is also a cafe serving pasta, curry and crepes (UCC Cafe Comfort).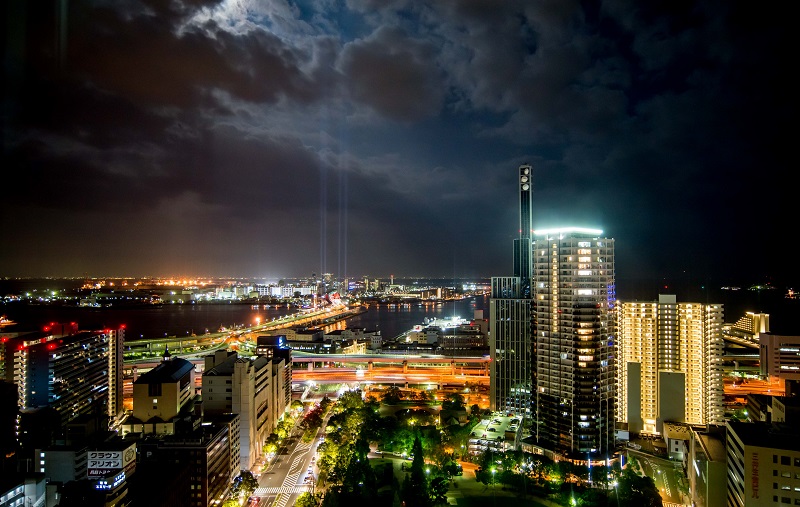 sea view (south side) from the 24th floor of the Kobe City Hall (credits)
Where to stay in Sannomiya, Kobe
Sleeping around Sannomiya station is the best choice you can make to easily visit Kobe. In this area you will not only have endless cafes, restaurants and shops to eat and spend time, but you can walk almost everywhere (Chinatown, Meriken Park, Kitano are just a few minutes walk away). Also, despite being the heart of the city, hotels in Sannomiya don't cost more than in other areas.
Business hotels
The area around Sannomiya station is full of business hotels that cost very little compared to other cities in Japan. You can take a look at:
Very cheap accommodation
Remarkably, in Kobe you can sleep in the city center even with 20 euros/dollars per night:
Kobe Capsule Hotel Seki, a typical Japanese capsule hotel, about 500 meters north of Sannomiya station, very clean and with separate floors for men and women; capsules from 2500¥ per night;
Minato Hutte, a hostel with bunk beds in a dormitory, also about 500 meters north of Sannomiya station, very peaceful atmosphere; on the ground floor there is a bar which is a fantastic place to make friends with locals or other guests; bunk beds from 2300¥ per night;
Hostel Anchorage, a hostel with capsule-style beds and a large common room with kitchen; it is 400 meters from Chinatown and 800 meters from Meriken Park; the nearest station is Hanakuma but Sannomiya is also not far away (15 minutes); in addition to bunk beds, they also have private rooms with shared bathroom; bunk beds from 2200¥ per night, single rooms from 3000¥ per night;
More luxurious accommodation
The
Candeo Hotels Kobe Tor Road
is a very modern building, recently inaugurated, in the heart of Kobe, between the stations of Sannomiya and Motomachi, a few meters from Center Gai and a few minutes from Chinatown. The rooms are are japanese standard size, however they're really well-furnished and equipped with all comforts. The strengths of this hotel are the extremely elegant hall and breakfast room on the 13th floor and the panoramic SPA on the 14th floor, with an open-air bath, open to all guests. Single rooms from
9000¥
per night, doubles from
9500¥
per night;
How to get to Sannomiya, Kobe
Sannomiya
is the main transportation hub of the city of Kobe. From here you can easily reach, via local trains,
Osaka
(40 minutes), Kobe airport (24 minutes), Osaka airports,
Himeji
(60 minutes).
In total, there are six stations in the Sannomiya area, belonging to several companies. Some stations are simply called "Sannomiya" and others are called "Kobe-Sannomiya". But the area is always the same and they are all very close to each other:
JR Sannomiya station (JR lines)
Hankyu Kobe-Sannomiya station (Hankyu lines)
Hanshin Kobe-Sannomiya station (Hanshin lines)
Sannomiya station (Kobe Port liner to the airport)
Sannomiya station (Seishin-Yamate line of the subway)
Sannomiya-Hanadokeimae station (Kaigan line of the subway)
Shinkansen high-speed trains do not stop in Sannomiya, but in
Shin-Kobe station
, 3 minutes by metro or 20 minutes on foot (to the north).
Map of Sannomiya, Kobe
Guided tours, activities and other things to do
If you are planning a trip to Japan and you want to do something more than just visiting famous places and monuments, we suggest you to use
Rakuten Travel Experiences
.
How to use Rakuten Travel Experiences
Rakuten Travel is a very useful website to
enrich your travel experience
, especially if you are going solo or it's your first time in Japan.
Because of the language barrier (and more), in Japan it is very difficult to interact with the locals and to get off the tourist track.
Thanks to Rakuten Travel you can find a lot of interesting and sometimes unique
guided tours and activities
all over Japan (and not only in Japan), that you would otherwise never be able to enjoy.
But there's more: on Rakuten Travel you can also
buy tickets
for several famous attractions, events, transportation and other useful services for tourists. Last but not least, you can
reserve a table
in hundreds of restaurants.
Some examples
Take a look at Rakuten Travel Experiences
You may also be interested in