Mount Rokko, Kobe
last update: November 13, 2020
Mount Rokko (六甲山, Rokkōsan), despite its misleading name, is actually a group of mountains, about fifty kilometers long, behind the city of Kobe, with a maximum height of 931 meters. Today there are several tourist attractions on these mountains, including one of the three most beautiful night views of Japan.
Things to see and things to do on Mount Rokko
First of all, although the name "Mount Rokko" suggests the idea of a single mountain, this name indicates a vast mountainous area.
Three different cable cars/ropeways
connect different areas of these mountains with different areas of Kobe, and a fourth ropeway brings to
Arima Onsen
.
However, the term "Monte Rokko" is often used to refer to a particular area, namely that connected by the so-called
Rokko cable car
. In this area there is also the highest peak of these mountains, called
Rokkōsan-Saikōhō
(literally, "the highest peak of the Rokkō mountains").
Panoramic views
In Japan there is a sort of official list of the "
three most famous night views of Japan
" (日本 三大 夜景, Nihon Sandai Yakei). The view from the Rokko mountains is one of them. From there you have a wide view of the whole Hanshin region (Osaka and Kobe), highly urbanized and therefore also highly illuminated, plus the sea of the Akaishi Strait and Osaka Bay, sometimes even the artificial island of Osaka Kansai airport.
You can enjoy the view from different places on these mountains. In particular, the most famous places are
Tenrandai
,
Kikuseidai
,
Rokko Garden Terrace
and
Shidare Observatory
. More details in the rest of the page.

Ropeways and cable cars to climb the Rokko mountains
Let's now discover, one by one, the ropeways and cable cars that go up to the Rokko mountains.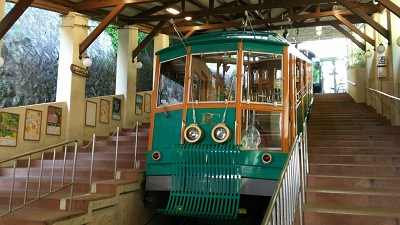 Rokko Cable car and Rokkosan Tenrandai observatory
The Rokko Cable car, opened in 1932, is a fascinating old-style line with two-car convoys, open on the two sides. It takes 10 minutes to get to the top. The arrival station (Rokko Sanjo station) is located next to a famous panoramic point called Tenrandai. In 1981 the Emperor of Japan Hirohito visited this place, fueling its fame. Here you will also find a romantic cafe (Tenran Cafe), very popular among local couples.
This station is also connected by bus to Mount Maya and also to all the attractions nearby (this is the area often vaguely called "Mount Rokko").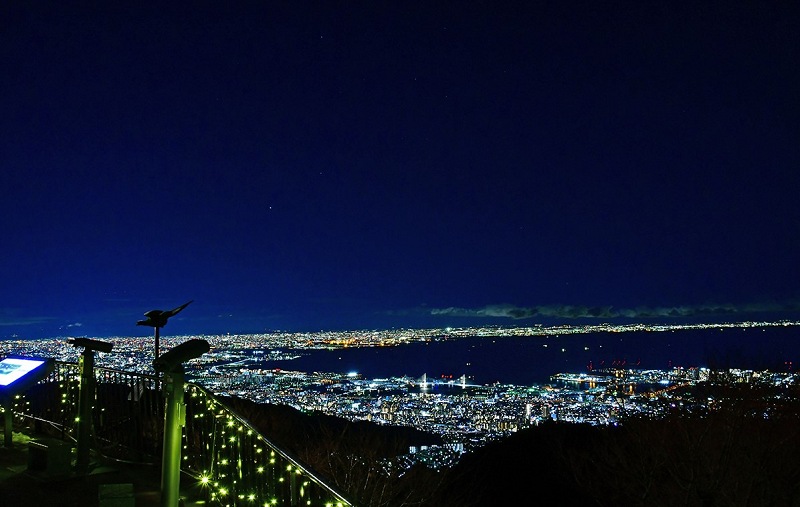 the night view from Rokko Tenrandai
Rokko-Arima Ropeway
A further cable car connects the station of
Rokko Sancho
(connected by bus with Rokko Sanjo station) with the spa town of
Arima Onsen
, a small haven of tranquility on the other side of the mountains surrounding the city of Kobe.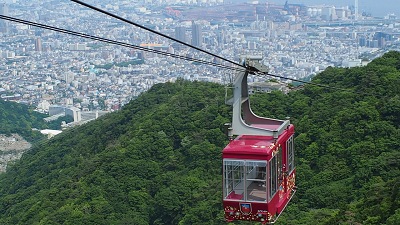 Maya Cablecar / Maya Ropeway and Kikuseidai observatory
Through this route you can reach, in about 15 minutes, the summit of Mount Maya (690 meters above sea level).
A first section is covered by a cable car (Maya Cable car), then you get off and after a few meters on foot you get on a ropeway (Maya Ropeway).
Once you reach the top you can enjoy the view from Kikuseidai, one of the two best places to see the famous night view of the endless metropolitan area of Kobe and Osaka, nicknamed 10 million dollars view.
Besides the view there is not much else nearby. You could walk up to Mayasan Tenjoji Temple or take a bus to the other famous peak (Rokko Tenrandai).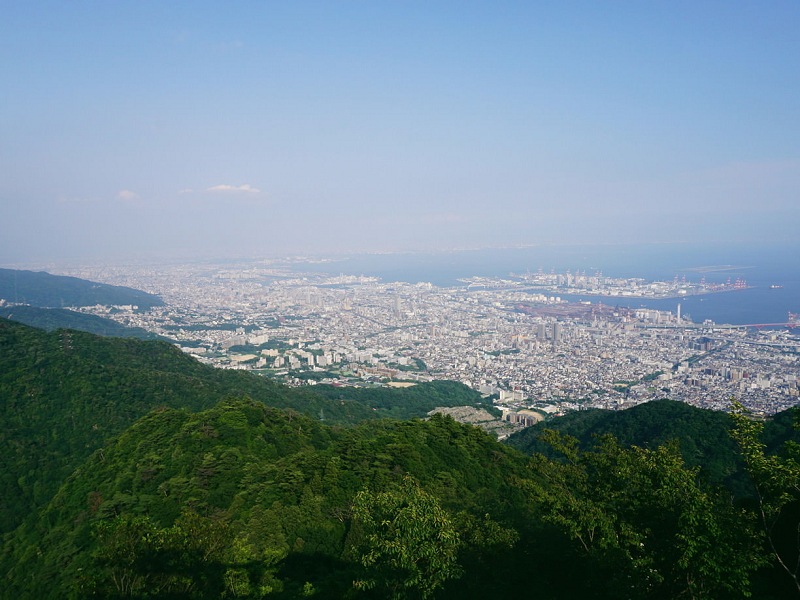 daytime view from Rokko Kikuseidai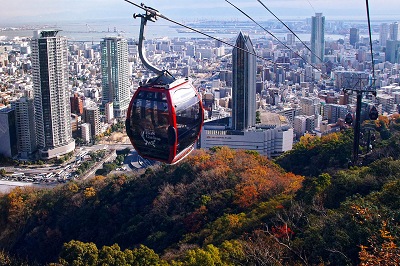 Shin-kobe ropeway
(Hours and fees)
The starting point of this ropeway is located near Shin-Kobe station. While going up, you can see the Nunobiki Waterfalls from above. On the top, you will find a panoramic terrace, a cafe, a restaurant, and the Nunobiki Herb Garden.
From here the panoramic view is nothing extraordinary. If you want to see one of the three most beautiful views of Japan, you must take one of the other two cable cars. An interesting thing to do in this area, if you like hiking, is to get to the ropeway's top station on foot. There are several hiking trails that let you have a very close look of several waterfalls. From Shin-Kobe station to the Nunobiki Waterfalls it takes about 20 minutes. You'll need 20 more minutes to get to the lower entrance to the Nunobiki Herb Garden. From there you can reach the top by walking inside the gardens or by taking an alternative trail for another 30 minutes.
Nunobiki Waterfalls
The Nunobiki Waterfalls are a group of different waterfalls located here and there along the hiking trails between Shin Kobe station and Nunobiki Herb Garden. In total, there are four waterfalls: Mendaki, Ondaki, Tsusumigadaki and Izumoki.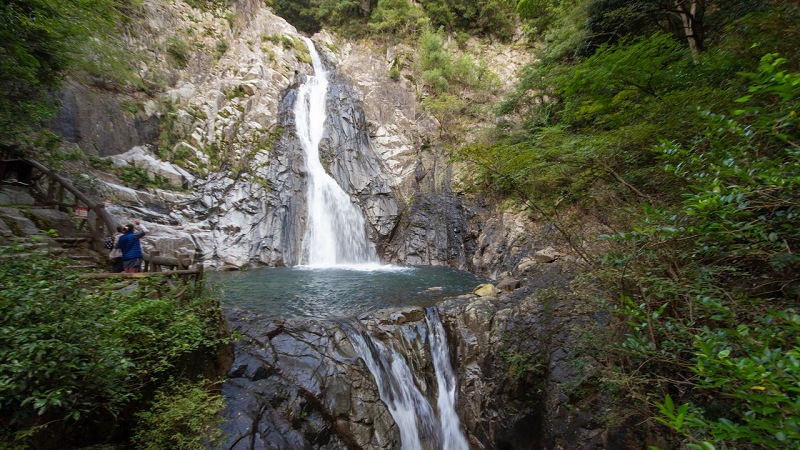 one of the Nunobiki Waterfalls
Nunobiki Herb Garden
(opening hours 10-17, until 20:30 in summer and on weekends in spring and autumn)
They are the largest herb gardens in Japan, with around 75,000 herbs and flowers of around 200 species that bloom throughout the year. The park is built on the slopes of the mountain, and from inside the park it is often possible to enjoy the panorama of the city in the background.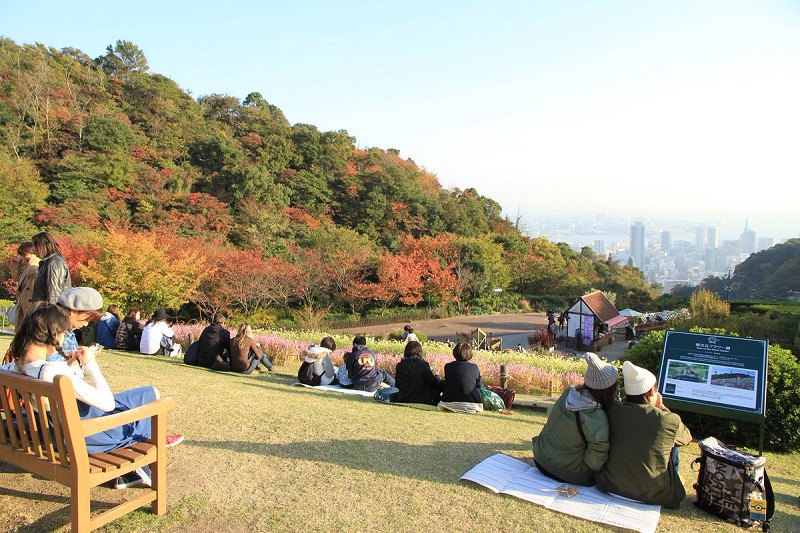 Nunobiki Herb Garden
Other tourist attractions
All these places of interest listed below are located in the Rokko Mountains, all within 2-3 km from Rokko Sanjo station of the Rokko Cablecar. You could get almost everywhere on foot but it is quite tiring. For the laziest, a circular bus line connects Rokko Sanjo station with all these attractions.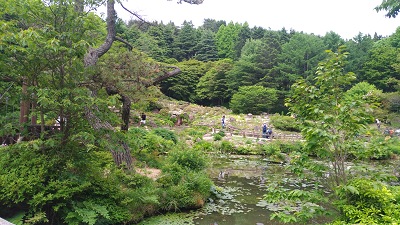 Rokko Alpine Botanical Garden
(admission 700 yen, opening hours 9-17, closed from December to February)
A botanical garden with about 1500 varieties of alpine plants from all over the world. The best times to visit this park are the months of April and November.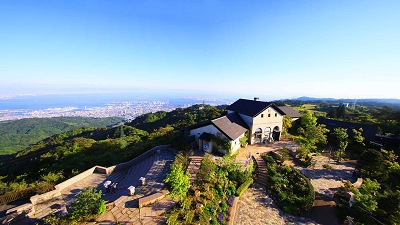 Rokko Garden Terrace
(opening hours of shops and restaurants 9-21)
A leisure place with some shops, restaurants, and several terraces on the mountain ridge, from which you can see the famous and spectacular panoramic view.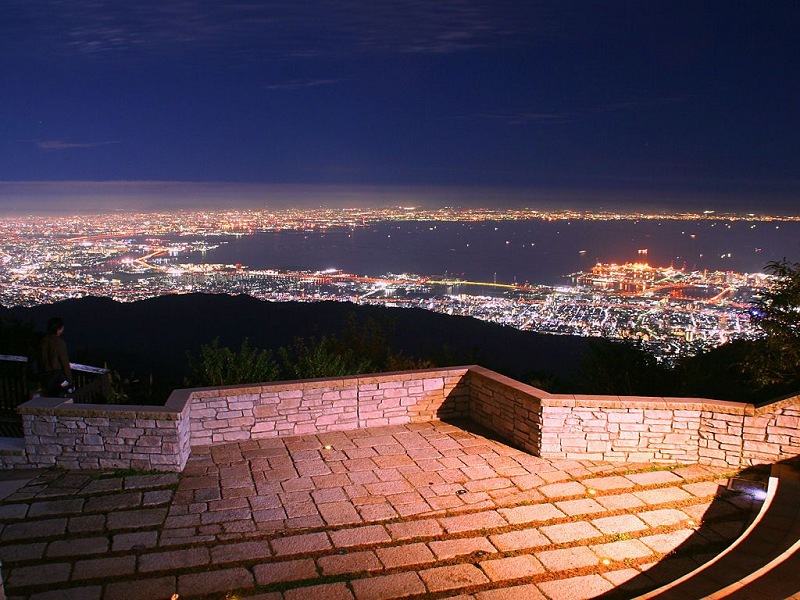 view from Rokko Garden Terrace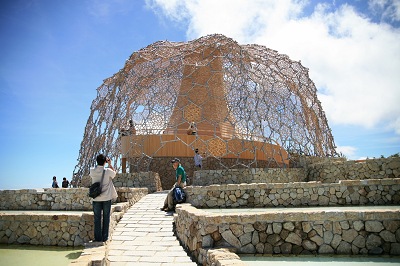 Rokko Shidare Observatory
(admission 310 yen, opening hours 10-20:30)
A particular architectural work made of Japanese cypress wood from Yoshino (Nara prefecture), designed by the famous architect Hiroshi Sanbuchi. The work is supposed to represent a sort of large tree and has a particular night lighting that varies with the seasons.
You can enter inside the structure, and also enjoy a view from a slightly higher position (there's a small entrance fee), or just observe the architecture from outside.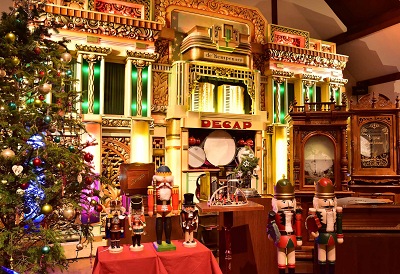 Rokko International Musical Box Museum
(admission 1030 yen, opening hours 10-17)
A fairly unique museum, with a large collection of ancient automatic musical instruments (carillon). Every half hour an interesting concert is held in this museum.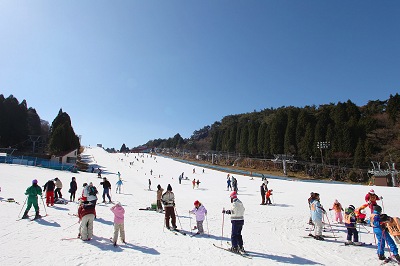 Rokko Snow Park
(open from mid-November to late March, more information and fees)
A small artificial skiing facility, the first artificial ski resort inaugurated in Japan in 1964. There are three short lifts, the longest ski slope is 260 meters long. It is a perfect place for those who are beginners with winter sports and want a place to practice safely, but also for those who cannot wait for the start of the winter season which is very limited in the Kansai region. On site you can rent all the snow equipment you need.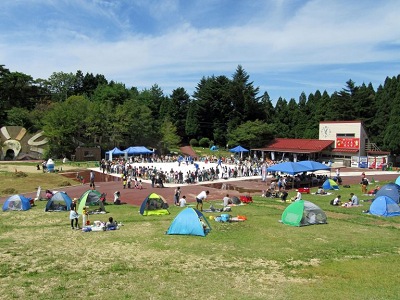 Rokkosan Country House
(opening hours 10-17, closed from December to March)
A huge leisure park in the heart of Mount Rokko National Park, which offers various activities for the whole family (barbecue area, mini golf, pedalo, trampoline, go-karting, others).
Where to stay on Mount Rokko, Kobe
There are not many accommodation options on these mountains. The location is also quite hard to reach without a car.
It is only worth mentioning the
Hotel de Maya
, located on
Mount Maya
about 700 meters from the arrival station of the
Maya Ropeway
and Kikuseidai. The hotel is surrounded by greenery, and some rooms offer a panoramic view. But don't expect the $10 million view, for that you have to walk 10 minutes. The
outdoor jacuzzi tub
is very exciting, with a sauna next to it to warm up immediately after getting out of the tub. Inside the hotel there are also public baths with large pools and a restaurant. If you decide to spend a night in this hotel we recommend booking dinner at the hotel restaurant because there is practically nothing else in the surrounding area.
Check the price on booking.com
.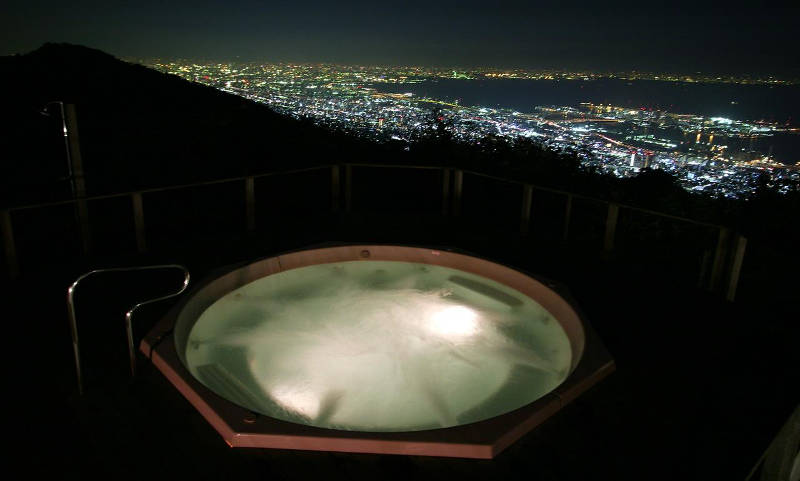 the jacuzzi tub at Hotel de Maya
How to climb Mount Rokko, Kobe
The three starting stations in the city of the cable cars that go up the mountains are located in different areas of the city. It is very easy to reach Mount Rokko even if you come from
Osaka
.
Shin-Kobe Ropeway
The lower station of the
Shin-kobe Ropeway
is just 5 minutes walk from JR Shin-Kobe station, just 1 km from the Sannomiya area. You can reach it on foot or in 2 minutes by train.
Check this page
for opening hours and fees.
Maya Cable car
The lower station of the
Maya Cable car
is located about 4 km from the railway station of
Sannomiya
. You can reach it through the city buses No.18 or No.2.
Alternatively, if you want to use the train, you can take the
Hankyu Kōbe Main Line
and get off at
Ōji-kōen
. From there, the cable car to Mount Maya is about a 15-minute walk away.
Check this page
for opening hours and fees.
Rokko Cable car
The lower station of the
Rokko Cable car
is the furthest from the city center, about 6 km from
Sannomiya
. First you must get to one of the following railway stations and then continue by bus or on foot:
Hankyu Rokko station by taking the Hankyu Kobe Main Line, 7 minutes from Hankyu Kobe-Sannomiya station and 30 minutes from Hankyu Osaka-Umeda station. This station is located about 2 km from the cable car station, and you can get there by the city bus No.6 or No.106.
JR Rokkomichi station by taking the JR Kobe Line, 6 minutes from JR Sannomiya station and 25 minutes from JR Osaka station. This station is located about 3 km from the cable car, and you can get there by the city bus No.6 or No.106.
Hanshin Mikage station by taking the Hanshin Kobe Line, 5 minutes from Hanshin Kobe-Sannomiya station and 28 minuti from Hanshin Osaka-Umeda station. This station is located about 4 km from the cable car, and you can get there by the city bus No.6.
Check this page
for opening hours and fees.
How to get around Mount Rokko
Two bus lines allow you to go around on the mountains once you go up via one of the cable cars. The
Rokko Sanjo Bus
connects the arrival station of the Rokko Cable car with many attractions in the area (
here you can find fees, timetables and other information
); the
Rokko-Maya sky shuttle bus
connects the arrival station of the Maya Ropeway and Kikuseidai with the arrival station of Rokko Cable car and Tenrandai.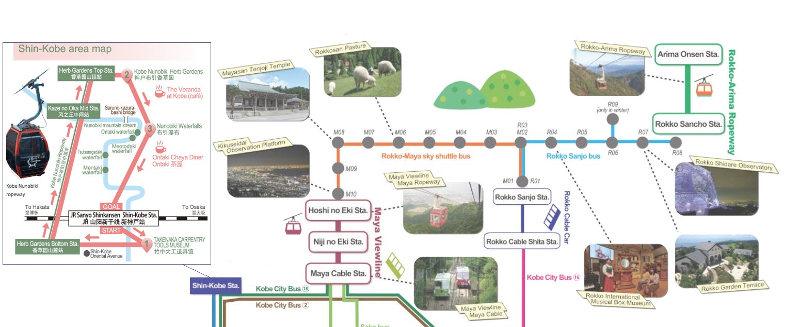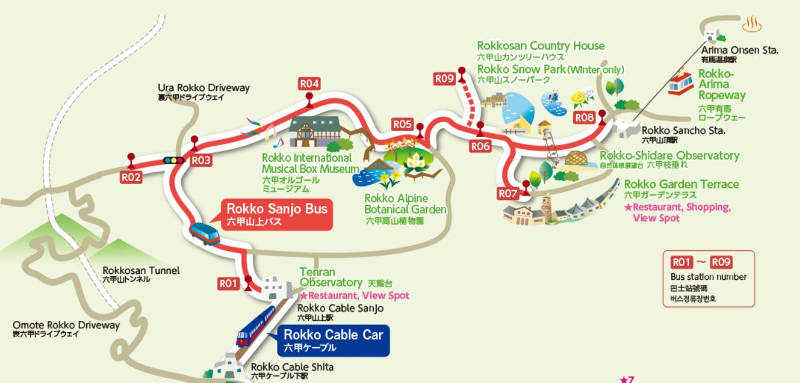 Rokkosan Tourist Pass
A cumulative ticket for tourists with a foreign passport only, which includes all transport to visit the area of Mount Rokko including unlimited use of the Rokko Sanjo Bus, and also several discount coupons for various attractions. This pass cannot be purchased at the departure station of the cable car but must be purchased in advance in Osaka or Sannomiya in some designated spots.
Further information here
.
Map of Mount Rokko, Kobe
Guided tours, activities and other things to do
If you are planning a trip to Japan and you want to do something more than just visiting famous places and monuments, we suggest you to use
Rakuten Travel Experiences
.
How to use Rakuten Travel Experiences
Rakuten Travel is a very useful website to
enrich your travel experience
, especially if you are going solo or it's your first time in Japan.
Because of the language barrier (and more), in Japan it is very difficult to interact with the locals and to get off the tourist track.
Thanks to Rakuten Travel you can find a lot of interesting and sometimes unique
guided tours and activities
all over Japan (and not only in Japan), that you would otherwise never be able to enjoy.
But there's more: on Rakuten Travel you can also
buy tickets
for several famous attractions, events, transportation and other useful services for tourists. Last but not least, you can
reserve a table
in hundreds of restaurants.
Some examples
Take a look at Rakuten Travel Experiences
You may also be interested in