Mobile phones in Japan
Do foreign mobile phones work in Japan?
You may come across some articles saying that some phones may not work in Japan, but actually
it hasn't been like that for a while
.
Now that everyone has the latest generation smartphones,
there is no longer this inconvenience
. Your device only needs to support 3G or 4G networks.
Where does this rumor come from?
Japan has been
one of the most advanced countries in the world
in the development of new technologies related to mobile phones. The country has been for years even
too far
compared to the rest of the world and this has ironically ended up penalizing Japanese companies in spreading their technologies. From this situation also a specific term was born, "
Galapagos effect
", which economists use to describe situations in which the evolution of a product follows a different path in a specific geographical area compared to the rest of the world.
Having said that, it will be easier to imagine why Japan was the first country in the world to completely dispose of its
GSM
(2G technology) networks, between 2008 and 2011, to move exclusively to new standard (3G and 4G). More than 10 years later, 2G networks in the US and Europe continue to be operational along with the new ones and no dismantling has yet been planned.
Conclusions:
if you still use an old
Nokia 3310
, here we are, this one for example no longer works in Japan. In general all
GSM only phones
(or GPRS, or EDGE), which therefore do not support 3G or 4G networks, do not work in Japan.
If you have a smartphone, it will work for sure in Japan
.
Japanese cell phones
Rent a Japanese phone
Renting a Japanese phone is today a solution rarely used by tourists, because replaced by cheaper and simpler services such as the rental of a
pocket wifi
or a
prepaid sim card
.
In any case, you can easily rent a Japanese mobile phone directly at the airport on the day of your arrival. In the arrivals area of the main international airports you will find several desks offering this service. Alternatively, you can rent a mobile phone online. One of the most reliable services is
the one provided by Softbank
.
Buy a Japanese smartphone
The smartphone market in Japan also includes several Japanese companies that are struggling to export in the rest of the world but that manage to have a market share in their home country. A trip to Japan could be an opportunity to buy a high quality smartphone that none of your friends has ever seen. We refer in particular to companies such as
Sharp
,
Kyocera
,
Fujitsu
, and
Panasonic
, besides
Sony
(the only Japanese company selling worldwide).
The most frequent way in which the Japanese buy mobile phones is to purchase packages that include both the device and a subscription plan with a quite long duration (1-2 years).
The result of this is that, if you just want to buy a smartphone, you will face two problems:
1)
be careful, for example in the case of used products, that the phone
is not locked
, that is usable with a single operator, because in this case it will not work with your foreign sim card;
2)
the price, if you don't want to subscribe to any plan, could be very high.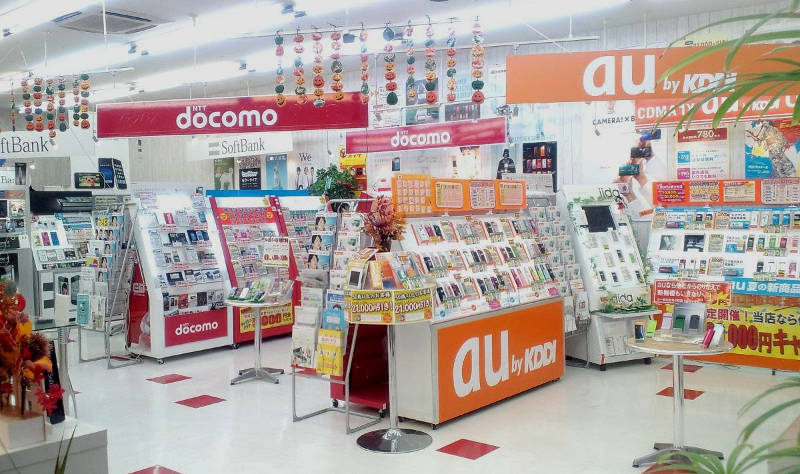 mobile phone department in a Japanese electronics store
Japanese sim cards
If from a strictly technological point of view Japan is one of the world leaders in the sector,
from another point of view the country is one of the most backward in the world
. We refer to the
market conditions
, and the resulting
prices
of smartphones, sim cards and rate plans.
The sector has long been dominated by three national companies (Docomo, NTT and Softbank), with very little competition and a price imposition that has meant that Japan is still
one of the most expensive countries in the world
for this type of services. Not only are the rates themselves very high, but also things like changing operator, tariff plan, or buying a new smartphone, are much more complicated and expensive in Japan than in many other countries.
SIM cards for residents
Almost no one uses prepaid sim cards. The mobile phone market is unique in Japan, the most common way to buy a sim card is with a
packages including a new phone plus the subscription of a certain rate plan
. This is nothing alien, even in the rest of the world this type of contract exists, but the anomaly is that in Japan by far the most common way to buy a sim card.
To subscribe to a rate plan, often with a
minimum duration of 2 years
, you need to have a
residence card
and sometimes also a
Japanese bank account
.
The main mobile operators in Japan are
NTT Docomo
,
AU by KDDI
and
Softbank
.
SIM cards for tourists
If you are a foreign tourist, forget what we've been saying so far. Today the market is indeed full of "temporary"
prepaid sim cards
, that is, they expire after a certain number of days or weeks. The sim can include only the data service (with a specific amount of gigabytes) or data and calls.
You can buy one of these sim cards directly in the arrivals areas of the international airports, or on the internet (in this case, they will send your sim card to your hotel or to a collecting point at the airport).
The best sim cards with internet connection for foreign tourists in Japan
Guided tours, activities and other things to do
If you are planning a trip to Japan and you want to do something more than just visiting famous places and monuments, we suggest you to use
Rakuten Travel Experiences
.
How to use Rakuten Travel Experiences
Rakuten Travel is a very useful website to
enrich your travel experience
, especially if you are going solo or it's your first time in Japan.
Because of the language barrier (and more), in Japan it is very difficult to interact with the locals and to get off the tourist track.
Thanks to Rakuten Travel you can find a lot of interesting and sometimes unique
guided tours and activities
all over Japan (and not only in Japan), that you would otherwise never be able to enjoy.
But there's more: on Rakuten Travel you can also
buy tickets
for several famous attractions, events, transportation and other useful services for tourists. Last but not least, you can
reserve a table
in hundreds of restaurants.
Some examples
Take a look at Rakuten Travel Experiences
You may also be interested in