Phone calls in Japan
In general, it is recommended to use the internet and the various smartphone messaging apps to communicate with your friends and relatives both in your home country and in Japan. Should you ever need to make some local calls, you can use a public payphone.
Having said that, let's now deepen all the possible alternatives to make a call and communicate in Japan, one by one.
Roaming with your mobile phone and your sim card
Once you arrive in Japan, as soon as your smartphone connects to Japanese networks for the first time, you should receive a message from your operator with a summary of the costs for making calls, texting and using the data connection while roaming. These costs are generally very high, unless you have activated an international plan beforehand.
Today, different operators in different countries offer convenient international plans that usually include a certain amount of gigabytes to surf the internet and a certain number of minutes to make calls. Whether or not this alternative is convenient depends on your needs, your country and your mobile network operator.
Call using messaging apps and voip services
Quite simply,
if you don't need to call any phone numbers
, and all your contacts, whether foreign or Japanese, use one of the many messaging apps, you'll just need your smartphone and an internet connection to communicate with anyone.
More information about the internet in Japan
.
Most used messaging apps in Japan
Whatsapp is almost unknown in Japan. Facebook is used, but not by everyone. In contrast,
all Japanese people
use an app called
LINE
to chat and communicate with each other. If you want to easily communicate with Japanese friends, we recommend installing this app,
also available in English
.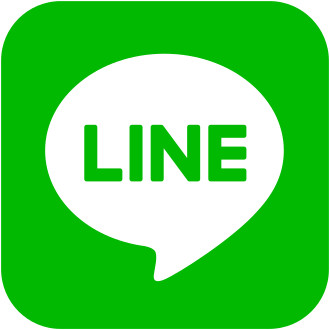 Skype and other voip services
The voip apps have fallen into disuse, given the spread of messaging apps for smartphones. However, they continue to be very useful if you need to call a phone number.
By purchasing Skype Credit, you can call landlines and mobile phones worldwide from your smartphone or PC via your Skype account. The rates are a few cents per minute, with 1 dollar you can call for 30 minutes or so. Check out the
rates to call Japanese numbers
.
Call from public telephones
Public telephones in Japan are still very common to see, you can easily find them in many places: in railway stations, in shopping centers, in museums and amusement parks, or even along some roads.
Although their use is very rare nowadays, unlike other countries in the world, no disposal plan is currently planned, as they are part of a whole series of procedures that are activated when an area is hit by a natural disaster (for example earthquakes). Depending on the gravity of the situation, the network of Japanese public telephones is set up to be "unlocked" in a certain area and allow free calls for anyone in need.
There are two types of payphones in Japan, which differ in color: the
green phones
and the
grey phones
. Somewhere (especially in country towns) one could still find very old and fascinating pink telephones.
The green telephones are the most common and there are two types, analogue and digital, and only digital ones are enabled for international calls.
The gray phones are all digital, they are more sophisticated and also allow data communication, and they are usually enabled for international calls.
If a telephone is enabled for international calls, the message "
Can be used for international calls
" will appear on the display.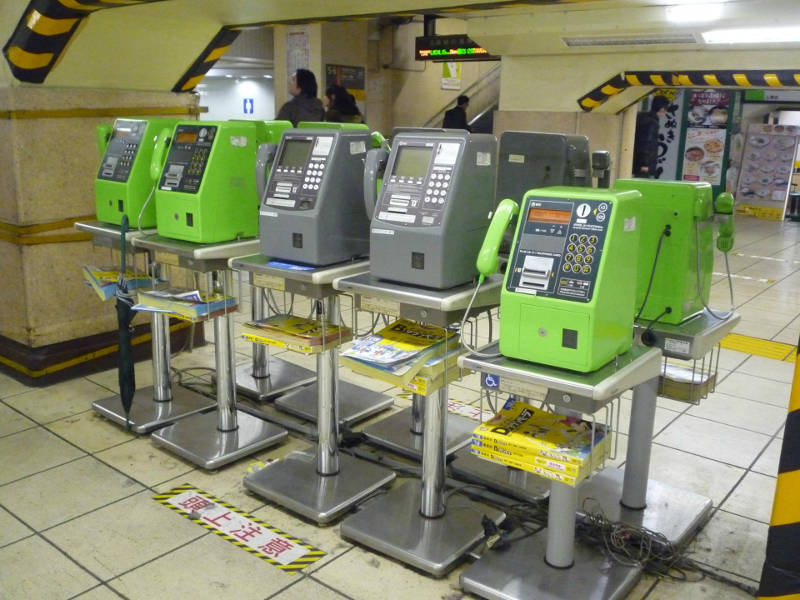 public telephones inside a station
All public telephones, green or gray, can be used via
phone cards
or with
coins
. Coins of
100¥
and
10¥
can be inserted. For 100¥ coins, no change is given if you don't use all the minutes available, if you insert more than one 10¥ coin, and you don't use all of them, you will receive the change.
Phone cards in Japan
Calling cards can be bought in konbini (convenience stores) or in kiosks inside the stations. There are two denominations,
500¥
and
1000¥
.
How much does a call from Japanese payphones cost?
Calling from public telephones is quite convenient
if you need to call someone in Japan
.
For example, many hotels and ryokan in rural locations (mountain areas, spa areas, etc.) often come to pick up customers at the nearest train station and you may need to call to inform them that you have arrived. Or you have to meet with a Japanese friend in a certain place but you can't find him or her, and you don't have internet on your smartphone outside the hotel.
International calls are very expensive, unless you use a dedicated prepaid card (see next paragraph).
Below is a table with all the rates, which vary according to the distance of the number called and the time slot.
The table lists the
maximum call length in seconds, for every 10¥ you insert
.
Distance / Time of Call
Daytime
Evening
Late Night
08:00-19:00
19:00-23:00
23:00-08:00
Local Calls
57.5 sec.
77.5 sec.
In-Prefecture Long-Distance Calls
Adjacent Area
40.5 sec.
53 sec.
Up to 20 km
30 km
27 sec.
36.5 sec.
40 km
22 sec.
27 sec.
60 km
16.5 sec.
20.5 sec.
80 km
12 sec.
16 sec.
17.5 sec.
100 km
10.5 sec.
160 km
8.5 sec.
14.5 sec.
16 sec.
Over 160 km
8 sec.
12 sec.
13.5 sec.
Use prepaid phone cards for international calls
There are various types of prepaid phone cards available on the market, to be used through traditional telephones, for example a
public phone
or the
phone in your hotel room
. You call a certain number indicated on the card, follow the instructions and then enter the number you want to call.
You can buy this kind of phone cards directly in Japan, for example in the arrivals area of international airports, or in many konbini (convenience stores) scattered around the cities, but you could also buy them in your home country if you think they are cheap.
Japanese sim card
If you need to call many Japanese phone numbers during your stay in Japan, it may be convenient to buy a
local sim card
that includes
unlimited calls
, and possibly internet, or to rent a mobile phone. Whether this option is convenient or not depends on your needs.
More information on mobile phones and sim cards in Japan
The best prepaid sim cards for foreign tourists in Japan
Guided tours, activities and other things to do
If you are planning a trip to Japan and you want to do something more than just visiting famous places and monuments, we suggest you to use
Rakuten Travel Experiences
.
How to use Rakuten Travel Experiences
Rakuten Travel is a very useful website to
enrich your travel experience
, especially if you are going solo or it's your first time in Japan.
Because of the language barrier (and more), in Japan it is very difficult to interact with the locals and to get off the tourist track.
Thanks to Rakuten Travel you can find a lot of interesting and sometimes unique
guided tours and activities
all over Japan (and not only in Japan), that you would otherwise never be able to enjoy.
But there's more: on Rakuten Travel you can also
buy tickets
for several famous attractions, events, transportation and other useful services for tourists. Last but not least, you can
reserve a table
in hundreds of restaurants.
Some examples
Take a look at Rakuten Travel Experiences
You may also be interested in