Halloween in Japan
Halloween (ハロウィーン), a festival of Anglo-Saxon origin, has also spread to Japan since a few decades ago. It would seem that it was the Disneyland park in Tokyo that introduced Halloween to the Japanese for the first time, organizing a first themed event in the year 2000. Since then, year after year, Halloween has become increasingly popular, particularly among the younger generations. However, the celebration of Halloween in Japan has taken on particular characteristics compared to other countries where it is celebrated. In the rest of the article we will find out how the Japanese celebrate Halloween and the most famous Halloween parades where to have fun if you are in Japan at the end of October.
Halloween in Japan Vs in western countries
A first and important difference is related to the date. While in the West Halloween night is strictly celebrated on October 31, the evening before the Christian holiday of All Saints, in Japan Halloween is a more nuanced period. In the days leading up to the holiday, especially in cities like Tokyo or Osaka, you can find various shops themed with pumpkins and other western symbols related to Halloween. In Japan, Halloween-themed parties and events do not take place on the evening of October 31st, but can take place on any date in the last 10 days of October, and especially on the last weekend of the month.
The most widespread custom in Japan is that of dressing up in bizarre costumes. But in Japan this thing got out of hand. If in Western countries we dress up as monsters and other scary creatures, in keeping with the spirit of Halloween, in Japan it is a sort of cosplay party. At the various Halloween parties and parades in late October, you can find people wearing costumes of anything and even characters from anime, manga, and video games. The "horror" theme is not that important.
At the same time, the Anglo-Saxon custom of "trick-or-treating" among children has never spread, and probably never will. It's hard to imagine parents enthusiastic about leaving their child going around to "disturb" the neighbors, given the discretion and mutual respect that reaches extreme levels in the culture of this country.
In light of all these things, Halloween in Japan is also a celebration for teenagers and adults.
What to do on Halloween in Japan
Themed parades
In and around Tokyo, some costume parades have been held for many years. These are not held on October 31st as one might think, but one or more days before, therefore it is always necessary to inquire about dates and times from year to year.
Shibuya Parade, the most popular among foreign tourists as it is located in one of the most iconic districts of the city. This is not an official event with an organizing body, but rather an unregulated gathering of people who party on the streets of Shibuya wearing costumes of all kinds. It is usually held on the last Friday and Saturday of October from late afternoon until night. In recent years the authorities have tried to counter the phenomenon, it is good to do a search on google starting from mid-October to get more details. It's not a place for children.
Roppongi Hills Halloween Parade, more information can be found in the events section of the website of the Roppongi Hills complex that organizes the event.
Kawasaki Halloween Parade, the parade which for many years has been the largest of those mentioned, it does not take place in Tokyo but in Kawasaki, a large city that can be reached in a few minutes by train from Tokyo. The parade takes place near the east exit of Kawasaki station, and is organized by a shopping mall called La Cittadella (official website).
Hello Halloween Pumpkin Parade (official website) ad Harajuku, along Omotesando avenue. Many children take part in this parade.
Events in theme parks
Several theme parks in the country organize Halloween themed days in the last days of October. The most famous American theme parks in the country are particularly popular during this period:
Disneyland
in Tokyo and
Universal Studios
in Osaka.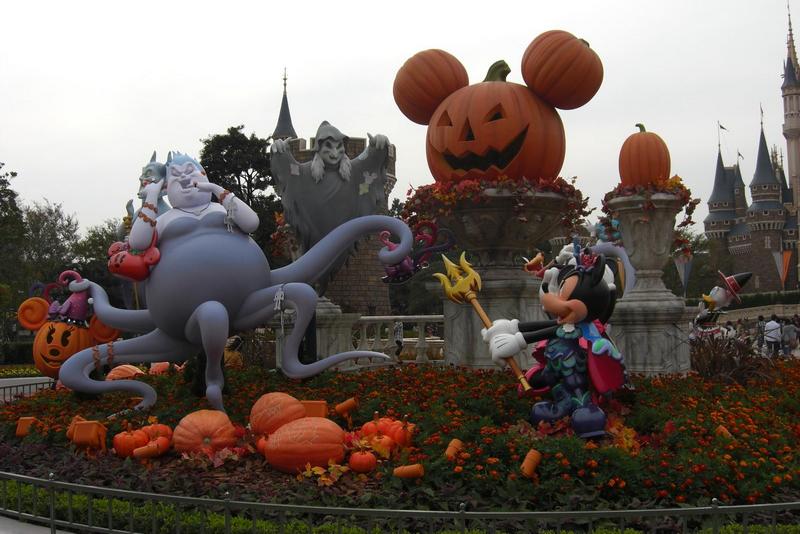 Halloween decorations at Tokyo Disneyland
Guided tours, activities and other things to do
If you are planning a trip to Japan and you want to do something more than just visiting famous places and monuments, we suggest you to use
Rakuten Travel Experiences
.
How to use Rakuten Travel Experiences
Rakuten Travel is a very useful website to
enrich your travel experience
, especially if you are going solo or it's your first time in Japan.
Because of the language barrier (and more), in Japan it is very difficult to interact with the locals and to get off the tourist track.
Thanks to Rakuten Travel you can find a lot of interesting and sometimes unique
guided tours and activities
all over Japan (and not only in Japan), that you would otherwise never be able to enjoy.
But there's more: on Rakuten Travel you can also
buy tickets
for several famous attractions, events, transportation and other useful services for tourists. Last but not least, you can
reserve a table
in hundreds of restaurants.
Some examples
Take a look at Rakuten Travel Experiences
You may also be interested in