Uminonakamichi
Umi no Nakamichi
is a thin strip of land connected to the mainland, situated practically in front of the bay of Fukuoka and its harbor. This area is connected, via a bridge, with the island of
Shikanoshima
, to the west.
The neighborhood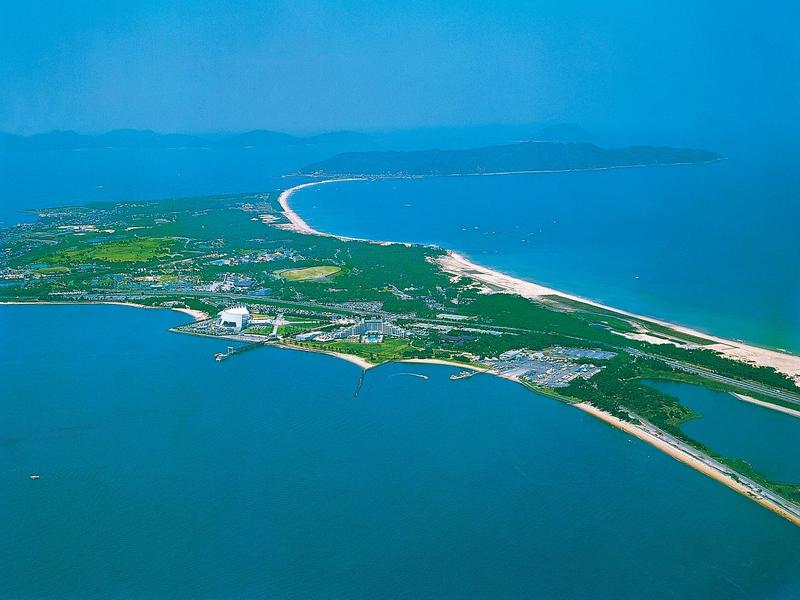 aerial view of the peninsula Umi No Nakamichi (photo taken from here)
Uminonakamichi Seaside Park
(admission 410 yen, opening hours 9:30-17:30 mar-oct, until 17 nov-feb)
A huge park, inside which numerous species of trees, plants and flowers bloom throughout the year, including 2000 cherry trees. There are also a number of playgrounds for children, a small zoo, an amusement park with a Ferris wheel, and during the summer months also a water park with six swimming pools.
The park is so large that it is very difficult to explore it entirely on foot, but at the entrance you can rent bicycles (700 yen for the whole day) and there are also little trains running continuously around the park (day pass 500 yen).
It is a park aimed primarily at families living in Fukuoka and surroundings that want to spend half a day of leisure with children, this place is rarely visited by tourists. However, at the entrance you can get a map of the park also available in English, that can be downloaded also from
here
.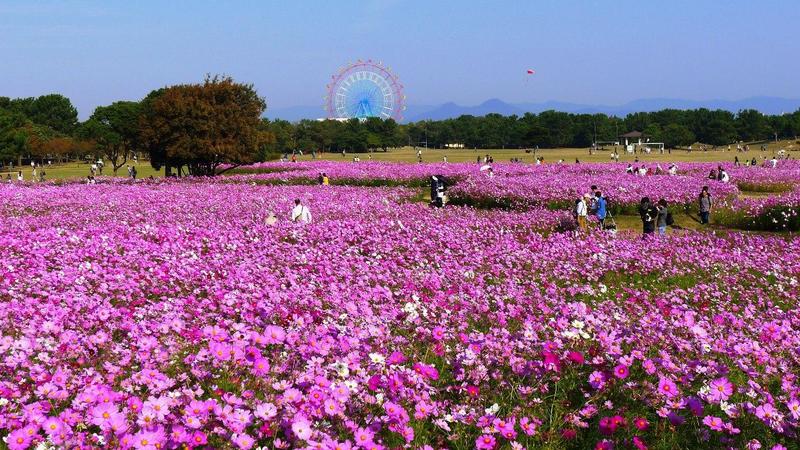 Uminonakamichi Seaside Park
Marine World Uminonakamichi
(admission 2160 yen, opening hours 9:30-17:30, 9-18:30 aug, 10-17 dec-feb)
An aquarium located near the Seaside Park, a few meters east of
Uminonakamichi station
.
Little to say about this aquarium, nothing more nor less interesting than many other aquariums in Japan and around the world.
Inside there is also a large arena where to watch shows with dolphins and sea lions.
Where to stay, recommended hotels in Uminonakamichi, Fukuoka
In the vicinity of the park there is a luxury hotel,
The Luigans SPA and Resort
: a large resort with swimming pools, restaurants, spa treatments and other leisure opportunities, an ideal place to spend a relaxing weekend.
How to get to Uminonakamichi, Fukuoka
Uminonakamichi is, as the crow flies, virtually located in front of the city of Fukuoka, separated by a stretch of sea, but to the east it is connected to the mainland. You can get to Uminonakamichi by train or by boat.
By train
Uminonakamichi station
is located a few meters from the aquarium and from one of the park entrances, and it is served by the
JR Kashii line
. If you come from
Hakata station
, to take this line, you must first change at
Kashii station
through the
JR Kagoshima line
(for a journey of about 40 minutes, 460 yen).
By boat
Two different boat lines connect Fukuoka's waterfront with Uminonakamichi, in particular with a pier located in the immediate vicinity of the Marine World Uminonakamichi:
-a line operated by the
Fukuoka Municipal Ferry Service
connect the pier of Uminonakamichi (officially the destination is called
Saitozaki
) with
Hakata
port (further information
here
); -the
Uminaka Line
operated by a private company (
Official website in Japanese
) connects Uminonakamichi with the
Momochi Seaside Park
.
Map of Uminonakamichi, Fukuoka
Guided tours, activities and other things to do
If you are planning a trip to Japan and you want to do something more than just visiting famous places and monuments, we suggest you to use
Rakuten Travel Experiences
.
How to use Rakuten Travel Experiences
Rakuten Travel is a very useful website to
enrich your travel experience
, especially if you are going solo or it's your first time in Japan.
Because of the language barrier (and more), in Japan it is very difficult to interact with the locals and to get off the tourist track.
Thanks to Rakuten Travel you can find a lot of interesting and sometimes unique
guided tours and activities
all over Japan (and not only in Japan), that you would otherwise never be able to enjoy.
But there's more: on Rakuten Travel you can also
buy tickets
for several famous attractions, events, transportation and other useful services for tourists. Last but not least, you can
reserve a table
in hundreds of restaurants.
Some examples
Take a look at Rakuten Travel Experiences
You may also be interested in