Matsue
last update: February 23, 2022
Matsue (松江), the capital of Shimane prefecture, is nicknamed city of water by the Japanese. The city is in fact nestled between two lakes to the east and west, Lake Shinji and Lake Nakaumi, while to the north, a short distance away, is the coast of the Sea of Japan.
Things to do and things to see in Matsue
The city of Matsue is known in Japan for its fascinating
feudal castle
, one of 12 Japanese castles to have survived to this day and also one of the largest. To the north of the inner moat of the castle there is also a
small neighborhood once inhabited by samurai
, with some residences of the time, while on an island in the center of Lake Nakaumi there is the
traditional Yuushien garden
. Finally, the city is located a short distance from two popular tourist destinations, especially among the Japanese: the very important Shinto shrine
Izumo Taisha
, and one of the most beautiful landscaped gardens in the country, inside the
Adachi Museum of Art
.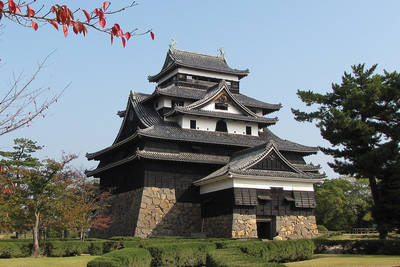 Matsue Castle
(admission 680¥, opening hours 8:30-18:30, until 17 Oct-Mar)
The city castle is also nicknamed black castle due to the dark and austere color of its external walls that distinguishes it. Founded in 1611, nearly all of the buildings were destroyed in the following centuries, with the exception of the imposing keep which makes it one of the 12 castles of feudal Japan that have survived to this day in their original wooden form and not in a concrete reconstruction. It is the second largest, the third highest (30 meters) and the sixth oldest of all. In addition to visiting the main keep (whose interior houses a museum displaying weapons and artifacts of the time), you can stroll through the large park that surrounds the castle, separated from the city by a moat full of water along all sides, finding here and there walls, archaeological remains and small reconstructed buildings. Very popular with visitors is the river boat cruise around the castle moat and along small, directly connected rivers.
Cruise around Matsue Castle
(departure times 9-17, until 16 Oct-Feb, until 18 Jul-Aug, 1200¥)
The cruise operates all year round, with boats departing every 20 minutes from three different points around the castle. The boats are very characteristic, accommodate no more than 10-12 people and have a roof that offers shelter from the sun and rain. A peculiarity of these boats is that the roof is sometimes lowered to allow the boat to pass under some very low bridges. During a full cruise you pass under 17 bridges! In winter the boat is also equipped with heated blankets. The complete cruise lasts about 50 minutes but, once you have purchased the ticket, you can get on and off the boat at the various stops as many times as you want (the ticket is valid for one day). On board, you can relax while admiring the view or listening to curiosities and anecdotes about the local history and culture told by the boatman (in Japanese). Once on board you need to take off your shoes, so don't forget to wear clean socks.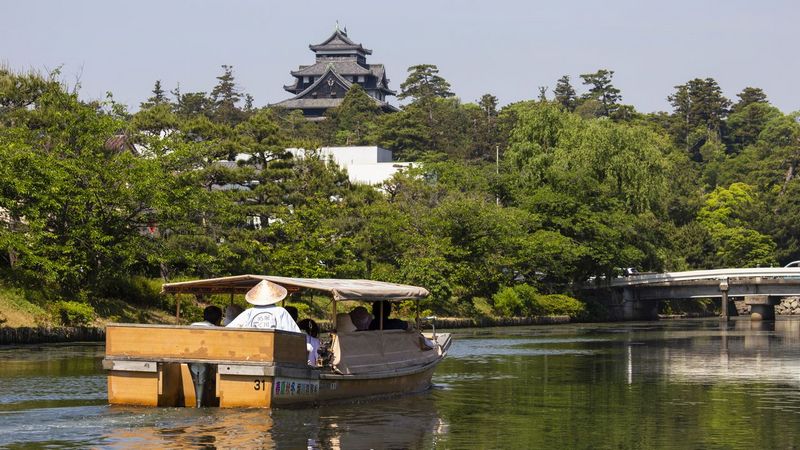 cruise around Matsue Castle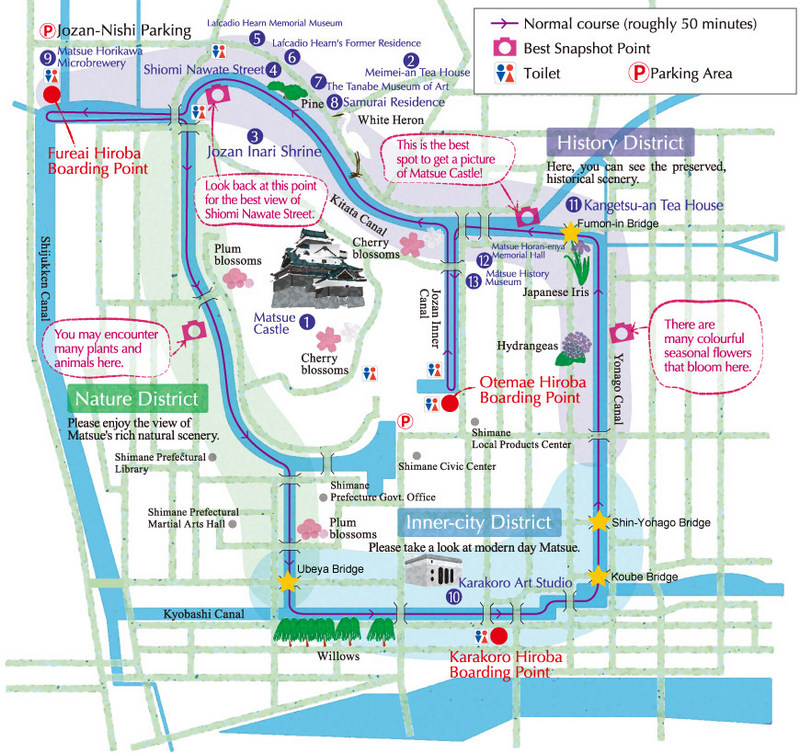 Map of the cruise around Matsue Castle (source: company website)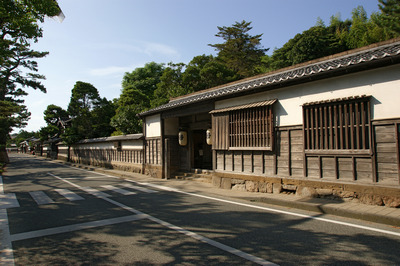 Samurai district
Some of Matsue's former samurai mansions still exist and are located along the road facing the moat surrounding the castle on the north side. One of these houses, once belonging to a high-ranking samurai family, is open to the public (Matsue Buke Yashiki, 8:30-18:30, 310¥). Also in this area is the former residence of Lafcadio Hearn, a man of Irish father and Greek mother, born in 1850 and considered one of the first Western authors of books on Japanese culture. He emigrated to Japan in 1890 and spent the rest of his life there, married a Japanese woman and was naturalized as Koizumi Yakumo, a name by which he is still known today in Japan. He lived in this house in Matsue for about a year of his life. Next to the house, which can be visited internally, there is a small museum that tells the story of this person certainly rare of his kind (Lafcadio Hearn Memorial Museum, 8:30-18:30, 410¥). Finally, next to the museum about Hearn there is another small museum which exhibits a sought-after collection of tea utensils (Tanabe Museum of Art, 8:30-16:30, 700¥).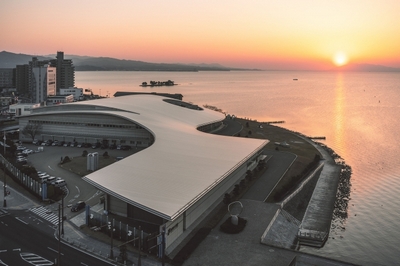 Shimane Art Museum
(opening hours 10:00-18:30, closed on tuesday)
This museum is located a 15-minute walk from Matsue Station, housed in a futuristic 21st century-inspired building, opened in 1999, on the shores of Lake Shinji. The museum's stained glass windows and the shores of the lake in front are a popular place to watch the sunset, included in the list of the 100 most beautiful sunsets in the country. On the museum website you can even find a annual calendar of sunset times. The museum's permanent collection mainly includes paintings and prints by Japanese artists as well as some pieces by Western artists, but the museum is also home to interesting temporary exhibitions throughout the year. The museum was recently renovated and reopened in May 2022.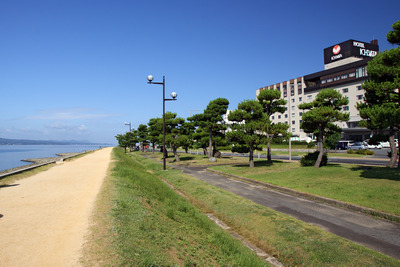 Shinjiko Onsen
Shinjiko Onsen is a central area of the city, on the shores of Lake Shinji and about 1 km from the castle, characterized by the presence of thermal springs. Here you will find a few hotels and ryokans (not many to tell the truth) that offer large spas in which to relax (see below in the section on where to sleep). Here is also Matsue Shinjiko Onsen Station, the terminus of the Ichibata railways, widely used to go to the nearby Izumo Taisha shrine. Near this station you will also find a free thermal foot bath, frequented mainly by locals, where you can immerse yourself in the everyday life of Matsue.
Yushien Garden
(reduced admission for foreign tourists 700¥, opening hours 9:30-16:30)
Yūshien Garden is located about 10 kilometers east of central Matsue on Daikonshima Island, in the middle of Lake Nakaumi and connected to the mainland by a bridge. This garden, which has no great historical value as it was made only in 1975, has several elements of traditional landscape gardens. The main attraction however is its incredible collection of 250 varieties of Japanese peonies. Thanks to carefully planned planting, visitors can admire peonies in bloom all year round. The period of greatest popularity of this garden is spring, and in particular the period between the end of April and May, when a peony festival takes place. Furthermore, during the winter the garden acquires a certain charm thanks to the traditional straw roofs to shelter the plants from the snow, while between the end of November and December a winter night lighting is set up. Finally, near the entrance you will find a café with an elegant and modern atmosphere, overlooking the pond.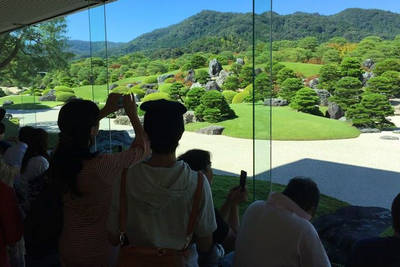 Adachi Museum of Art
(reduced admission for foreign tourists 1150¥, opening hours 9:00-17:30)
The Adachi Museum of Art is located outside the city, in the village of Yasugi about an hour from Matsue, and is generally visited on a day trip from Matsue. The museum was founded by Adachi Zenko, a local businessman who in 1970 decided, with this project, to combine his passions for Japanese art and garden design. The museum houses a collection of nearly 1,300 20th-century paintings and artwork, which are rotated seasonally. However, this museum is now best known for its award-winning garden, which has been named the best garden in Japan annually by the Journal of Japanese Gardening since 2003. Keep in mind that the garden can only be seen from the panoramic windows inside the museum.
Where to stay in Matsue
It is best to stay near one of the two stations in the city, Matsue Station or, especially if you are also planning a visit to the Izumo Taisha shrine, Matsue Shinjiko Onsen Station.
A short distance from Matsue Station
, north side (towards the castle), we recommend:
The Matsue Urban Hotel CubicRoom as a very low cost accommodation. It is a kind of capsule hotel, very clean and well organized for tourists, with beds at 2500-3500¥ per night.
The Dormy Inn Express Matsue as a business hotel. The Dormy Inn chain is one of the best and absolute guarantee of services and courtesy, as well as the inevitable free late evening ramen for all guests. Single and double rooms respectively between 7000 and 10,000¥ per night.
Around Matsue Shinjiko Onsen Station
, as the name suggests, you can find some hotels and ryokans with onsen, as there are hot springs in the area. If you are interested in combining a visit to Matsue with a nice bath in the Japanese hotsprings, you can take a look at:
The Ryokan Ten Ten Temari, with delightful rooms overlooking the lake (from 16,000¥ per night for two people) and some superior rooms with a small private bath with thermal water inside your room (from 22,000¥ per night for two people).
The Hotel Ichibata, a modern structure with large thermal baths available to all guests with a panoramic view of the lake. The property has different types of rooms, both in Western and Japanese style, with prices ranging between 8000¥ per night for a simple single room, and 25,000-30,000 ¥ per night for a Japanese style double. Possibility of half board.
Eating in Matsue, cafes and restaurants
Lake Shinji is connected to the Sea of Japan via Lake Nakaumi, and therefore has a mix of fresh and salt water, giving rise to a unique and varied seafood-based food culture. Whitebait in early spring, Shijimi clams and eel in summer, shrimp in fall, and sea bass, smelt, and carp in winter are collectively known as the
seven delicacies of Lake Shinji
(in Japanese,
Shinjiko Shicchin
). Many traditional Japanese restaurants in Matsue offer dishes using these ingredients. The most popular delicacy is
Shijimi Clam Chowder
(shijimi shiru), a soup made from this local variety of clams caught all year round in Shinji Lake.
How to get to Matsue
The city of Matsue is located in a position that is not easy to reach from the main cities of the country, and the plane is often preferred. It is recommended that you only consider the train if you are already in the Chugoku region (Hiroshima, Okayama), or if you have a Japan Rail Pass.
By train
To reach Matsue by train, you must necessarily make a change in Okayama, connected to Matuse via the
Limited Express Yakumo
(160 minutes, 5940¥), departing approximately every hour. To the more than two and a half hours of travel between Matsue and Okayama, you have to add the time to reach the latter, fortunately well connected with the country's shinkansen high-speed train network (more information on
how to get to Okayama
). In total it takes at least 6 hours from Tokyo, at least 4 hours from Kyoto and just over three hours from Hiroshima. Even if at no cost thanks to the Japan Rail Pass, taking a day train to Matsue will make you waste several precious hours of the day that could be dedicated to something else.
By night train
Alternatively, one of Japan Railways' rare night trains connects Tokyo with Matsue and nearby Izumi. The train in question is called
Sunrise Izumo
, it leaves around 10 pm from Tokyo (around 7 pm from Matsue) and arrives at its destination in the morning, after about 11 hours of travel. One-way fares start at around 15,000¥ for a
nobi nobi
seat (included in the Japan Rail Pass), ie sleeping cars where you can lie down on a soft floor, in compartments shared with other passengers. For a berth the rates start at around 22,000 yen; and a supplement is required even if you are a Japan Rail Pass holder.
By train from/to Izumo
Those who go to this area of Japan for tourism usually combine a visit from Matsue with nearby Izumo, where one of the country's most important Shinto shrines (
Izumo Taisha
) is located. Matsue and Izumo are less than 40km away, and are connected by both JR lines and the private company Ichibata Railways:
The JR is convenient to reach Izumoshi Station in Izumo city center from Matsue station in about 50 minutes (590¥). However, the famous Shinto shrine is far from the city center and takes another half hour by bus.
If your destination or starting point is the Izumo Taisha Shrine, it is definitely worth using the Ichibata Railways. Trains depart from Matsue Shinjiko Onsen station, about one kilometer west of the castle, and take an hour to reach Izumotaisha-Mae station, in an area tourist about 300 meters from the entrance to the famous shrine. On the way, you need to change trains at Kawato station. In total it takes about an hour and 820¥ for a one way trip. A day pass for unlimited use of Ichibata trains is sold at the price of 1600¥.
By plane
The closest airports to Matsue city are
Miho-Yonago Airport
and
Izumo Airport
, both about 25 km from Matsue station, and connected by bus. Izumo Airport is the best served, with several daily flights to Tokyo and Osaka by JAL and some flights to Kobe by Fuji Dream Airlines. From Miho-Yonago there are only a few flights to Tokyo of the ANA company.
From Matsue Station to the Castle
JR Matsue Station is located two kilometers south of Matsue Castle. If you like walking, you can reach the tourist area of the city, with the castle and the nearby samurai district, on foot in about half an hour. Alternatively, you can use the
Lake Line
circular bus line (210¥ for a single ride, 520¥ for a day pass).
From Matsue station to Yushien Garden
Yushien Garden is very far from the city center (10 km), so you need to take public transport. From Matsue station, a shuttle bus called
Ichibata Matsue-Sakaiminato
leaves approximately every hour, reaching the garden in about 25 minutes (730¥).
From Matsue station to the Adachi Museum of Art
The Adachi Museum of Art is also located outside the city, about an hour from Matsue station. To get there, you first need to take a
JR San'in Main Line
train from Matsue to Yasugi (20 minutes, 420¥), and once there take the free shuttle buses between Yasugi Station and the museum (
timetables and more info
).
Map of Matsue
Guided tours, activities and other things to do
If you are planning a trip to Japan and you want to do something more than just visiting famous places and monuments, we suggest you to use
Rakuten Travel Experiences
.
How to use Rakuten Travel Experiences
Rakuten Travel is a very useful website to
enrich your travel experience
, especially if you are going solo or it's your first time in Japan.
Because of the language barrier (and more), in Japan it is very difficult to interact with the locals and to get off the tourist track.
Thanks to Rakuten Travel you can find a lot of interesting and sometimes unique
guided tours and activities
all over Japan (and not only in Japan), that you would otherwise never be able to enjoy.
But there's more: on Rakuten Travel you can also
buy tickets
for several famous attractions, events, transportation and other useful services for tourists. Last but not least, you can
reserve a table
in hundreds of restaurants.
Some examples
Take a look at Rakuten Travel Experiences
You may also be interested in