Okazaki
The name "Okazaki" is not very used in travel guides, this area is often included under the name of "Higashiyama" as it is located just north of Maruyama Park in
Higashiyama
, while formally it belongs to the district of
Sakyo
.
The neighborhood
The area of Okazaki is the area around an important shrine, the
Heian Shrine
, near which there are several museums and a zoo.
Heian Shrine
(free admission, opening hours 6:00-17:30)
This shrine was built in 1895 in honor of two emperors of Japan, Kammu and Komei, respectively the first and the last of the period with Kyoto as the country's capital, on the occasion of the 1100th anniversary of the foundation of the city. It is right in this shrine that every year, on October 22, that the anniversary of the city is celebrated (
Jidai Festival
).
The shrine occupies a very large area and the buildings are quite impressive too. Behind the main building there is also a very nice garden (admission 600 YEN) with lots of cherry trees.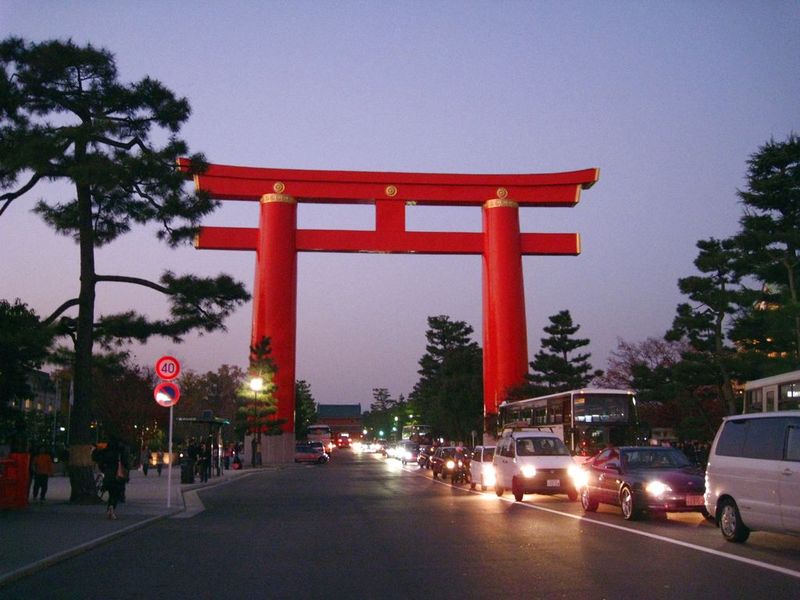 giant torii along the way that leads to the Heian Shrine
the main building of the Heian Shrine
National Modern Art Museum
(admission 420 yen, opening hours 9:00-17:30, closed on mondays)
A museum of modern art, both Japanese and from the West.
Municipal Art Museum
(free admission, opening hours 9:00-17:00, closed on mondays)
This museum houses a collection of artworks created by artists from all of the city of Kyoto.
Hosomi Art Museum
(opening hours 10:00-18:00, closed on mondays)
A private museum which displays a collection of objects of art from many different eras, that belonged to a wealthy industrialist in Osaka, Hosomi Ryo, and hosts exhibitions that vary throughout the year, from which depends the price of admission to the entire museum.
At
questo link
You can see the information on the current exhibition.
Inside the museum there is also a café, a traditional tea house and a nice traditional gift shop.
Kyoto City Zoo
(admission 600 yen, opening hours 9:00-17:00 mar-nov, 9:00-16:30 dec-feb, closed on mondays)
A not very large zoo, like many others in the world, I think that see lions and tigers is not one of the key things to do if you are visiting Kyoto.
You might take it into consideration maybe if you are traveling with children and want to entertain them a little bit after the "boredom" of temples, shrines and imperial palaces.
Yoshida Shrine
(free admission)
This Shinto shrine is located about 2 km north of the Heian Shrine, surrounded by a deep forest at the foot of Mount Yoshida (a hill).
In this shrine are held some important events related to the
Setsubun
, a Japanese holiday that takes place on February 3.
Sleeping, where to stay in Okazaki
In this area there is a cheap hotel but with a good quality / price ratio, the
Kyoto Travelers Inn
, where you can sleep with 40/50 ¤ per night in private rooms with private bathrooms and various amenities.
Pratical guide, how to get to Okazaki and map
This area is located a few minutes walk from
Higashiyama station
, served by the
Tozai line
of the Kyoto Municipal Subway.
By bys, the nearest stop is
Kyoto Kaikan Bijutsukan-mae
, served by lines number
5
and
100
(220 YEN, half an hour from Kyoto station),
32
and
46
.
Guided tours, activities and other things to do
If you are planning a trip to Japan and you want to do something more than just visiting famous places and monuments, we suggest you to use
Rakuten Travel Experiences
.
How to use Rakuten Travel Experiences
Rakuten Travel is a very useful website to
enrich your travel experience
, especially if you are going solo or it's your first time in Japan.
Because of the language barrier (and more), in Japan it is very difficult to interact with the locals and to get off the tourist track.
Thanks to Rakuten Travel you can find a lot of interesting and sometimes unique
guided tours and activities
all over Japan (and not only in Japan), that you would otherwise never be able to enjoy.
But there's more: on Rakuten Travel you can also
buy tickets
for several famous attractions, events, transportation and other useful services for tourists. Last but not least, you can
reserve a table
in hundreds of restaurants.
Some examples
Take a look at Rakuten Travel Experiences
You may also be interested in