Nara
Nara is a small town, as the crow flies is 30 km away from Osaka, famous for its historic and artistic heritage, in particular for its temples.
The city was
the capital of Japan
from 710 to 784 AD.
With the exception of some important monuments, most of the interesting places can be reached on foot from the nearby JR and Kintetsu stations.
Index
Nara Koen
Naramachi
Heijo Palace
Yakushiji and Toshodaiji temples
Where to stay in Nara, recommended hotels
How to get there and map
Nara koen
The Nara Park (Nara Koen) is a vast public park where hundreds of deer roam freely and get close to people.
The fallow deer is a sacred animal for the Shinto culture, and even up to 1637 killing a deer could cost the death penalty. If you want to be surrounded by deers just buy some crackers made ​​especially for them, on sale around the park (shika-senbei).
Todaiji Temple
(iadmission 500 yen, opening hours 8-16:30 nov-feb, 8-17 march, 7:30-17:30 apr-sep, 7:30-17 october)
A large Buddhist temple built in 752, this temple holds two records: it houses the Japan's biggest bronze statue (
Daibutsu
) of Buddha (the second is located in
Kamakura
), which is located within the
Daibutsu-den
which is itself the largest wooden building in the world, although it is a reconstruction of 1692, even smaller than the original building.
This temple is part of UNESCO world heritage.
Isuien Garden and Yoshikien Garden
Two beautiful Japanese-style gardens, very close to each other, near the Todaiji temple.
The Yoshikien Garden (free admission for foreign tourists, opening hours 9-17, closed from dic 28 to mar 19) is in turn divided into 3 well-kept gardens in different styles: a moss garden, a traditional garden around a pond and a tea ceremony garden.
The Isuien Garden (admission 650 yen, opening hours 9:30-16:30, closed on tuesdays) is located north of the Yoshiken, on the other side of the Yoshikigawa river that flows between the two gardens, and within there is a small museum with several ancient Chinese objects and some tea-houses.
Kasuga Taisha
(free admission to the outdoor area, 500 yen to the inner area, opening hours 6:30-17:30, 7-16:30 nov-mar)
The most important Shinto shrine of the town, it can be reached reached after a long walk through a quiet wood (
Kasuga Primeval Forest
).
To the sanctuary also belongs the
Manyo Botanical Garden
(admission 525 yen, opening hours 9-17, from dec to feb until 16:30 and closed on mondays), a very special botanical garden containing all the plants mentioned in the
Man'yōshū
, an ancient Japanese collection of poetries.
Nara National Museum
(admission 500 yen, opening hours 9:30-17, until 19 on fridays from apr to oct, closed on mondays)
A museum with a very important collection in the world regarding the
Buddhist art
.
Kofukuji Temple
(partly free admission, opening hours 9-17)
Even this temple is included in the UNESCO World Heritage list.
It was the personal temple of the most important family in Japan during the "Nara period" (710-794), the Fujiwara clan. At that time it included about 150 buildings, today very little has remained of the original.
The most important buildings are the
Central Golden Hall
, today in restoration and not open to the public (works will be completed in 2018) and the
Eastern Golden Hall
(separate admission, 300 YEN) which has on the right side a famous 5-story pagoda (the second highest in Japan, 50 meters).
Another smaller 3-story pagoda also belongs to this temple.
Shin-Yakushiji Temple
(admission 600 yen, opening hours 9-17)
The interior of the main building of this ancient temple, founded in 747, houses an important series of sculptures: in the middle there is a wooden almost two meters high statue of Yakushi Budda (Yakushi Nyorai), surrounded by other 12 statues (of clay) representing twelve different guardians.
Himuro Shrine
(free admission)
An almost unknown Shinto shrine, surrounded by some particular cherry trees, it is situated opposite the National Museum, and easily reachable.
I recommend a quick visit if you're in Nara in spring during the cherry blossom season (hanami).
Naramachi
Naramachi is a small area east of the JR Nara Station and south of the Kintetsu Nara station, once it was the district of merchants of the town, and today preserves many historic buildings including some original
machiya
(typical houses of the merchants of Old Japan).
A walk through the streets of the neighborhood is a great way to breath an air of "Old Japan", do shopping, and, if interested, visit some of the various small museums that are located there.
A quite famous temple within this neighborhood is the
Gangoji Temple
(admission 400 yen, opening hours 9-17).
Heijo Palace (Imperial Palace)
Another of the places belonging to the UNESCO World Heritage Sites, it is located slightly to the east of
Yamato-Saidaiji Station
, reachable in a few minutes from
Kintetsu Nara
station through the
Kintetsu Nara Line
.
It is a vast area where long ago, when Nara was the capital of the country, there were the residence of the emperor and various government buildings.
Almost all of the original buildings have been destroyed over the years, those that we see today are all reconstructions.
Particularly famous are the
Daigokuden
, the largest building in the complex that was used for important ceremonies, the
Suzaku Gate
, one of the main entrance gates, and the
Toin Teien
(East Palace Garden), the place used by the imperial family to host banquets.
Below is a map of the area.
archaeological excavations
of ancient buildings destroyed, and a museum (
Nara Palace Site Museum
) containing various archaeological finds and info about Nara and its history. Another recently opened museum (
Heijokyo History Museum
) in the area instead exposes a life-size reconstruction of an ancient ship used for diplomatic relations with China.
The entrance to the entire area is
free
, and the admission to the museums is free too (the Heijokyo History Museum should cost 500 YEN, but it is free for foreigners with a passport).
Yakushiji and Toshodaiji
These are two famous Buddhist temples near
Nishinokyō station
, reachable from Kintetsu Nara station taking the
Kintetsu Nara line
up to
Yamato-Saidaiji station
and there changing with the
Kintetsu Kashihara Line
(total of about 15 minutes, 250 YEN). Alternatively, from outside the JR and Kintetsu Nara stations leave a few buses to this area (travel times and fares similar to the train ones).
The Toshodaiji is located 700 meters north of the station, te Yakushiji 300 south.
Toshodaiji Temple
(admission 600 yen, opening hours 8:30-17)
Another temple that is part of UNESCO's World Heritage list.
It was founded in 759 by a Chinese monk, Jianzhen (Ganjin), arrived in Japan by invitation of the Emperor to help to develop the Japanese Buddhist movement, and whose tomb is located within this temple.
Yakushiji Temple
(admission 800 yen, opening hours 8-17)
A complex of temples, founded in 680, easily recognizable because of the two three-story pagoda built on the sides of the main building.
The pagoda on the east side is the only original building of the complex, built in 730, while the rest of the buildings was destroyed and rebuilt during the time.
This complex also includes the
Genjo-sanzoin Garan
, a complex of temples just north of the main temple, built in 1981 and dedicated to the Chinese monk Genjo Sanzo.
Sleeping, where to stay in Nara, recommended hotels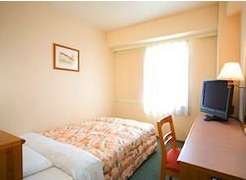 Washington Hotel Plaza
The business hotel I recommend if you want to stay one night in Nara. It belongs to the famous Washington hotels chain, with an excellent price-quality ratio where to find single rooms starting from 4,000 yen per night. The location is great, a short walk from both JR and Kintetsu Nara Station, and less than 1 km from Nara Koen, where some of the most famous temples of the city are located.
Guesthouse Naramachi
A traditional Japanese style guest house in the old neighborhood of Naramachi, about 1 km away from the Nara Koen.
You can sleep in shared rooms for just 2,500 yen per night, or in private rooms decorated in the traditional style of ryokans, starting from 7,000 yen for a double. The reviews are all very positive.
Pratical guide, how to get to Nara and map
The main stations of Nara are two, one is served by JR (Japan Railways) while the other is served by the
Kintetsu Railways
private comany, and they can be easily reached both from
Osaka
and
Kyoto
.
The two stations are located approximately 1 km away from each other, the Kintetsu station is the most convenient of the two because it is closer to the Nara Park, one of the most famous places of the city.
By JR
From Osaka
The
Yamatoji line
connects Nara to several important stations in Osaka:
Osaka station
(780 YEN, 50 minutes),
Namba station
(540 YEN, 43 minutes),
Tennoji station
(450 YEN, 30 minutes).
These travel times refer to the
Rapid Service
trains (大和路快速), there are also local trains (普通) that take more time.
From Kyoto
The
Nara Line
connects
Kyoto station
to Nara (690 YEN). Be careful also in this case to take the "Rapid" trains (travel time 45-50 minutes) rather than the "Local" trains (travel time 75-80 minutes).
By Kintetsu
From Osaka
From
Osaka Namba
station you can take the Kintetsu
Nara line
. There are limited express trains which require a seat reservation (1040 YEN, 30 minutes) and express trains (540 YEN, 40 minutes).
From Kyoto
The Kintetsu
Kyoto line
connects
Kyoto station
to Nara. There are limited express trains, which require a seat reservation (1110 YEN, 35 minutes) and express trains (610 YEN, 45 minutes). The express trains haven't many frequencies (one about one every hour).
Guided tours, activities and other things to do
If you are planning a trip to Japan and you want to do something more than just visiting famous places and monuments, we suggest you to use
Govoyagin
.
How to use Govoyagin
Govoyagin is a very useful website to
enrich your travel experience
, especially if you are going solo or it's your first time in Japan.
Because of the language barrier (and more), in Japan it is very difficult to interact with the locals and to get off the tourist track.
Thanks to Govoyagin you can find a lot of interesting and sometimes unique
guided tours and activities
all over Japan (and not only in Japan), that you would otherwise never be able to enjoy.
But there's more: on Govoyagin you can also
buy tickets
for several famous attractions, events, transportation and other useful services for tourists. Last but not least, you can
reserve a table
in hundreds of restaurants.
Some examples
Take a look at Govoyagin
You may also be interested in