Kaiseki cuisine
Kaiseki cuisine is a kind of very particular "dinner", perhaps the finest culinary expression of all Japanese cuisine.
Originally this term meant a vegetarian meal that accompanied the tea ceremony, but today also kaiseki-style lunches and above all dinners are served, and include vegetables but also fish and rarely meat, accompanied by sake.
A typical kaiseki course is characterized by being composed of many dishes served in small portions. They range from 6 up to 15 dishes, the most common dishes are miso soup, sashimi, broiled fish, pickled vegetables, a dessert.
The food served varies depending on the time and place where you are, the prerogative of a kaiseki-style meal is in fact the freshness of the ingredients used, so depending on the season and what the cook has found at the market.
Another peculiarity of Kaiseki-style cuisine is the importance of appearance: every detail is considered, from the embellishments of each dish to the arrangement of plates. It's really a great show just watching these dishes.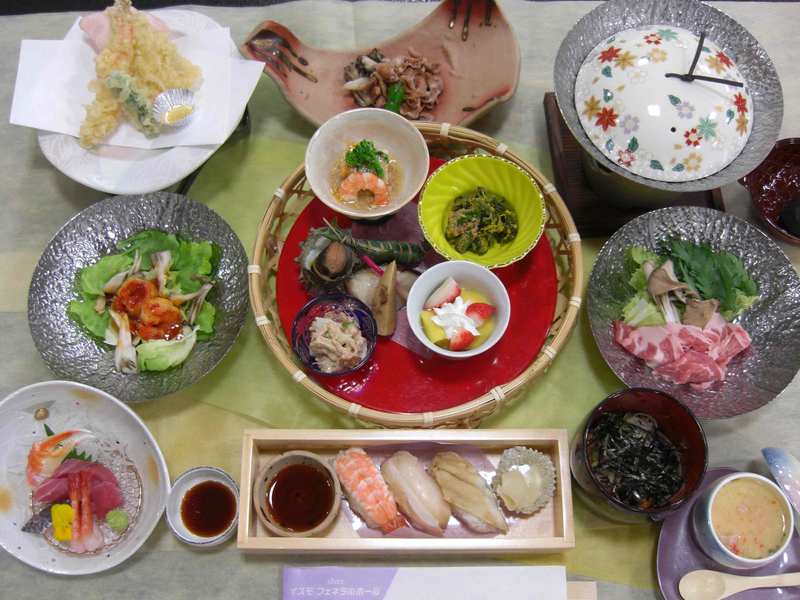 kaiseki-style dinner table in a ryokan
This style of cuisine is commonly served in many ryokan (especially in Kyoto) but also some in Tokyo (as I have written elsewhere, ryokan in Tokyo are usually scarce), perhaps served in-room by a lady dressed in a kimono.
There are also many restaurants that serve kaiseki cuisine, but are generally very expensive.
a kaiseki cuisine dish
Guided tours, activities and other things to do
If you are planning a trip to Japan and you want to do something more than just visiting famous places and monuments, we suggest you to use
Govoyagin
.
How to use Govoyagin
Govoyagin is a very useful website to
enrich your travel experience
, especially if you are going solo or it's your first time in Japan.
Because of the language barrier (and more), in Japan it is very difficult to interact with the locals and to get off the tourist track.
Thanks to Govoyagin you can find a lot of interesting and sometimes unique
guided tours and activities
all over Japan (and not only in Japan), that you would otherwise never be able to enjoy.
But there's more: on Govoyagin you can also
buy tickets
for several famous attractions, events, transportation and other useful services for tourists. Last but not least, you can
reserve a table
in hundreds of restaurants.
Some examples
Take a look at Govoyagin
You may also be interested in