Zeniarai Benten Shrine, Kamakura
&lt&lt Back to the guide of Kamakura
Free admission
Opening hours: 8-17
A Shinto shrine founded in 1185 on the day of the snake in the month of the snake, and for this it was dedicated to the goddess Benzaiten (often associated with snakes in Shinto culture).
The main entrance is today a tunnel in the rock, built in 1958, while the original entrance is located on the other side of the temple and reaching it is more complicated.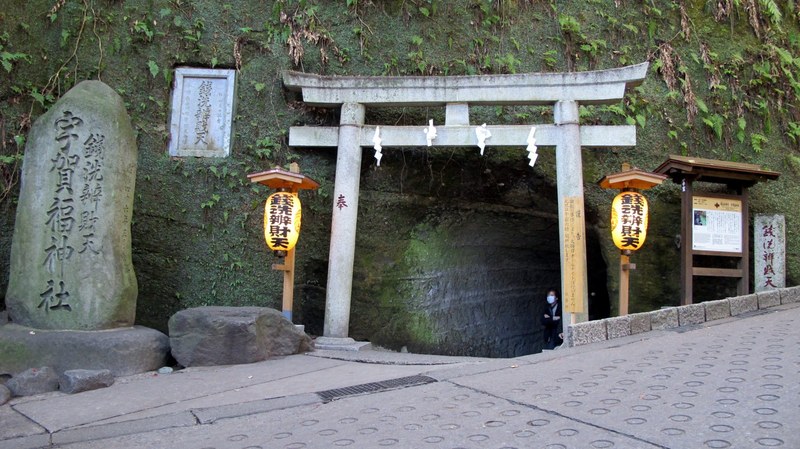 the entrance to the tunnel leading to the shrine
This shrine is the second most visited shrine in Kamakura after the Tsurugaoka Hachimangu, and is famous mainly for its "sacred waters" in a cave, where a lot of Japanese go to wet their money looking for good fortune in business.
In fact, it is said that coins wet with this water will double.
two videos shot around the Zeniarai Benten shrine
How to get to the Zeniarai Benten Shrine in Kamakura and map
This shrine is located about 1.5 km west of
Kamakura station
and can only be reached on foot in about 20 minutes (a part of the route is slightly uphill) or by taxi, there are no buses. You need just a map or simply follow the directions along the way.
It is located in a isolated position from the city, the only two close shrines are the
Sasuke Inari Jinja
and the
Kuzuharagaoka Shrine
.
Guided tours, activities and other things to do
If you are planning a trip to Japan and you want to do something more than just visiting famous places and monuments, we suggest you to use
Govoyagin
.
How to use Govoyagin
Govoyagin is a very useful website to
enrich your travel experience
, especially if you are going solo or it's your first time in Japan.
Because of the language barrier (and more), in Japan it is very difficult to interact with the locals and to get off the tourist track.
Thanks to Govoyagin you can find a lot of interesting and sometimes unique
guided tours and activities
all over Japan (and not only in Japan), that you would otherwise never be able to enjoy.
But there's more: on Govoyagin you can also
buy tickets
for several famous attractions, events, transportation and other useful services for tourists. Last but not least, you can
reserve a table
in hundreds of restaurants.
Some examples
Take a look at Govoyagin
You may also be interested in