Tenya Tempura
Tenya Tempura
, is a chain of restaurants opened in 1989 with branches in many places in Japan, today there are more than 200 branches. In recent years the group has expanded into other Asian countries like Thailand, Indonesia and the Philippines.
dinner at Tenya Tempura in Ginza, Tokyo
What to eat at Tenya Tempura?
As you can guess from the name, Tenya Tempura is a chain of restaurants specializing in tempura. You can enjoy the tempura accompanied by a variety of other dishes, such as udon or soba, available both hot and cold, or inside of a bowl of rice (this dish is usually called
tendon
).
The tempura is made of seafood, especially shrimps, squids and scallops, and vegetables, in particular potatoes, eggplants, carrots, turnips, mushrooms, pumpkin, sweet peppers.
Menu and prices
Tenya Tempura is famous for its low prices and its excellent value for money. In these restaurants you can satisfy your hunger and spend little.
If you're going to take a
tendon
dish (rice and tempura), prices range from 500 yen to 800 yen or so, depending on the amount of fish and vegetables. You can order a bigger portion of rice by adding 100 yen or a smaller one by getting a 50 yen discount. Furthermore, if you pay 180 yen extra you can get unlimited rice and a small dish of pickled vegetables.
Those sets including soba or udon noodles instead of rice cost between 700 and 840 yen. When ordering, you must also choose whether you want cold or hot soba/udon.
You can find out more details about the menus of Tenya Tempura restaurants at
this link
in English.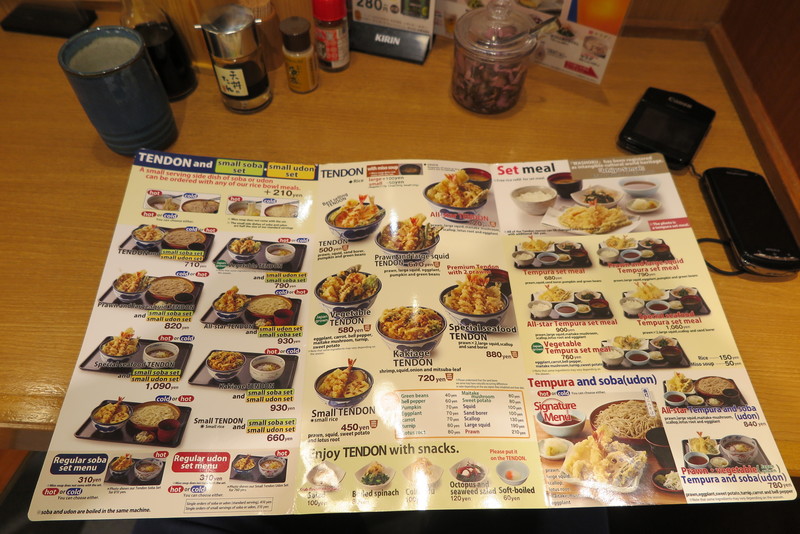 the English menu of a Tenya Tempura restaurant
Where to find Tenya Tempura restaurants
At
this link
you can check the list of all Tenya Tempura restaurants scattered around Japan. The page is in Japanese only.
Tenya Tempura in Tokyo
Tenya Tempura was born in Tokyo and today, despite they opened stores across the country, most of the branches are located in Tokyo. You can find Tenya Tempura restaurants in
Shinjuku
,
Shibuya
,
Harajuku
,
Asakusa
,
Ueno
,
Ginza
,
Ikebukuro
, others.
At
this link
made specifically for foreign tourists, you can see a list of Tenya Tempura restaurants in the most popular neighborhoods of Tokyo. The page is in English.
Guided tours, activities and other things to do
If you are planning a trip to Japan and you want to do something more than just visiting famous places and monuments, we suggest you to use
Rakuten Travel Experiences
.
How to use Rakuten Travel Experiences
Rakuten Travel is a very useful website to
enrich your travel experience
, especially if you are going solo or it's your first time in Japan.
Because of the language barrier (and more), in Japan it is very difficult to interact with the locals and to get off the tourist track.
Thanks to Rakuten Travel you can find a lot of interesting and sometimes unique
guided tours and activities
all over Japan (and not only in Japan), that you would otherwise never be able to enjoy.
But there's more: on Rakuten Travel you can also
buy tickets
for several famous attractions, events, transportation and other useful services for tourists. Last but not least, you can
reserve a table
in hundreds of restaurants.
Some examples
Take a look at Rakuten Travel Experiences
You may also be interested in