Rakeru
Rakeru is a restaurant chain founded in 1963 with branches in major cities in Japan, especially in Tokyo.
having dinner at the Nishi-Shinjuku branch of Rakeru, in Tokyo
A special feature of these restaurants is the internal decor, with many references to the famous story of
Alice in Wonderland
, white and red squared tablecloths, and waitresses wearing gracious aprons.
What to eat at Rakeru?
The most popular dish is definitely the
omurice
(sometimes also written
omuraisu
), a typical dish of contemporary Japanese cuisine that consists of a sort of French omelet stuffed with rice, seasoned and embellished with decorations made with ketchup.
You can choose between various dishes which can include different foods to accompany the omurice, for example hamburgers or chicken. Most of the dishes also include small side dishes: some salad, a boiled potato, soft bread.
The menu also includes sweets, drinks and fruit salads.
Menu and prices
The menu includes a range of dishes, including the things described above, with prices ranging between 800 and 1500 yen or so.
It is also possible to choose some small set with every main dish, the simplest one includes corn soup and coffee and costs 300 yen more.
Choose what to order is very easy for foreigner, since the menu shows not only pictures of all the dishes but also brief descriptions in English.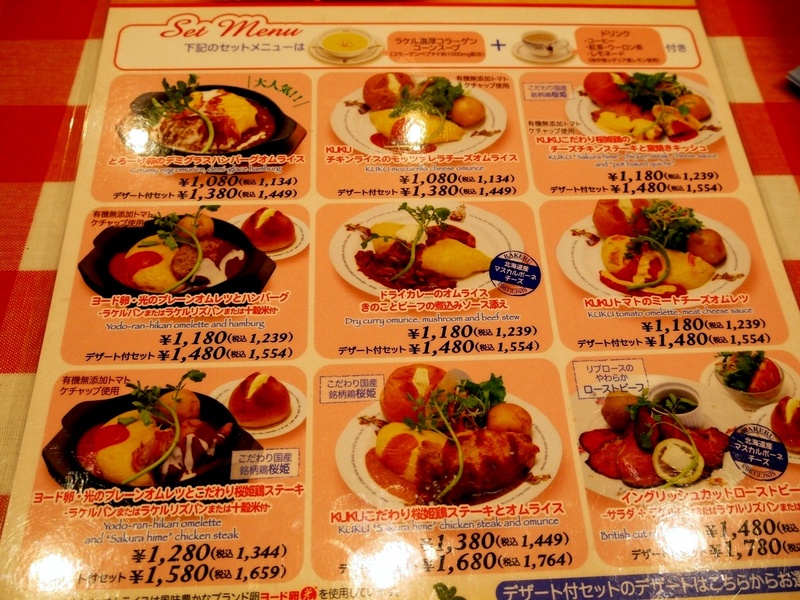 Where to find Rakeru restaurants
At
this link
you can see the list of all the Rakeru restaurants scattered around Japan, divided by region. Most of these restaurants are located in the region of Kanto (Tokyo), and a few others in the areas of Akita, Shizuoka, Nagoya, Aichi, Osaka, Fukuoka, Oita, Kumamoto.
The page is in Japanese only, but you can understand it easily with the automatic translation of
google translate
.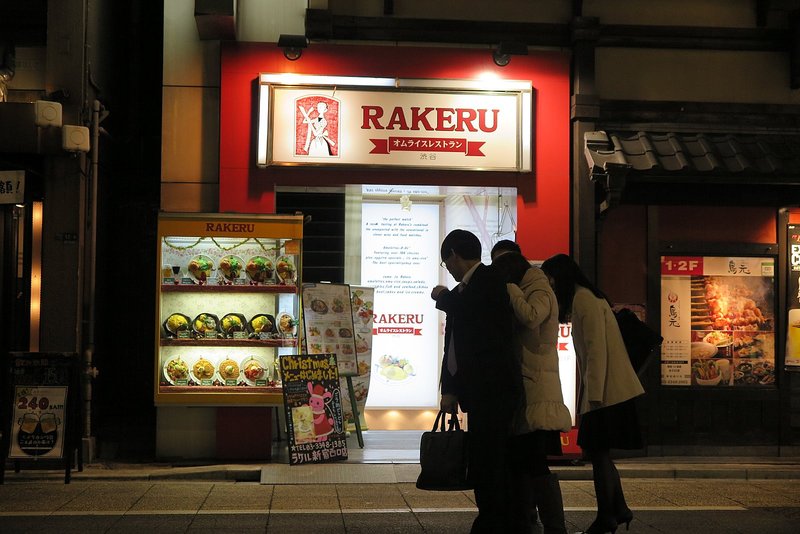 the entrance to the Rakeru restaurant branch of Nishi Shinjuku in Tokyo
Guided tours, activities and other things to do
If you are planning a trip to Japan and you want to do something more than just visiting famous places and monuments, we suggest you to use
Rakuten Travel Experiences
.
How to use Rakuten Travel Experiences
Rakuten Travel is a very useful website to
enrich your travel experience
, especially if you are going solo or it's your first time in Japan.
Because of the language barrier (and more), in Japan it is very difficult to interact with the locals and to get off the tourist track.
Thanks to Rakuten Travel you can find a lot of interesting and sometimes unique
guided tours and activities
all over Japan (and not only in Japan), that you would otherwise never be able to enjoy.
But there's more: on Rakuten Travel you can also
buy tickets
for several famous attractions, events, transportation and other useful services for tourists. Last but not least, you can
reserve a table
in hundreds of restaurants.
Some examples
Take a look at Rakuten Travel Experiences
You may also be interested in